If you love the cold weather and the holiday season, why not combine the two and have a fun and festive Christmas-themed wedding? After all, it is the season of love and for couples hoping to play it cool on their credit cards, winter weddings are just lifesavers. The decorations are easily available, all your relatives are in town and you can grab that sweet off-season price break.
Here are a few ways to plan that fabulous Christmas wedding on a budget.
Image Credit: Sophie Epton Photography
1. Venue
Choose non-traditional venues like a public park or an art gallery to skip on exorbitant prices of big wedding venues. Also, choose one that has the ability to be both a ceremony and reception venue so that you don't have to pay for two separate locations. Moreover, a morning wedding can save a lot of money – they cost less, serving lunch or brunch is less expensive and considering the short winter day, they will be apt. Another tactic is to use a newly-opened venue as they offer fairly low prices.
2. Color Scheme
A perfect Christmas wedding doesn't always have to be red, green or white. Ask your venue how they plan on decorating because ultimately, your venue determines the color scheme of your wedding. Don't hesitate to jazz it up by skipping the traditional red for sophisticated colors like navy, deep green, purple, burgundy, and claret. Most venues provide textiles like napkins and tablecloths so make sure you ask before purchasing any of them.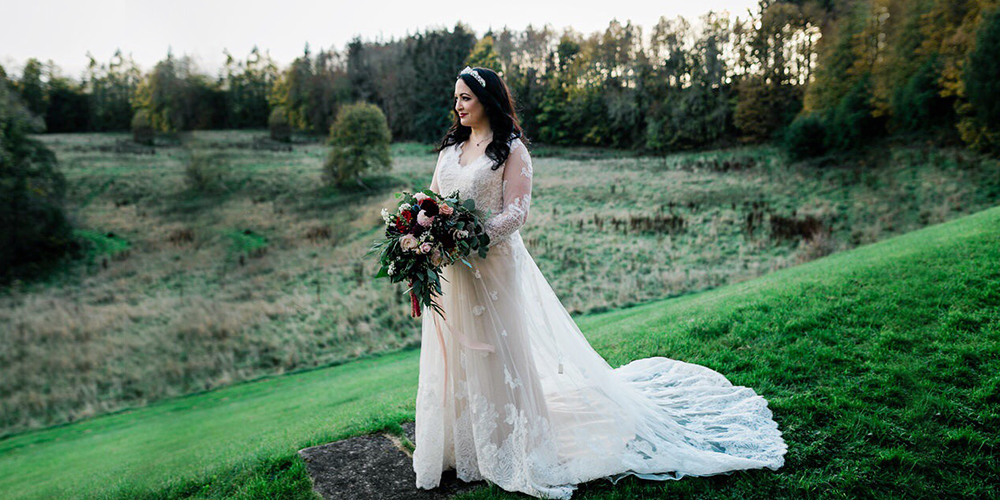 Style: #CWZT15008, Image Credit: Lauren McGlynn Photography
3. Decorations
Embrace the holiday spirit with glimmers of gold and silver. Make use of baubles, tinsel, ribbons, glitter cutouts and other glitzy accessories that can be found on any high street at this time of year. Light up your venue with lots of string lights and some simple candles in different shapes and sizes to create a cozy, inexpensive winter wedding look. If you feel like your wedding is missing the oomph, you can always add some more glitter!
4. Wedding Flowers
Add some seasonal touches to your floral decorations by using dainty wreaths, rustic pine cones, twigs and even wild red berries to your floral decoration as well as your bouquet. Get the sparkle of snow by incorporating crystals into your floral decorations. Incorporate fir foliage or eucalyptus to add a wintry feel to your floral decor without feeling too Christmassy. Arrange for a florist and discuss how you can reduce costs on the flower arrangements.
5. Personal Food Options
Instead of a cocktail bar arrange for a beverage bar to keep your guests feeling warm and cozy. Present your guests with mulled wine, coffee or hot cocoa and apple cider to keep the shivers at bay. The cold weather is an excuse to indulge in some treats so cookies, fig, pies and toasted marshmallows will be a welcome treat for your guests. Indulge in comfort foods with some family recipes and homemade cookies.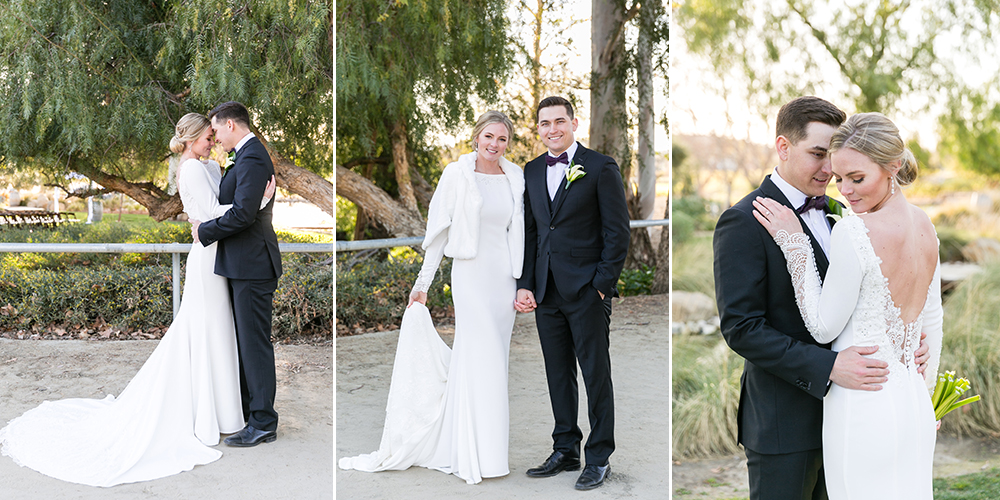 Style: #8006, Image Credit: Leah Marie Photography
A non-traditional wedding dress will ensure tons of saving and the best part is you have lots of color options. Try an ombre cocktail dress with red and black hues to match the winter mood or opt for a soft pink and white ombre to add some color to a snowy themed wedding. Another smart way to save is by shopping for gowns that are fuss-free and minimalist. Look for dresses that are made from a single fabric and have minimal embellishments. Top it off with a fur jacket or an embellished bolero instead to keep you warm as well as make a stylish statement. Win-win!