Off-shoulder wedding dresses have been a hot wedding trend for years and are indisputably on the wish list of many brides-to-be. Rightly so, an off-shoulder gown is stylish, chic, and just the right amount of sexy without going overboard. But… even after all the ballyhoo around them, why is it that they still manage to frighten away even the most fashion-savvy brides?
We think it simply comes down to one thing: it's tough to pull off an off the shoulder wedding dress. We also think that wearing a "humdrum" dress out of obligation and realizing that you'd have looked more radiant and been happier had you gone with your gut and picked an off-shoulder dress is a scenario you'd wish never comes about. What we mean is this: if you want to wear an off-shoulder dress on your big day (And we'll be honest – who wouldn't?), you don't need to do yourself a disservice by making concessions to your dream wedding gown and eventually going for an ordinary dress that's "easy" to pull off. With that said, let's discuss how you can look and feel absolutely flawless and confident when you walk down the aisle in your magnificent off-shoulder wedding dress.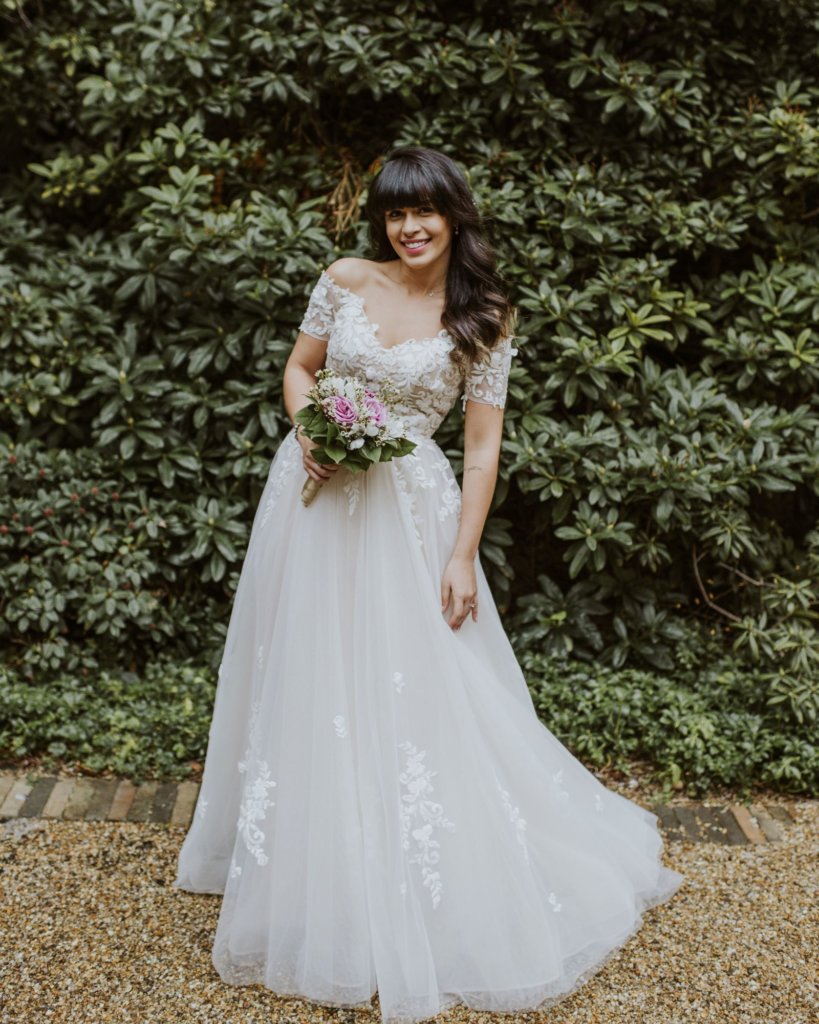 Style: #LD5830, Image Credit: Only Love Photography
1. Comfort is the key (of course!)
You're going to be in your wedding dress throughout your rather long affair and the last thing you'd want is a dress that's fatiguing to be in. A dress that's too tight to allow for any kind of movement or a dress that irritates your skin is a BIG NO…! So, when you try on your off-shoulder wedding gown, make sure that it isn't restricting your movement, is comfortable and lets you breathe!
2. Undergarments matter
Just having a comfortable wedding dress isn't all. What goes on beneath it should be just as pleasant. Picking the right undergarments will go a long way toward making you look and feel your absolute best on your big day. Yeah, you may envision something white, lacy and romantic (read: sexy), but those types of undergarments aren't always comfortable to be in for hours. Sure thing, they fare better on the wedding night and the honeymoon… Anyway, our point is that the foundation under your off-shoulder wedding gown should be more utilitarian than beautiful.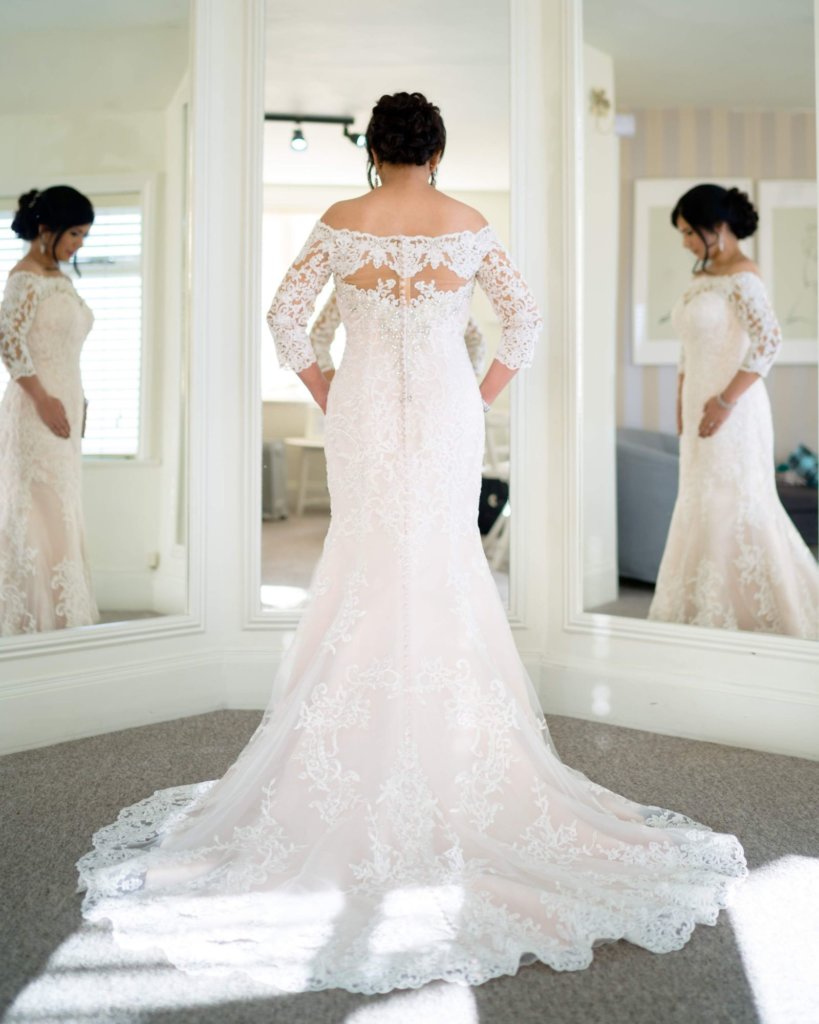 Style: #LD3906 (Custom Version)
Does the back of the gown cuts straight across, with little or no dip in the back? In this case, you can get away with a regular strapless bra. However, you may need to look for the one which has a silicone grip strip along the edges to help keep it from slipping down. You can also choose to wear a bustier or long-line bra under your gown. Because they go to the waist, there's no chance that they'll slip around or fall down. When you feel wonderful, you can rock whatever you're wearing.
3. Pair it with the right shoes
Dress? Check. Undergarments? Check. Shoes? Yes, choosing the right shoes to go with your wedding dress is very important as well. There are two main factors to consider here: comfort and style. You want to make sure that whatever shoes you decide to wear on your wedding day are very comfortable. They cannot be too tight or too loose because they can cause you big problems. The last thing you need is tripping and falling on your special day. If your shoes are too tight, they might change the way you walk in your off-shoulder dress and this is surely not a good look on your wedding day. In addition, have a careful look at them for the styling, making sure they match your pretty off-shoulder wedding dress style as well. Your shoes need to go with your dress properly and not look out of place. If you're wearing a chic off-shoulder gown for your formal wedding, high heels will probably look the best. If it's a casual wedding, on the other hand, you can rock your flats with your dress for that perfect look.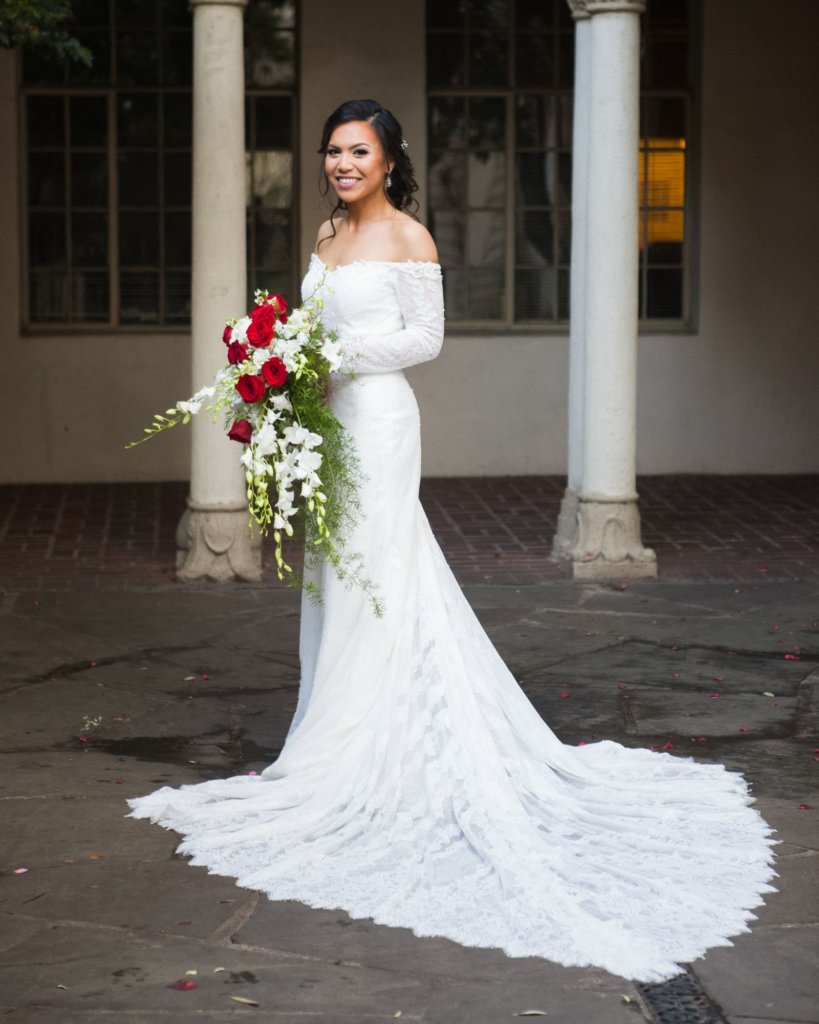 Style: #LD5088, Image Credit: George Street Photo & Video
4. Go simple
Like the glamorous styles of A-line wedding dresses or trumpet wedding dresses, rocking an off-shoulder gown is a statement already. So, make sure your stylists can create a complementary look that won't lock horns with all the drama going on in your dress. You can go completely makeup free as well! The same goes for your accessories. Stick with chic and elegant accessories that won't compete with your dress.
As you can make out, rocking your off-shoulder wedding gown isn't all that hard; it's actually pretty easy once you know the basics. So, why hold yourself back? Be brave to try a pretty off-the-shoulder wedding gown and add some special touches to your wedding memory.