Your bridesmaids play a very important part in the biggest day of your life. They will stand next to you at the altar and they will sit front and center at the head table. Not to mention, they will be in a ton of pictures. For this reason, it is important to make sure they blend in with your wedding theme flawlessly. Sure, there is a great deal of planning that goes into finding the perfect dress for your girls. From color and design to size and price, finding the right bridesmaid dresses is anything but easy.
Instead of obsessing over what will and will not turn out well with your wedding theme, look at our suggestions for these four trending wedding styles and the most sought-after bridesmaid dresses.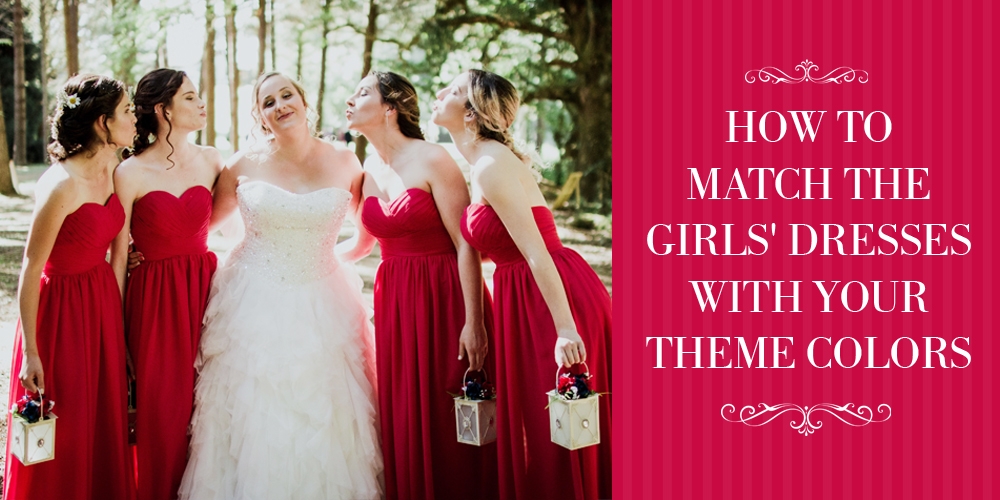 1. Rustic theme
If you have always set your heart on tying the knot at a country barn or farm venue, embracing bona fide rustic looks, short lace bridesmaid dresses are the way to go. They are uninhibited, simple and fun and lace is perfect for a rustic style wedding. When it comes to the shades for your girls' gowns for your rustic wedding, you should think light and breezy tones that are easy on the eyes; shades such as ivory, browns and pales. For an even more rustic chic look, you can even consider mix and match bridesmaid dresses with different complementary colors in the same family. That way, each girl can single out her own style and put on what makes her feel the most comfortable. Rest assured your girls will absolutely dig this. Just remember when you are going rustic, less is more.
2. Vintage theme
Vintage styled weddings often feature some very classic maid of honor dresses, and the best ones are able to blend the old-world charm with contemporary style. Dress your girls in embellished long bridesmaid dresses that are special and wonderfully chic. These embellished long gowns are excellent for some glamour, but a little more subtle than full sequins or beading. With a range of different necklines from strapless to full coverage, each girl can opt for her own style to flawlessly complement her individuality and body shape. Pastel dresses with clean lines are wonderful for such an exquisite affair and will absolutely turn heads.
3. Beach theme
Whether you are flying off to a spectacular retreat on an island or hosting an intimate celebration in a picturesque, coastal town, short chiffon bridesmaid wedding gowns are perfect. Chiffon is the ideal fabric choice for a beach themed wedding ceremony as it is light and uncluttered, it can be found in virtually every shade and silhouette under the sun and it offers a relaxed, cheerful sense of spirit. With the free and easy essence of beach weddings, this fun and flirty style dress is wonderful for the occasion. Go for a consistent look or mix and match necklines for a refreshing look. You can foreground the natural scenery by choosing dresses in shades that harmonize with the shore, surf, and sea. From soft hues to bright shades, there are no actual rules on what color to pick for your beach wedding.
4. Classic romance theme
With classic shades, an elegant ballroom venue, and an endearment for tradition, your wedding desires to feature timeless, floor-length chiffon bridesmaid gowns. A few things say grace like long dresses and chiffon is a light, feminine fabric that complements just about every bridal gown style. Your girls will feel wonderful in their chiffon dresses — not to mention, they are incredibly comfortable for dancing the night away in. Again, go easy with a pastel color palette.
If you do not want to outfit your girls in regular bridesmaid dresses, gift them with marvelous wear again bridesmaid dresses that they will not only feel beautiful in but can actually put on at other occasions. Regardless of whether you are hosting a glamorous ballroom celebration or an outdoor rustic affair, putting your finger on the right dress for your girls to fit in with your wedding theme is the key. Although it is your day and you can do whatever you want, but a little coordination can still go a long way.