These days, there is so much emphasis on planning the "fun" parts of a wedding (reception, music, food, wedding gown, etc.) that the ceremony can quickly turn into nothing but an afterthought. What many couples do not seem to realize is that the ceremony is, in fact, the cornerstone of any wedding. And to make the big day truly unique and memorable, every aspect of the ceremony needs to be well thought out.
If you intend to hold a magical wedding ceremony (and, of course, you do), here are a few tips that might come in handy.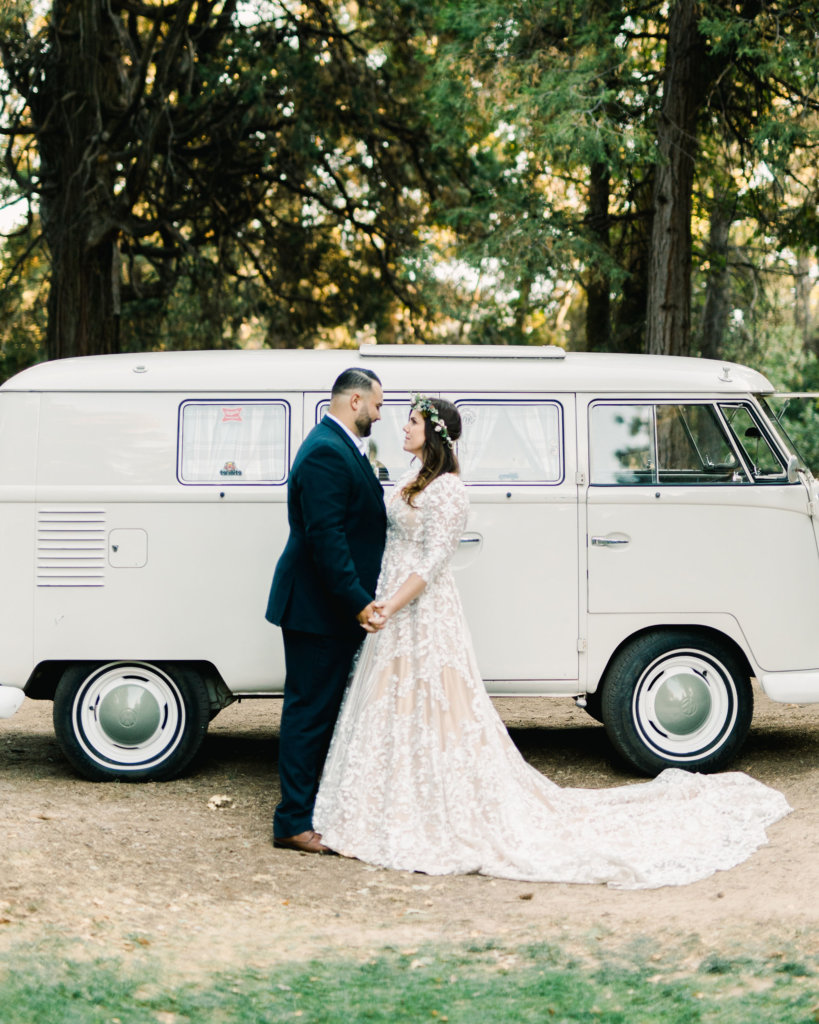 Style: #LD5190, Image Credit: Free Hope Photography 
1. The processional
The processional is the opening of your wedding ceremony that will set the tone for the rest of the big affair. To have a comfortable and elegant walk down the aisle in your trumpet style wedding dress, you may want to put someone in charge of your processional on your big day. Even if you are not working with a wedding planner who could take on this role, you can ask a friend or family member to be your "processional coordinator" and task them with the responsibility of getting you down the aisle on time and in style!
Keep in mind that one of the most serious hiccups within a wedding ceremony processional is music cues. So, as you plan your professional, make sure everyone is on the same page with your music selections and cues. If you are working with live music, work out the music cues ahead of time with the person in charge of your trio, quartet or band and ensure they have a copy of your professional order. If your DJ is running your processional music, do the same.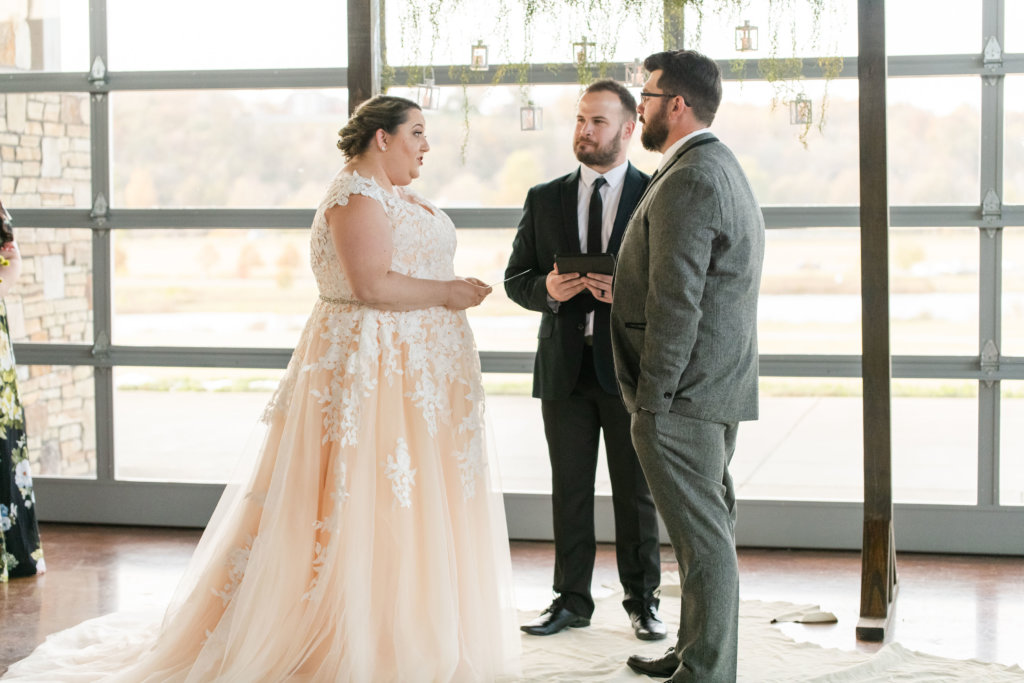 Style: #LD4534, Image Credit: Christy Photography 
2. Exchange of Vows
Well, there surely are countless ways you can exchange your "I Do's" and Vows. You can use traditional forms, which your Officiant will have copies of, or you can use more modern versions of them, which you can find online or in books if the person doing your ceremony does not have them available. And, of course, you can even write your own.
Whatever you choose, you do not have to go with the garden variety traditional vows unless they mean something to you. Go for something special. You can repeat your vows after the Officiant prompts you, or read them yourselves from a written card – just try to avoid memorizing it since the stress of a wedding can lead to sudden lapses in memory.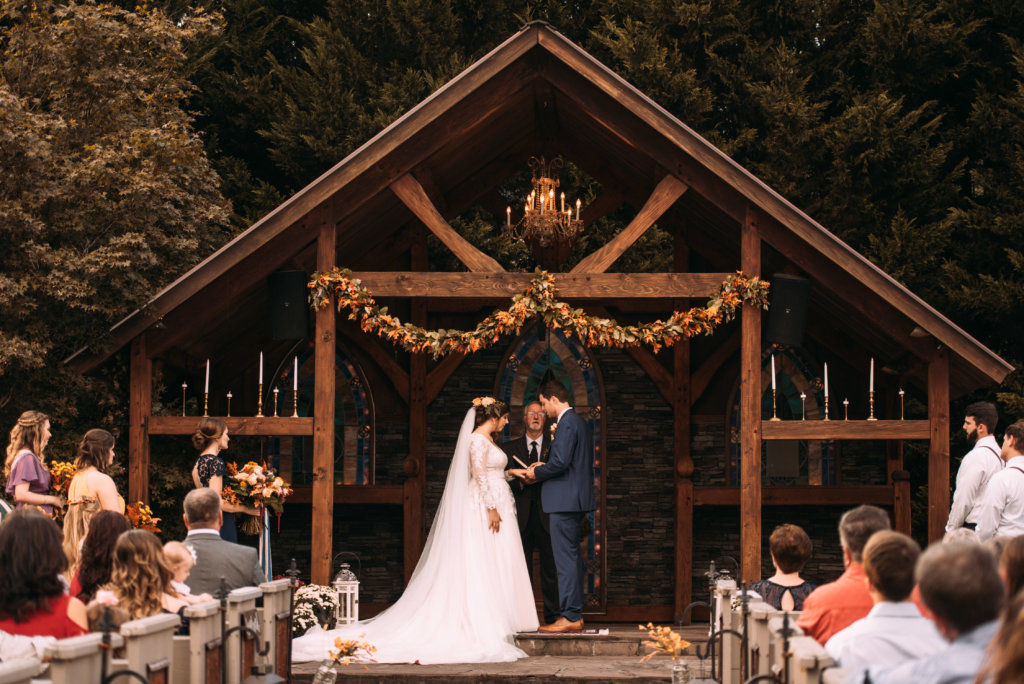 Style: #LD4432, Image Credit: Mary Claire Photo 
3. Exchange of rings
The presentation and the exchange of your rings are two of the most important parts of your wedding ceremony. The wedding rings are a symbol of the marriage and your commitment to each other. If you are sticking to tradition in your wedding ceremony, there is a specific way that you and your partner should give your rings to each other. However, if you want to make your wedding unique and different, there are many ways that you can present your rings to each other in a creative way. For example, you can have the ring tied to the wedding bouquet, and you could also include a special person in your life, a grandparent or a step-parent in the wedding ceremony by naming them your honored guest and asking them to present the rings.
The next question is what you will say when you give the rings to each other. If you are having a religious wedding, there will likely be a phrase which has been passed down for generations. This traditional verse might be just perfect for your religious ceremony. If you do not want to use the traditional vows, though, you are free to come up with your own meaningful phrases.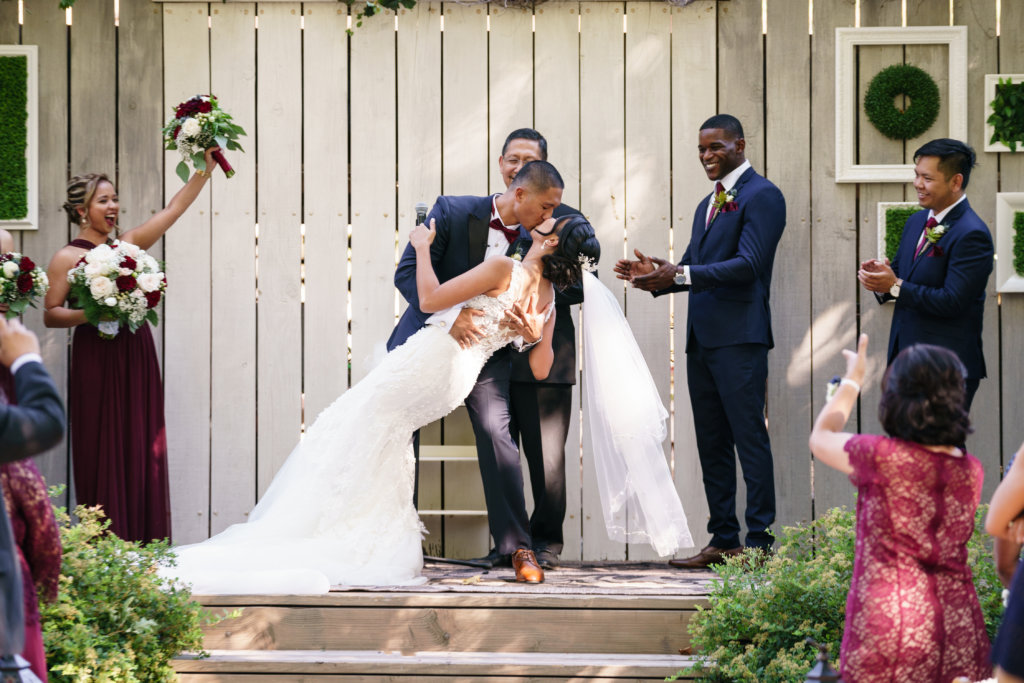 Style: #LD5058, Image Credit: A Touch of Soul Prod 
4. The kiss
Every wedding ceremony ends with a sweet kiss. A fantastic and memorable kiss to top off a sweet and loving wedding ceremony is a beautiful forever memory for a couple. Although it might seem elementary to talk about "kissing,' you should know some couples are just better at the public "kissing thing" than others. So, you need to take a moment to discuss with your fiancé what you both want and desire the moment you "seal the deal." Do you want a big smooch? A small peck? An enthusiastic and energetic kiss?
To wrap this up, remember to keep things in perspective and enjoy the moment. When it is all over, you will be glad to have a stress-free, unique and unforgettable ceremony.