All right ladies, now that you have got your lovely wedding dress, it is time to accessorize it! There is no doubt about it, your wedding accessories can make or break your wedding ensemble. This is why you need to know how to pull them off like a pro so they not only go well with your wedding look, but, in fact, enhance it.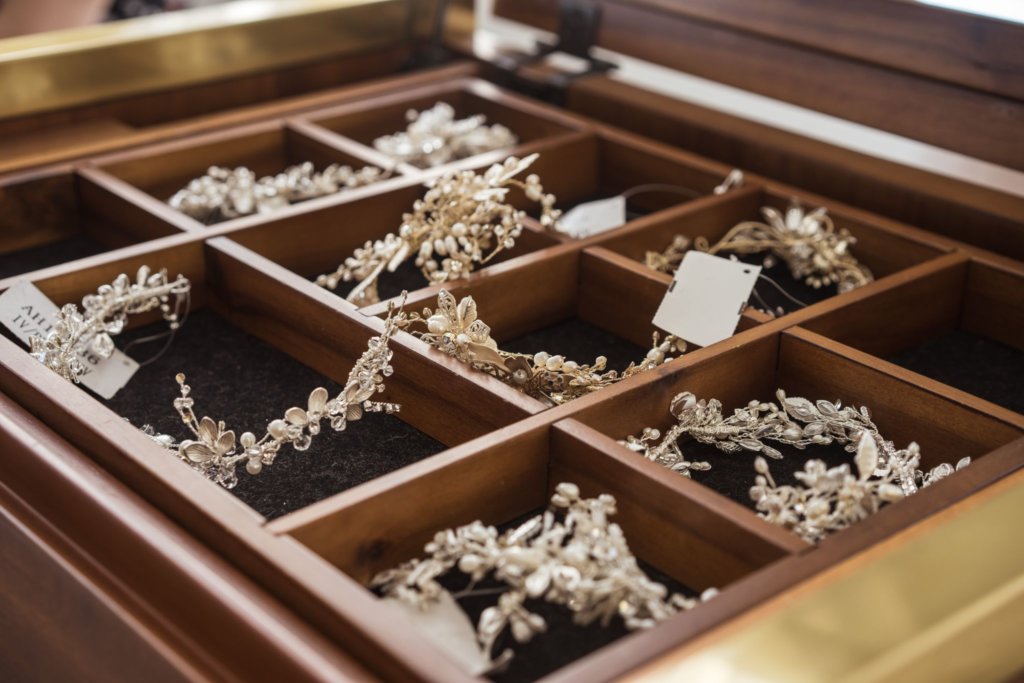 1. Seek to reflect the style of your gown
Whatever dress you are wearing on your big day – whether that be an A-line dress or a princess gown – make sure that your accessories adequately reflect its uniqueness and charm. Have a dress that features beaded detailing? Find beaded earrings or a beaded necklace to top off your look. Have a colorful, casual gown? Carry a clutch bag in a bright color and bold prints to attain that perfect uninhibited wedding look. Donning a more traditional wedding gown? Pair it with elbow-length gloves to add to the understated elegance of your wedding look. When you wear accessories that harmonize with the distinctive style of your wedding gown, you look…. well, complete! And yeah, glamorous, too…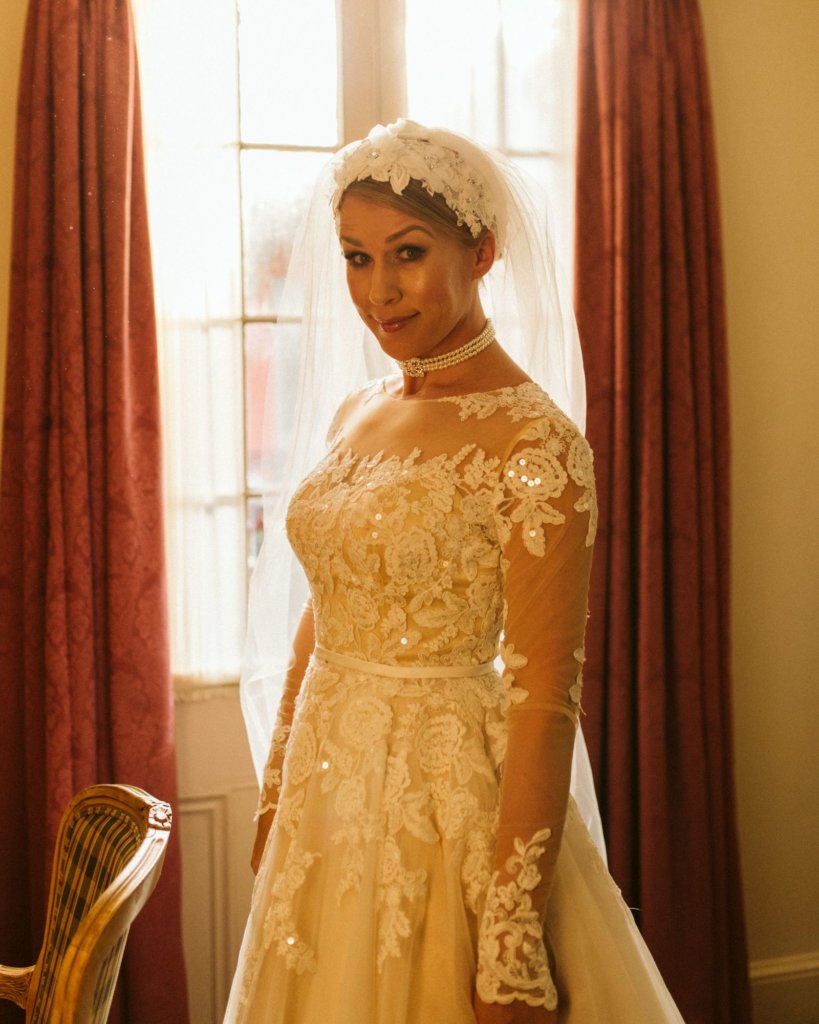 Style: #LD4567, Image Credit: @atwes
2. Work with your hairstyle
Regardless of whether you are rocking an elaborate updo or long and flowing tresses, you should go for a headpiece and veil that improves upon your already wonderful hairstyle. This should not be an onerous piece of work, considering you can find a myriad of wedding accessories online – meaning that those sparkly tiaras, elaborate headbands and pearl clips are all at your fingertips. You can wow all your guests with an elegantly twisted bun adorned by a crystal-encrusted comb attached to a veil or by affixing a silk flower to your stunning hairdo, complemented by a two-tier shoulder-length veil.
3. Strike for a happy medium
Too many accessories can distract your attendees and detract from your chic wedding look. So, try to create a balanced appearance from head to toe when trying on wedding accessories… do not overdo it. On the other hand, you do not want to under-accessorize and end up with a more basic look than you anticipated. Reach the ideal balance by picking one statement accessory (you can choose one from the many vintage bridal accessories available in the market) and keeping the rest of your accessories subtle so they do not compete for attention. One simple way you can take your wedding look to the next level is by choosing a pearl-studded tiara to go with your pearl-string necklace or crystal earrings to match your crystal-covered comb… You get the idea.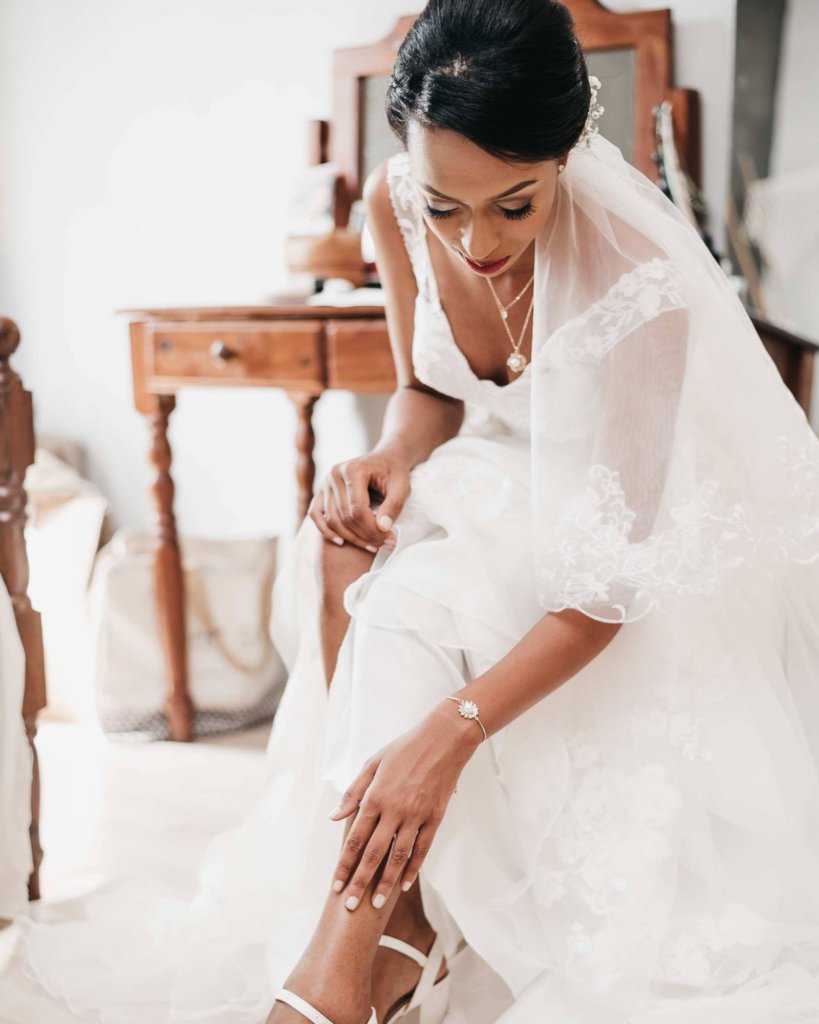 Style: #LD5714
4. Treat your feet
Despite the fact that most brides prioritize looks when picking out their pair of bridal shoes, you should not! You should go beyond looks and get yourself something comfortable instead (something you can stand in for hours and something that will not rub your feet anywhere.) BUT… if you have found a pair of shoes that looks absolutely marvelous but is not as comfortable as you would like, what do you do? Well, in that case, why not consider buying two pairs – those tempting stilettos for the ceremony and all the pictures and a comfortable pair of sandals for the reception and all the dancing?
5. You can always use a hand
Are you uncertain of which veil to use or cannot find the right jewelry that will go with your wedding gown? When you are too close to the ball game, all you need is an outsider's perspective. Instead of feeling overwhelmed, take a step back and ask for second opinions. Your bridal consultant is full of helpful tips that will make the decision-making process a bit easier. See what your maid of honor thinks, or different members of your family. Keeping your ears open to their advice will enable you to narrow down your decision, but at the end, stay true to your instinct as well. It is your wedding, after all.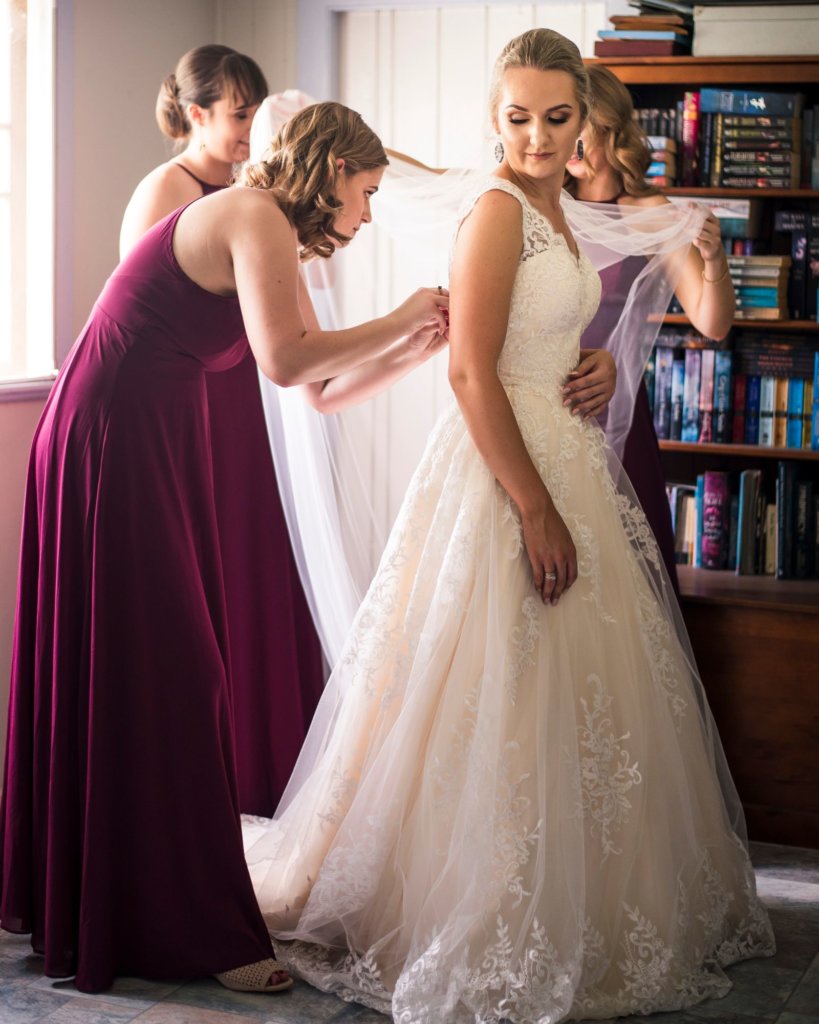 Style: #LWXT16001, Image Credit: Photos By Bri
The final touch
When you know how to pair your exquisite wedding accessories with your equally exquisite wedding dress, you will definitely look and feel amazing – and it will show through your confidence and attitude as you will be positively glowing when walking down that aisle.