Tracy & Wade tied the knot in Erie PA and had a special wedding theme inspired by tall ships and pirates. Words cannot fully express how wonderful the day was, which filled with love and smiles! Tracy chose our top-seller Giulia Gown and was absolutely gorgeous in her dream gown. Congratulations to these 2 cute lovebirds!
All photos were taken by Noveli Wedding Photography.
Wedding Dress Style: #LD5830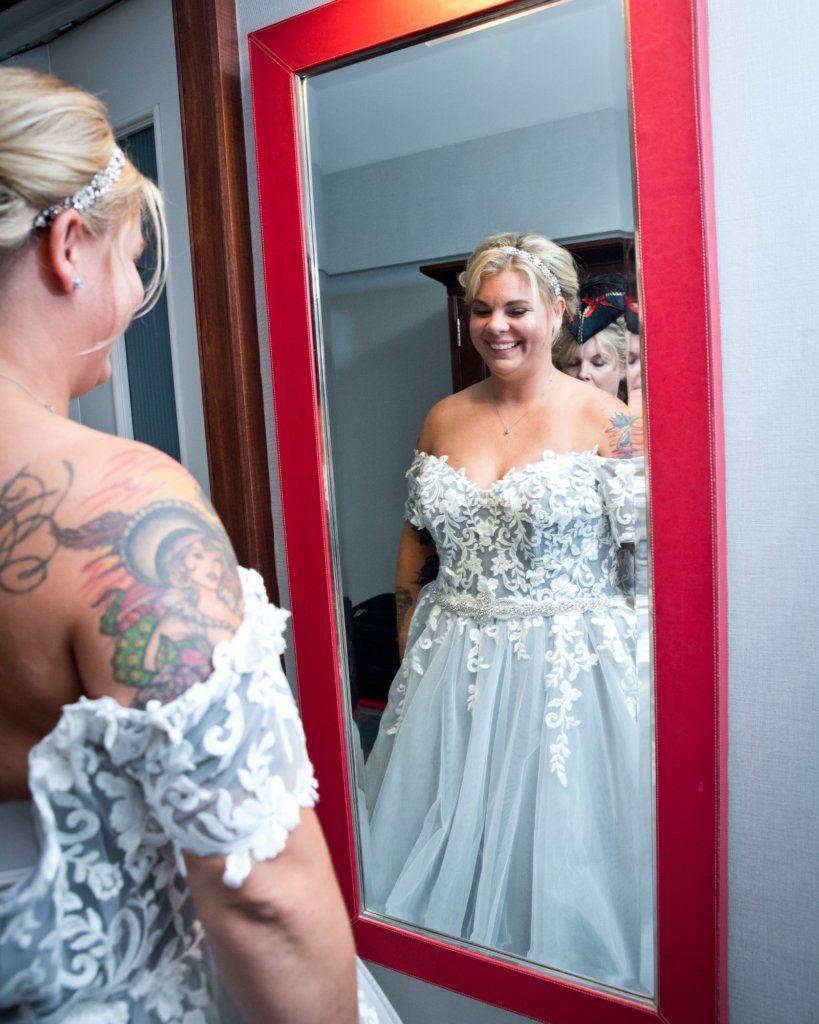 Q: Any advice or tips for future Mrs.?
Don't go overboard.. your wedding doesn't have to be like everyone else's.. do what you want and how you want.. don't copy, but trust in the people who do this everyday and it will be your own.
Q: What was the inspiration behind your wedding theme?
Tall Ships and my love for pirates.. Wanted it to be my own, and not something I see every Saturday (because I myself am a wedding photographer).
Q: How would you define the message "Dare to Love"?
Dare to Love = Dare to do everything together.
Q: Tell us your love story! Where & How did he propose?
We met at a country club.. I worked there and he is a member.. we kept our relationship a secret for a long time. He proposed with my 10 year old daughter 2.5 years later.
Q: What was the best/most memorable part of the day?
Being on the ship and setting the sails.. Our first look was really great too. I made a video he didn't know about.. at the end it said turn around, and I was behind him.
Q: Where did you hear/find CocoMelody?
I noticed this dress on my IG and FB "pop-ups".. loved the dress and seeing the other beautiful ladies in it.. they looked fabulous and I know I would too. Took a chance an ordered my dress online.
Q: What did you love most about your #CocoMelody dress (es)?
The quality and how well it fit. My wedding dresses was absolutely gorgeous!!
Q: What do you think about CocoMelody and the customer service?
I'm a fan of CocoMelody, and suggest to other brides about the company.