If you have a penchant for all things eerie and supernatural, there is a good chance you may be considering a Halloween themed wedding, considering Halloween is creeping around the corner. We are totally on board, which is why we have rounded up these eight tips and ideas on how you can throw a badass Halloween wedding.
1. Think up a concept
In order to plan your big affair, you need to have a base, a concept to work on. You can take a formal fall wedding as your starting point and then top it up with some mystery and spookiness. Needless to say, you have to maintain an elegant, sophisticated and a tad eerie wedding without going overboard with the scary stuff. After all, your Halloween wedding is more of a suggestion, a feeling rather than a full-on extravaganza.
2. Find a macabre venue
For your Halloween wedding, any run-of-the-mill wedding venue simply will not make the grade. You need a setting that exudes a sense of mystery, where exchanging your vows will send chills up your spine, but in a good way – think historic buildings and old castles with back stories that will make even the most fearless of your guests tremble and get you quivering with excitement!
3. Settle on a dark color palette
We mean black of course, but you can also throw in a few other shades to keep things interesting. For example, if you want to stick to the traditional ethos of Halloween, you can use red and black. If you are looking for a more rustic palette, you have got to go with deep jewel tones. For a truly magnificent and ever-so-slightly Gothic feel, there is no better choice than black and charcoal. Whatever color palette you settle on, though, just make sure it blends in well with your Halloween wedding theme.
4. Go for spooktacular décor
For your wedding décor, you can either embrace only the subtle aspects of Halloween, such as pumpkins, caramel apples, fall foliage and delicious treats or you can go all out and turn your big day into a spooky, gripping festivity by including ghosts, spiders, witches, and skeletons. Rest assured, both understated and all-out Halloween décor will lend a dramatic and gothic ambiance to your wedding.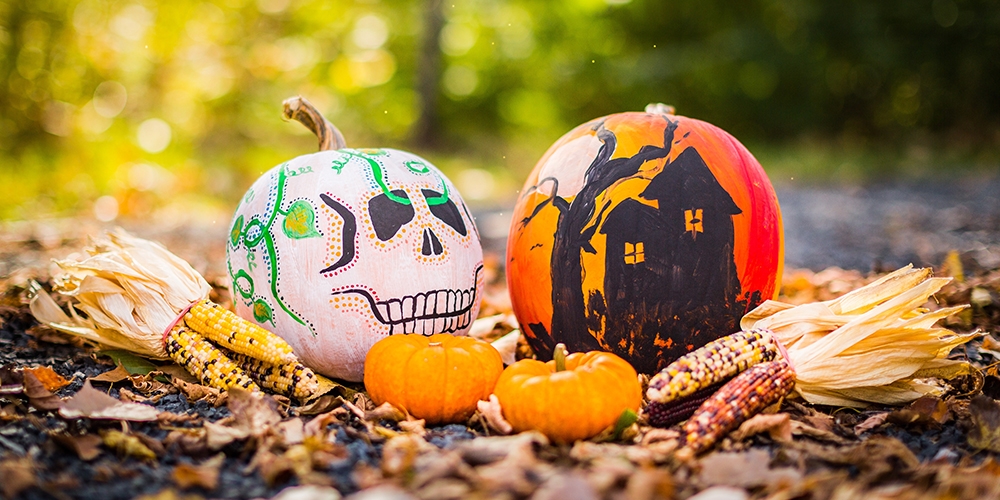 5. Choose blooms with dark, romantic touches
Flowers are an integral element of any wedding, and your Halloween wedding should be no exception. To add that eerie charm to your wedding floral arrangements, you can go with the time-honored blood-red blooms. Or, as another option, you can choose other romantic flowers such as black forest calla lilies, dahlias, and garden roses.
6. Stick to the fall wedding menu
Your wedding food spread is one area where you can ditch the whole Halloween aspect of your wedding. It is perfectly fine if you want to serve seasonal and festive food like the pumpkin, apples, pecans, walnuts, cinnamon, and nutmeg. When it comes to desserts, you might want to stay within that similar realm by offering apple pie, pecan pie or pumpkin cheesecake.
7. Choose a brilliant wedding gown
Nobody is stopping you from being an offbeat and gothic bride, but unless you have set your heart on looking like the bride of Frankenstein or a vampire on your big day, see your wedding dress as a dress and not a costume. For that perfect blend of grace and mystic feel, you can choose a mermaid wedding dress in black (of course.) If you want to keep it low-key and simple, though, you can go with a well-fitted A-line wedding dress. There is a wide range of wonderful wedding dresses online, so as long as you know your exact measurements you will surely run into the dress of your dreams.
8. Get unconventional photographs
Without a doubt, your Halloween wedding photographs are going to look stunning and out of this world – quite literally. Fall tones, Smokey makeup, and your gorgeous bridal gown – the possibilities are virtually endless! For a truly classic Halloween feel, you can take some photographs in black and white or other vintage photo effects.
Bear in mind that while your Halloween wedding does have to give off that spooky vibe, it does not have to be gory or tacky. With the incorporation of some tasteful elements, your wedding can be very glamorous and sophisticated, indeed.