Have you picked a wonderful venue, a mouthwatering bill of fare and breathtaking decor for your wedding? Seems like a recipe for an amazing celebration! But what if, halfway through the reception, your guests start to feel… sort of bored?
You don't want your wedding to bomb but want it to be a blast (And so do we!) So, we racked our brains to figure out how to make it possible and this is what we came up with.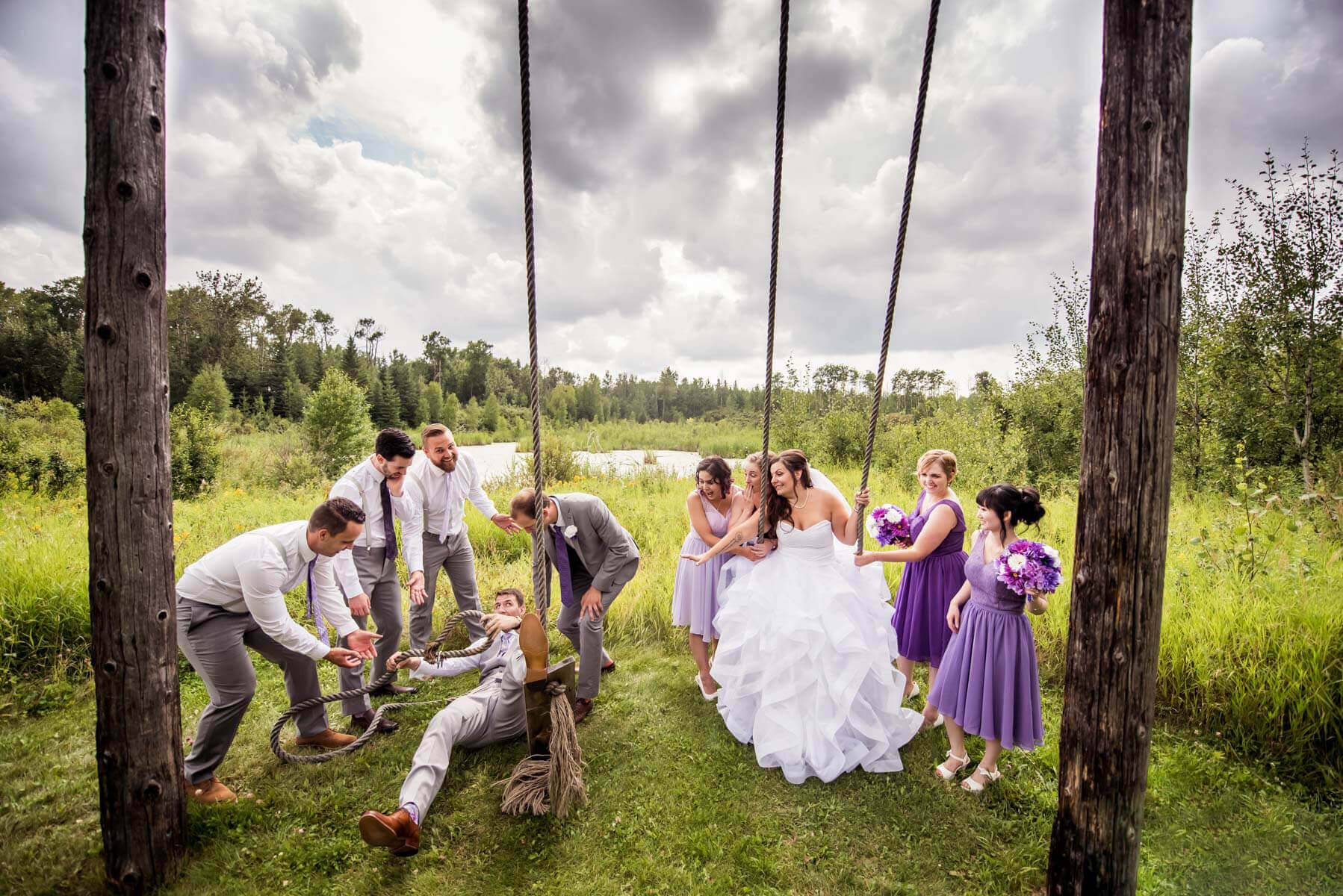 Style: #COZK16001, Image Credit: FM Photo Studios
1. Understand that pretty isn't an emotion
The venue, the food, the décor – all of it paints a pretty picture, but very little of it contributes to the real experience of the big day. Trust us, we're not talking you out of investing time into decorations that make you happy or shelling out big on a venue you always wanted to get married at – because we advocate all of those things! We say this so you can invest your time and money planning the kind of fun experience you actually want on your big day.
2. Pick an awesome location
By an awesome location, you might assume we are talking over-the-top venues like Venice or the Bahamas. We are not. The exotic factor of a location has very little to do with how fun it is. You and your guests may actually find casual and laid back locations more fun! – think your favorite restaurant or a brewery.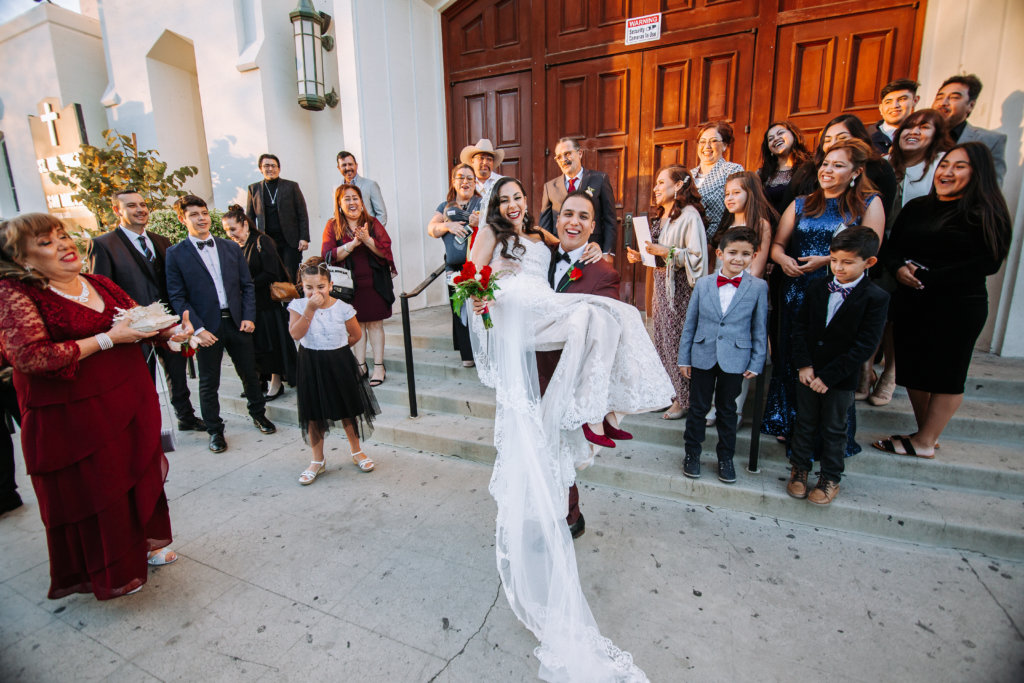 Style: #LD3906, Image Credit: White Studio Project 
3. Choose a kickass theme
Much like your wedding gowns, when it comes to wedding theme ideas, the possibilities are endless. Your imagination and creativity can play a big role when planning for one. And, of course, it doesn't always have to be expensive. For example, if you and your loved one had been to Las Vegas and enjoyed the fun and excitement of playing craps, slot machines and poker, you can also have a wedding based on your Vegas experience. Or if you want more fun for your guests, you can throw a Hawaiian luau for a reception and serve roast pig, tropical fruits, seafood, pina coladas, and other Hawaiian treats. Sounds fun, right?
4. Make your reception a PARTYYY… 
Okay, this one's pretty straightforward. Work out what makes you love a fun party, and then try to incorporate that into your big day. Binging on "the hard stuff"? Dancing till your feet fall off? Knock yourself out.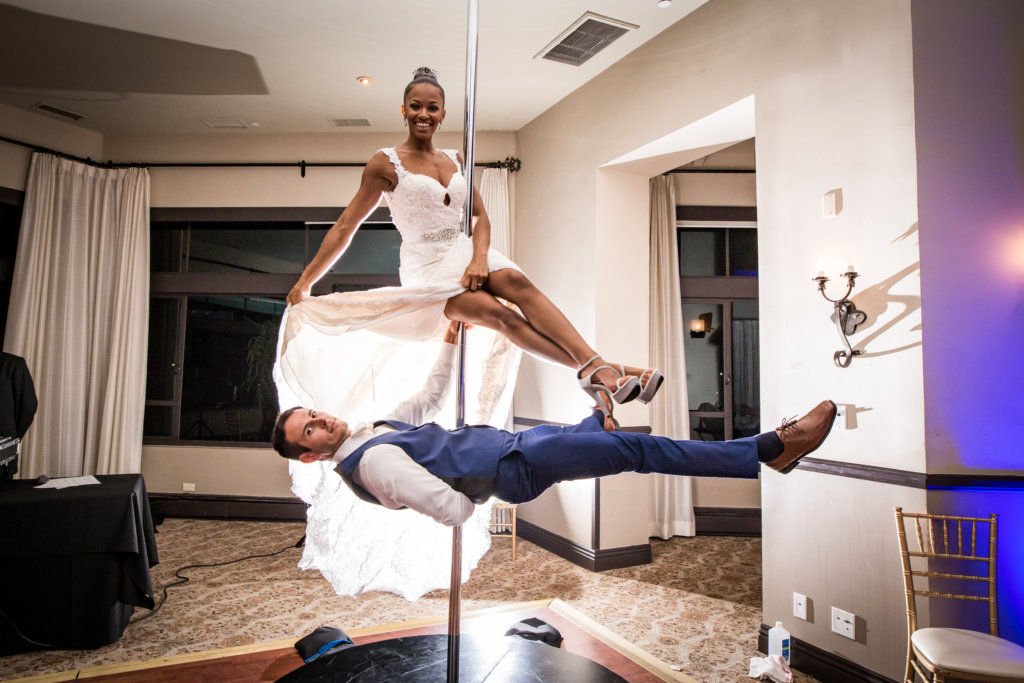 Style: #CWVT15002, Image Credit: Captured by Shane
5. The guests come first
The most important element of your wedding is undeniably your guests. Think about this: when your big day is over, what will you be thinking and talking about? It won't be your floral arrangements or your favors – it'll be the people you caught up with, the conversations you had, and the vibe of everyone present. So, no matter how big or small your wedding, you should always think about your guests first. Everything else comes second.
a. Balance things out
If you want to make sure your guests are comfortable and having a great time at your wedding, you must try to balance what you love and what your guests will love. If that means mixing some pop into your folk rock playlist, so be it.
b. Make your guests feel taken care of
Your guests are essentially putting six hours of their lives in your hands, so it's only fair that you feed them well and seat them somewhere nice. But, is that really all you can do? Certainly not! There are many other ways you can take care of your guests – you can provide welcome notes at the venue, name tags, and a seating chart. Small gestures like these can go a long way in making sure your guests are comfortable and having a great time at your wedding.
c. Spoil your guests with fun favors
One thing you most likely want from your wedding favors is that they are not only practical but fun too. You want your guests to really be glad they've received this memento from you to remember your wedding day and how special it was for not only you but for them too. So, what are some fun favors you can choose from? How about ice cream scoops or maybe a cute coffee scoop? You can also consider candles or personalized luggage tags.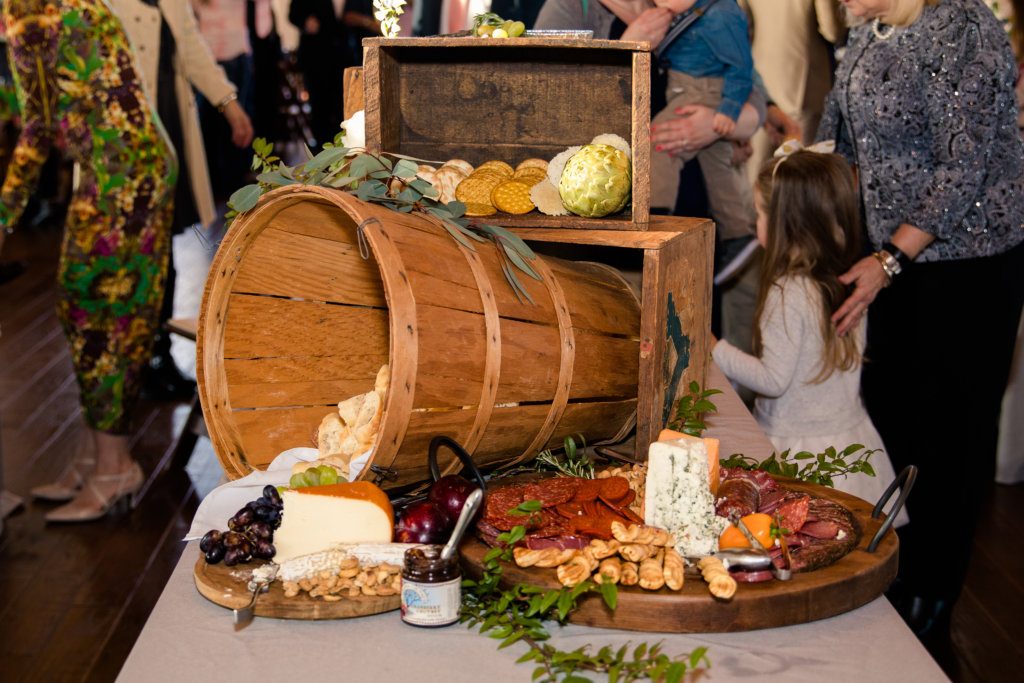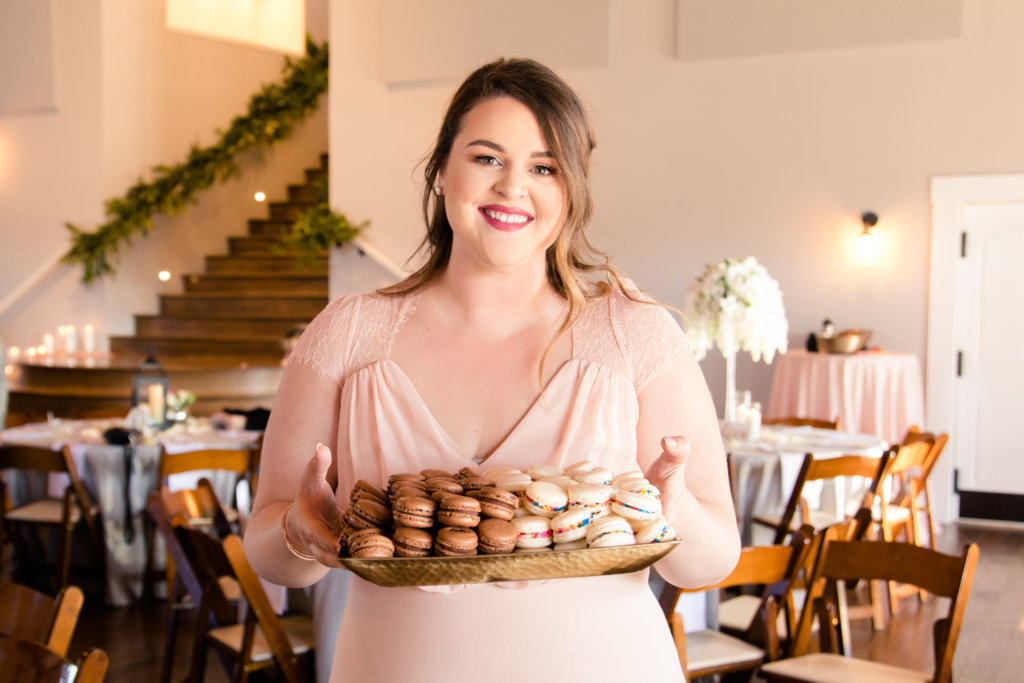 Image Credit: Michelle Valentine Photography
6. Serve delicious food
Feed your guests. Timely. With tasty food. Hungry guests are not the most fun, after all. Avoid boring traditional 'chicken/roast/fish with soup and salad and go for sinful meals with no expense spared on the spread. Or how about a food truck? That's certainly a far cry from your standard dry chicken and/or roast beef, won't you say?
7. Color your bridal party
Gone are the days when the bridal party could only wear pastel shades and traditional wedding colors. Nowadays, bright, bold and fun colors like red, orange, fuchsia, hot pink, purple, and yellow can add to the fun of the whole wedding event. Just be sure to coordinate the color of the bridal party wear to the motif of your wedding. Even if you're wearing an elegant white ball gown wedding dress, the color pops from your bridesmaids' dresses will stand out and add to the overall "fun" appeal of your big day.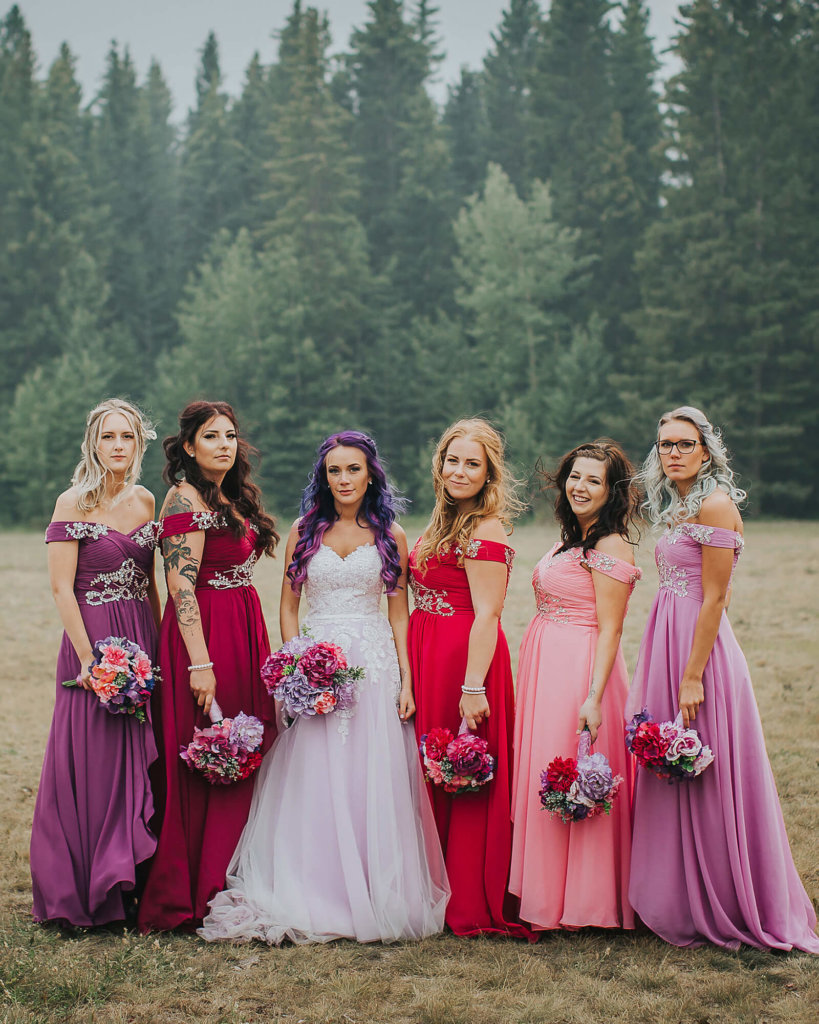 Style: #LD4567 & # COZF15048, Image Credit: Teresa Photography
8. Do a music video
OK… it sounds lame right?  But, have some fun.  Never again will you be dressed up in a beautiful mermaid wedding dress and look as amazing as you will at your waiting.  Take advantage of the situation by having fun with it.  Have your entire wedding party lip-sync to your favorite song and have your wedding videographer edit the clips.  You'll be amazed at the results.
Even with all of these fun wedding ideas, perhaps what is the most important tip we can give you is that if you want your guests to have fun at your big day, you need to let go and have a great time yourself. If you're enjoying, they will enjoy. If you're dancing, they will dance. If you're having a blast, they will too.