A beautiful backyard wedding in Los Angeles that was the perfect reflection of the couple, we can't get enough of real #cocomelodybride Ruby's wedding to husband, Carlos. From the classy & modern decor to Ruby's pretty lace wedding dress, everything about the day was oh-so-sweet. Congratulations to this cute duo!
All photos were taken by Hernan Viera.
Wedding Dress Style: #LWXT16001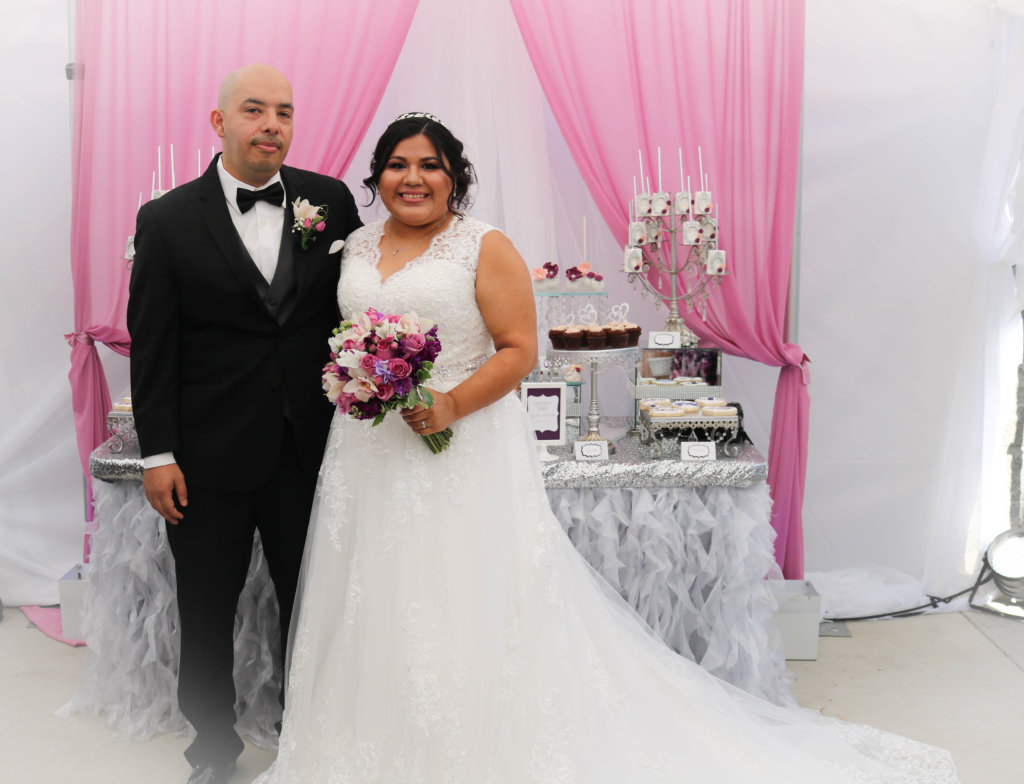 Q: Any advice or tips for future Mrs.?
My advice to any future Mrs. is to keep calm and enjoy the planning process. Do not get caught up with having materialistic things that might brake the bank or to please others. Make sure to plan ahead and start early. In my case I was not running around and stressing because I had a wedding planner who took care of all that for me. But definitely do your homework ahead of time.
Q: Tell us your love story! Where & How did he propose?
My husband proposed 4 years ago on Christmas Day. He picked me up from my house on Christmas eve and we drove to my uncles house for our family gathering. The entire family was there and everything was normal, I had not idea that he was planning to propose at midnight. Our family tradition for Christmas is dinner, playing a couple of gift exchange games, and one of my uncles dresses up as Santa Claus and comes with gifts for the little ones. At midnight we kiss and hug and we start opening gifts. My husband waited a bit longer to give me my gift. When he did, he gave me a huge bag with a box inside. I took it out and thought that it would be a watch… it was my ring! I started crying and he got on one knee and asked me "Will you marry me?". Of course I said yes.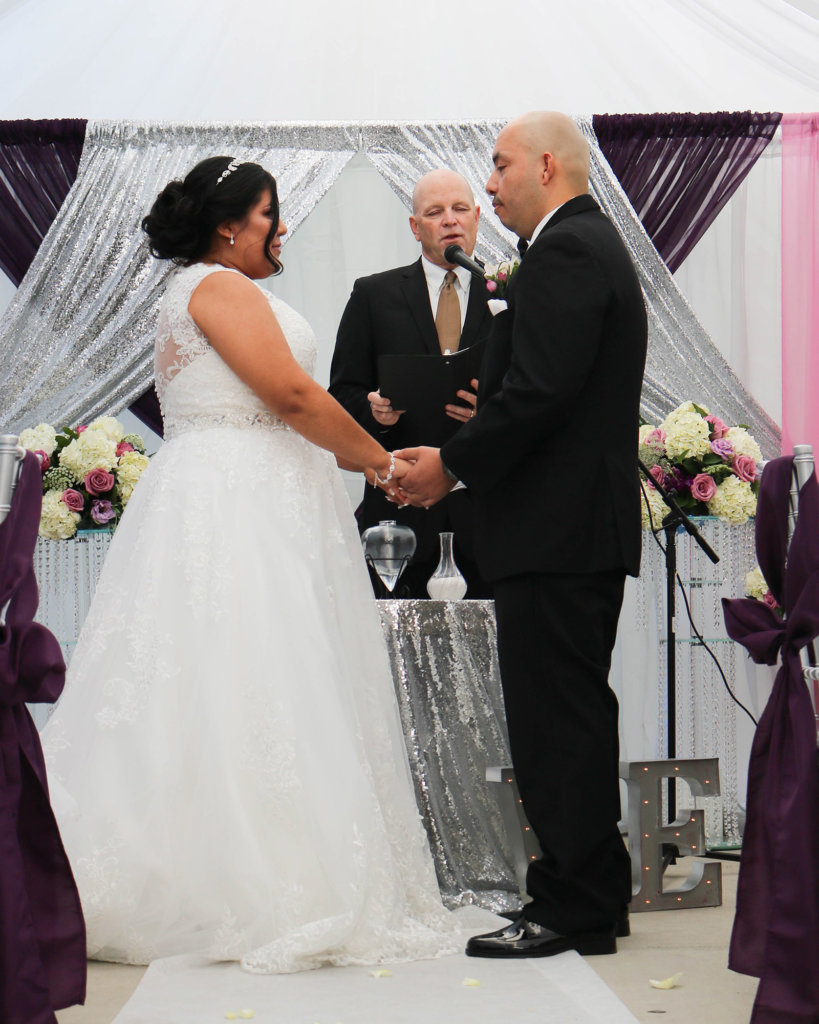 Q: How would you define the message "Dare to Love"?
"Dare to Love" means to me not feeling scared to fall in love. Dare to get to know someone beyond their flaws and imperfections. Dare to love unconditionally. Dare to be vulnerable. Dare with commitment. Dare to be yourself.
Q: What was the inspiration behind your wedding theme?
I have seen various inspirations on pinterest. I was not able to have a salon or hall and really wanted to capture a formal setting in my grandmas back yard. I definitely wanted tents and drapes. I remember my moms wedding being so beautiful and since then fell in love with the color purple. I had been saving pins throughout the years and discovered that I like bling, formal, classy, and modern decor. I honestly did not know what the end result was going to be until an hour before my wedding ceremony. When my wedding planner asked me to go outside and check out the end result I cried happy tears because EVERYTHING came out better than I expected. My wedding Planner's name is Silvia and shes based off the LA area. You can find her on social media accounts under sylviasheavenlyevents … her team is amazing!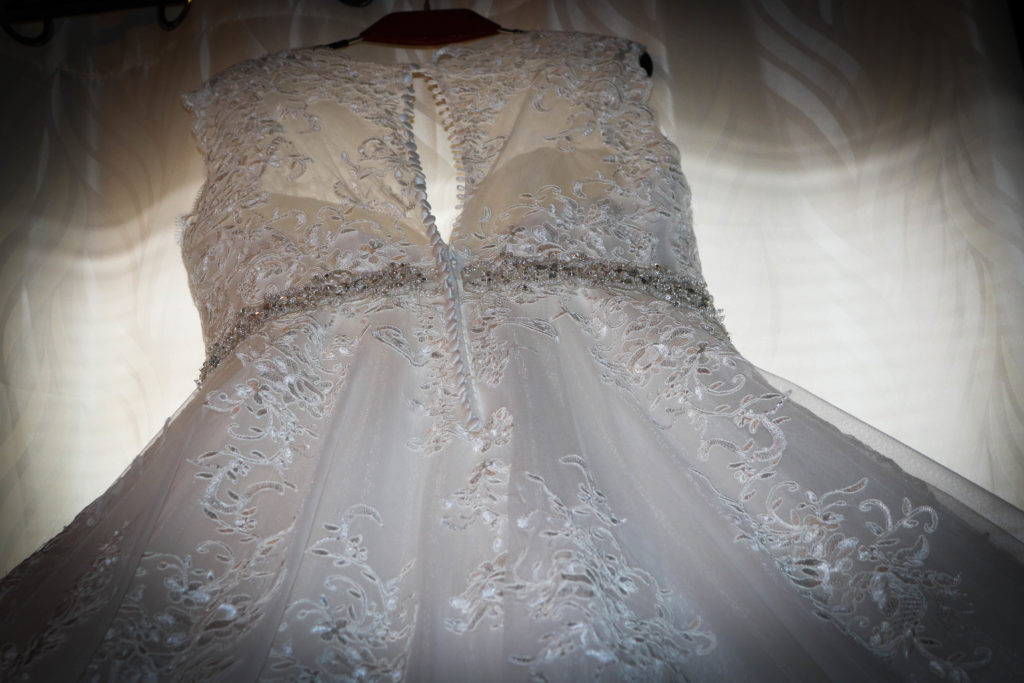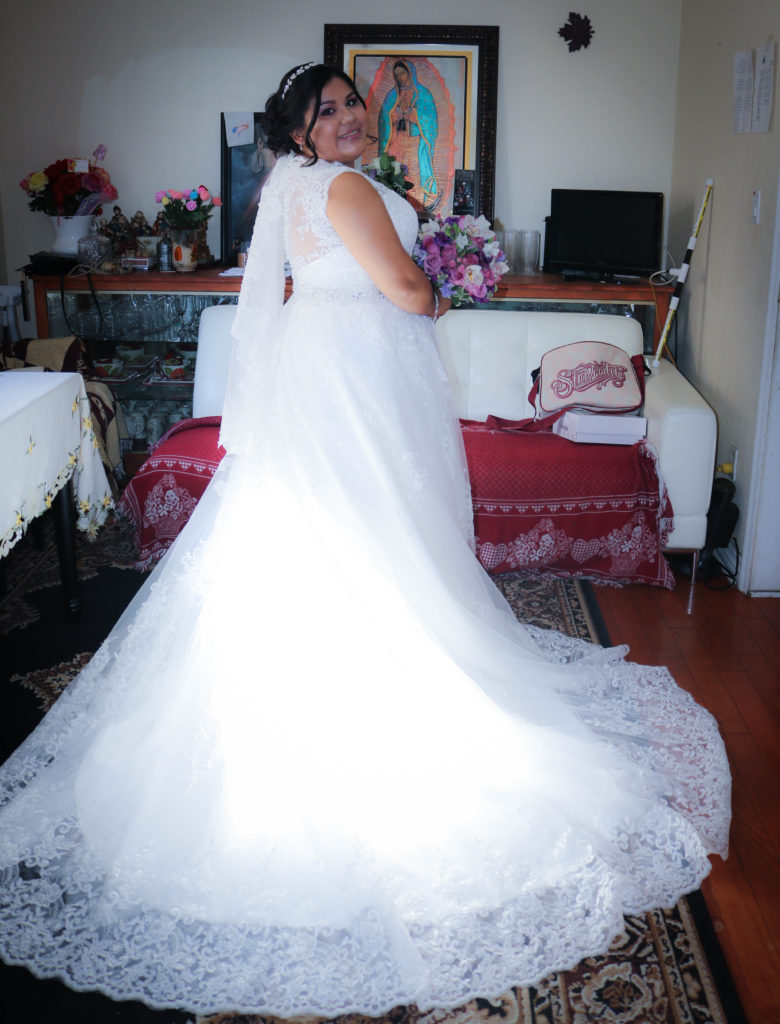 Q: Did you enjoy the wedding planning process? Why or why not?
I enjoyed the wedding planning process. I can honestly say that I was not stressed out at any point. I had planned every detail so far in advanced that I had no worries doing last minute things. Everything went smoothly.
Q: What was the best/most memorable part of the day?
The absolute BEST and Most memorable part of the day was the first dance. I had not planned on it because my husband is not a dancer what so ever. In case of some miraculous miracle (lol) I had a song picked out (Perfect by Ed Sheeren). My family planned to put us on the spot and at the end of one of my cousins speech during our toast, he announced our first dance! Me and my husband looked at each other and he said "lets do this!" I was so happy because this was LITERALLY our FIRST dance EVER! We had people crying and he was whispering beautiful words into my ear and said he'll do anything to put a smile on my face. After the first dance, I asked to dance with my mom to her wedding song and again the water works.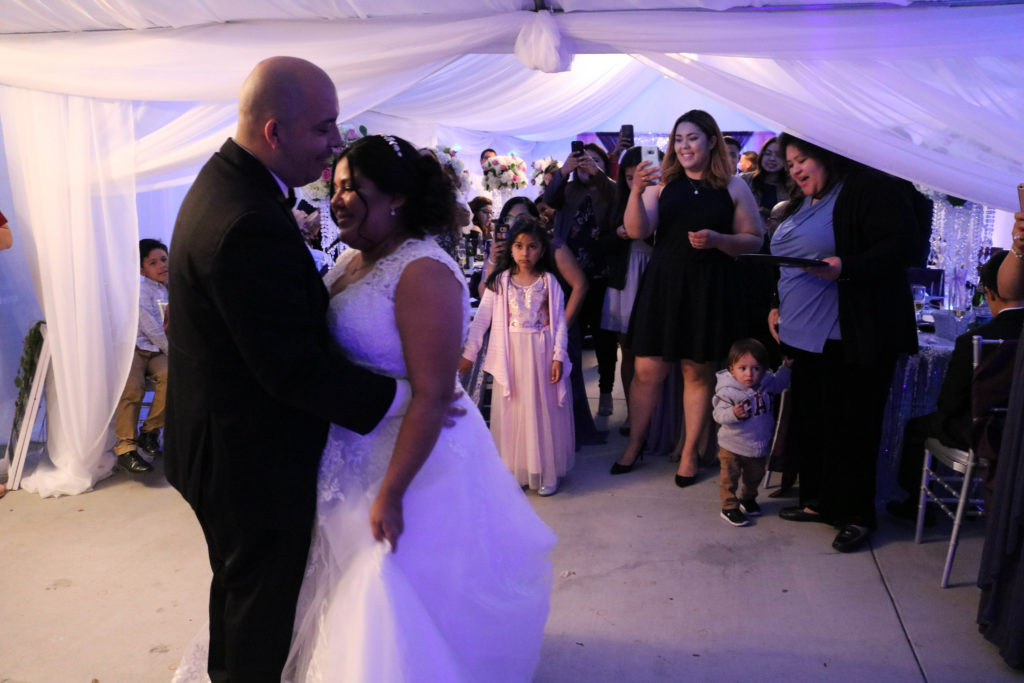 Q: What did you love most about your #Cocomelody dress?
OMG, what didn't I absolutely love about my dress! Everyone loved it and said it was so me. I did my homework before going into my first dress appointment and picked out about 6 dresses I loved online. My stylist pulled them out for me and when I tried on my dress I knew right away I found the one because I cried. I had gone to several places and tried on dress after dress and not one gave me the feeling my wedding dress did. I loved that it was laced without pearls. I added a bling belt to give it a pop and my most favorite part was the back. The back was lace see through and the train was gorgeous. Everything about my dress I loved… even after picking it out I kept looking up dresses but I was more than satisfied with my purchase. The price was what I was looking for since I was on a budget.
Q: What do you think about Cocomelody and the customer service?
Cocomelody is AWESOME! I have been recommending the shop to my bride friends and they have actually gone to check them out. My stylist was very helpful, since the moment I walked in, everyone was welcoming and loved that I always had a one on one session without interruptions. I found you guys through a random ad online and checked out your social media before I even needed my dress. I had been following you guys for a while and knew that when the time came I would get my dress at Cocomelody. I am so happy how the company has evolved! I'm literally your number one fan.