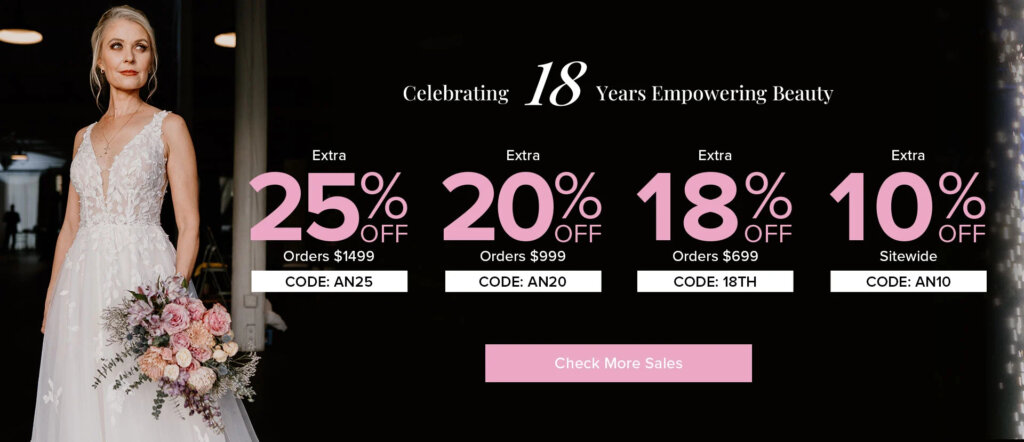 Wedding Dresses On Sale
Cocomelody is celebrating their 18th anniversary and you're invited to join the party! As a leading bridal brand, Cocomelody empowers true beauty with their stunning wedding gowns, bridal party dresses, and flower girl dresses. To celebrate this milestone, they are offering up to 25% off on your dream wedding gown, 30% off on all bridal party dresses, and 25% off on flower girl dresses. This super sale is the perfect opportunity for brides-to-be to find their dream wedding dress at an unbeatable price.
At Cocomelody, they believe that every bride deserves to feel beautiful and confident on their special day. That's why they offer a wide selection of wedding gowns in different styles and sizes to suit every bride's unique taste and body type. From elegant ball gowns to romantic bohemian dresses, their collection is designed to make every bride feel stunning.
Here are the details:
Celebrating 18 Years Empowering Beauty
Extra 25% Off Orders $1499 Code: AN25
Extra 20% Off Orders $999 Code: AN20
Extra 18% Off Orders $699 Code: 18th
Extra 10% Off Sitewide Code: AN10
Shop Now
Other Super Sale
In addition to their stunning wedding gowns, Cocomelody also offers a variety of bridal party dresses and flower girl dresses. With the 30% off sale on all bridal party dresses and 25% off on flower girl dresses, it's the perfect opportunity to find the perfect outfits for your bridal party.
Bridesmaid Dresses Offer!
Buy 4, Extra 30% Off Code: BD30
Buy 3, Extra 25% Off Code: BD25
Buy 2, Extra 15% Off Code: BD15
Shop Now
Don't Forget Your Little Angels
Flower Girl Offer!
25% Off All Flower Girl Dresses Code: Mini25
Shop Now
Don't miss out on this amazing sale! Visit Cocomelody's website now to take advantage of their 18th-anniversary sale and find your dream wedding dress at a discounted price. With their commitment to empowering true beauty, Cocomelody is the perfect choice for brides looking to feel confident and beautiful on their special day.
Want to know more? Please click here.
*Important Information:
1. Sale valid for all orders placed on cocomelody.com online, SD store, SF store and LA store.
2. Valid for orders placed between March 16, 2023, and 11:59 pm PDT on March 26, 2023.
3. Shipping, tax, and price difference items do not qualify for the $699, $999, and $1499 minimum purchase.
4. Select styles' prices will increase on March 30th, but customers can still take advantage of this sale. Check styles here.