Murphy's Law often comes off on the most important days, doesn't it? Your wedding is no exception. You may have your dream lace wedding dress fitted and ready but emergencies can transpire anytime. So now you need to take a closer look at those "few items you might just need".
What can you possibly stand in need of to make it through the day with a composed appearance, clean look, and relaxed smile? It's time to grab a pen and paper and make a list of things you must have in your wedding day emergency kit.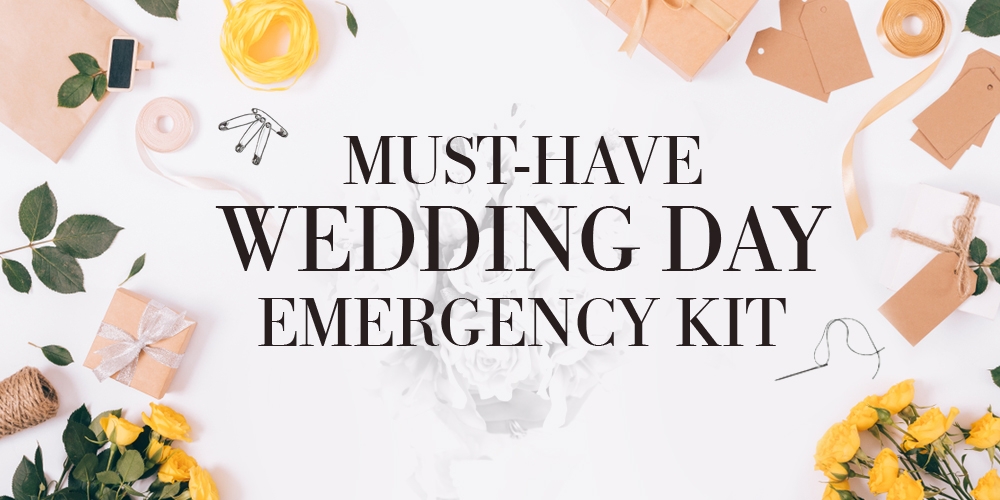 Organize your kit in a carryall
The first thing you would need is a carryall bag large enough to carry all of your essentials for the big day. You may want to choose a bag with ample space and one that goes along with your wedding colors. You can then organize your kit and keep the bag someplace where you won't forget to carry it with you. Making your bag extra special can be part of the ceremonial fun. If you decide to acquire a personalized bag with your name, initials or wedding monogram, you need to do this well ahead of time. You can also go for a small carry-on style case which is pulled along on wheels. Choose a bag with useful compartments so it's easy to find what you are looking for when it's quickly needed. You can have your maid of honor be in charge of putting this kit together or perhaps just bringing it to your bridal dressing room.
Making your list
Some items on your list are easy to remember, such as hair combs, hairpins, safety pins, hair spray or gel, hand lotion, and an extra tube of lipstick. Others are easier to forget, so keep a checklist in your purse and add items as you remember them.
Clothing: Getting hold of a sewing kit and collection of thread colors that match your various outfits, your wedding gown, your bridesmaid dresses, and your groom's attire will help when a button, hook or small tear turns up, making them easy to quickly fix. For other issues, pack crazy glue, extra buttons, and clear nail polish for pantyhose runs. Better yet, pack a few extra pairs of pantyhose stockings, for you and your bridesmaids. Other items to consider bringing are a stain remover and white chalk for cleaning any last minute smudges on your dress. Pins, scissors, and hem tape can also be lifesavers in the dressing rooms.
Beauty and personal: Stash away your preferred cosmetics including nail polish in the bridal colors as well as an additional hairbrush and a compact mirror. Consider packing breath mints, toothpick, floss, and a nail file. If you wear contacts, bring any cleaners or eye drops to keep the red out during dry, sunny or windy weather. Subject to what jewelry you plan to carry, you may need extra earring backs and a timepiece to keep track of time.
Little extras: You never know what might take place – particularly on a fast-tracked wedding day. Come prepared and ahead of schedule. Carry extra cash, change for meters or phone numbers for a local cab company. Do not lose sight of copies of contracts and wedding vendor contact information. Dropping in a bottle of headache-relieving tablets and a few healthy, energy snacks will keep you feeling alert.
Start compiling your list a few weeks before your wedding and have your carryall and emergency kit ready weeks beforehand. Asking other newlyweds about what they wished they would have called to mind on their wedding day is a brilliant idea, too. You may come up with some items not pointed out here or those which you never would think about on your own.