The 'just married' smiles say it all! Rebecca & Kyle's fall wedding was filled with vintage vibes in a color palette of navy, burgundy and plum. The additional touches of golf here and there in beautiful and delicate ways also make the statement. It was such a pleasure to make Rebecca's dream dress and to see her stunning bridal glow! Congrats to these two lovebirds!
All photos were taken by Amy Pinkston Photography.
Wedding Dress Style: #LWKT15006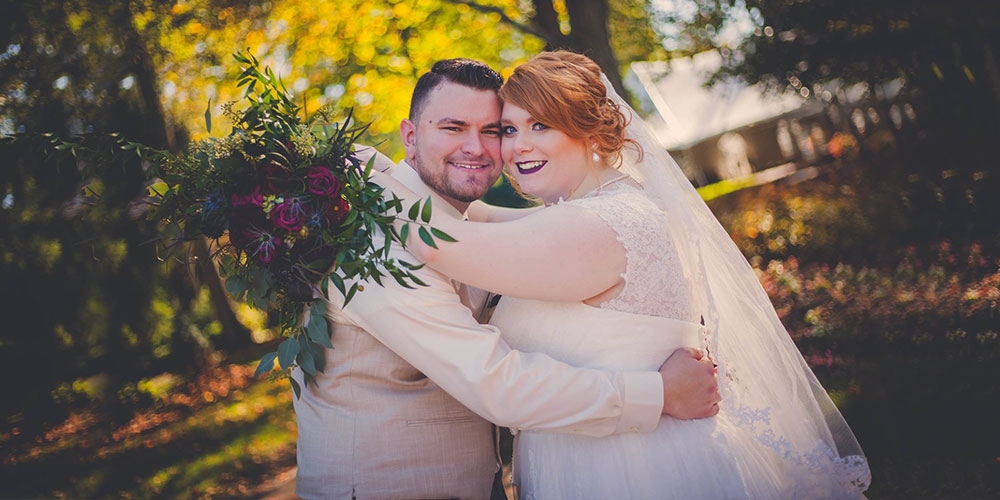 Q: Any advice or tips for future Mrs.?
My tips for the future Mrs. would be stop trying to make everyone happy at your wedding, it's ok to be a little bridezilla and have things about you and your husband. It is your day and you don't need to be stressing over other people who will also have their day.
Secondly, Make sure that you are happy with your photographer because that is something that you will look back at for the rest of your life, if you need to splurge on your photographer and cut costs else where and take as many pictures as you want, I wish I took more with my bridesmaids. Maybe instead of inviting people you don't really know who will come up to you on your wedding day and you will be like who are you, you can get that extra special photographer who will capture every moment. Also do little things for the yourself and the special people that are part of your wedding like customizing a bridesmaid gift, sneak off and do something cute for your groom to surprise him when he's getting ready and have a wish you were here table or some other way to incorporate your loved ones that couldn't be there. Lastly make sure you eat before hand cause even if you have time to eat which most people don't because people keep coming up and congratulating them, you are usually too nervous to eat and you will get back to the hotel starved so maybe even ask your caterer to make you a doggie bag for when you leave.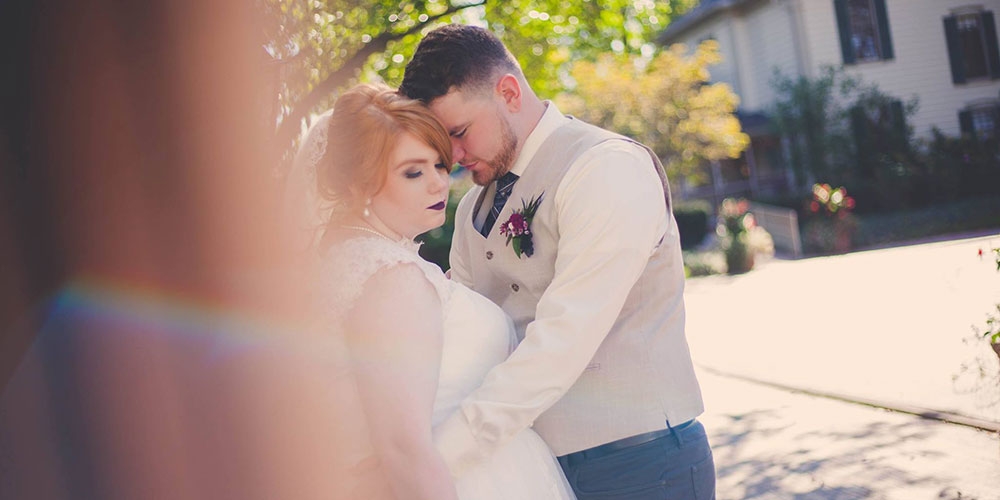 Q: What about your love story?
My husband and I met at work when we lived in Colorado and I asked him out to Chinese for lunch one day. I ended up getting such a bad cold because it was my first cold in the different altitude and I ended up calling off for a week, but we were both so nervous we forgot to exchange phone numbers at lunch. My husband thought that he had scared me off so bad with his funny jokes and nerdyness that I quit my job and actually  went up to my department manager and asked if I still worked there. Throughout the next 3 years it got really tough and we should have seen that if our engagement foreshadowed anything.  We were originally going to get engaged at Garden of The Gods in Colorado because that was our official first date and he was going to propose to me on the rock formation that we sat down on and really got to know each other from 20 questions but our friend came a long with us because my husband wanted to surprise me and have him record everything. Well our friend decided that he wanted to do some climbing on the rocks and ended up falling about 40 feet and hitting his head on a rock/root. He ended up having to be taken by a rescue team to the hospital. My husband ended up proposing the next day at Red Rock Park because he said he couldn't wait any longer, he was just too excited to be my fiance and I of course said yes. He said he was more nervous to ask my parents for permission then actually asking me because by the time he asked he was just filled with excitement. Later that year  we ended up moving cross country to Ohio because the price of living in Colorado was way too high for those just starting off especially when you work retail for a living. Things got really tough then. Our car kept breaking down, my depression got really bad after a miscarriage, and if you know anything about depression you know that people tend to push away their loved ones before they think their loved ones will hurt them. But my husband stayed strong he stayed with me through it all. All the crying, all the screaming, the self harm, and the things I said to him. I never thought that I deserved someone like him, someone that could love me for all my demons and horrible past, but he was able to help me pick of the pieces. He said it made me a stronger woman and that he loved me for all my faults because that was me. A year later he almost died. He had diverticulitis with a perforated colon. By the time we got him to the hospital he had ten minutes left to live. He ended up having a heart attack on the operating table because his body was full of infection and he had gone septic. We stayed at the hospital for 11 days and I never left his side, I thought then that I had lost him and I don't know what I would have done. The month that followed we had a death in the family a really bad car accident , and I got diagnosed with melanoma. We got through it all but all those things that got in our way just showed my husband and I how strong our love was and that we could get through anything as long as we are together. I couldn't ask for anyone better to walk with during this crazy journey.
Q: What was the inspiration behind your wedding theme?
The inspiration for the wedding came from the fact that I always wanted a vintage barn wedding, and I ended up picking a color scheme that looked best with my husband and I but still fall (navy, burgundy, and plum)  but I didn't want the wedding to just represent me so we decided to add touches of golf here and there in beautiful and delicate ways without being too obvious. 
Q: Did you enjoy the wedding planning process? Why or why not?
I enjoyed planning our wedding but I am very grateful we had 3 years to plan. I can not imagine doing it in a year or a couple of months. I do how ever wish that I had my family more involved to take some of the weight off. 
Q: What was the best/most memorable part of the day?  
The most memorable part of the day was walking down the isle, the music (a thousand years by Christina Perri) was timed just right and when my husband turned around and saw me he broke down crying and by then there wasn't a dry eye at our wedding. 
Q: What did you love most about your #Cocomelody dress? 
What I loved about my wedding dress the most was the fact that I am a plus size bride but that I didn't have to pay an arm and a leg for my perfect dress like I would have at other retailers and honestly I think the quality at Cocomelody was far better. It had my top 5 things I wanted, the pearl buttons on the back, a key hole, a sheer lace top, lace that covered the entire dress and didn't just stop at my waist, and a sweetheart neckline. I got the custom made sizing and it fit so perfectly that I didn't even need to get it altered. 
Q: What do you think about Cocomelody and the customer service?
Their customer service is wonderful! They were easy to get in contact with and they emailed me back right away. They even sent me an email first asking for my measurements so that they were sure the dress would fit me properly before they started production. Originally I had chosen just a size but they suggested a custom and I was so glad that Cocomelody did because it was perfect. You can definitely tell that they want your day to be perfect just like you do and that they take pride in their work.