All the heart eyes for Beth and John's "rustic vintage" themed wedding in British Columbia, Canada! Can you believe Beth make almost everything by hand with materials second-hand? Love this oh-so unique celebration and obsessed with Beth's one-of-a-kind custom wedding dress LD5484 with shoulder pearls from another dress. What a beautiful combination! Can't wait for you to see Beth and John's amazing wedding photos below!
All photos were taken by Kat Grabowski.
Wedding Dress Style: #LD5484 (in ivory/veiled rose) + #LD3832's shoulder pearls
Q: Any advice or tips for future Mrs.?
Do things for you. At a certain point the pressure of pleasing others might get to you, you'll want people to have fun at your wedding .. and you know what? They will! At a certain point you have to draw a line between what will make you happy and what you are doing simply to appease others. It's your day, make every moment count for you ! But on the flip side of that, realize that maybe everything you want in your ~ fairy tale dream wedding ~ might just not be possible, or something might go wrong. Be prepared to let the little things go because at the end of the day you're marrying the love your life and that all that really matters.
Q: What was the inspiration behind your wedding theme?
We love books and drinking tea ! And I love vintage and rustic things, we grew up on farms. So I took all that along with my love of thrifting and crafting and I turned it into all the decor. I bought almost everything second hand, I made all the bouquets, my hair piece, the floral hoops, all the signs, and centerpieces by hand mostly using second hand materials except for a few flowers bought at micheals. It was a lot of work but I actually had so much fun crafting, and the wedding then was so uniquely John and I, it felt good. It's not for everyone but if you're into crafting it's def worth looking into.
Q: Tell us your love story! Where & How did he propose?
John and I met at summer camp when I was 15 and he was 16. I had a very very clumsy landing off a zip line, and when I came to at the bottom he was there, sipping a coffee and laughing asking if i was alright. I remember thinking that he was such a jerk for laughing but thought he was kind of cute. We developed a friendship through summer camp and kept loosely in touch, he moved down to the town next to me after high school to pursue trades school, our friendship grew from there and over the years we became best friends by sheer loyalty alone. He got a job as a welder and would leave town on jobs for months but whenever he was back we'd get together and catch up like no time had passed at all. I started dating pretty late in life, and I had a lot of awkward dates between the ages of 23 till 25. Of which John heard all of them. As he recalls, he started wondering if he should just bring me out sometime to show me what a good date was like.. b anyway long story short he eventually plucked up the courage to ask me "do you wanna go for it ?" And I replied "I guess yes very much yes" (c'mon you guys I'd totally had a secret thing for him for a long time okay). It was terrifying and wonderful at first, noth of us worried we'd wreck our friendship of 10 years forever but it was also just so easy. We already knew everything about each other. Falling in love with John is the icing on top of the delicious cake that was my friendship with him and I'm so glad and grateful to get to share that friendship and love with him forever now. Weve be friends for 14 years now, together for 3 years and married for 2 months and it has been such a luxury of a story.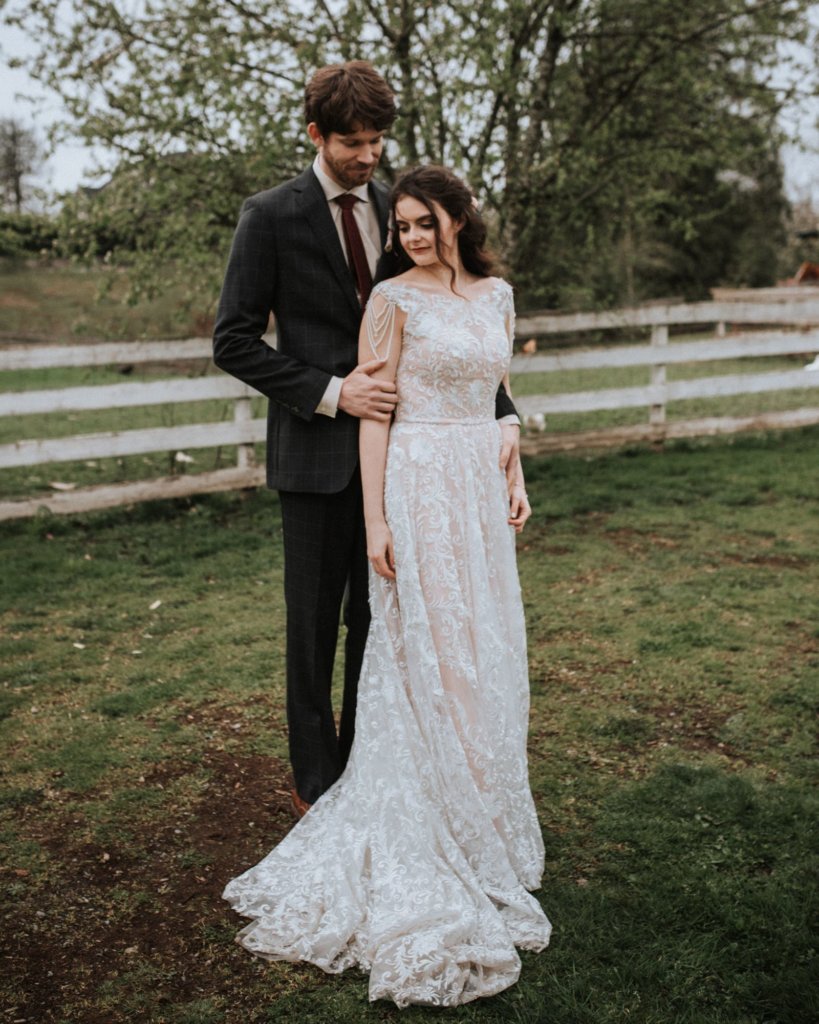 Q: How would you define the message "Dare to Love"?
Don't be afraid to go for it. Love people. More than that, in todays society, dare to live yourself first! Once you love yourself, you'll figure out what you're worth and what you will and will not put up with. This enables you to find someone who compliments you, who is your friend and equal and knowing your own value will give you the courage to love them in full and to know their worth. Because if you love them, then they must be incredibly worthy.
Q: What was the best/most memorable part of the day?
My nan had a little bit to much to drink and enjoyed dancing with the young fellows almost as much as they enjoyed dancing with her. It was hilarious ! That and taking pictures with my love while a very angry Turkey clucked at us.
Q: What did you love most about your #CocoMelody dress (es)?
My wedding dress was different from everythig on hand in a store where I live and I was able to tweak it to make it something totally unique to me.
Q: What do you think about CocoMelody and the customer service?
I think that has long as you go into an order, knowing full well that you are ordering online so some things will always look or fit a little differently, you will be so pleased at the end. The customer service was so great ! Just stick to your budget if you need to but dont forget to let yourself dream ! CocoMelody will help you achieve your dream dress in your budget and I think that's what I love so much about them.