Bethany & Alexander chose the modern yet elegant wedding in Downtown Los Angeles, CA. the magic day featured with green, gold, grey and white shades, Alex absolutely loved everything on Bethany's pretty look; the dress, hair, makeup. He teared up.  It's one of the most treasured moments from that day.
All photos were taken by Kara McFarlane.
Wedding Dress Style: #LD3906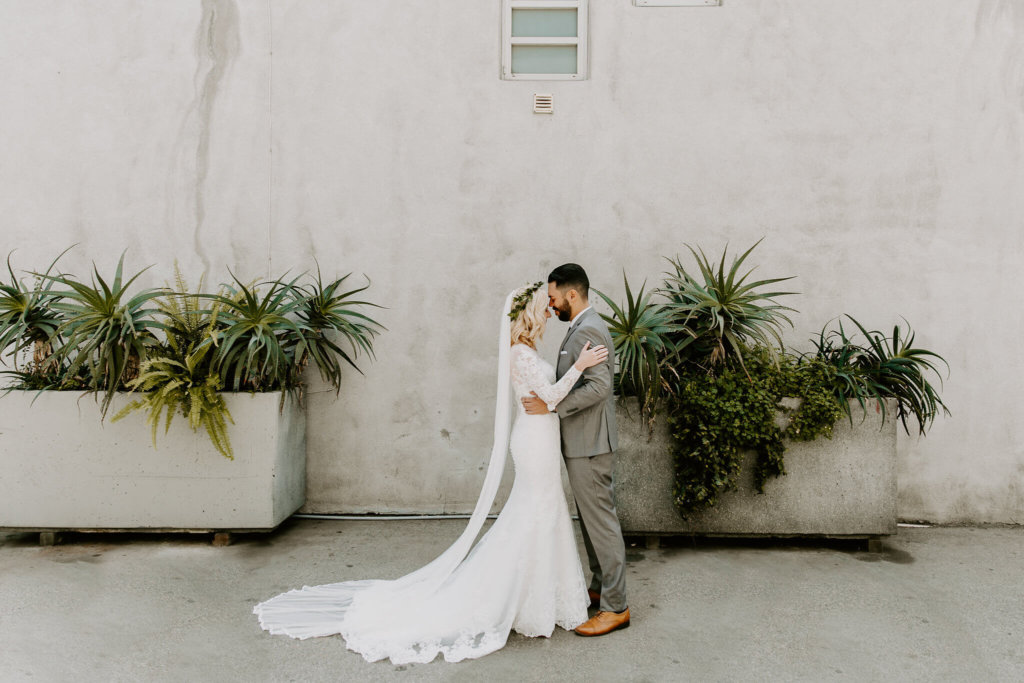 Q: Any advice or tips for future Mrs.?
Do everything you can to be totally free from taking care of details on your wedding day. Most of our wedding was DIY, so I did a lot of work leading up to the wedding. However, when we reached the big day, I stepped away from the details and handed it over to a team of trusted friends and family. It made me totally present on the day of the wedding. It's best to let all the planning go and to not miss a precious moment. Trust me, your day will be perfect no matter what!
Q: Tell us your love story! Where & How did he propose? 
Alex and I met our very first week freshman year of college. We were best friends for two years, and after many impromptu late-night walks and heartfelt conversations, we finally began dating our junior year. On our first official date, we went to the Grand Californian Hotel in Downtown Disney. I had actually requested this date because it was one of my favorite places to go as a child. Their lobby is stunning, with multiple fireplaces and a pianist who plays old-timey tunes. As Alex and I explored the hotel, we found a balcony and watched the fireworks. It really was perfect. Fast-forward to four years later, and he takes me back to the same hotel where we had our first date, and he proposed on that same balcony. It was so romantic and sweet! When we got home that night, about 20 of our closest friends and family were waiting to celebrate with us. I was completely surprised! It was perfect.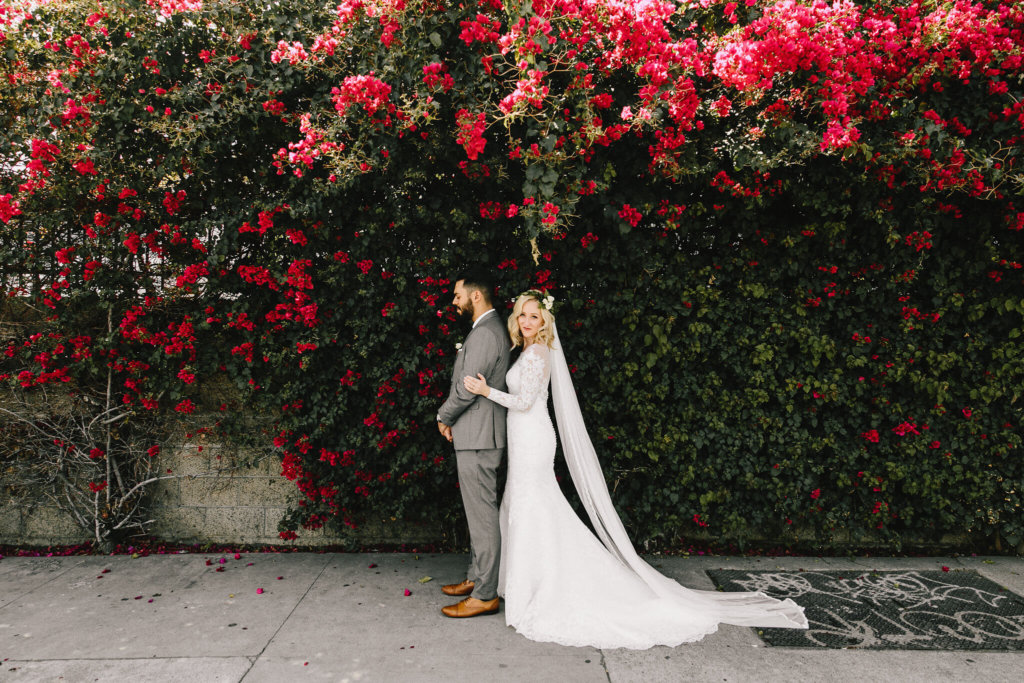 Q: How would you define the message " Dare to Love"?
For me, daring to love means seeing someone for all of their strengths, weaknesses, beauty, and complexities… and still choosing them every day. It is saying "I'm sorry" first, choosing to be patient and kind instead of defensive. It is continually learning about your partner. Loving is a risk because it requires you to give of yourself without the promise of anything in return. But goodness, it's worth it. It's worth it in moments like last night when I was feeling so sick, and Alex canceled his plans to stay with me. It's worth it in moments like after a fight, when you both realize how deeply you care about each other and that you are not going anywhere. Daring to love means inviting someone into your vulnerable space, and treasuring being in theirs.
Q: What was the inspiration behind your wedding theme?
I grew up loving the movie, Sabrina. I always wanted my wedding to feel like a Larabee party, elegant and timeless. But Alex and I also have a deep love for the culture and excitement of Downtown Los Angeles! So we decided to combine the two to create a theme that felt modern and romantic.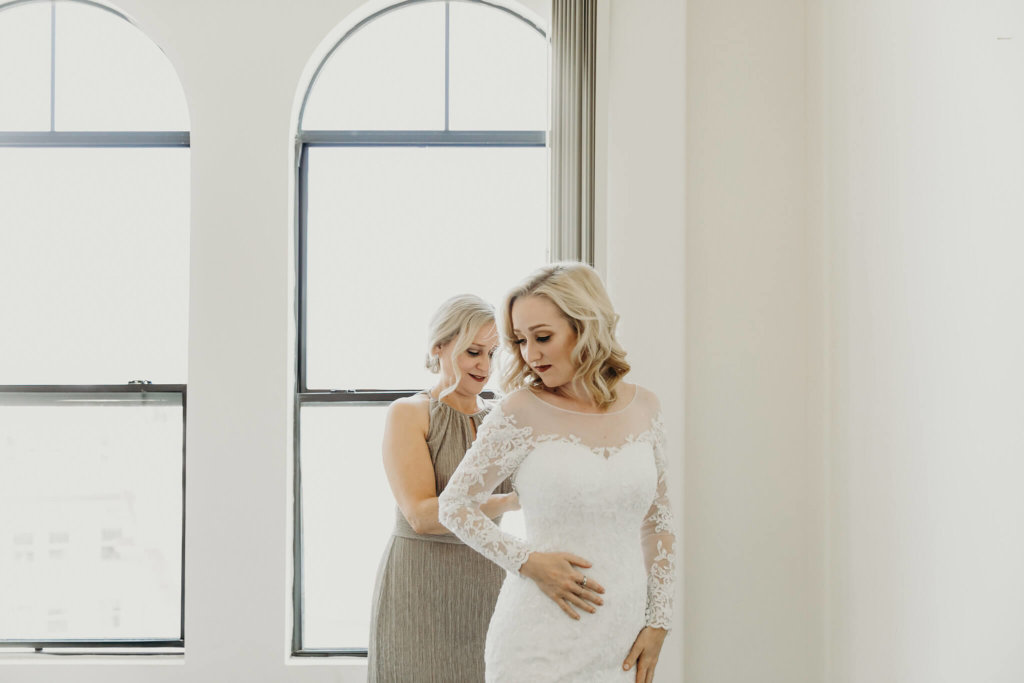 Q: Did you enjoy the wedding planning process? Why or why not?
To be honest, it made me a little anxious! We did almost everything by ourselves, and we had about 200 guests! So it was a lot of work. I had many charts and lists. Thank goodness for family and friends. We had a team of phenomenal people helping us pull it off. I can't recommend enough to surround yourself with people who will give you positive energy through the wedding planning process.
Q: What was your hubby's reaction when he first saw you on your big day?
I don't think I'll ever forget the look on his face. Alex absolutely loved everything; the dress, hair, makeup. He teared up. He made me feel so beautiful and loved. It's one of my most treasured moments from that day.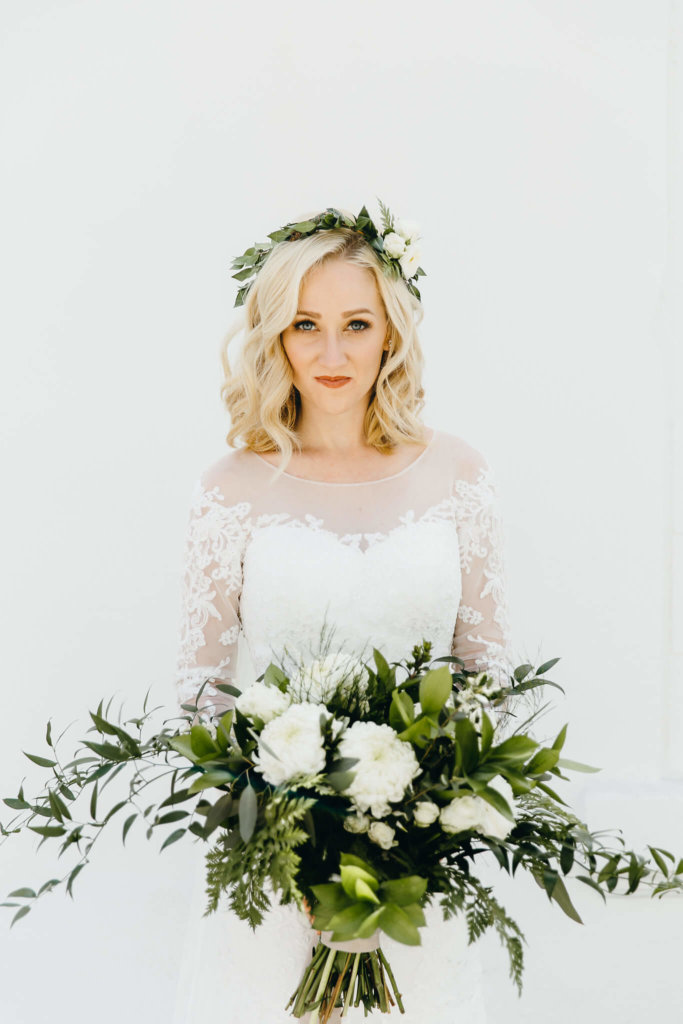 Q: What did you love most about your #CocoMelody dress?
Where do I even begin? Cocomelody let me customize my wedding dress, so it really was everything I could've wanted. I found a sleeveless dress that I adored, and they helped me add sleeves that matched the lace on my dress. I felt like Kate Middleton! I still have my dress hanging on the wall of my closet so I can look at it first thing every morning.
Q: What do you think about CocoMelody and the customer service?
I can't say enough good things about CocoMelody. Their customer service is impeccable. I felt special and cared for when I was trying on dresses. I was even emailed about the beading on my dress, to make sure it was exactly what I wanted! There was no length Cocomelody wouldn't go to, to make sure I had the perfect dress on my wedding day. I loved my experience so much that I took my best friend to try on wedding dresses here a few weeks ago, and she found her dress! I'm so thankful for the CocoMelody team.