Charlene & Terry had their gorgeous rustic wedding in Lucknow Ontario, Canada. This couple had an emotional ceremony, we loved to hear all about their story! we are so honored to witness their big day by making those unqiue ombré dresses for the girls!! Wish this family great happiness forever!
All Photos were taken by CLG Photography.
Long Bridesmaid Dress Style: #LOZF15045
Short Birdesmaid Dress Style: #COZF17007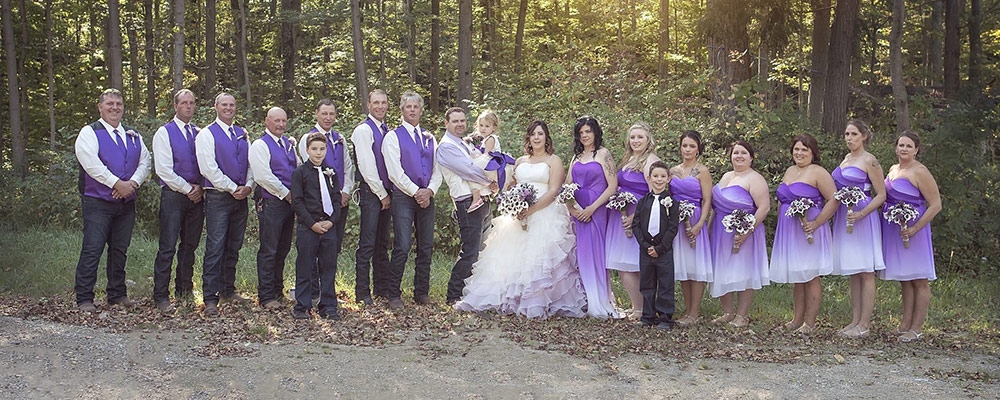 Q: Any advice or tips for future Mrs.?
As hard as it is to relax and just enjoy the process. Stop. Breathe. Take it all in and really try to take in all of those moments. If you have an amazing bridal party like we did – the best of your best friends, then delegate stuff to them to help. They're your Besties for a reason right? Chances are they will all have individual talents and strong points that will blow you away. And they will love helping and being a part of it all. Find what makes you happy. Don't overthink your decisions and it will all turn out the way it was meant to be in the end. The best advice given to me was that if you don't get all of your projects done, nobody will notice it's missing! And it's so true! 
Q: What about your love story?
Terry and I met 6 years ago. Wen he finally met my 2 boys about a year in. He became an amazing role model to them and we started to grow together as a family. 2 years after that we completed our family with our little girl. We always knew we wanted to get married but we weren't on any big rush. Life was so busy with 3 kids that we barely managed to stay afloat. 
Then last year in December 2016 just 6 days before Christmas. I was in a really horrific car accident (the fault of someone else) on my way home from work. I was lucky to have survived. Christmas was extra special that year though. After the kids were finished opening their presents. Terry reached in the tree and pulled out a Christmas box. And with the help of our 3 year old daughter while I was opening it got down on one knee and proposed in front of all of our family and the kids.
It turned out. My grandmother who passed away 3 years earlier had saved one of her diamond rings and had a friend mail Terry a letter from her and her ring asking him to propose to me with her ring needless to say I was a blubbery mess and said yes.
Q: Did you have a particular theme or color scheme? Is there a story behind this color theme and why you chose it?
Funny enough. When I started the whole wedding planning process I came across an advertisement on Facebook for Cocomelody. I was a bit skeptical at first but I read the reviews and gained confidence in that. When I stumbled across the purple ombré dresses I fell in love and knew my girls needed to wear those ones. That's when I decided that along with our country rustic theme that the colours would be purple ombré with silver accents. It was easy from there. Thank you for that Cocomelody!
Q: Did you enjoy the wedding planning process? Why or why not?
I loved it. I was a very easygoing bride. Very relax and just went with the flow. I loved crafting and creating my wedding decorations. I'm very creative and never got the time to do that with how busy our lives are. And I found it so relaxing and called it my happy place when I was crafting new ideas. On top of that. We had an amazing bridal party who were so helpful and happy to do anything we needed. They spoiled the heck out of us. It sure makes a difference when your bridal party are your forever friends.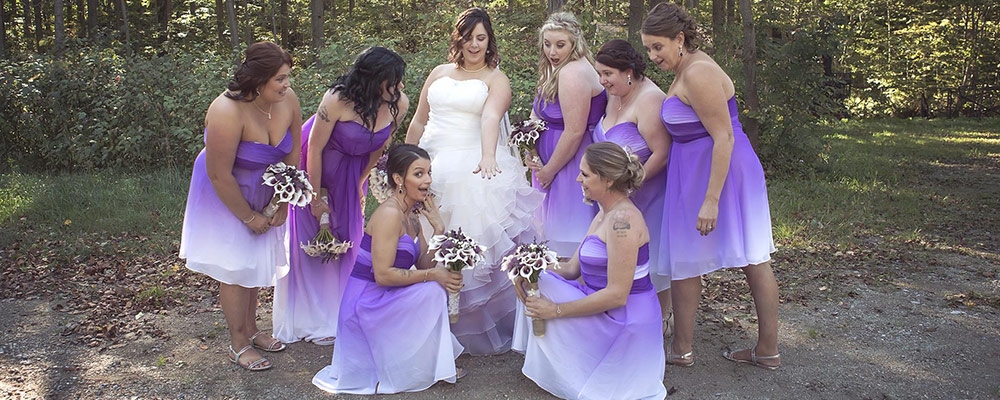 Q: What was the best/most memorable part of the day?
My boys: 12 and 8 and our little girl walking me down the aisle and giving me away to the love of my life. That moment meant more to me than anything else. It completed our family and my boys were so emotional just before the ceremony. It was sweet.
Also. My maid of honour. Her speech. "Friends by chance. Sisters by choice" it was so beautiful. She came all the way from Chicago and suffers from fibromyalgia. A very crippling painful condition. And she grit her teeth to be with me by my side all day even when she was in significant pain. That meant the world to me.
Q: Why did you choose #Cocomelody for your bridesmaids?
Easy. I saw those purple ombré dresses and I HAD to have them. There was nothing else even similar here in Canada that I could find. The price point was phenomenal. Even with the exchange rate from Canadian to American. And from the moment I contacted Cocomelody right to the end. They were supportive. Informative. And stood out with their caring demeanour.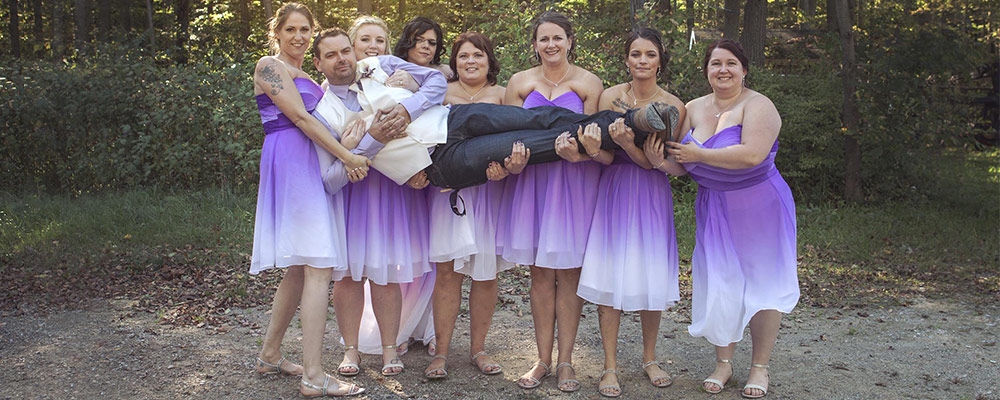 Q:  What do you think about Cocomelody and the customer service?
Amazing! Hands down. Even though it was an online shopping experience. They still found a way to make it personable. They cared about the details and wanted to help in any way that they could. They took away my skepticism about actually buying bridesmaid dresses online. And made the whole experience a pleasant one. The dresses turned out beautiful and I could not be happier with my choice in both the dresses and buying from Cocomelody!