Christy + Daymon = FOREVER. Swooning over this modern romantic wedding with tones of pink and blue in Markovina Vineyard Estate. And Christy looks absolutely flawless in her dream mermaid wedding dress. It was such a pleasure to be a part of their big day! Now, see some of our favorite photos from this wonderful wedding, and read more about their adorable love story below:
All photos were taken by Jeremy Hill Photography.
Wedding Dress Style: #CWLT1404C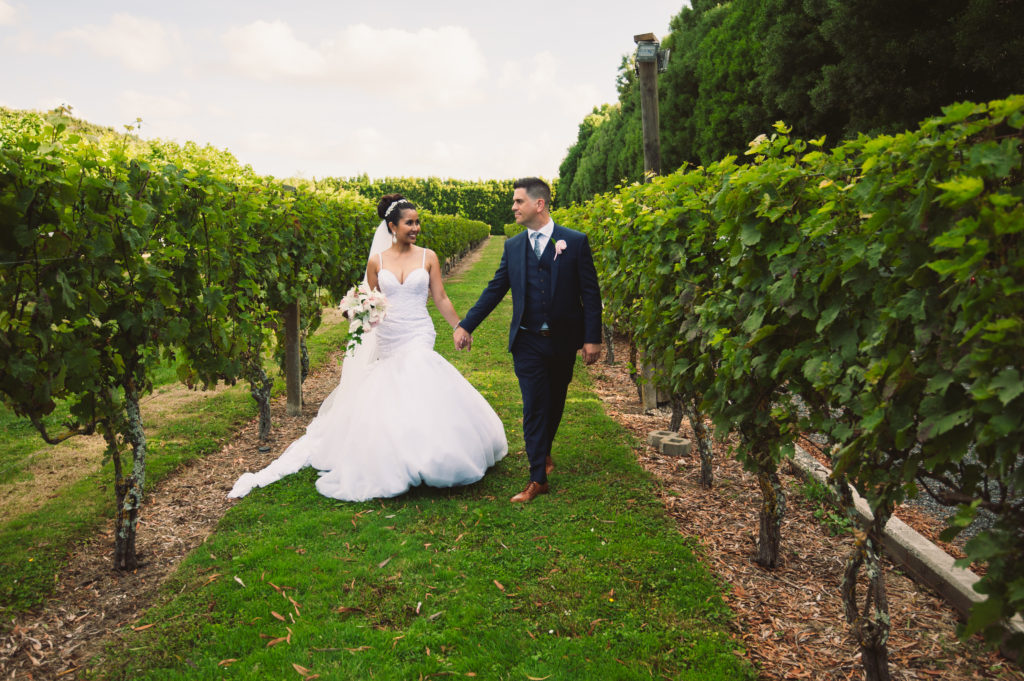 Q: Any advice or tips for future Mrs.?
Be organized and plan everything ahead of time so you can enjoy the last few weeks leading to your wedding day. I have an album of how we wanted everything, from invitation cards, flowers, to color theme, first dance, my dress style, cake,food preference, giveaways etc. Be happy and enthusiastic in organizing and ask people for help and recommendation. Do not stress about the small things because at the end of the day people will love everything you did and what matters is seeing your husband at the end of the aisle waiting to marry the love of his life, YOU.
Q: What was the inspiration behind your wedding theme?
We wanted a modern romantic theme, with tones of pink and blue, my favorite color and my husband's favorite color. Even our fresh flowers have a dash of pink and white. We loved nature and then chose a vineyard because we fell in love with the nice landscapes of Markovina when we first walked in. We have checked out 5 other venues before that and me and my husband just felt right at home in Markovina, the owners were lovely and its a one stop shop.. ceremony and reception all in one place, you just have to put your personal touch to it!
Q: Tell us your love story! Where & How did he propose?
We met each other early 2014, it was a couple of months after I first arrived here in New Zealand and thought of giving online dating a chance. We have been chatting for a few weeks before we decided to go on our 1st real date at Prego Restaurant here in Auckland. Daymon said he couldn't believe his eyes when he saw me walking towards him and was struck by how beautiful I was, I thought he look dashing as well, he was wearing a gray suit and had a clean haircut,plus polished shoes.. On the short walk to the restaurant Daymon thought he might try for a cheeky kiss, but I said not right now because we've just met. Dinner was amazing and we found that it was easy to be around one another, on our way to my car he hugged me tight and I notice something hard in Daymon's pocket – it was later as Daymon told me that it was actually his Inhaler I think that our first kiss was extraordinary, like something you see in romantic movies, he kissed me on the sidewalk and when I got in the car to leave, Daymon jumped in and gave me another kiss. I said to myself that I wouldn't go for a second date if it wasn't mind blowing, he didn't disappoint and that was the start of something special. So we made time to see each other every week and enjoyed each other's company and had fun sharing the love of food and travel. We would travel everywhere in New Zealand during long weekends and we also enjoy hotel hopping on weekends around NZ, it's like camping without the hassle of mosquitoes. My Original plan was to stay and work in Auckland for 1 year then go back to the Philippines, but after meeting Daymon, all my plans changed as I was charmed with Daymon's sense of humor, sweetness and thoughtfulness. I thought we have something special so I decided to stay and continue a life with him. I still had my return ticket back to the Philippines so we both decided to embark on another adventure together, I rebooked my ticket for December and Daymon bought his ticket to go with me to the Philippines to meet my parents for the holidays that same year. My family welcomed and enjoyed Daymon's company in our short stay. We both had a great time and Daymon loved learning about my culture . We have since been inseparable. As years went on our bond grew, we became more than boyfriend and girlfriend and into best friends. . I adore his love for music as he is passionate in playing his guitar and we went to concerts together, and he loves my cooking and enjoys coming home to a meal after a long day. Daymon's family always treated me as a part of their own and we even went on an overseas trip with Daymon's mother and stepfather. I was also included in every family gathering and grateful that I get to share all their family's milestone like his sisters wedding, his cousin Trish's wedding, Christmas and birthdays with both sides of Daymon's family. They all love me and I always enjoy their company. We love our home and together we make a great team. On Daymon's birthday his family organized a dinner for us and after secretly getting my fathers blessing, he proposed to me that night in front of his family. Everyone knew except me and big props have to be given to the family for keeping the secret. He stood up and made a speech about his Life and how I was a big part of that. He got down in one knee and that was a big surprise for me as I wasn't expecting it at all and I have no idea where he kept the ring. It was a great night full of tears and laughter…We planned our wedding for a year and We had our wedding at this beautiful Vineyard.. Everything was all we ever dreamed of if not more. Indeed a Perfect day shared with our loved ones. After that we went to Europe for our honeymoon, It was my first time but Daymon have lived there before and he was so excited to show me around. We were away for more than a month, went to London, Paris, and Rome and from Rome we went on a cruise ship around the Mediterranean. Everything was romantic, magical and mind blowing. We had the most amazing time and the rest is history!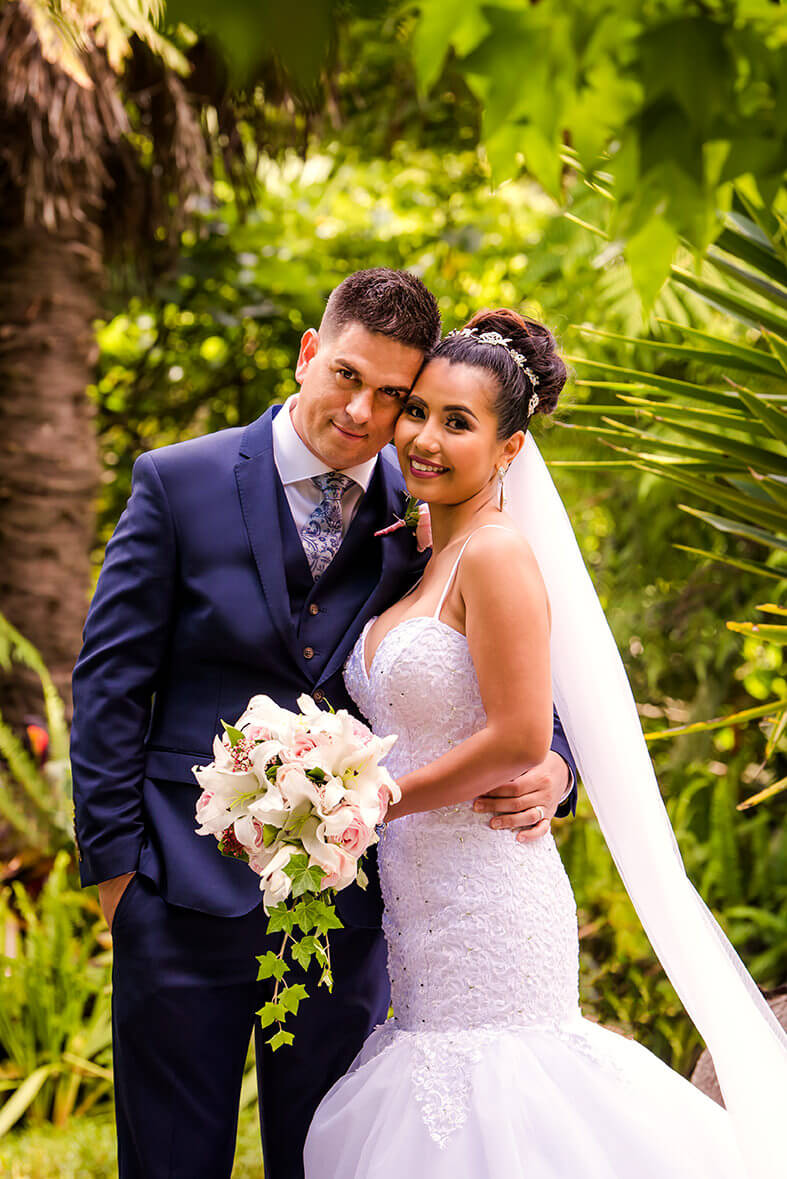 Q: How would you define the message "Dare to Love"?
Dare to Love for me is like a being fearless and a dream come true. I am one of those hopeless romantic people who always hoped of finding their one true love. I have never felt love as strong as the love my husband gives me. Love is always a two way street, you respect each other and build each other up during hard times. You never give up on the other person no matter what. It's learning how to be unselfish and putting the other person's happiness first. and if you are both doing that then you will have a harmonious relationship filled with happiness and contentment. You make it your life's mission to see your other half smile each and every day.
Q: What was the best/most memorable part of the day?
So many memorable things happened on our wedding day. Not everything is going the way you planned, so relax and enjoy it. I was so happy that everyone said I was never a bridezilla, so here's what happened.. There was a typhoon leading up to our wedding day and there was no electricity in the place where me and my bridesmaids were supposed to get ready. On the big day after I had cold shower at 6 a.m. the electricity came back around 8 a.m. Everyone was relieved especially the make up artists. then 20 mins before I walked down the aisle one of my bridesmaids soiled a little part of my wedding dress with foundation from her arm after she took down the dress since it was hanging and It was time for me to wear it. I had 6 lovely bridesmaids helping me get ready and washing off the stain while I was wearing it. We arrived a bit late but waking down the aisle and seeing my teary husband made my heart melt. I love his vows and we also honored our parents by giving them gifts as part of the ceremony.
Q: What did you love most about your #Cocomelody dress (es)?
Craftsmanship was impeccable, I requested for a lower neckline and picked a dress with less beading and embroidery because I wanted it to be more of me and less of the dress. I think I wore a classic design that will never go out of style, plus it's figure hugging and the fish tail train gave me the Disney princess feeling especially when we did our first dance. I was also wearing a petticoat underneath that i ordered off Cocomelody too that gave my wedding dress the extra drama i wanted. got lots of compliments about my dress from the wedding guests. It was perfect and my husband said he loved my dress and he couldn't take his eyes off me.
Q: What do you think about Cocomelody and the customer service?
It was a hassle free experience. All my questions were answered by the customer service representative and the dress arrived 2 weeks after I provided them my measurements as I pick a custom made one gown for my size. It fits like a glove with no alterations needed. After unboxing it I fell in love with the dress straight away as I got the wedding dress of my dreams! Thank you, Cocomelody!