Crystal & Louis exchanged their touching vows at Blue Moon Ballroom in West Columbia, SC. They had a stunning wedding with vintage glam. Crytal chose a mermaid wedding dress with ruffled skirt and it fit like a glove! We are so lucky to be a part of their big day that we can finally share their new chapter life here!
All photos were taken by Mark Green Studios Photography.
Wedding Dress Style: #CWLT16002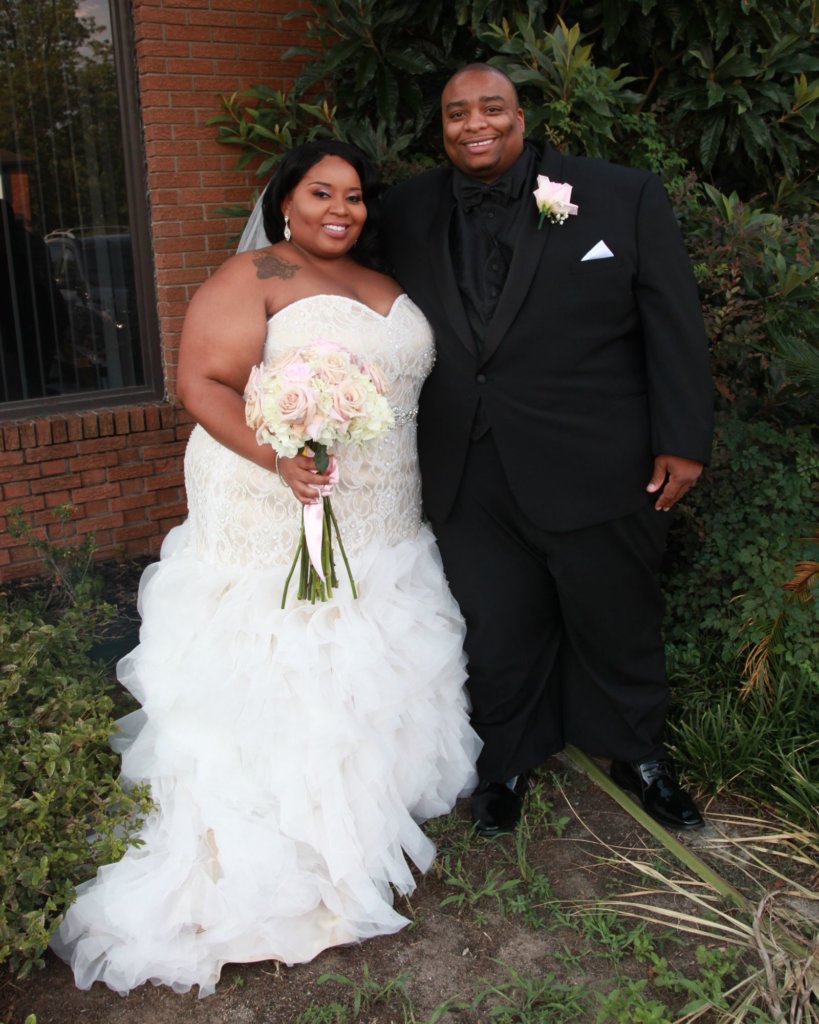 Q: Any advice or tips for future Mrs.?
Is to always keep God at the center of you let relationship.
Q: What was the inspiration behind your wedding theme?
I chose Vintage Glam because it's a timeless look. I wanted to be able to look back at my photos in 10 years and it looks classic. Also, I love the soft elegance of gives.
Q: Tell us your love story! Where & How did he propose?
Our love story is kind of crazy. Lol. We met on Facebook. He stalked my page about a month from a mutual friends page before he got up the nerve to ask me out. I told him no to every dinner invite, every movie date offer, concert, jazz bar, no to everything for two months. He was not my type and I was totally uninterested. He was persistent however, and he never gave up. A few people close to me talked me into giving him a chance since my "Type" wasn't working and it turned out to be a blessing of a lifetime. We dated for about year before he proposed. He set up a surprise dinner with my friends and family at my favorite restaurant and he popped the question there.
Q: How would you define the message " Dare to Love"?
Dare to love to me means be open to love. Our story is a perfect example of this. I wasn't open at first because he's not my typical type of guy but when I really opened up and dared to love him, it changed my life.
Q: Did you enjoy the wedding planning process? Why or why not?
I did enjoy parts of the planning process. It can be a little stressful but it's amazing seeing your ideas come together in the end.
Q: What was the best/most memorable part of the day?
My most memorable part of my wedding day was my vows. We wrote our own vows and my husbands vows to me were breathtaking.
Q: What did you love most about your #CocoMelody dress (es)?
I loved everything about my wedding dress. I received so many compliments on it. I loved the price. I loved the color combination and detail. I loved the custom fit but most of all I loved that the dress wasn't super heavy. I was able to move around easily in it and dance in it all night.
Q: What do you think about CocoMelody and the customer service?
I'm such a fan of CocoMelody. I've told everyone where I got my dress and how amazing my experience was. I was so nervous to order a wedding dress online. I was put at ease a little when I received a call from Iris, my personal customer service agent. She told me she thought my measurements were incorrect and I needed to redo them. I was shocked to receive a call. She followed up with an email and details on how I should measure. I sent those over and she took care of everything. It was nice to only have to deal with one person who knows all your concerns or issues vs having to keep going over it with multiple people. My experience was A+.