Two hearts joined together in love. ? With their lovely daughter and son, and surrounded by friends and family members, Deborah & Ray had a rustic wedding in Paphos, Cyprus and enjoyed a lot! Deborah and her cute girls looked absolutely stunning on this special day and the details continue to make us swoon – read on!
All photos were taken by Photo Papis & Son.
Wedding Dress Style: #LD5190
Bridesmaid Dress Style: #PR3585
Flower Girl Dress Style: #CKZA13007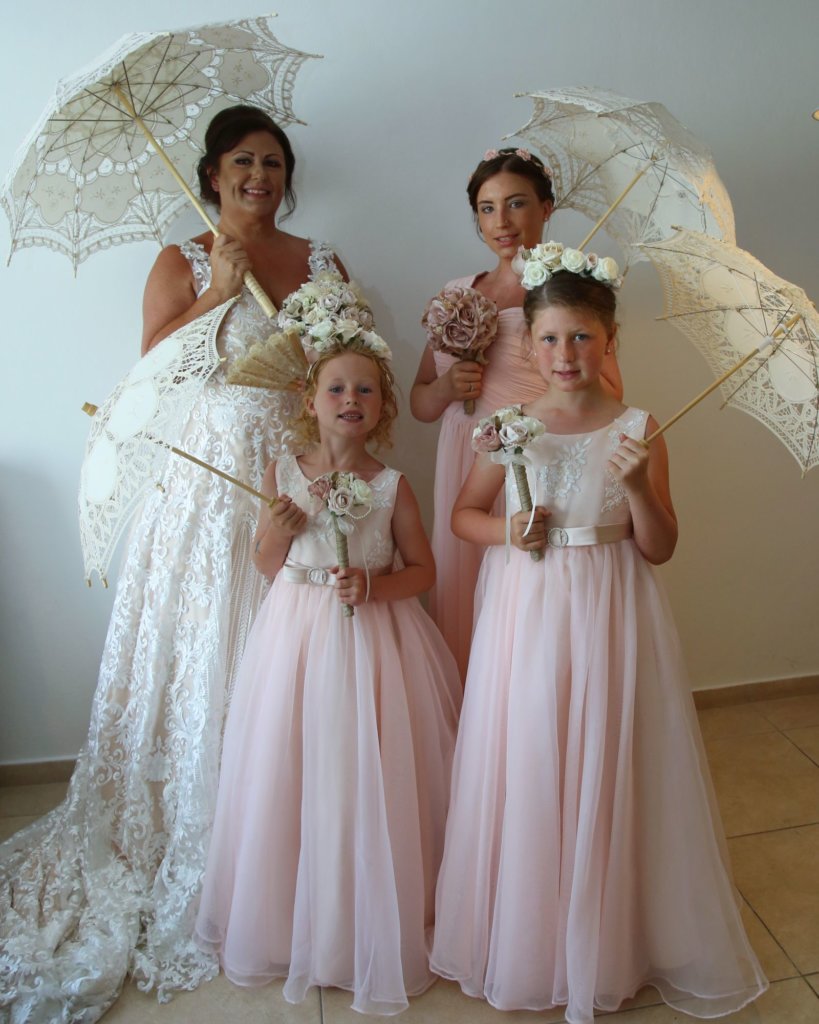 Q: Any advice or tips for future Mrs.?
I bought my self a pink file and added pictures of bouquets I liked, hair styles, dresses, favours etc. I tried to visit as many wedding shops as I could to get ideas. I really enjoyed the planning part of my wedding, friends and family couldn't believe how calm I was. My advise is to listen to the professionals and they will keep you right.
Q: What was the inspiration behind your wedding theme?
I just wanted everything to be pretty, bright and memorable.
Q: Tell us your love story! Where & How did he propose?
We did everything backwards, we met when we were 20 yrs old, had our ups and downs, got back together, fell pregnant at 23 yrs old with our son, bought a house, enjoyed our little family that much that it wasn't till 7 years later when I was blessed with a baby girl, now our family was complete (apart from not being married)I always dreamed of getting married in a church and for my dad to walk me down the aisle. this wasn't meant to be, by the time my partner and i were 35 yrs old we had both lost our dads. I still wanted to get married but the thought of walking down the aisle without my dad, I didn't think I could do it. so we decided lets get married abroad, then I had the idea of my 15 yr old son to walk me down the aisle (my dad would of loved that) so that's what we did. our close friends and family came to Cyprus with us which made our special day even more special.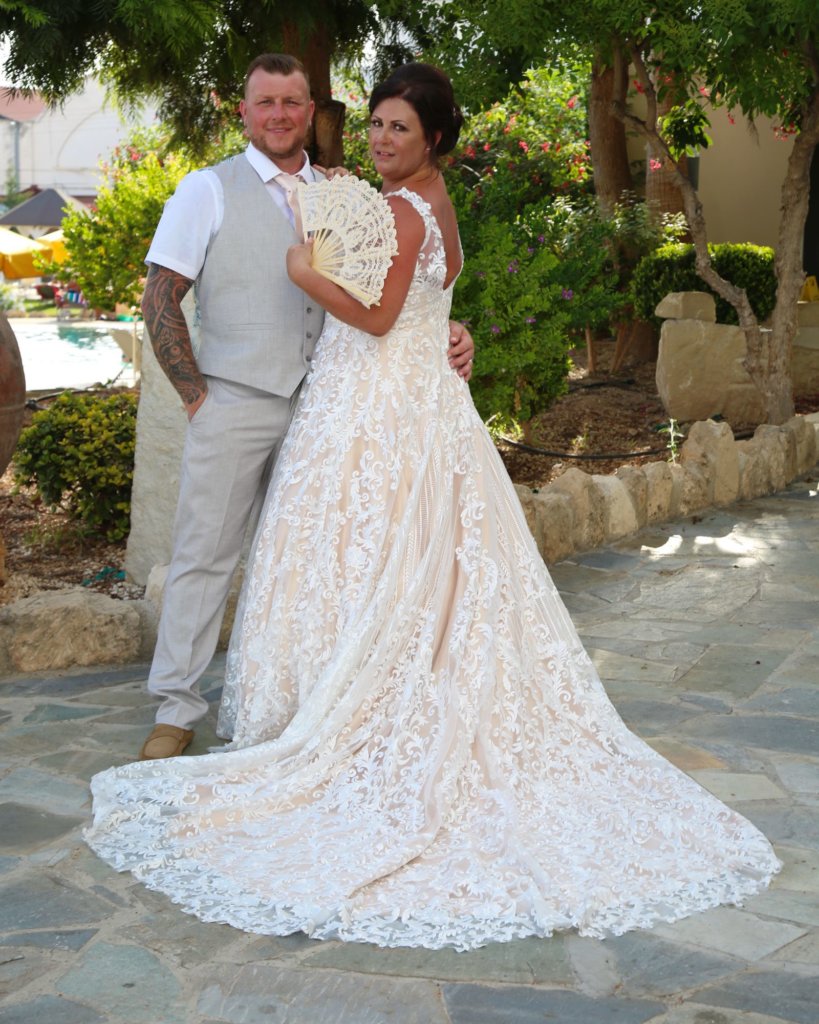 Q: How would you define the message " Dare to Love"?
Live for today, you never know what is round the corner.
Q: What was the best/most memorable part of the day?
Seeing our guests faces when the open top bus pulled up outside our hotel to take ourselves and guests on a tour of paphos, cyprus.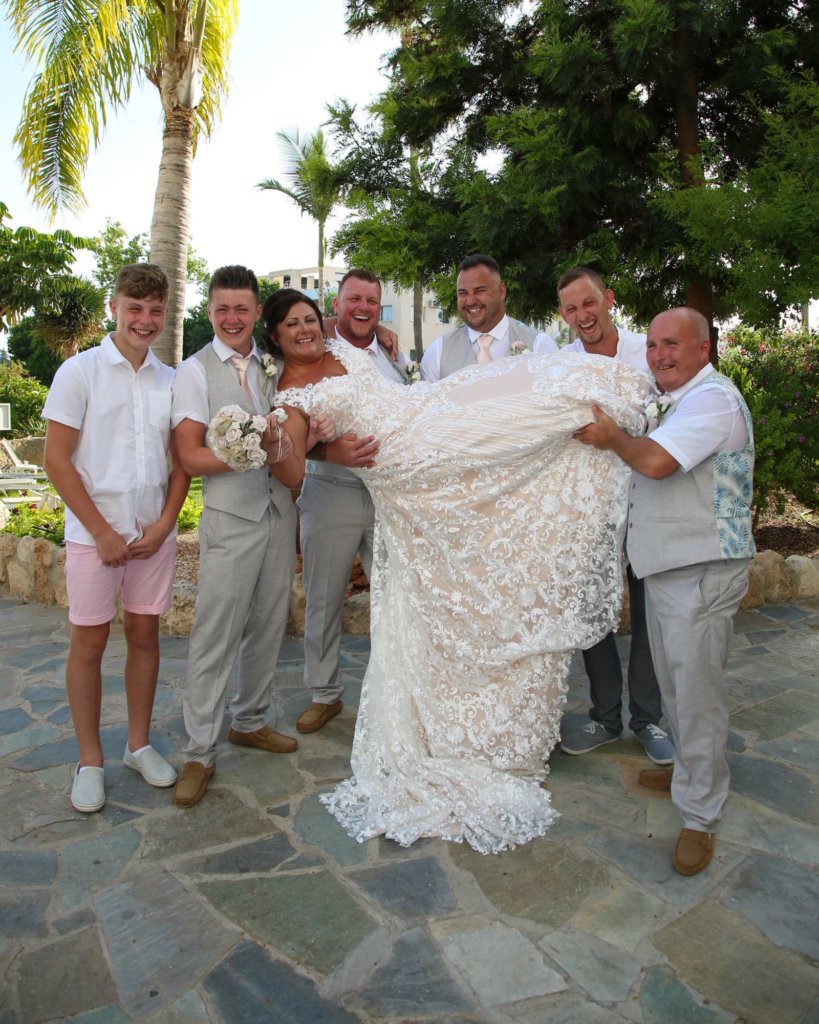 Q: What did you love most about your #CocoMelody dress (es)?
My dress was spell bound, I couldn't take my eyes off it, I have never seen a wedding dress like it, I didn't want a traditional white dress, I wanted something different and as soon as I saw the dress I knew that was the one. I also thought it went well with the destination of the wedding. as well as my flower girls and bridesmaid, their dresses were just stunning, my daughter said she felt like a princess.
Q: What do you think about CocoMelody and the customer service?
I was worried at first as I have never bought anything from abroad especially a wedding dress. I read as many reviews as I could. am not going to lie I was a little nervous, even up to the day the dresses arrived. then when we all tried our dresses on all my nerves and worry were gone, it was the best thing I had ever done. my daughter has just turned 8 yrs old, so I know I have a good few years before I have a prom dress to think about but I will definitely be returning to CocoMelody for her prom dress.