We love a happily ever after! Deniz & Jack's natural wedding in Hotel Xcaret Mexico (Riviera Maya, Mexico) totally melt our hearts! And Deniz customized her dream gown Belinda with an A-line skirt with the same fabric on the top. We're totally smitten by her brilliant creation! Thank you for allowing us to be part of such a gorgeous day! Congratulations!
All photos were taken by Oscar Zarate.
Wedding Dress Style: Customized Version of #LD5868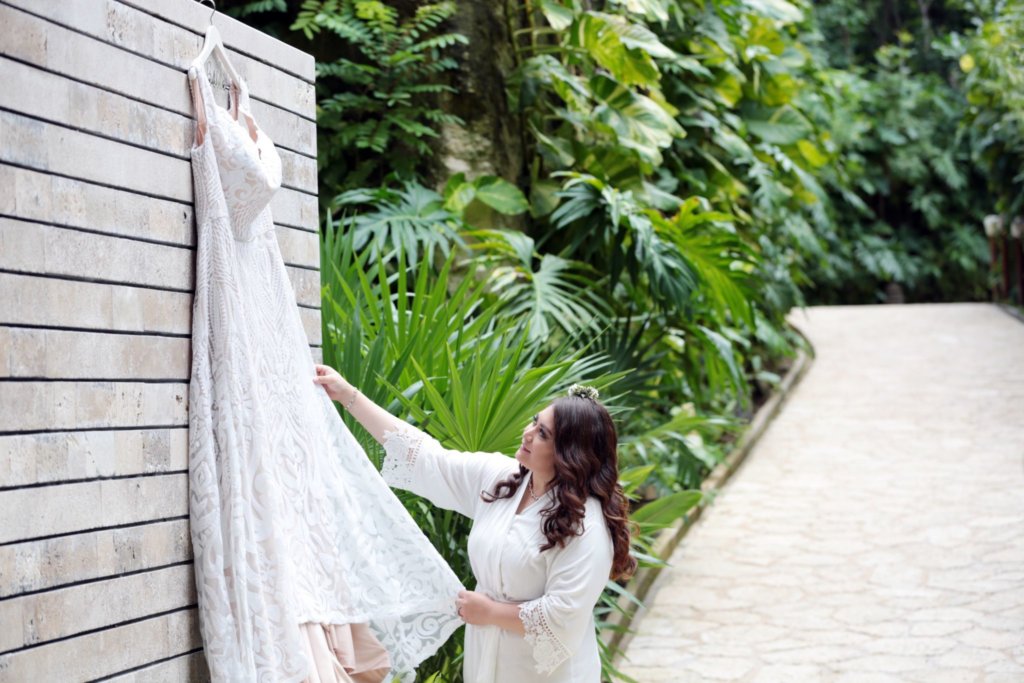 Q: Any advice or tips for future Mrs.?
My advice to any couple who's having a destination wedding is to meet with your vendors prior to finalizing a contract. I would recommend to take a moment to schedule a meeting in person or a video call and make sure that they can make your wedding vision come true. Making sure you have the best team will give you peace of mind on your wedding day and ease the planning.
Q: What was the inspiration behind your wedding theme?
The natural scenery! The fact that I had the beautiful Mexican Caribbean ocean and jungle in one place made it extremely easy to be inspired. Our ceremony took place in a cove, our dinner in natural caves and our cocktail hour and party in front of a fire cove with a beautiful waterfall and surrounded by jungle.
Q: Tell us your love story! Where & How did he propose?
It was a chilly evening during fall when Deniz and Jack met on November of 2012 while working for the same company in New York City. In the beginning, there wasn't much interaction since they were both busy fulfilling their work responsibilities. It was about 9 months later when one evening Jack was on his way to buy a sandwich from a corner deli and asked Deniz if she wanted anything, she found it odd because he would never ask her but she thought it was a nice gesture. The store was about a 15 minute walk and Deniz figured she wouldn't let him take the trip alone. That small walk to buy a sandwich eventually turned into late night hangouts and watching movies. Both of them enjoyed each other's company but they also thought the other didn't like them in any other way. Everything changed on Deniz's birthday weekend in 2014.
Without planning it and as circumstance had it, they ended up spending the entire weekend together. It was at that point that through fun times and deep conversation they both realized they wanted to pursue more than just a friendship. Both had been very honest and genuine with each other and it was like an epiphany when they realized the answer they were looking for was really always there. So their romance began on February 10, 2014 (on Deniz's birthday). When they were together it was nothing but endless laughs and fun times. Jack popped the question on the last floor of Hotel Pennsylvania in front of 150 people with the beautiful 180 degree view of New York City. It has almost been 6 years since their love story began and they have only grown closer since that day and continue to be grateful to have each other.
Q: How would you define the message "Dare to Love"?
To me, dare to love means allowing yourself to love another freely with no limits or restrictions. To love another with your heart, mind, soul and with the respect that all human beings deserve.
Q: What was the best/most memorable part of the day?
What can I say?! The entire day felt so surreal, so magical! But nothing will beat the moment my husband and I saw each other for the first time during our First Look session. It was magic! Such an intimate and private moment. I would definitely recommend a First Look!
Q: What did you love most about your #CocoMelody dress (es)?
That it was customized to my liking. I had a specific vision for my wedding dress and when I shared it with the CocoMelody team, that's exactly what they delivered.
Q: What do you think about CocoMelody and the customer service?
I think CocoMelody is a great place to find your dream dress and I love the fact that it can be customized and the prices are great!