When your dreams finally become a reality 💕 Buffy & Mychal tied the knot with a rustic wedding at Hembree Hollow in Townsend, Tennessee. Their wedding featured plum and wisteria wedding colors. Glowing #cocomelodybride Buffy in style #LD3859 was modest & elegant. Words can't describe, just check the pics below:
All photos were taken by Mary Mason Photography.
Wedding Dress Style: #LD3859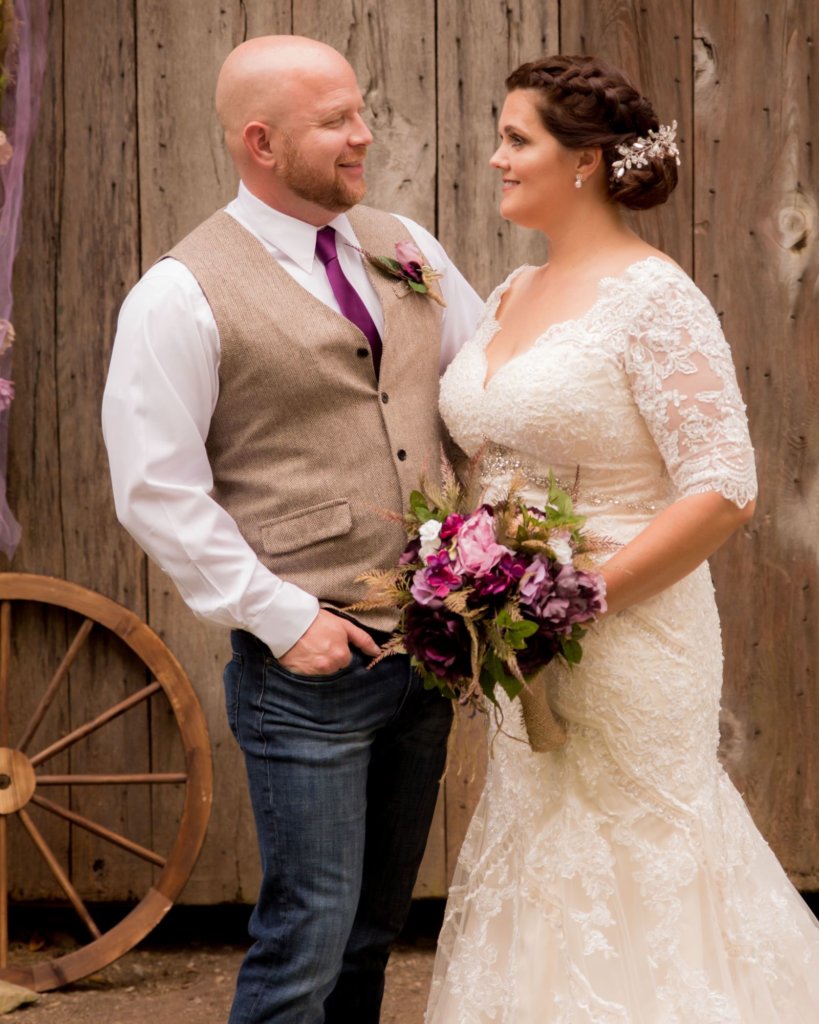 Q: Any advice or tips for future Mrs.?
Keep it simple, do a lot of it yourself as far as decorating, use artificial flowers. Don't sweat the small details. I bought basic bouquet at craft store and then made my own changes from them and added more followers and decor, I made all flower arrangements ,and table decor and the men's boutineersvfor the wedding . So money was saved.
Q: What was the inspiration behind your wedding theme?
I wanted it to be outside in an area with a lot of good picture opportunity. Our wedding was on my husband's family farm, so had special meaning to him. I loved the purples so I chose plum and wisteria for my wedding colors.
Q: Tell us your love story! Where & How did he propose?
I was not looking for a relationship!!! But We met on Facebook! Funny story, he found me thru mutual friends. At first from looking at his profile pic, I thought he was probably conceited and a jerk, I thought this guy is crazy and being younger than me I thought nah, I'm not gonna influence this in any way. But he continued to pursue our conversation and With in the following week we decide to meet. And that's was it!! I remember his first words to me in messenger where " hi Buffy how are you doing on this beautiful Tuesday morning."
Q: How would you define the message "Dare to Love"?
I interpret "dare to love" as though love is a risk. Anytime you submit yourself to someone else you are risking hurt and disappointment , cause relationships don't always work out. So going into relationship you are placing yourself in a vulnerable position and risking everything ! But we do it, because love is a great thing when with the right person, And one who will reciprocate the same feeling toward you.
Q: What was the best/most memorable part of the day?
The best part if the day is in the evening around 6-8.. the sun is setting, the air smells crisp from a long hot day when the temp is cooling down, sometimes a breeze may be blowing and I can just sit on porch and reminisce about my day or spend it with my husband and kids. It's a time to reflect and be grateful for those things we have in life.
Q: What did you love most about your #CocoMelody dress (es)?
The way it fit, the pricing and just how pretty the wedding dress was. When I first seen the dress while scrolling the website I knew immediately that that one WAS my dress. I stopped searching that instant and never looked back.
Q: What do you think about CocoMelody and the customer service?
I had a positive experience with CocoMelody. I had quick responses when I had questions about the dress, when I changed the size of the dress, etc. I have nothing negative to say. I also received the dress about the time it was expected to be delivered.