Gem & Francis were married in Palo Metropolitan Cathedral, Palo, Leyte Philippines. They had a "Modern Greenery" theme with hints of rose gold or copper. The entire day looked like a magical fairytale, and we can't take our eyes off Gem's beautiful off-the-shoulder wedding dress with pretty custom details! Congratulations and wish Gem & Francis everlasting happiness!
All photos were taken by Blinkbox Photos.
Wedding Dress Style: Customized Version of #LD3832
Q: Any advice or tips for future Mrs.?
It's OK! everything will work out fine! It is ok to be stressed a lil, to get worried a lil, to come to a point where you want everything to be perfect, when you lose sleep at night thinking if you got everything or if you're missing something. It's ok! It is normal. BUT my biggest advice would be,you have to ENJOY the process and when the day comes, LET IT GO! LET IT BE!. Be your self, smile, have fun, enjoy the moment, feel the love in the air, be loved and adored by everyone, be beautiful, be grateful to everyone who helped you, dance, bond, party, and love your partner like you have never loved him before. It is your day!
You might get lost and side tracked with the details and the process but never forget the real reason why you said YES in the first place. In the end the most important part of the wedding is your vows to each other in front of your God and/or the people you love, promising that you will stay together through sickness and in health and till death do you part.
Q: What was the inspiration behind your wedding theme?
We both love nature and my current obsession is Rose gold hahaha. So we thought modern greenery with hints of rose gold or copper. Initially, we wanted a garden wedding reception, however, due to unpredictable weather in our country, we opted of putting the outdoor to the indoor.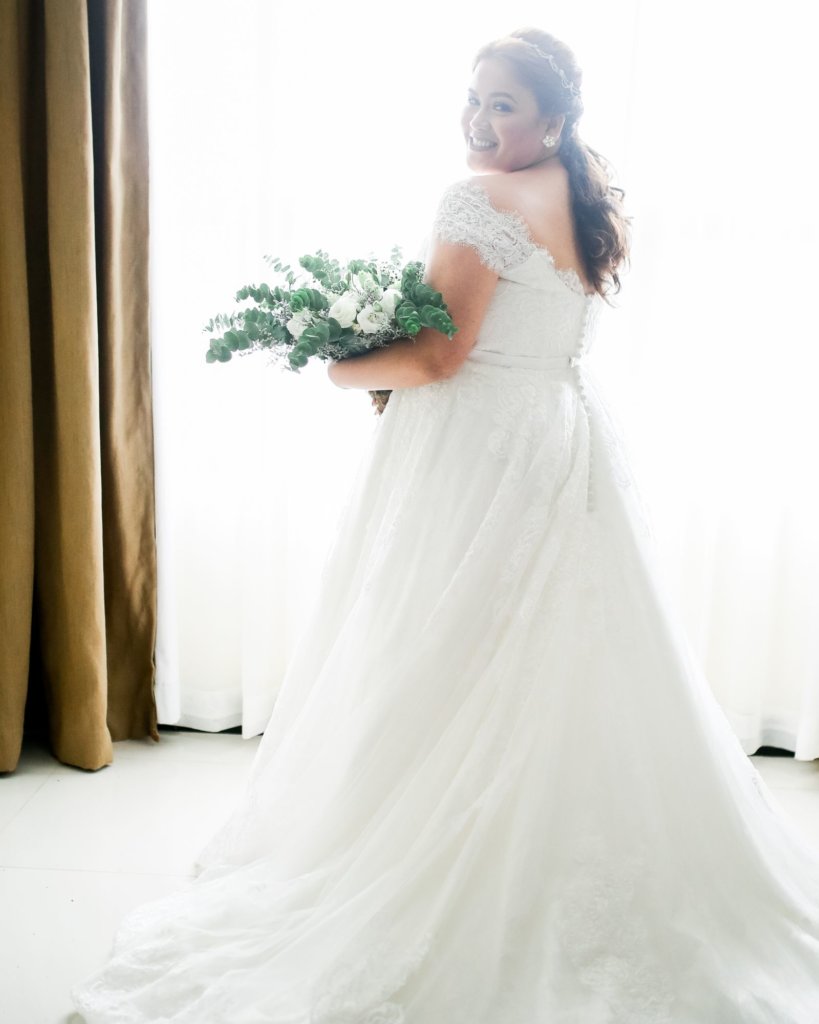 Q: Tell us your love story! Where & How did he propose?
Francis is my first and last boyfriend. We've been together for 9 years going 10 this Dec 2018. We've been in long distance relationship for 4 years since I moved here in the United States and he stayed and worked back home in the Philippines. It was a gruelsom 4 years. Our love was tested by not only distance but other challenges that comes with it like loyalty, time difference, trust, and everything else. We only get to see each other once a year for a month or at one point almost 2 years. I thought it was so impossible for the relationship to work.
We broke up for a couple of months and I thought that was it. But he came here durinh the time when we weren't togetehe in Dec of 2016 for a "Vacay" he said but little did I know he had a different agenda. He proposed in a very not so romantic style in Disneyland L.A. He just asked me if I was ready and I said No at first because we we're just in a bad break up. He said his proposal still stands and gave me the ring. He said he will prove his worth and will wait until I'm ready. While he was here we traveled and bonded. After a month, he went back to the Philippines. Something might have gotten to me that the day he arrived in the Philippines I called and told him I'm ready, and I had things planned out in my head, the wedding theme, the videographer and photographer, the colors, who to invite, etc. He wasn't shocked at all, he said he knew I already got it, I was just playing hard to get. hehehhe We might not be your typical couple, and our love story isn't as perfect as others but we fought for our love and is here to fight for it.
Q: How would you define the message "Dare to Love"?
Love and be loved even if it's hard, even if it hurts, even if it's impossible or even if nobody believes it but you! Coz when you believe in love, and give love, it comes back to you more than what you have given or more than what you think you can take in! Dare to love and see what love has to offer.
Q: Did you enjoy the wedding planning process? Why or why not?
YES! especially the shopping part. I got an amazon prime membership for this LOL! I also discovered a lot of hidden talents, new sites, rising businesses that are not so big nor popular in the wedding industry but has so much potential.
Q: What was your hubby's reaction when he first saw you on your big day?
He got teary eyed.
Q: What did you love most about your #CocoMelody dress (es)?
OHHHHH GOSHHHH EVERYTHING! I had a budget in my head. I didn't really want to buy an expensive dress that I'm only going to wear for a couple of hours. So I went to the usual wedding dress shops, and tried some. The dresses we're pricy yet it was not justified on how the dress looks like. My Cocomelody dress, however was my biggest risk in my whole wedding shopping spree. BUT IT WAS WORTH THE RISK I tell you. As soon as I tried it on with the cathedral veil which btw I also got from cocomelody, it sealed the deal. I was so ready to walk the aisle. I showed it to my Family, bestfriends and workmates and they we're all impressed and stunned. They love the lace details, the style, the fit, it was just perfect. When they saw it, they we're sure it was an expensive dress. But when they got to know the price of the dress, their jaw dropped and asked me how, where, when I got it. hehehe I just love my dress. You be the judge!
Q: What do you think about CocoMelody and the customer service?
CocoMelody is the future of wedding gowns. You basically have everything a bride is looking for in a dress, from modern to classic, from court to cathedral train, everything trust me. I just hope that you open a shop in east coast area as well. As for customer service, I was so pleased with how the support group handled my questions and concerns regarding the shipments, and timeframe. Overall I am a happy CocoMelody Bride.