If you're a lover of boho style, you DO NOT want to miss this wedding! Jamie & Steve tied the knot in Joshua Tree, California and their wedding featured a unique desert glam theme. Also, Jamie glows like the moon in the desert in her boho lace gown with custom spaghetti straps!
All photos were taken by Tiffany Cooper at Hot Metal Studio
Wedding Dress Style: #LD4317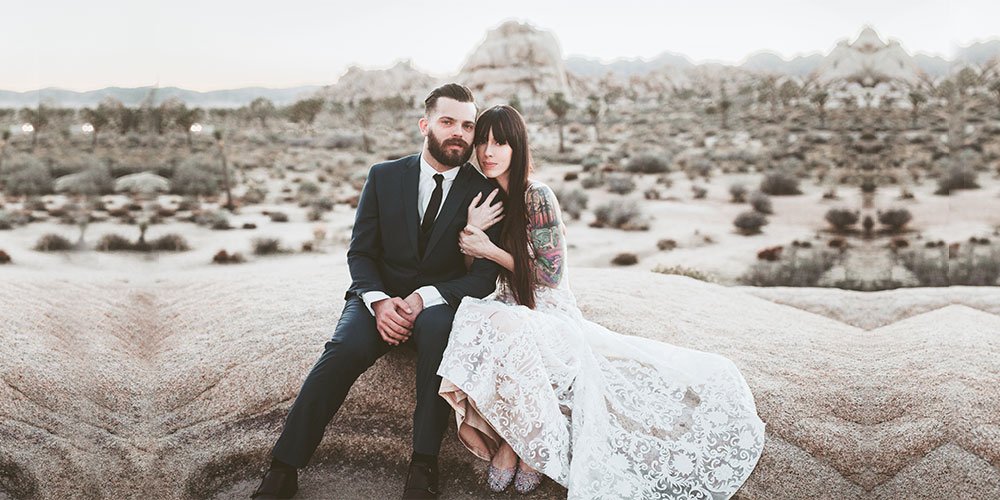 Q: Any advice or tips for future Mrs.? 
Don't stress about every detail of your wedding. People really only remember if they had fun and if the music and food were good. Also, make sure to slow down and take in the special moments at your wedding with your partner. It's such a special day! 
Q: Tell us your love story! Where & How did he propose? 
Steve and I met at a bar/restaurant in Hollywood where Steve has worked for the past five years. It was Friday, April 10th, 2015 while he was finishing his shift, he spotted me (being hit on) across the bar. Little did he know, the guy hitting on me was not my boyfriend, but a random guy. Nevertheless, he resigned himself not to talk to me. He got his shift drink and went out to meet some friends. As fate would have it, those friends had already left the bar, so he wandered in to find the only open seats in the entire house on either side of me. Still dedicated to not speaking to me, he sat down. While sitting there he overheard me speaking to a regular about science stuff including complex B-vitamins, chemistry, etc (I'm a chemist). He says he was intrigued and had to break the ice. "So, I drink 5 Hour Energies…those have B-vitamins," he said. Such a clever line had never been uttered, and I was smitten. For hours we talked about science, music, art, philosophy. Steve offered to drive me home, but I lived only one block away, so he walked me home. We've been together ever since, and now have a 16-month-old son named Jameson
On January 8th, 2017 at the same Hollywood bar/restaurant where Steve works, in the same seats where we met, Steve proposed to me, while our song played. Our good friend brought Jameson to the bar as a surprise, and our happy little family celebrated (but not too much!).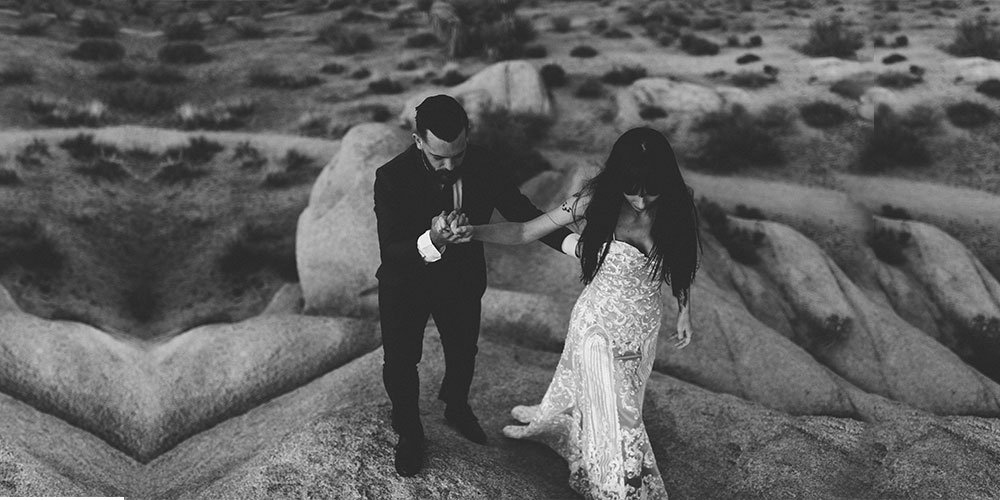 Q: How would you define the message " Dare to Love"?
Even though I'm a pretty reserved science-type girl, I took a risk and fell in love with my total opposite– a handsome musician/bartender–and he's the kindest, sweetest man you could ever meet.
Q: What was the inspiration behind your wedding theme?
I love the stark beauty of the desert. However I wanted to do something a little more elevated than a rustic desert wedding, so went with desert glam. People seemed to love it! I had cookies that looked like crystals, agate slices for party favors, and moon cactus on all the tables. 
Q: Did you enjoy the wedding planning process? Why or why not?
Yes. I found it as a welcome break from my day to day work, which is extremely analytical.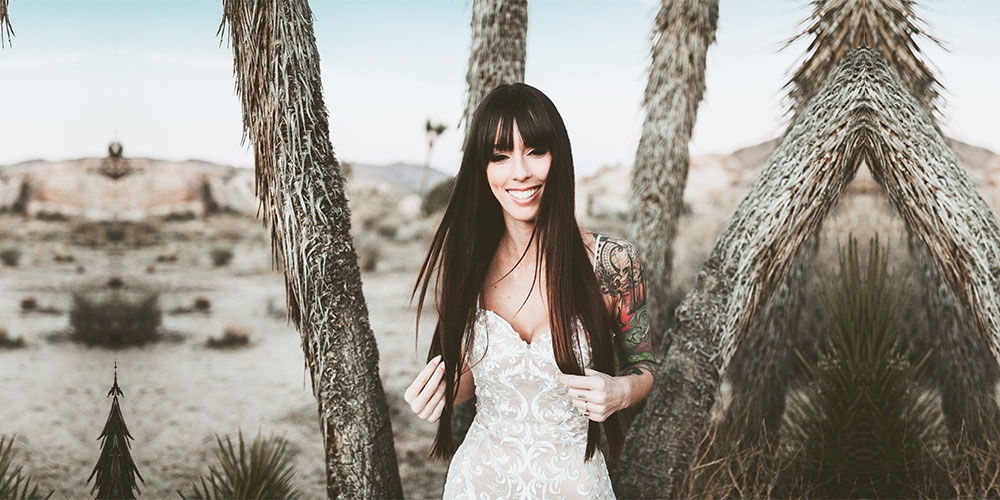 Q: What was your hubby's reaction when he first saw you on your big day?
When I reached the stage where the ceremony was, he leaned in for a kiss immediately! We kissed, and then he said, "Oops! Sorry I was supposed to wait!" Everyone chuckled and it was so cute haha.
Q: What did you love most about your #Cocomelody dress?
The lace pattern on my wedding dress was stunning!
Q: What do you think about Cocomelody and the customer service?
I went to a brick-and-mortar location in LA Cocomelody. Everyone there was so nice and very accommodating by helping me watch my toddler.