The perfect dress for the perfect smile! Kaitlyn & Chase tied the knot in Villa Rica, GA and they had a simple, elegant and classic wedding with lots of greenery and gold. And we are swooning over Kaitlyn's gorgeous bridal look! So lucky to be a part of Kaitlyn & Chase's big day that we can finally share their new chapter life here!
All photos were taken by Lauren Wright Photography.
Wedding Dress Style: #LD4395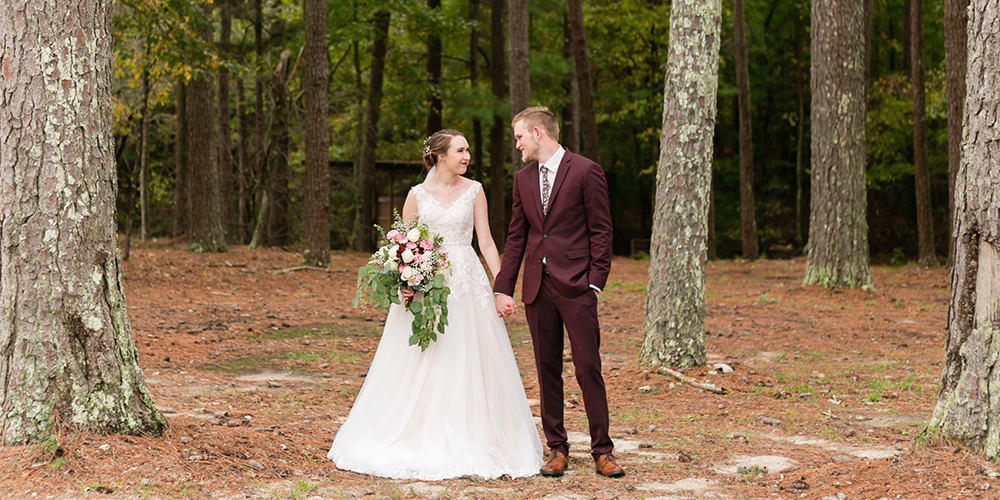 Q: Any advice or tips for future Mrs.?
Don't stress about things you can't control. I stressed incessantly about the weather – my ceremony was set to be outdoors. The whole week leading up to the wedding, the forecast showed an 80%+ chance of rain for my wedding day. I lost sleep over it more than once. The day of our wedding, it rained on and off all morning and afternoon, but stopped long enough here and there for bridal party pictures. When it came time for our first look, it started raining then as well – we were supposed to have it on the dock by the lake. I was about to walk out the door to see my husband for the first time that day, and had to stop because of the rain. I cried for a few minutes, because it seemed like the end of the world – I was sure that our ceremony would be a disaster and that we would have to rearrange our (very small) reception space, which I did not want to do. We relocated to the porch of the reception hall for our first look, and it worked out wonderfully. Our ceremony was set to start at 4:30 pm, and by 4 pm, the sun was shining and there wasn't a cloud in the sky. The weather was beautiful for the rest of the day, and the day ended with one of the most beautiful sunsets I've ever seen. So if I could give any advice, I would say to enjoy your day (and the days leading up to it), and try not to stress about things you can't control.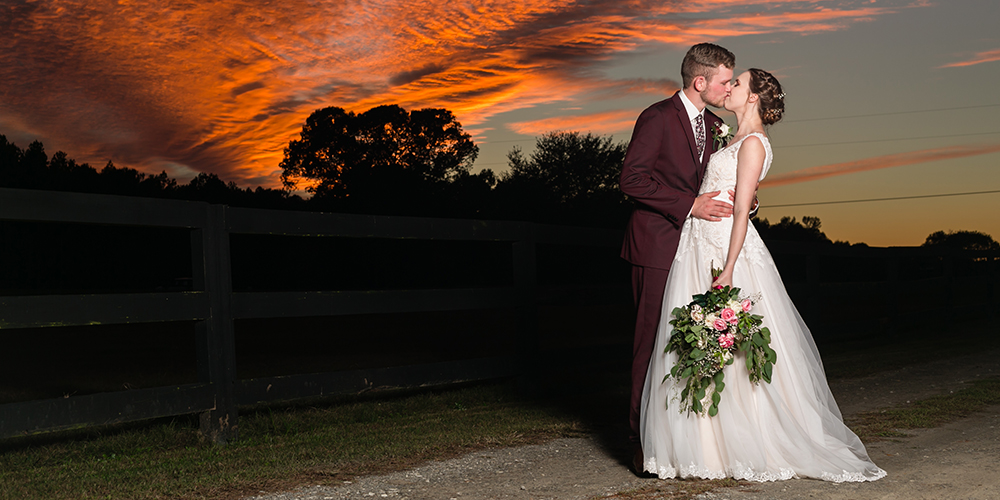 Q: Tell us your love story! Where & How did he propose?
We've been dating since 11/18/2014 – we met during our freshman year of college. We actually followed each other on social media before meeting in person. The first time we ever hung out was at the McDonald's near our college – we ended up sitting in a booth just talking for about 4 hours, until 1 or 2 in the morning. It sounds cheesy, but if you ask either of us when we "knew," we'd both say in that booth. We're the best of friends and we just have so much fun together. I couldn't imagine my life without him, and I'm glad I don't have to. To answer your question on how he proposed, his brother and sister-in-law are both very talented photographers. At his family's Christmas in 2016, they gave us a "coupon" for a free couple's photo shoot (Chase had already talked to them, and they were in on it). We went to Sope Creek Park in Georgia in February of 2017 to have our photos taken, and about 30 minutes into the pictures, his brother asked if there were any other poses we'd like to do. Chase said, "I can think of one more.." and got down on one knee to propose to me. We were standing on a bunch of rocks in the middle of a fairly large river, so the pictures are beautiful. It was so nice because it was just Chase and I along with his brother and sister-in-law, so it was very personal and sweet. Chase also arranged for both of our immediate families (parents, siblings, nephews, nieces) to be at a restaurant waiting for us after we finished taking photos. It was so thoughtful of him, and just so nice to be able to celebrate such a special occasion with the people we love most.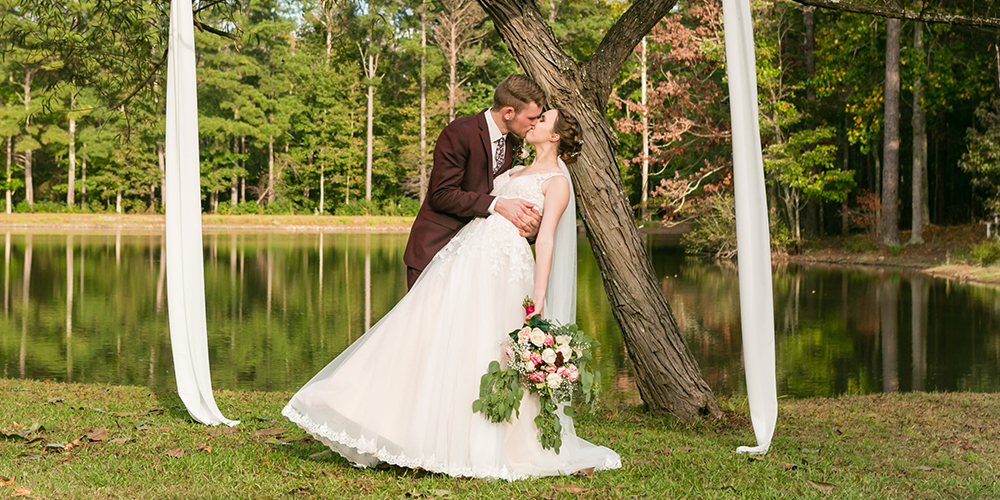 Q: How would you define the message "Dare to Love"?
I think that for me, "dare to love" means loving someone continuously through all of life's ups and downs. I'm a huge worrier – I'm always thinking of what will go wrong in life. So it would be easy to just throw in the towel when things get tough – at least that's what most people in the world would say. But I think that our relationship is so special, so worth fighting for. I've never met a man who helps ease my worries quite like Chase does. He's my voice of reason, for sure. We're alike in a lot of ways, but we're also very different – I think that's why we work so well together.
Q: What was the inspiration behind your wedding theme?
I just really like simplicity and the classic style. I didn't want our theme to be overwhelming, I wanted it to be understated and tasteful.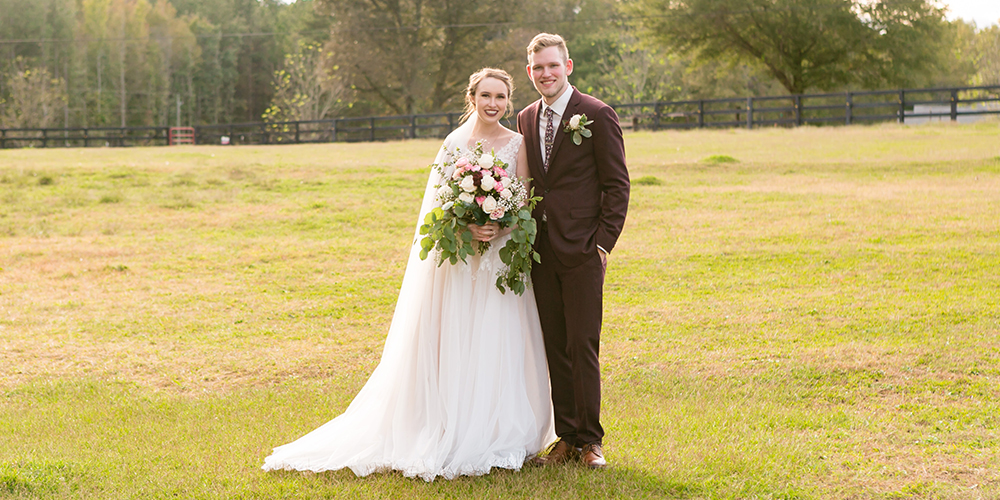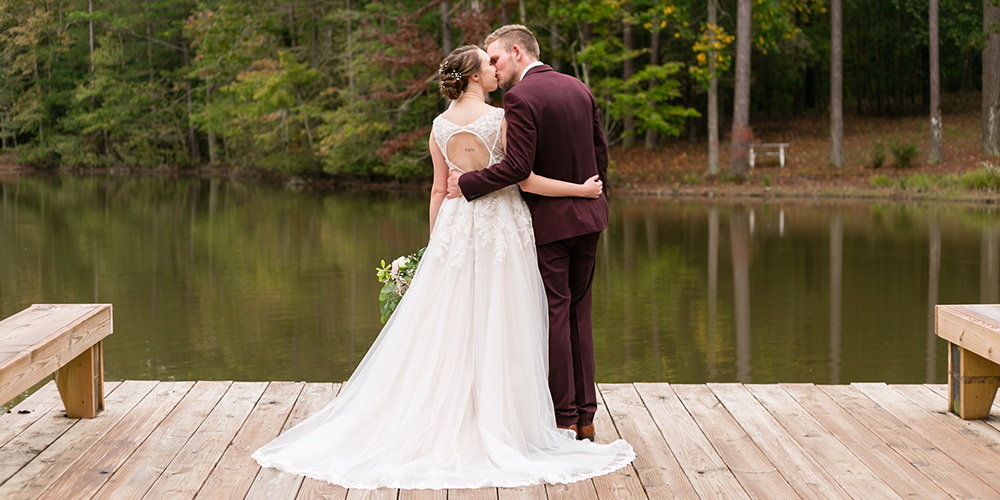 Q: Did you enjoy the wedding planning process? Why or why not?
I did! We had a long engagement, so it made the planning process a breeze. We had tons of time to plan our wedding exactly the way we wanted, and it wasn't too stressful either.
Q: What was your hubby's reaction when he first saw you on your big day?
He was so excited! He absolutely loved my dress, and he just kept telling me that it was so "me." I think that doing a first look really calmed both of our nerves surrounding the whole day. He still talks about my dress and how much he loved it.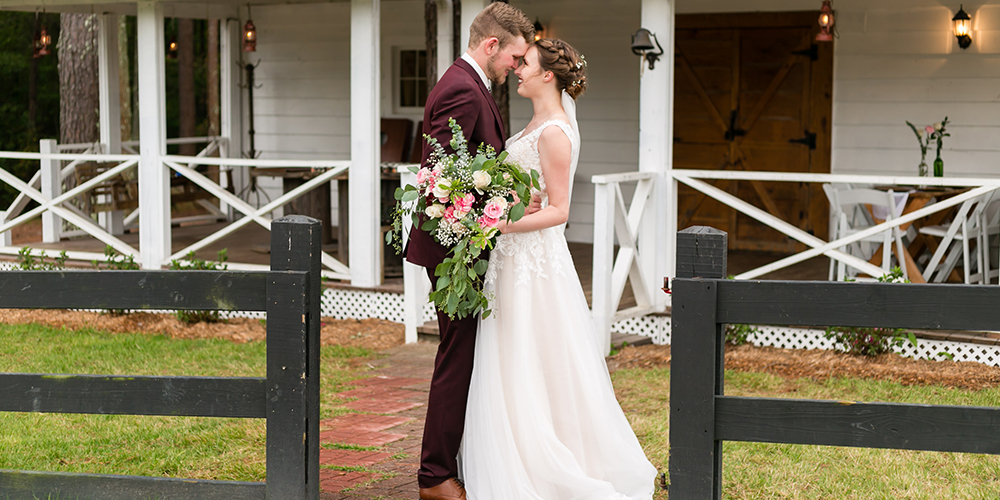 Q: What did you love most about your #Cocomelody dress?
I loved that it was the perfect balance of simplicity and detail. I didn't want a dress that was too plain, but I didn't want one that was crazy detailed either. My wedding dress was a simple A-line with a good bit of lace embellishment on the bodice and around the bottom of the dress. I also really loved the open back!
Q: What do you think about Cocomelody and the customer service?
I think that Cocomelody is phenomenal, as is their customer service. I recommend them to everyone I meet, especially to friends of mine who are engaged or will be engaged soon. The prices are amazing, and the quality is even better. I tried on a few dresses at larger chain wedding dress stores, and I just couldn't find anything "my style" in my price range. Everything seemed so plain. But Cocomelody has such a huge variety of dresses for really affordable prices. I love that they offer custom sizing as well – that's what I got, and my dress fit like a glove. The people who work for Cocomelody are so friendly and helpful, and it's obvious that they genuinely want to help you have the perfect wedding.