Katie & Matthew had their forest wedding in Lake Arrowhead, California and it was so dreamy with natural colors! We're also in love with Katie's special first look with Matthew and her father. Such a sweet and memorable moment! Congratulations to Katie & Mathew and thanks for letting us be a part of your big day!
All photos were taken by Jekalo Photography
Wedding Dress Style: #LD4515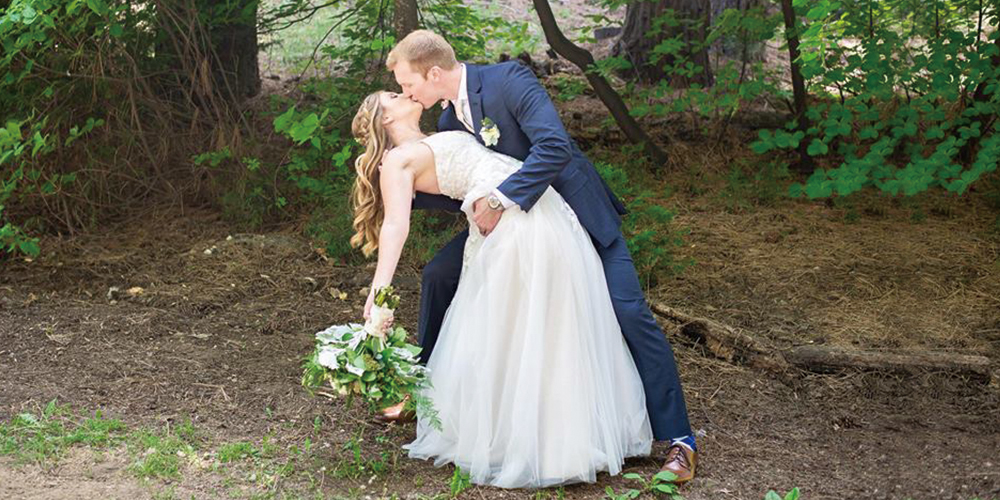 Q: Any advice or tips for future Mrs.?
Take a couple of minutes during the reception to stop and observe. The day goes by so fast, and you should take a second to enjoy it. My hubby and I did that during dancing and it was so awesome to see how much fun our guests were having. Everyone was there celebrating us!
Q: Tell us your love story! Where & How did he propose?
We both love going to the lake and participating in water sports such as wakeboarding, wake surfing, and water skiing. Katie's parents have a cabin at Lake Nacimiento and as a family has been vacationing there for years. Matthew's family, huge lovers of the lake always wanted a cabin however it never quite worked out. They would instead go camping at the nearby lake San Antonio. Years into Matthew and Katie dating, a cabin came for sale right across the street from Katie's parents. Who did Katie's parents think to call? Matthew's parents! They ended up moving in right across the street. A little after they moved, Katie was up north at her sister's graduation and was going to be meeting Matthew at the lake later that day as a halfway point. When Katie got to the lake, Katie's dog ran up and said hello with a note attached to his collar. It had a nice poem asking Katie to go down to the viewpoint. Matthew was waiting at the viewpoint standing in sunflowers shaped like a heart. He had set up hiding cameras and asked his family to record the moment. Matthew had a speech prepared and finally after 7 years, asked Katie to marry him! Katie could not be happier and they celebrated with a booze cruise on the lake with both families.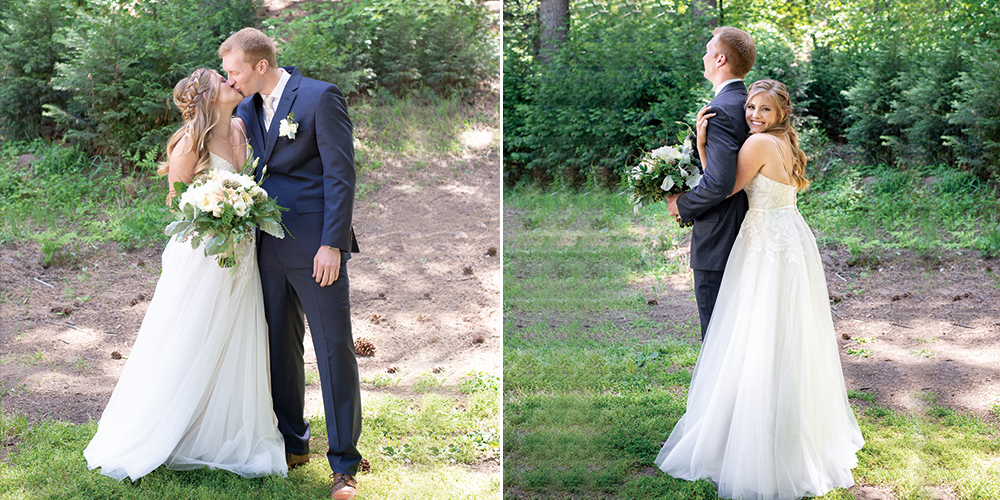 Q: How would you define the message " Dare to Love"?
Matthew and I have always encouraged each other to be independent but we also would come together as a couple and grow. Dare to love should be defined as trusting in your partner and knowing that if it is meant to be, it will always have a way of working out.
Q: What was the inspiration behind your wedding theme?
We love the lake and the special moments that it makes us think of. We tried to keep it as natural as possible and match the colors of the water, surrounding trees, etc.
Q: Did you enjoy the wedding planning process? Why or why not?
Definitely! Overall, we handled it with ease and as little stress as possible. We could not have done it without help from our friends and family. We only had a breakdown once about the budget!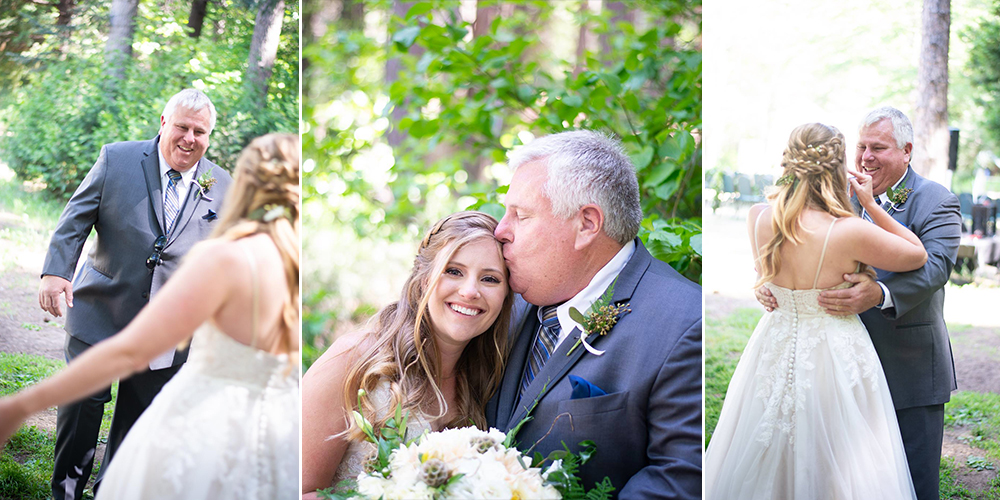 Q: What was your hubby's reaction when he first saw you on your big day?
We decided to do a first look so we could take some nerves off and have a special moment just us. When he saw me, he was teary-eyed, smiling ear to ear and telling me how beautiful I am. We hugged, checked each other out and just enjoyed the moment.
Q: What did you love most about your #Cocomelody dress?
I LOVED my Cocomelody wedding dress. Right when I put it on, I knew it was the one. I loved the attention to detail without the huge price tag. The material was quality and the attention behind every stitch was there.
Q: What do you think about Cocomelody and the customer service?
I had a great customer service experience. I went into the LA showroom to find my dress and was helped immediately by Nic. He helped me find dresses according to what I wanted and then would help me picture any changes. We customized my dress just a little and when it finally came in the mail, they sent it to me without the customization. A bride's worst nightmare, a couple months before the wedding! I called the store and they immediately worked on a new dress for me making sure that we were always on the same page. I never was stressed out about my dress because of the way customer service was handled. I could not recommend Cocomelody enough for any future brides or bridesmaids.