Surrounded by their loved ones, Lindsay & Peter tie the knot with a "Roaring 20s" wedding theme in Richmond, Virginia. And Lindsay's newly married glow is undeniable! Read more about their adorable love story, and check out some of our favorite pics from this amazing wedding below!
All photos were taken by karen Tribbey Photography.
Wedding Dress Style: #h1pn0352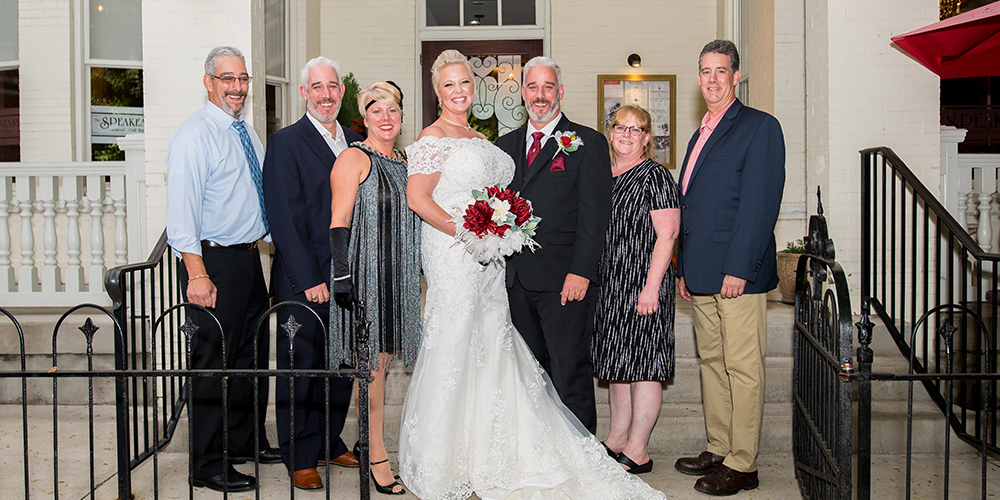 Q: Any advice or tips for future Mrs.?
Stay calm and enjoy it! I had almost a year to plan and though it was stressful on occasion, I really enjoyed getting to plan this ultimate party for the two of us. That was my overall goal to make it feel more like a party than a wedding. We did as much as we could early so that there wasn't that panicked feeling leading up to the big day. As this was not either of our first marriage, we understood it wasn't the wedding DAY but the start of the rest of our life together that was most important.
Q: What was the inspiration behind your wedding theme?
Our venue. We happened to stop in on a whim and fell in love. The venue and theater have a long history in Richmond, and it was an easy theme to pay homage to all of the jazz and blues greats that had been there. Our location was a real speakeasy during prohibition so the theme naturally gravitated to flappers, glamour and fun. Many of our guests embraced the theme and came dressed for the part.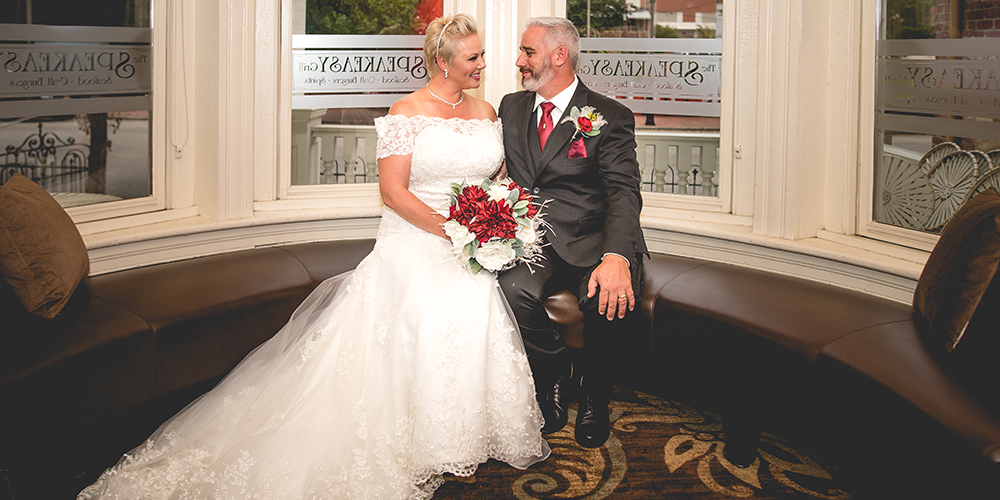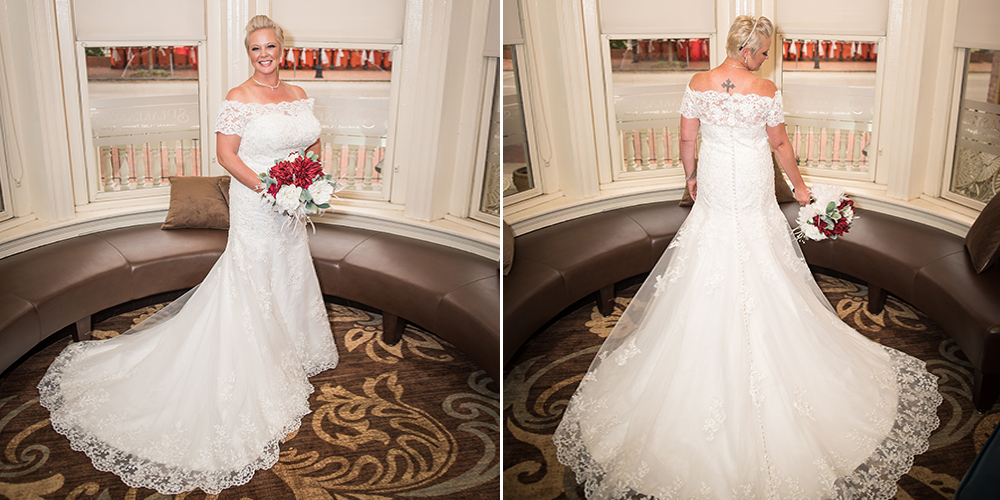 Q: Tell us your love story! Where & How did he propose?
We actually met on match.com! Both of us were newly single and had signed up. After a few failed attempts, I was ready to hang it up. Pete was the last one…one more shot…and we started speaking and never stopped. From the moment we met, we both knew this was someone special. There was an instant connection for both of us. Pete proposed at "our spot" which is a train depot in Ashland, va. We routinely have date nights where we will grab a sandwich and go play dominos and watch the trains. He had found this upon moving to Virginia and fell in love with the charm. He shared this spot with me early on, and we go there regularly. It was just a typical night, or so I thought. He surprised me with a gift that night…a hoodie sweatshirt (I love a good sweatshirt! Lol) and inside the pocket was a sticker that says, "My husband is a firefighter." I pulled it out of the pocket and laughed, and looked at him. He then got down on his knee and asked if I'd like to make that sticker true. Of course I said yes!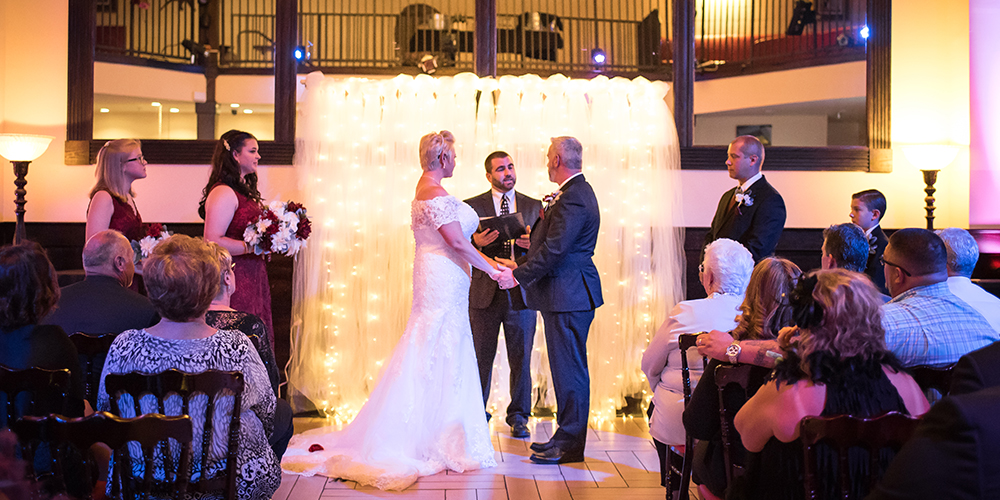 Q: How would you define the message "Dare to Love"?
Don't give up! Dating is hard…and both of us getting back into the "scene" was much harder than we thought. I had basically gotten to the point that I would just lay low for a while, and Pete was going to be the last date I went on for a while. Through our relationship, we have had ups and downs, and giving up was not an option for either of us. Relationships are hard, but when you find your best friend and decide to make a life together, giving up is not an option. He is my biggest supporter and I am his. It's important to remember that the two of you are a team and on the same side.
Q: What was the best/most memorable part of the day? 
Walking down the aisle. Since the moment I realized he was "the one" I had always fantasized about getting to walk down the aisle towards him. It didnt disappoint! I even took a moment at the beginning of the aisle to just LOOK at him and enjoy it before I proceeded.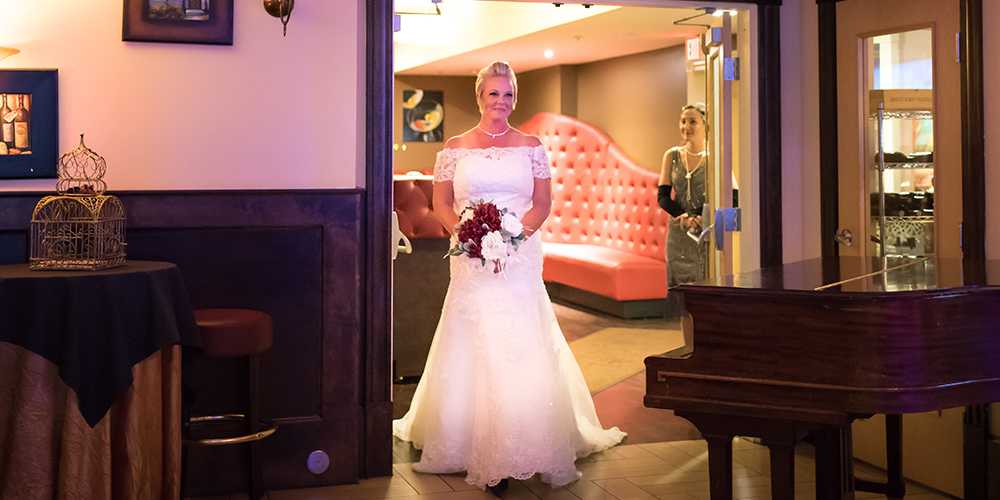 Q: What did you love most about your #Cocomelody dress (es)?
The craftsmanship of the wedding dress was remarkable. I also loved that I was able to customize my look. I added buttons all the way down the train and that was my favorite part of the dress.
Q: What do you think about Cocomelody and the customer service?
I love Cocomelody. I have recommended to anyone I know getting married. I would definitely order another dress if I had a formal occasion need.