Rachel and Zache exchanged their vows in Barilla Bay Oyster Farm, Tasmania, Australia. Their wedding had a boho/rustic theme with a neutral colour scheme of grey and white with accents of brown and green through natural materials. It's just a style that they both really love! The silver/cloud bridesmaid dresses were picked to perfectly match their venue, and Rachel's fabulous mermaid gown with off-shoulder long sleeves gives it the ultimate elegant and romantic touch. Read more to see their breathtaking day!
All photos were taken by Kat Cherry Photography.
Wedding Dress Style: Customized Version of #LD3906
Bridesmaid Dress Style: #PR3536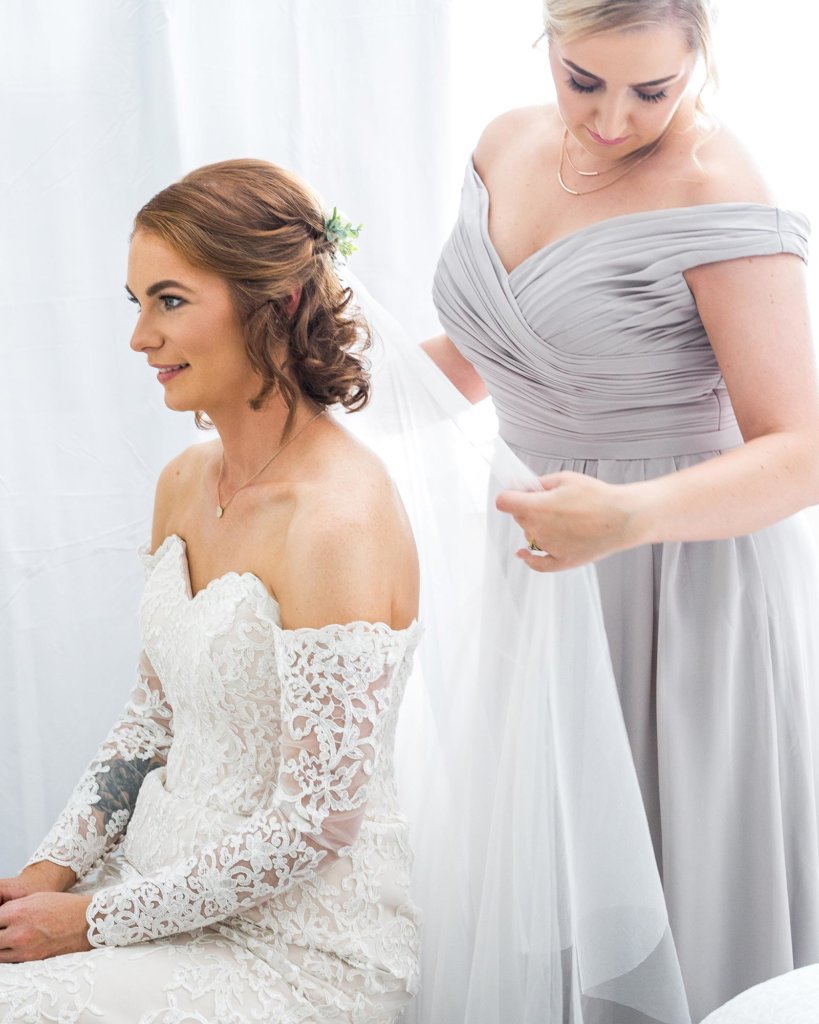 Q: Any advice or tips for future Mrs.?
Try to relax and don't sweat the small stuff! At the end of the day you get to marry the love of your life and no one is going to notice the small things that didn't quite work out the way you wanted.
Q: What was the inspiration behind your wedding theme?
We took a minimalist approach and tried not to go too overboard. We had lots of natural colors and materials and kept everything simple to create our rustic, boho inspired day.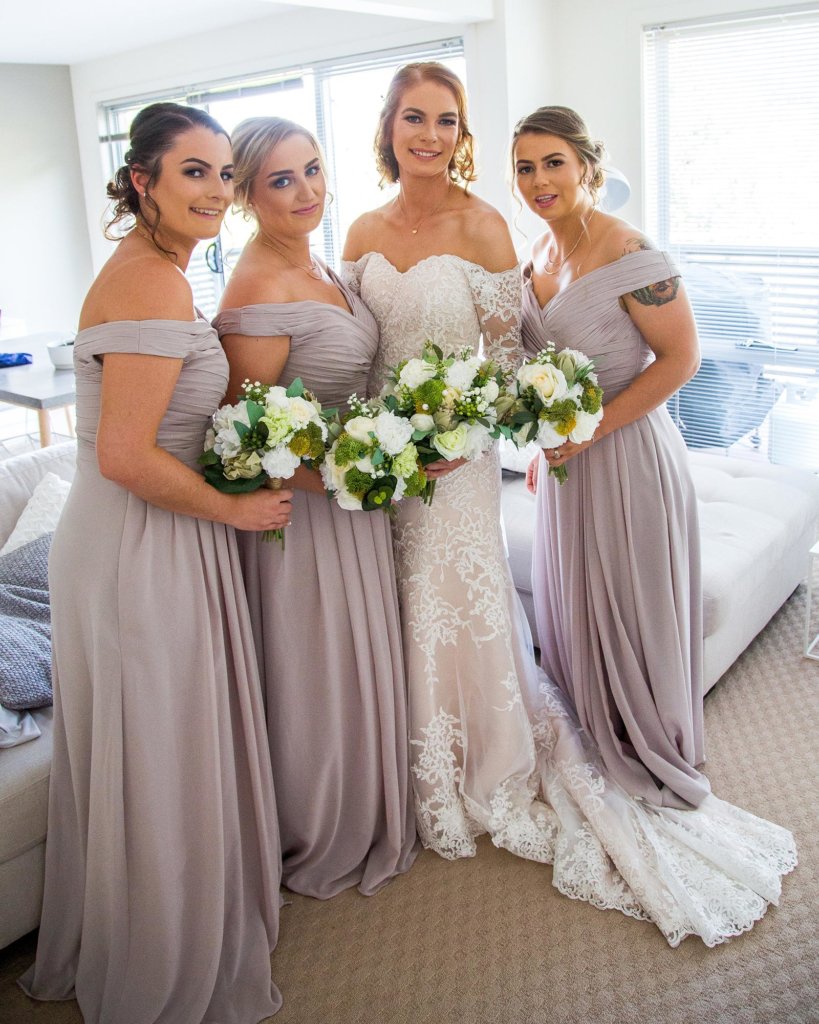 Q: Did you have a particular theme or color scheme? Is there a story behind this color theme and why you chose it?
We went for a neutral color scheme of grey and white with accents of brown and green through natural materials. It's just a style that we both really love!
Q: Tell us your love story! Where & How did he propose?
We met on Tinder about 4 years ago! I never planned on meeting anyone and really just downloaded the app to see what it was like. I spoke to a few people a little bit but nothing interested me. I was starting to think about deleting the app when Zache sent me a message. We started talking and hit it off right away. We were both addicted to our phones and talked all day, everyday and most of the night as well. We decided to meet at a local pub about a month later and it was definitely meant to be! We've been inseparable ever since. Not only did I get Zache but also his amazing little boy Logan who I adore just as much as his Dad. About 18 months later we moved in together and the following year Zache proposed to me on a walk along our local beach. I couldn't believe how lucky I got!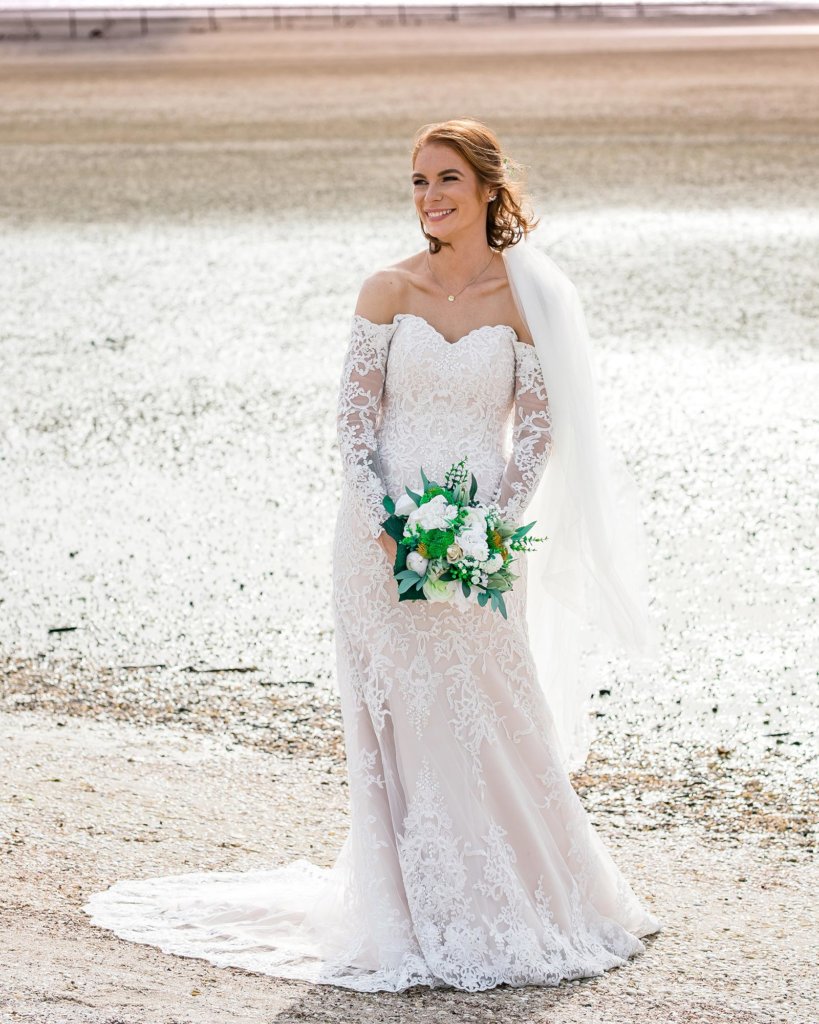 Q: How would you define the message "Dare to Love"?
Dare to push the boundaries and get outside your comfort zone! I never ever would have thought that I would meet the love of my life online. If I never "dared to love" and meet Zache then I wouldn't be where I am today.
Q: What was the best/most memorable part of the day?
Walking down the aisle and seeing Zache and Logan for the first time. Thinking about that part of the day makes me smile from ear to ear!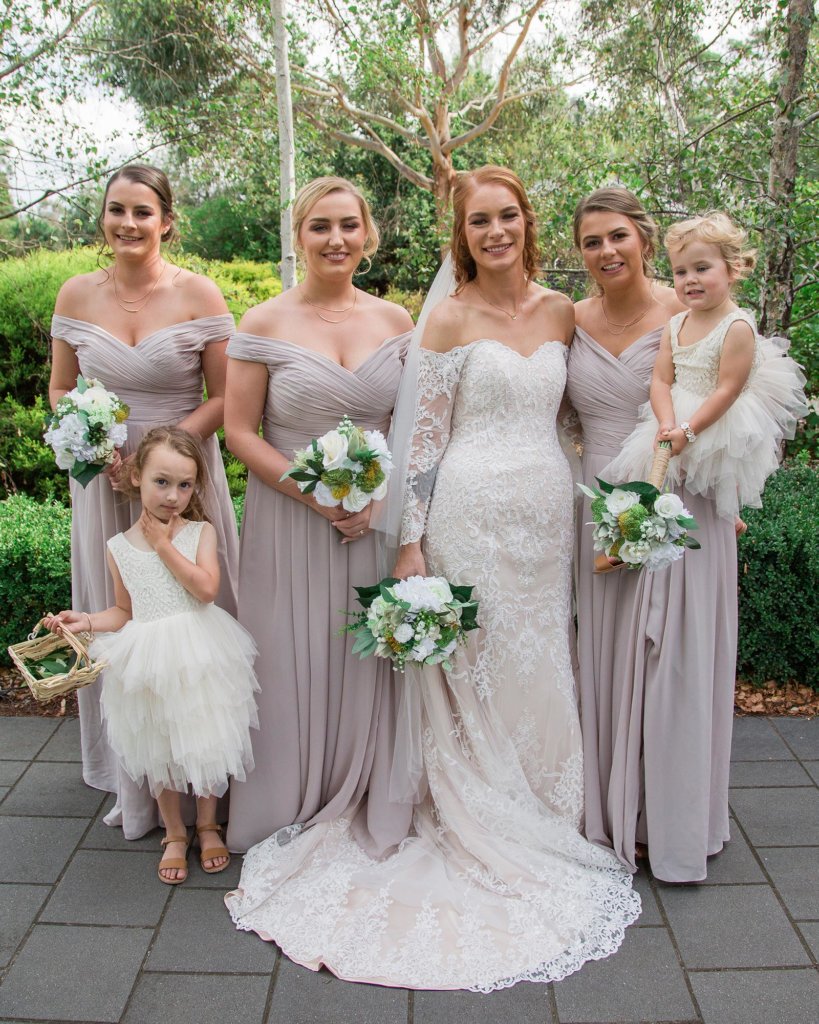 Q: Where did you hear/find CocoMelody?
My best friend bought her wedding dress from CocoMelody and it was amazing! I knew I had to get my dress there too.
Q: What did you love most about your #Cocomelody dress (es)?
They're all amazing! My wedding dress was so beautiful and even with all my alterations and customization it was better than what I thought it could have been! CocoMelody were so great and asked me so many questions to ensure that they got it just right. Everyone was stunned when I told them that I bought my dress online! My bridesmaid dresses couldn't have been more perfect and again the quality was amazing.
Q: Why did you choose #CocoMelody for your bridesmaids?
I chose CocoMelody bridesmaid dresses for my girls because I knew the quality would be amazing and they were a great price! They were also exactly what I was looking for and something a little different than I had seen on other sites.
Q: What do you think about CocoMelody and the customer service?
CocoMelody are such a great company! Their communication was so good and really helped calm my nerves about buying my wedding dress online. Their dresses are so affordable and I was able to have the dress of my dreams at a price that worked into our budget. I just can't recommend them enough!