Janay & Timothy got married on December 7th in Anaheim, CA last year. we are so honored to be a part of their big day by making Janay's Dream wedding dress and her 10 beautiful bridesmaids' dresses! Congratulations to this sweet couple and wish them lifetime happiness! So proud of our Cocomelodybride and Cocomelodybridesmaids!
Wedding Dress Style: #LD5580
Bridesmaid Dress Style: #PR3536
Bridal Veil: Customized by using the same lace appliques from the wedding dress.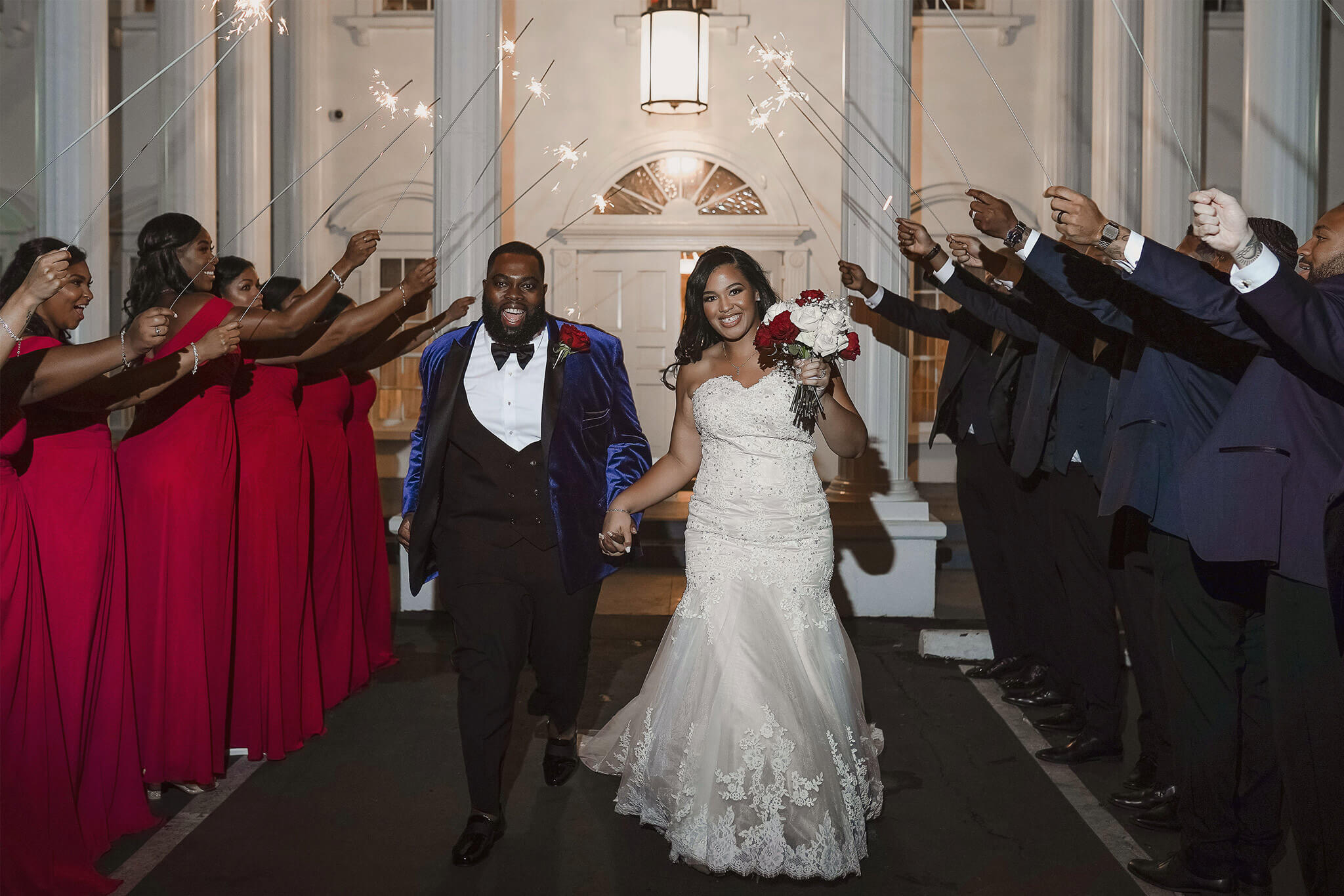 Q: Any advice or tips for future Mrs.?
It takes a lot of time to plan, but the day is over before you know it. It's your day, make it how you want! What's most important is to enjoy the day and take the time to connect with your spouse in the midst of all of the excitement.
Q: What was the inspiration behind your wedding theme?
Our wedding was at the White House Banquets & Event Center. The venue was very formal and upscale. From the time of our first visit, all I could think of was a black tie. I wanted our guests to feel as though they were actually at the White House. All of our guests were in all black formal attire and we made sure everything was elegant.
Q: Tell us your love story! Where & How did he propose?
Timothy and I met in 2008 at our church while both singing in the choir. We started dating in 2009 and went to prom together in 2010. We separated shortly after Timothy graduated from high school. We both went off to college and never communicated. In 2017 while on a vacation in Jamaica, Timothy reached out to me via Instagram asking me to bring him back a souvenir. He asked me on a date and before long we were dating again. Timothy proposed on 10/20/2018 at The Getty Center. He surprised me with flowers, balloons, and my family surrounding me while asking me to marry him.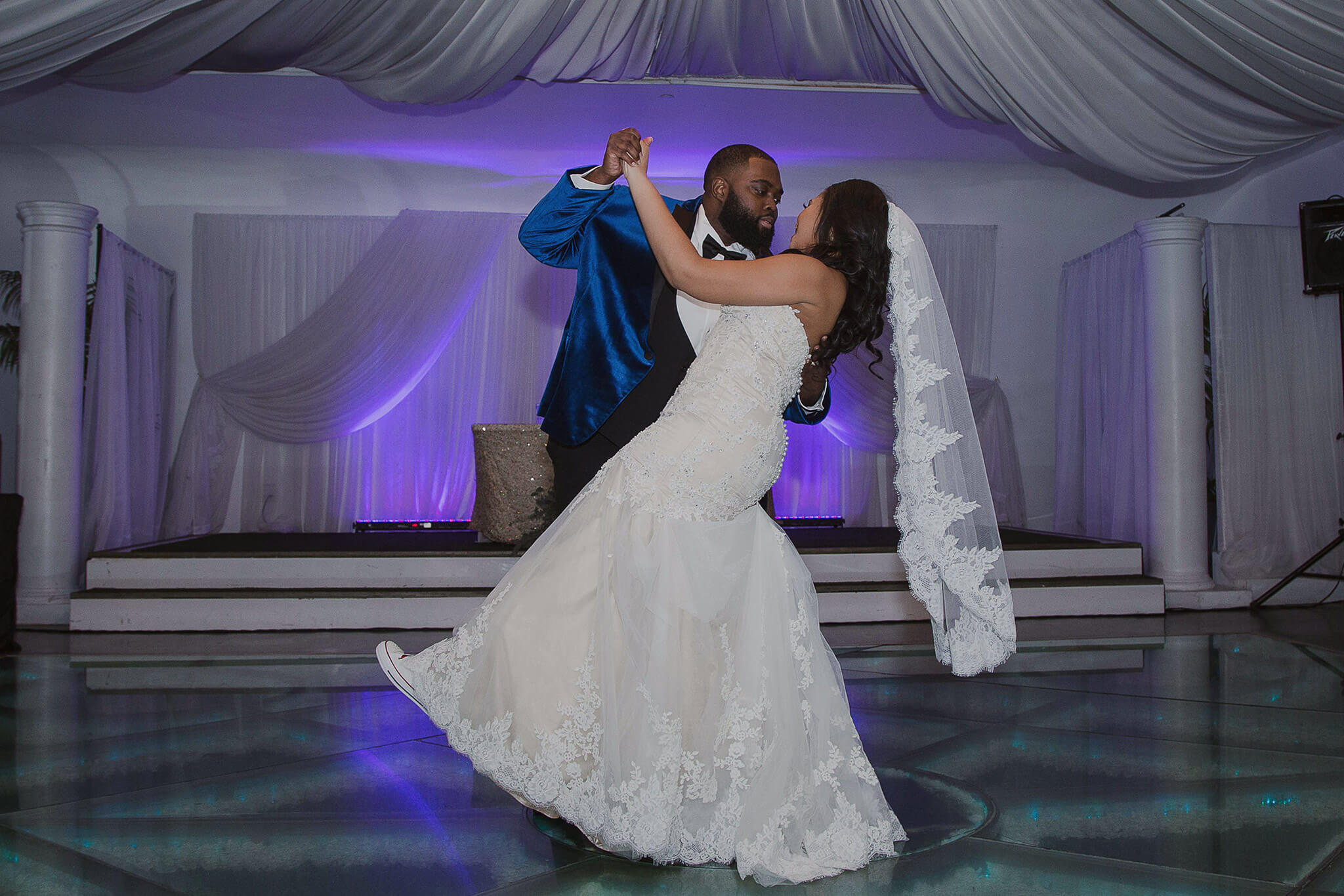 Q: What was the best/most memorable part of the day?
The most memorable part of our wedding day was exchanging vows. Everyone could feel the love in the room. We also laughed and joked while standing at the altar.
Q:  Where did you hear/find Cocomelody?
In 2018, my friend was getting married and couldn't stop talking about Cocomelody. I went with her and helped her find THE dress. When it was time for me to go dress shopping, I wanted to visit Cocomelody last because I was certain I would find my dress there. However, during my first day of dress shopping, I found THE dress and never looked back.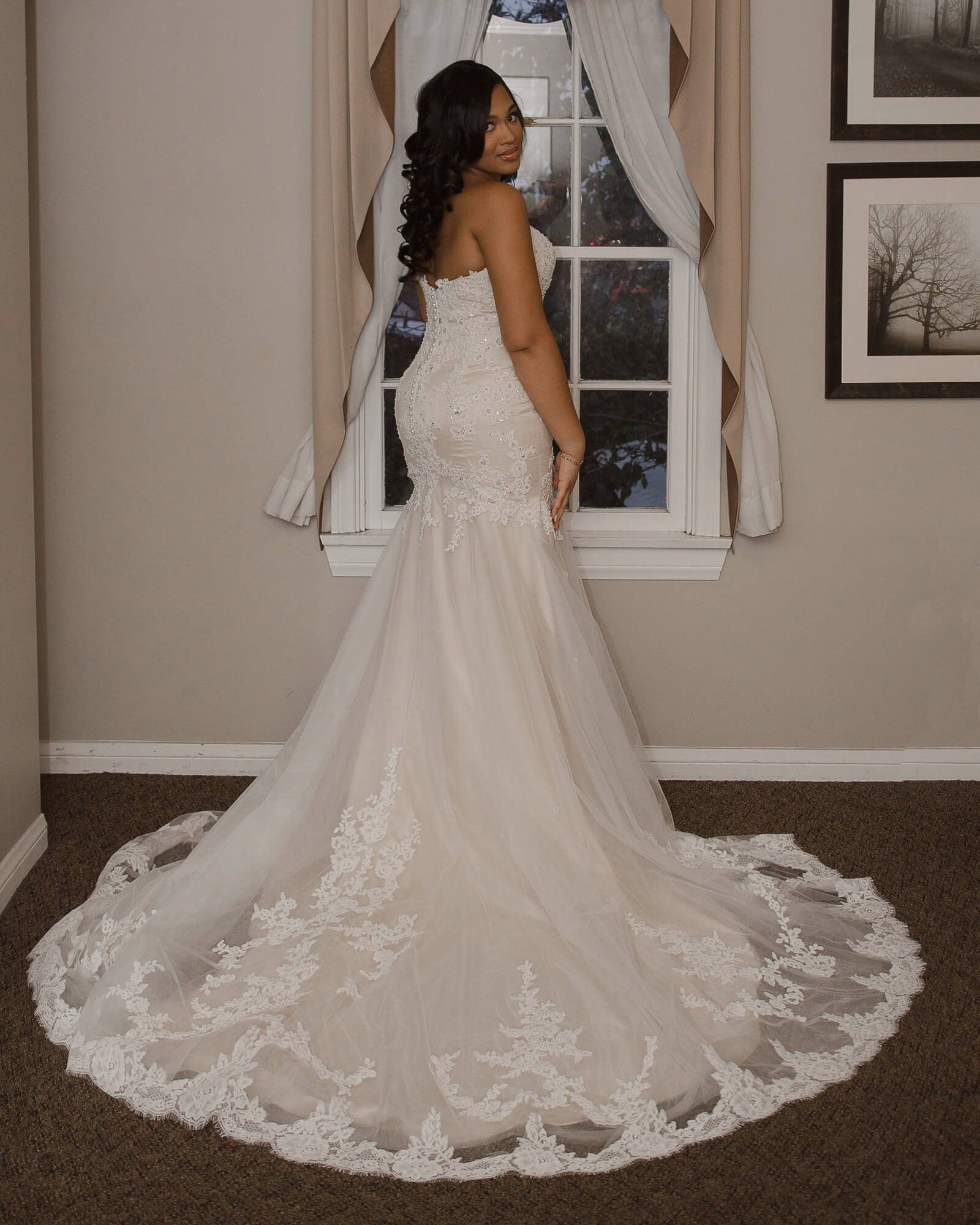 Q:  Did you have a particular theme or color scheme? Is there a story behind this color theme and why you chose it?
Our wedding colors were burgundy and navy with gold accents. I loved how bright the ski patrol color was and felt that it would go well with a December wedding.
Q:  Why did you choose Cocomelody Dresses for your bridesmaids?
The reason I chose Cocomelody for my bridesmaids was that they'd be able to look as stunning as me. I wanted them to feel and look great! Even though they weren't getting married, it was still important for everyone to love how they looked. They loved the split and the fact that they could dance in the dress as well. The dress I chose made the girls feel sexy.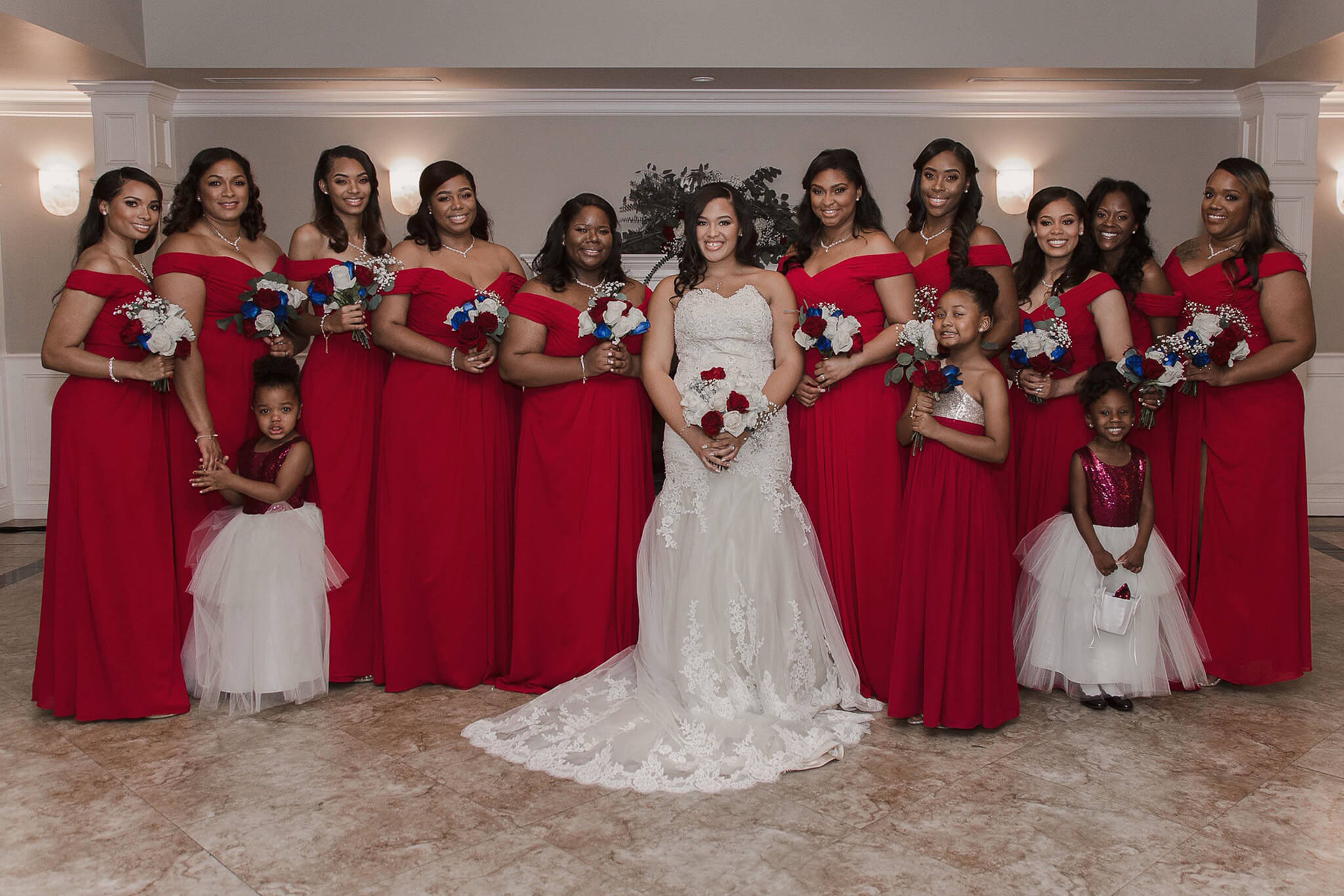 Q: What did you love most about your Cocomelody dress?
I loved the way my dress fit. I loved the pearls, but I wanted a little more. When I tried on the sample dress, it was like it was made just for me. The silhouette and shape was EVERYTHING! Once I received my alterations, I couldn't wait to wear it! I also loved the bridesmaids' dresses and how it flattered each of my bridesmaids with differing body types.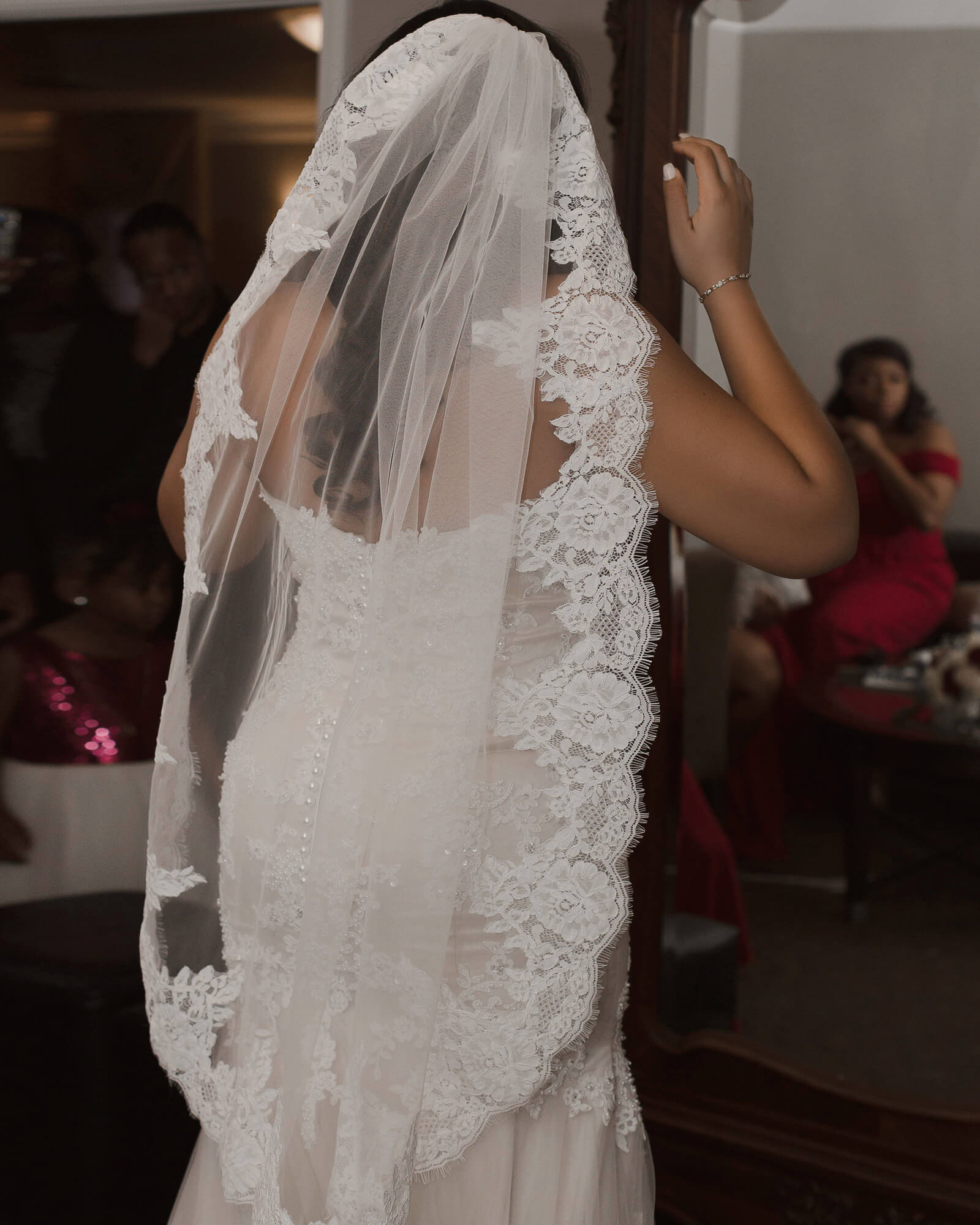 Q: What do you think about Cocomelody and their customer service?
Cocomelody is awesome! I love how accommodating the staff is! Abigail, Tahj, Albert, and Benjamin were the absolute BEST!! Without them, I don't think I would've had the same memorable experience!