So at last, you nodded to his proposal and said yes to the lifelong love contract with him? Now you have to express your sincerity and self-assurance in living a happy life with your Mr. Right by holding a ceremony, where your friends and relatives can witness you exchange your wedding vows. Of course, it entirely revolves around you how you want your wedding ceremony to look and feel like.
As the fast social development causes dramatic makeovers on wedding concepts, brides-to-be in today's era get more freedom of choice on the wedding theme. Among the fastest-growing wedding trends is a rustic wedding theme. And it is easy to see why. They are simple and beautiful in their purity. When you choose to wed at a farm, a barn or a similar setting, a rustic design scheme can be just perfect.
Nonetheless, during the wedding planning, it is crucial to put together the style of your bridal gown and your bridesmaid outfit to the theme of the wedding. You must combine that relaxed country feeling with the finesse and sophistication that your wedding deserves – without it appearing too rough around the edges, of course.
Choose your rustic wedding dress wisely
The most important bridal component of any wedding is a wedding gown. The perfect bridal gown can undoubtedly make or break the wedding. In this case, choosing your dress wisely is the way to go.
Ball Gown – If you hold a strong appetite for elegance, you will definitely fall in deep love with ball gown wedding dresses to delight your longing for luxury or chic sense of grace. Even though a ball gown exudes grandeur, it is a perfect fit for your rustic wedding. It would result in a spellbinding and captivating contrast that would absolutely make you stand out.
Mermaid –You have tons of options when it comes to buying wedding dresses. But if you are looking around for a simple yet elegant dress that can make your rustic wedding ceremony shine, the mermaid style wedding gown is an excellent choice. Mermaid wedding dresses are perhaps one of the most beautiful and expressive styles of bridal gowns available.
A-Line – If you are deeply interested in marching down the aisle with a drop-dead gorgeous dress, an a-line wedding gown is what you need. A-line dresses fit flawlessly in a rustic wedding setting, what with their subtle style, elegant lines, fresh tones and never-ending allure.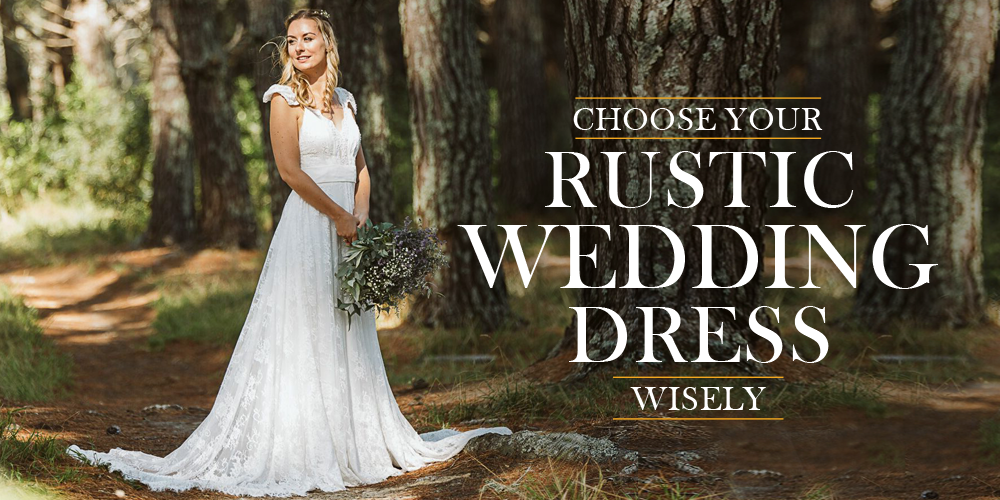 Pick the right rustic bridesmaid outfit
Finding fabulous dresses for your maid of honor requires special consideration, especially if you want your wedding to have a rustic essence.
Lace – Lace wedding dress is a gorgeous and glamorous outfit for a rustic wedding, and it is not only for brides. Tasteful lace can be an excellent choice for the bridesmaid dresses too. The key to making dresses like bridesmaid attire and not bridal is to use color. The lace can be a color, or it can be layered over a colored lining. As long as you refrain from lace bridesmaid dresses in all white or ivory, you should not have to lose sleep about anyone mixing up your attendants with the bride.
Mix & match –The concept of flawlessly matched attendants is so old-fashioned. For a rustic wedding, it looks much natural and refreshing when the bridesmaids coordinate without having on the exact same dress. The key to successfully mixing and matching bridesmaid dresses and accessories is to adopt a few central features that will be the same throughout. This will ensure that the bridal party looks like a group, even when each woman is able to express her individual taste.
Printed – Adding bridesmaid dresses with prints will give your wedding that extra dash of pep. Printed fabrics have been making their way into wedding fashions. From floral prints to geometric patterns, there are endless shades and styles available. Applying these patterns will add color and liveliness to your rustic wedding. Even so, you must ensure that the prints blend smoothly with the rustic theme of the wedding so that it will have a consistent appearance.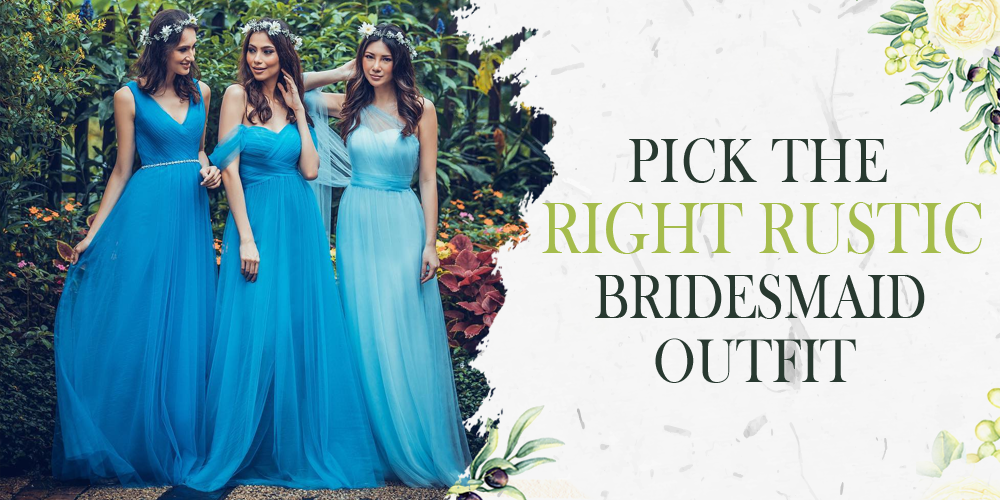 What about jewelry?
For a rustic wedding, you are going to want to carry as little jewelry as possible. A simple pair of earrings is often all the adornment a rustic wedding ceremony needs.
With these tips in mind, it will be a snap to dress for a fairytale-like rustic wedding. You can pull off that exemplary blend of country charm and wedding elegance that will make your wedding warm and welcoming. Your guests will be sure to enjoy your rustic wedding done right.