When a bride embarks on her journey to find the perfect wedding dress, there are a number of factors that she will likely consider. Here are some of the most important things that brides tend to care about when shopping for their wedding dresses:
Makes Sure You Pick The Right SILHOUETTE
Brides want to look and feel their best on their big day, so finding a dress that suits their personal style and flatters their figure is a top priority. From classic ballgowns to bohemian-inspired designs, there are countless styles to choose from, and each bride will have her own preferences. (View More 2024 Wedding Dresses Here)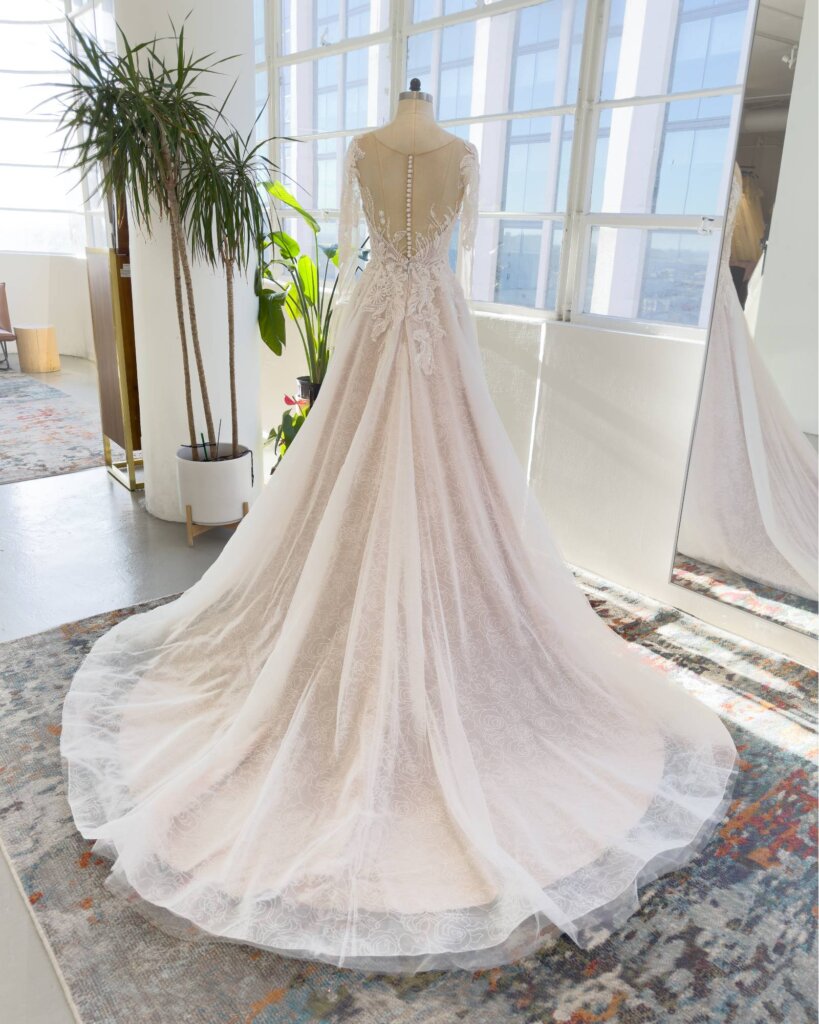 Style: SELINA #CW3003
Choose The Wedding Gown That Makes You Feel Comfortable
A wedding dress is not just a fashion statement; it's also an outfit that the bride will wear for hours on end, so comfort is key. Brides should look for dresses made from breathable, lightweight fabrics and opt for designs that allow them to move and dance comfortably.
Come visit our physical stores to feel the wedding gowns yourself. (Stores Near You)
Choose A Wedding Gown That Fits You Perfectly
Finding the right size is essential, and brides should expect to go through several fittings to ensure their dress fits like a glove. A good tailor will be able to make adjustments to the bodice, hem, and straps to ensure the dress is comfortable and secure.
At Cocomelody, our experienced stylists are trained to help you find the perfect fit and ensure that your dress will be comfortable and secure on your big day. When you visit one of our stores, our stylists will start by measuring your bust, waist, and hips. They'll also take into consideration your height, shoes, and any other features that may affect the fit of your dress. Once your measurements have been taken, our stylists will use that information to determine the size of the dress that will best fit you.
Also Our alteration store is staffed by experienced seamstresses who are dedicated to helping brides get the perfect fit. Whether you need to adjust the length of the hem, tighten the bodice, or make any other changes to your dress, our team is here to help. Cocomelody Alteration Store.
Our Wedding Dresses Are Within Your Budget
Wedding dresses can be expensive, and brides often have to balance their desire for a beautiful dress with their budget. Brides can save money by shopping for off-the-rack dresses, opting for cheaper fabrics, or having a dress custom-made.
Make Sure You Will Leave Enough Time For Your Wedding Dress Shopping
Many brides have a timeline for their wedding planning, and finding the perfect dress may take longer than expected. Brides should allow plenty of time for the dress-shopping process, and should order their dress several months before the wedding to allow for alterations and shipping.
Personalize Your Wedding Dress with Cocomelody's Customization Service
Brides want to look and feel unique on their wedding day, and many opt to personalize their dress with custom details such as special beading, embroidery, or lace. Personalizing a dress can make it feel even more special and help the bride stand out on her big day.
Overall, the process of finding the perfect wedding dress can be both exciting and challenging, but with a little patience and a clear idea of what they want, brides can find the dress of their dreams. Whether they choose a classic, timeless design or a more modern, trend-setting look, the right dress will make the bride feel confident, beautiful, and ready to walk down the aisle.