The day you have been thinking about ever since he went down on his knees and popped the question is finally here – you are going shopping to find your dream wedding gown! But, before you get all too excited, remember that wedding dress shopping time also brings up one major question: who will have the honor to be a member of your shopping entourage?
While you may feel morally obligated to have a sizable company, do not lose sight of the fact that this special moment is about you and no one else. So, you should only invite people who are closest to you and will be helpful, encouraging, perhaps a little creative, and most importantly, respectful of your choice, regardless of whether they like your chosen trumpet wedding dress or not. Yes, putting together a shopping entourage can be tough; we know! But you need to realize that having the right kind of support by your side will make this once-in-a-lifetime experience that much more fun and memorable.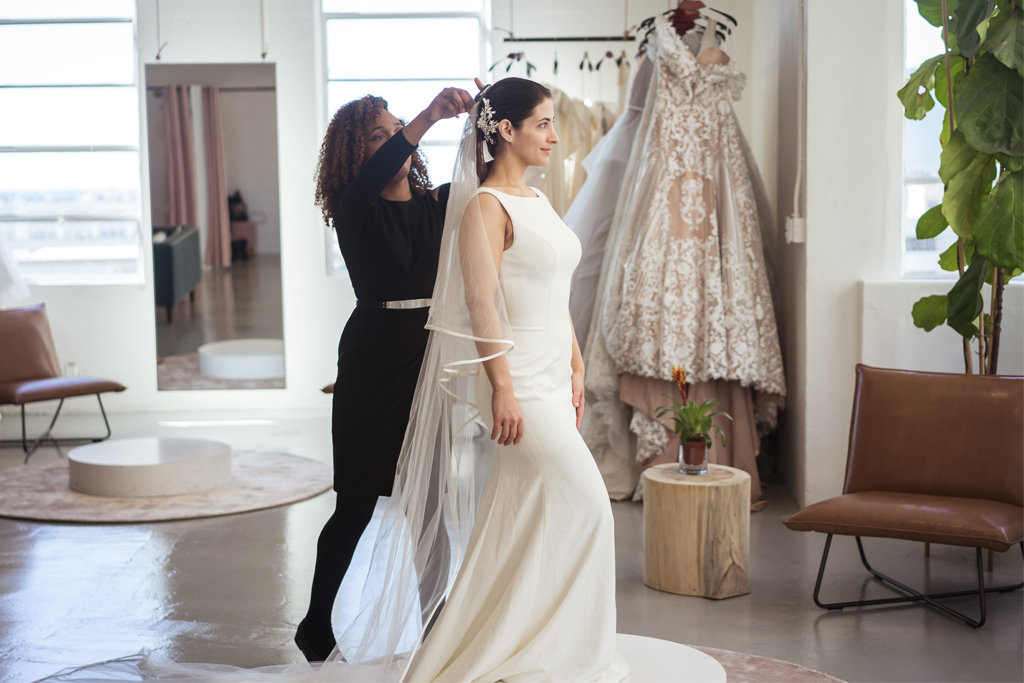 Style: #LD5237
What about your future sister-in-law, though?
Your family members and best friends are most likely on the top of your list, but another woman who is an important part of your soon-to-be-married life may come up: your sister-in-law. So, do you have to invite her along on your wedding dress search?
Well, at the end of the day, the decision is yours to make alone, but before you invite her to join your (largish) troop or keep your entourage limited to your BFFs and siblings, consider the options you have.
1. Cross her off the shopping guest list
Excluding your sister-in-law from your shopping guest list may be easier said than done, but it is YOUR special day; one where you should surround yourself with people who are encouraging, upright, understanding, and unbiased. Now, whether that person is your dear sister, faithful maid of honor or your mom – that does not matter! So, if you think that your soon-to-be sister-in-law will saddle yourself with her ideas a bit too strongly or overstep her boundaries and make the experience anything less than wonderful, it may be best for her to sit this one out. You can cordially invite her to your A-line wedding dress fitting appointment or surprise her on the big day instead.
We cannot stress this point enough, but your wedding is about you and your significant other. If you would rather go shopping with just your nearest and dearest, go for it. You can have a private moment with your sister-in-law on the big day, before the ceremony commences.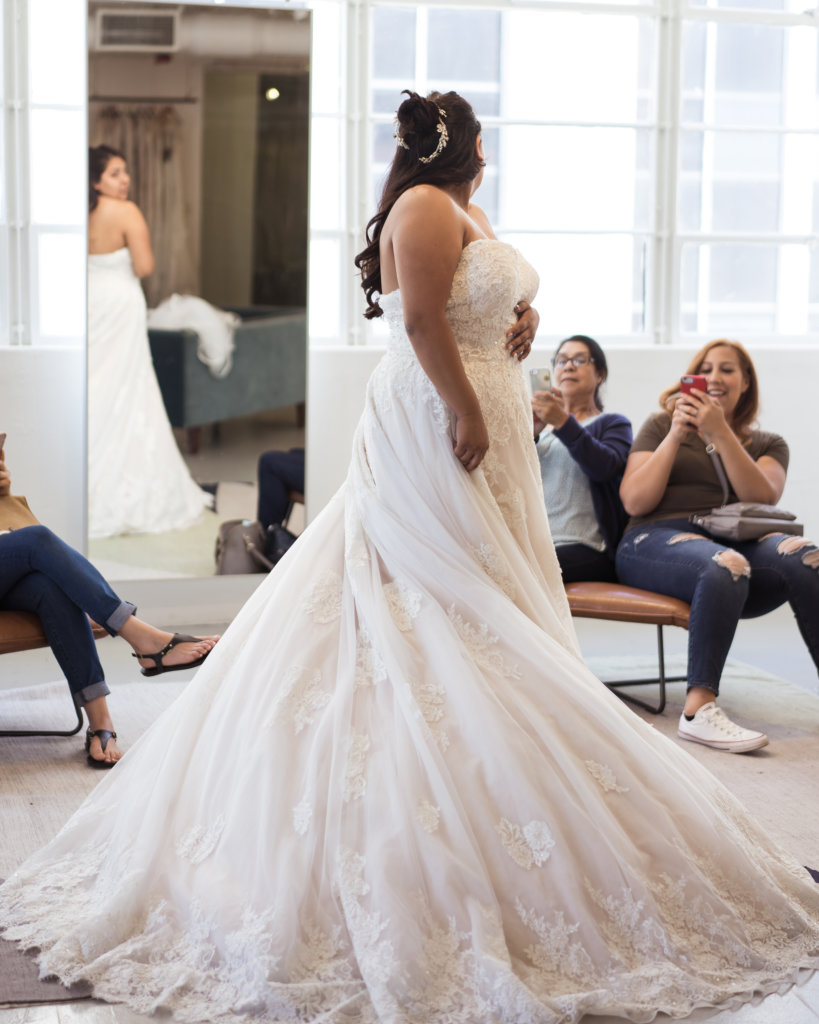 Style: #LD5698
2. Extend the invite
If your fiancé's sister understands what you want, will help you stay calm and composed, and will never put her wants and needs before yours (and if you are on good terms, of course), then, by all means, include her in your crew! But before extending the invitation, talk to your girls about what you are thinking about. Chances are, they are as thrilled about the shopping as you are and would not want to share the experience with someone who is not a part of the original gang. If they do not want your fiancé's sister in, politely explain to them why you want her to help you shop for your wedding dress and how crucial it is for you and her to have this experience together.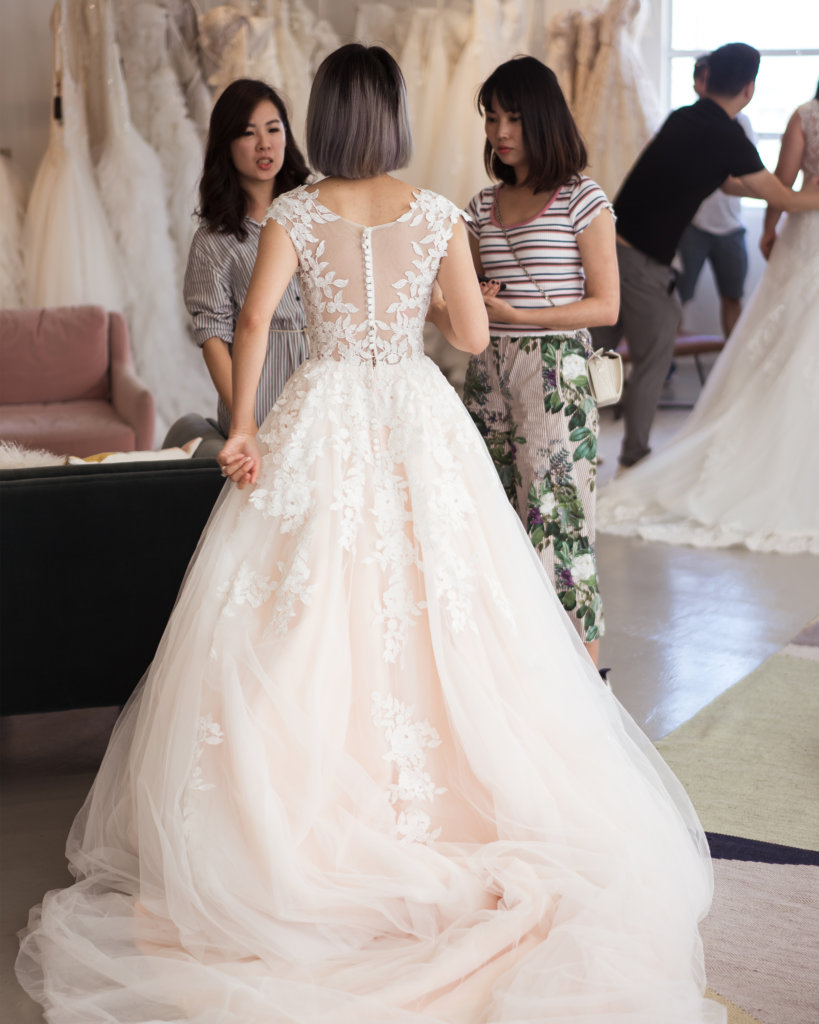 Style: #LD4534
3. Other ways to include her in the wedding
If she appears to be offended, come up with other meaningful ways to include her in the wedding. Perhaps you could take her to private meetings with your vendors or spend a lovely afternoon with each other DIYing your invitation cards or you could even go shopping with her to help her find her dress. Making her feel that she is involved in your wedding planning and a prominent part of your wedding day will start your relationship off on the right foot.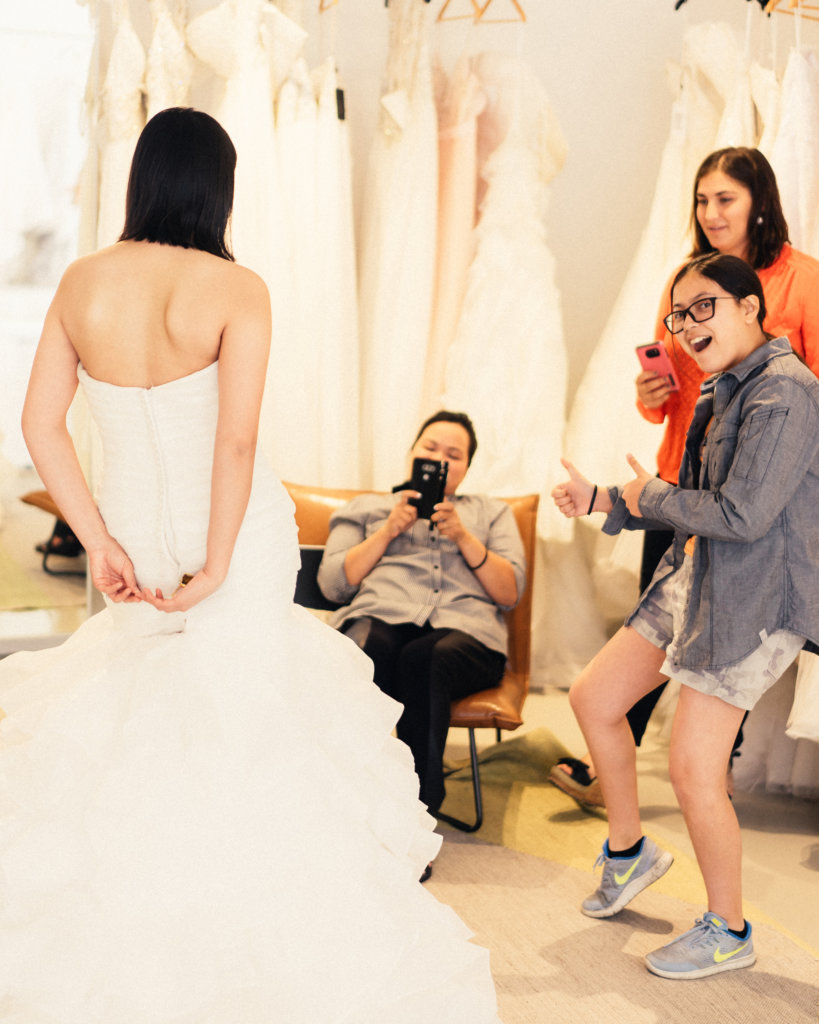 Style: #LD3817
4. Wrapping this up
Planning a wedding dress shopping trip can come with its own complications — and before you have even had the chance to try on your first dress. Choose the right people to take along, however, and it could be one of your most cherished experiences.