Deep neck wedding gowns are undeniably hot but even the most daring brides claim plunging necklines are not for them. Why? Well, let's just say that pulling off a deep neck wedding dress is a hard row to hoe. After all, if you are wearing a deep neck dress on your big day, chances are that you will need to have someone on nip-watch around the clock. The good news is that you can still make "the plunge" a part of your wedding gown in a way that works for you!
Style: #LD4515; Image Credit: Jamie Lee Wedding Photography
Here are a few tips you can turn over in your mind if you want to look stylish and be comfortable in your deep neck wedding dress:
1. Understand How Low Is Too Low
Weddings are solemn affairs, but there is nothing wrong with showing just a little bit of cleavage. The key phrase here being "a little bit". Too much of it can send the wrong message and look tacky in your otherwise elegant wedding. It can even make you look like you are trying way too hard to get some attention! So, only as long as you can keep it classy, you can wear a wedding gown with a daring neckline without worry. And girls, why reveal too much when you can just display a peek and leave a lot to the imagination?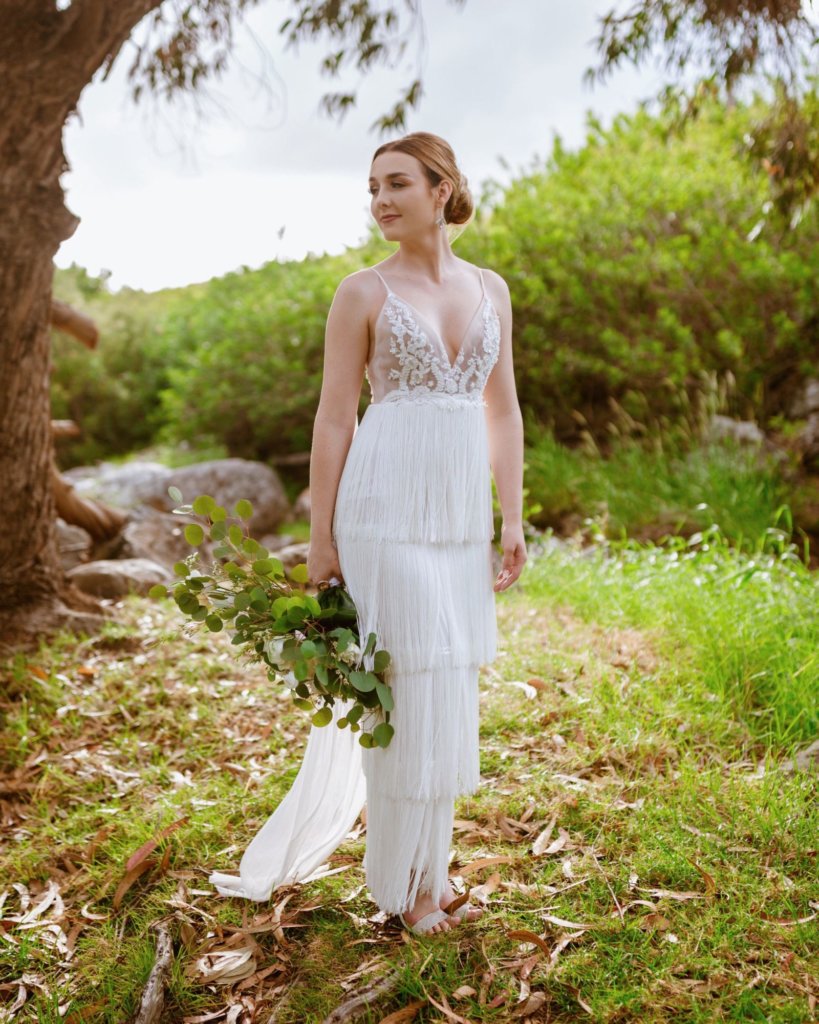 Style: #LD5359
2. Lose The Bra
The right bra can mean the difference between a dress that fits to a fare-thee-well and one that does not. But bear in mind, wearing a bra under your deep neck wedding dress can result in bra slips. Even if a low-plunging neckline might appear to barely shroud your bra, the smallest movements can cause your lovely mermaid wedding dress to drift. So, when it comes to wearing a bra with your deep neck gown, you should probably not.
On the other hand, if the fabric of your deep neck dress is too thin and you are worried that your dress will put a little too much on display, you can consider wearing a non-bra that is made to complement dresses with plunging necklines. This clip-on bra will lift and sculpt your décolletage and best of all, discreetly keep your wedding day look PG-13.
Click here to read expert tips on finding the best undergarments for your wedding.
3. Keep Everything In Place
To keep your deep neck dress in place, it is going to take way more than just hopes and prayers. You will also need some mighty, extra secure double-sided tape. You can count on a high-quality double-sided tape to keep the fabric from sliding off your unmentionables.
Pro Tip: If you are out shopping for a double-sided tape, make sure it is stretchable. A stretchable tape will move with your dress and will not un-stick at the slightest wiggle.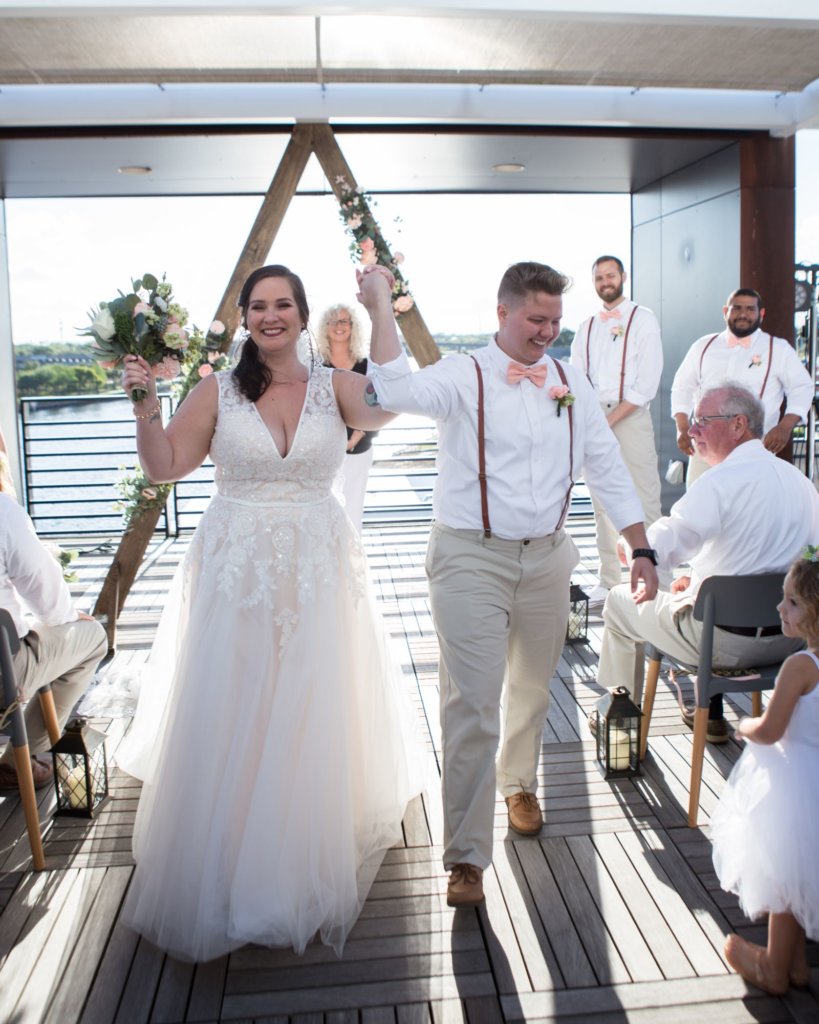 Style: #LD3932; Image Credit: Evamore Photography
4. Exfoliate Your Skin
If you are planning on wearing a deep neck A-line wedding dress, you cannot turn a blind eye to your décolletage. Your deep neck dress is going to bring all the attention to your chest, so your décolletage needs just as much skin care as your face. This is where a great exfoliator comes in. It will keep your cleavage looking and feeling smoother and softer, leaving you with a youthful bust. On top of that, it will also keep the double-sided tape in place.
5. Mind Your Posture
Bending over is a movement that is more than likely to result in a nip slip when you are wearing a deep neck dress. Even if you have a double-sided tape keeping everything where it should be, bending over can give rise to unsightly rolls that you would not necessarily remember are on display. We know it is hard to not slouch even once throughout your wedding day, but if you want to pull off your deep neck gown and prevent an embarrassing wardrobe malfunction, slouching is what you need to avoid.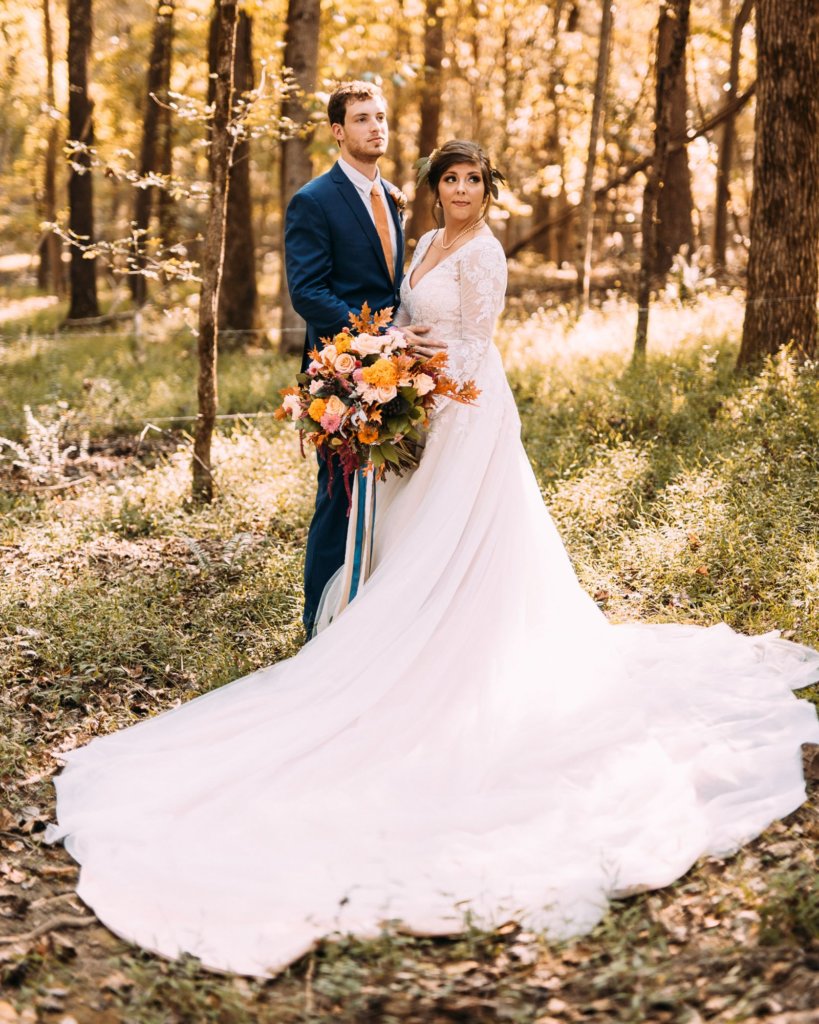 Style: #LD4432; Image Credit: Mary Claire Photo + Video
The Last Word
No need to shy away from wedding dresses with dramatic necklines anymore. With the above-mentioned tips, you can surely give way to a dress with a plunging neckline and look nothing less than effortlessly stunning in it!