"A life without love is like a year without summer." ❤ Fola & Jason had their "microwedding" in the small mountain town of Estes Park in Colorado and the lakeside ceremony gave them a wonderful backdrop to say "I do"! We love this simple & intimate wedding and can't take our eyes off Fola's custom bridal look! Take a look at some of our favorite shots from this gorgeous wedding:
All photos were taken by Kevin Snyder Photography.
Wedding Dress Style: Customized Version of #LWLT15032
Q: Any advice or tips for future Mrs.?
Take a breath. Pick the things that aren't absolute must-haves for your day and let some other things go! The most important thing is that you're marrying the person you want to be with forever.
Q: What was the inspiration behind your wedding theme?
We didn't have a theme per se, we just kept it simple. We had our "microwedding" in the small mountain town of Estes Park in Colorado and wanted it to be an event that didn't need much extra in order to be beautiful. Our lakeside ceremony gave us a wonderful backdrop to say "I do". The reception lunch at the famous Stanley hotel meant that we didn't have to pick out table settings or decor, because we used their items. And with it being July 4th, we got to pretend that the fireworks at night were for us!
Q: Tell us your love story! Where & How did he propose?
We are outdoorsy people and often go on Heights when the weather is nice we went that day on a hike to Seven Falls in Colorado Springs. I complained on the whole ascent up about 200 steps (but I still did it so that's what counts).
I had no sense that a proposal was coming, to me it was just another saturday! We got to a small waterfall for a break and I thought he was reaching into his bag for some water or something similar. I look over and Jason is down on one knee with the ring in his hands. I course immediately start crying my eyes out (I'm an ugly crier too lol it was not very cute) I don't think I even remember saying yes right away I was just crying and hugging him and saying "are you serious?!?" In between sobs.
Later that evening we went to our city's hot air balloon festival and got to bask in the atmosphere with our new title of engaged!
Q: How would you define the message "Dare to Love"?
Taking a chance. Sometimes you have to be ok with dealing with long distance in a relationship. Jason and I have dealt with that when he was deployed, and when I went overseas to teach in the middle East. Having trust and love for one another meant that we came back together even stronger.
Q: Did you enjoy the wedding planning process? Why or why not?
No! I hate planning g birthdays, dinners everything so I didn't want to deal with crazy wedding stuff too. Kept it simple while keeping the most important parts. I'm an anxious person by nature so from the start I wanted to avoid that as much as possible with the planning and organization of our big day.
Q: What was your hubby's reaction when he first saw you on your big day?
He had the biggest smile on his face! I was too busy crying because I was so emotional about marrying the love of my life. But through my tears I was able to see his handsome face and blue eyes lit up.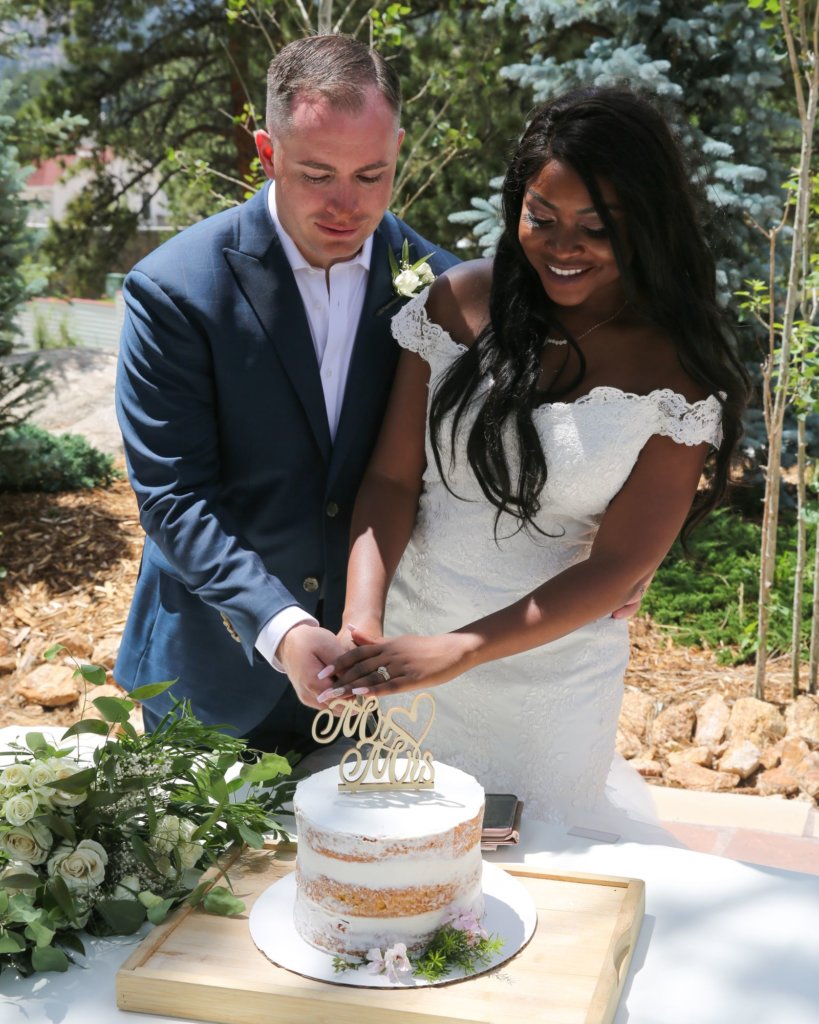 Q: What did you love most about your #CocoMelody dress (es)?
That the dress fit my personality well and was customized to my desires. A similar dress from another designer would have been way out of my budget, and CocoMelody made my dream dress a reality. My favorite part has to be the skirt. I have always loved trumpet silhouettes with a dramatic bottom, and my wedding dress had just that.
Q: What do you think about CocoMelody and the customer service?
Excellent customer service! The representative I dealt with basically let me build my dress up from the ground up, with the basic 15032 style, but with everything from the hips up modified to basically an image I had in my head. Even when I asked to pause production so I could order some tulle swatches in, they were responsive and did what I asked. I keep recommending CocoMelody to brides I interact with in real life and online, because you truly made my dress dreams come true.