Hello, lovelies! We hope planning for your bestie's big day is in full swing. You are all pumped, giving your best to bring each element of the wedding day together, but what about your own dress? How far through are you girls with the bridesmaid dress shopping?
You have an important role to play at your bestie's wedding. Make sure to get the best fit and color, allowing your personality to shine without compromising comfort and convenience.
Bridesmaid dresses are undoubtedly a major mood setter at the wedding, and with the right colors, you are sure to complement the entire gathering. So, pick the choicest hues or mix-and-match bridesmaid dresses – here's the fall wedding color palette to help you get started.
Lean On Some Green
What's even a fall wedding without a rich green bridesmaid gown? It exudes elegance, makes for a versatile choice, and is so hot right now. Greens can virtually match any wedding theme and bridesmaid style. Pair your lightweight chiffon or tulle green gown with an ivory bouquet, and it's a perfect outdoor fall wedding outfit. Shades that go well with green include beige, gold, gray, soft pink, and purple.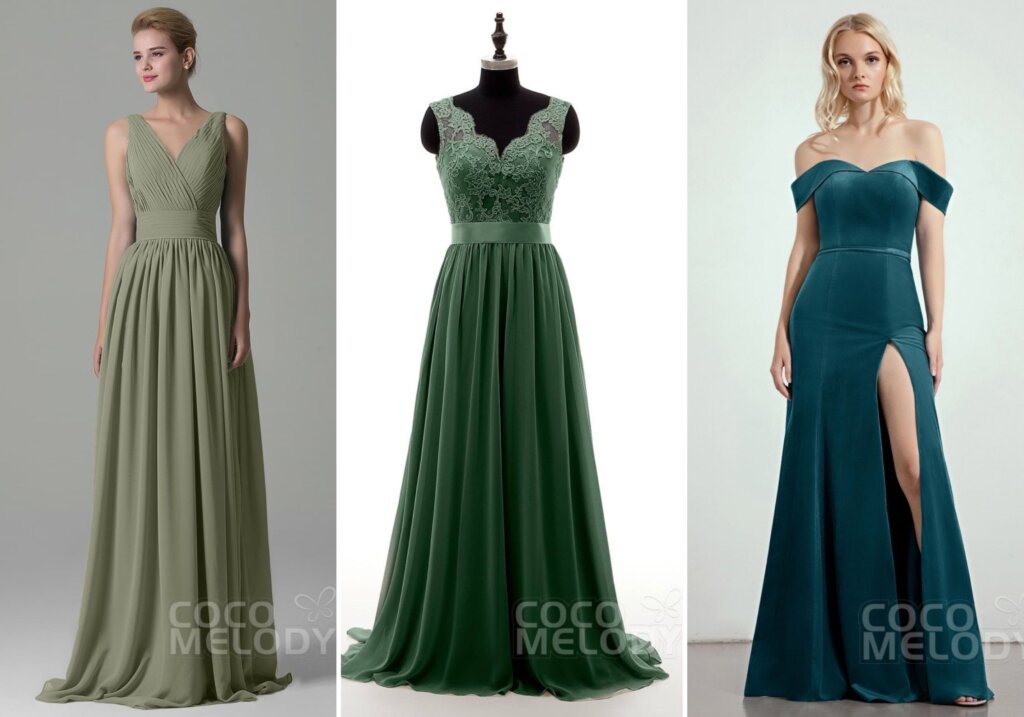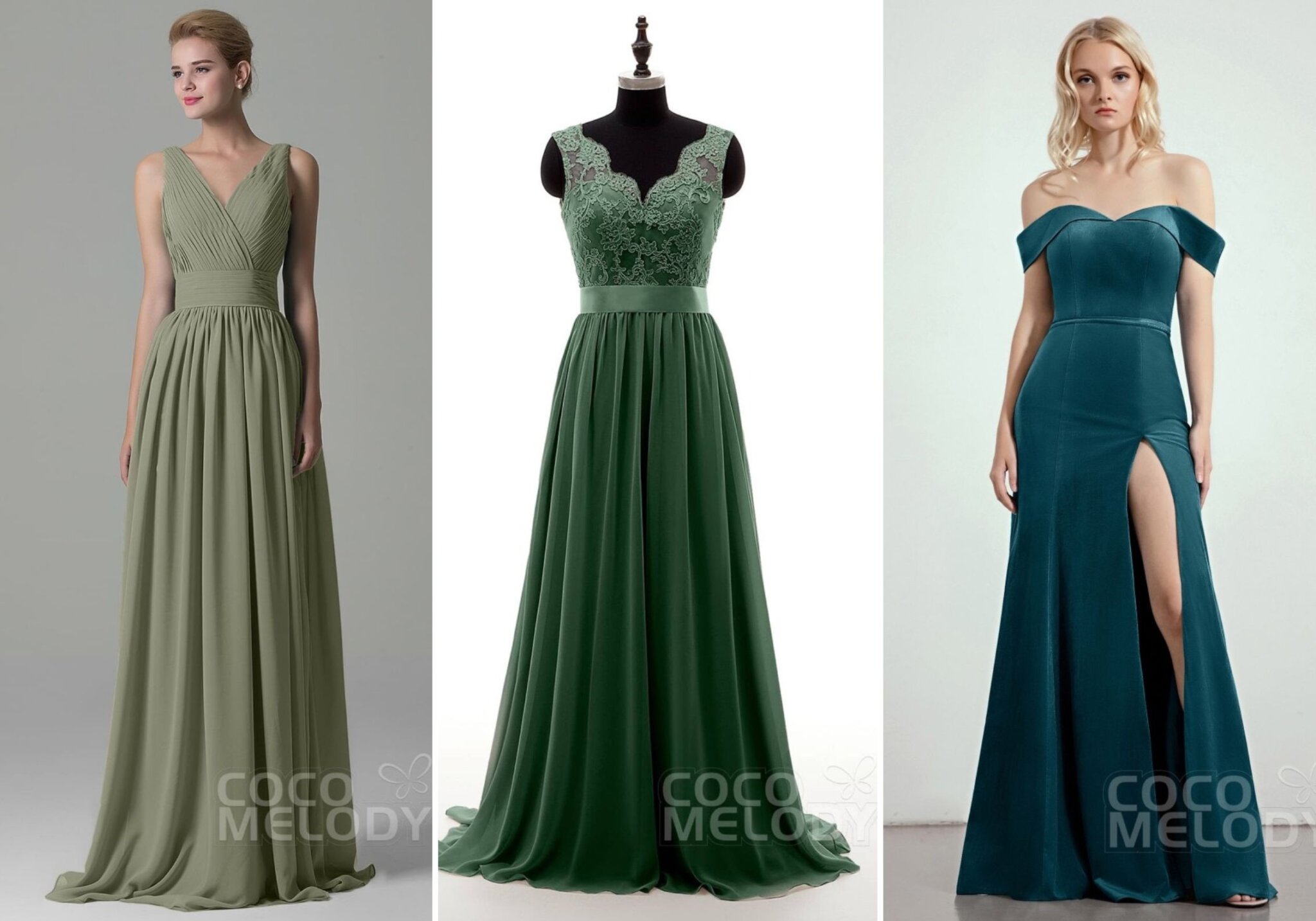 Dresses styles(from left to right): COAF1500A, PR3263, CB0271
Glitzy Gold Never Gets Old
You cannot go wrong with combinations of gold. It looks absolutely stunning at fall weddings. Gold looks particularly incredible when paired with emerald, red, navy, burgundy, beige, royal purple, and aquamarine. A golden bridesmaid gown is sparkly yet elegant and has a sophisticated take to flaunt your personality.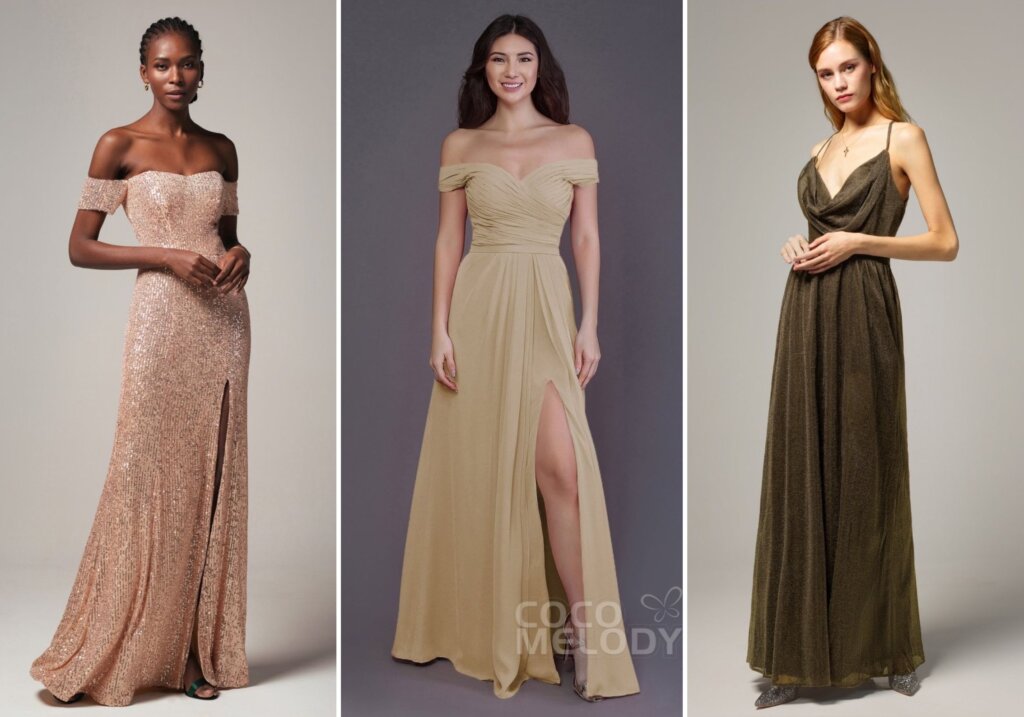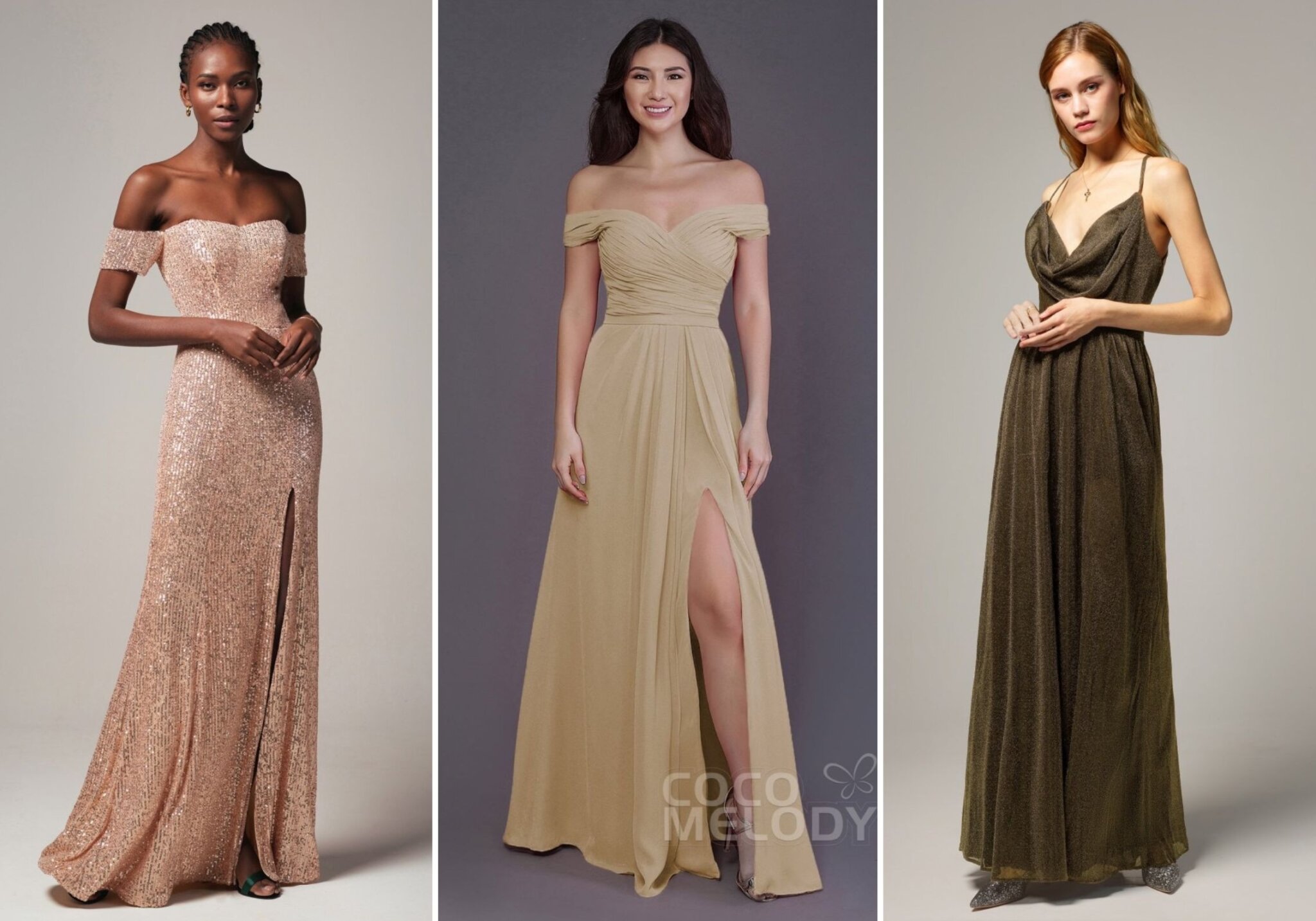 Dresses styles(from left to right): CS0265, PR3536, CS0242
A Dash of Orange
This one's an exquisite choice for all you lovely bridesmaids. It's playful, eye-catching, and timeless. In fact, orange is the hallmark hue of the fall wedding color palette. This color family is sure to suit almost every complexion and can also be re-worn depending on the style of your dress.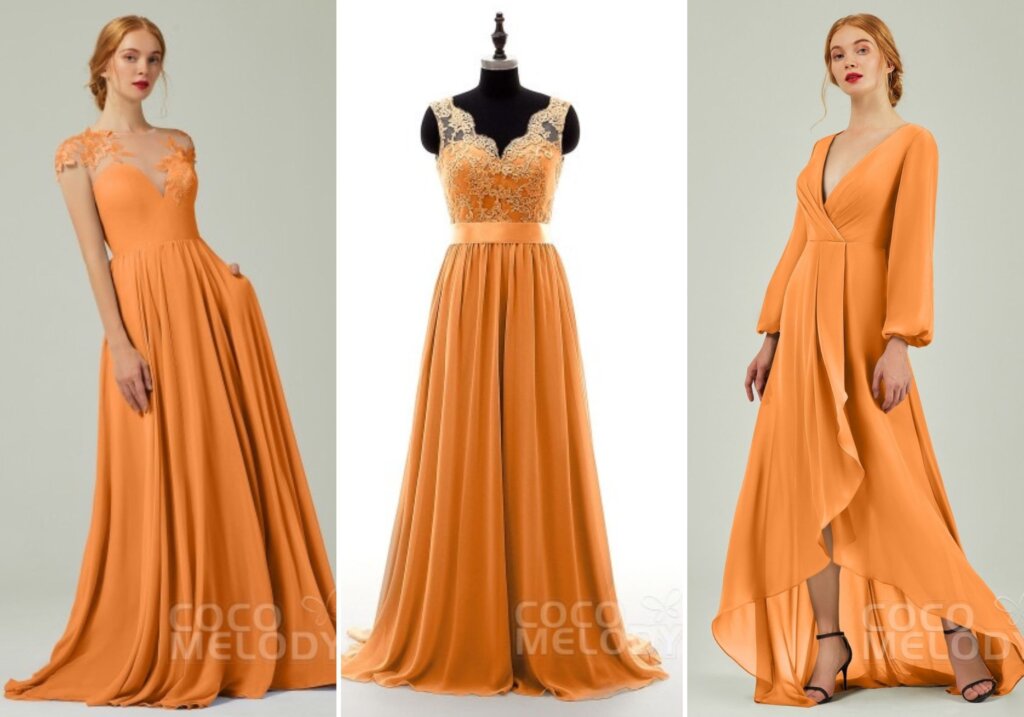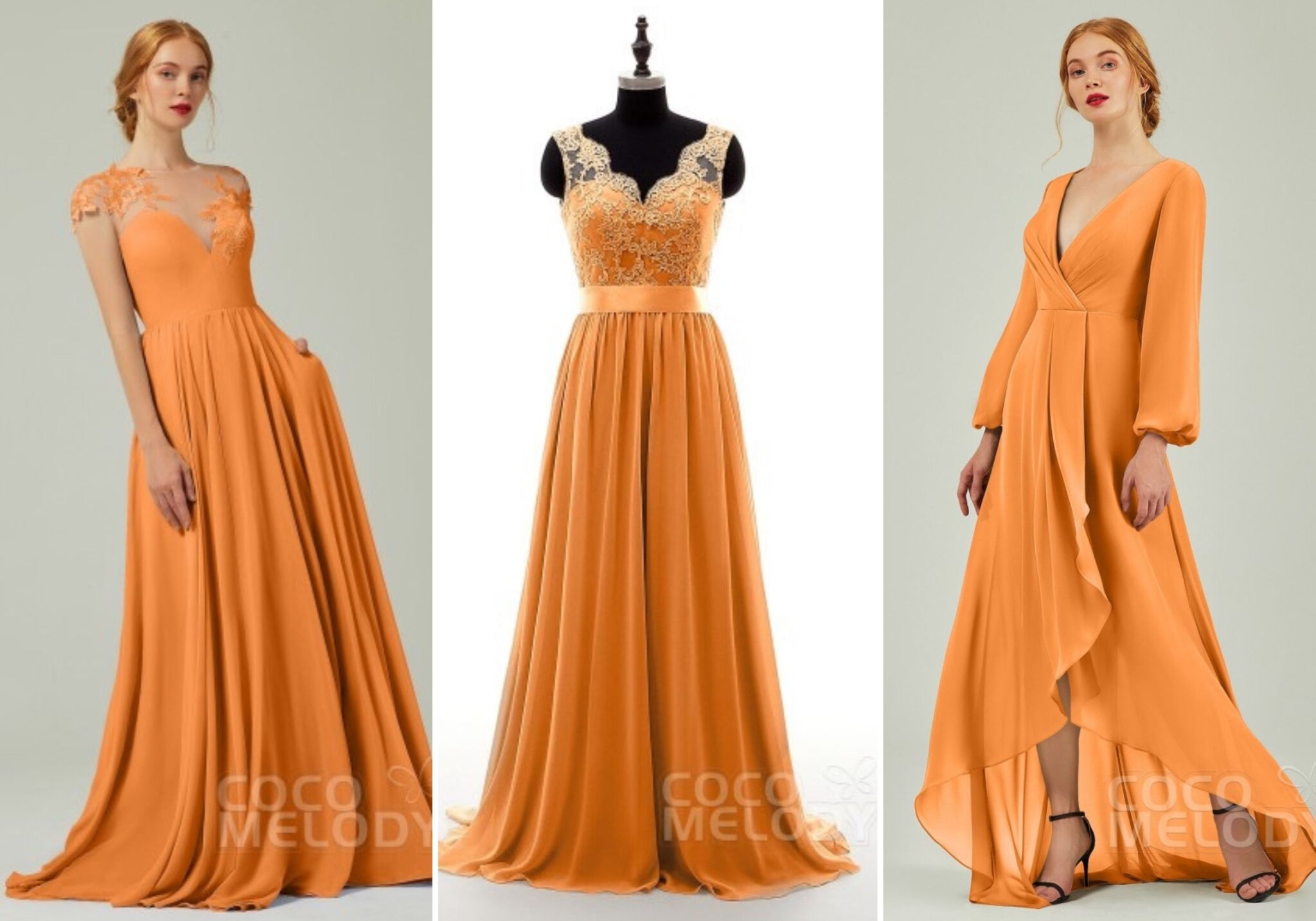 Dresses styles(from left to right): CB0248, PR0263, CB0239
Woo 'em in Blue
Cool tones of blue feel fresh and new, whereas rich blues leave a royal impression. The color is universally flattering, breathtaking, and an all-time bridesmaid fave. It stunningly complements the traditional bridal white gown without overtaking it. Pair your cool-tone dress with bold makeup or accessories, and go low-key with warmer blues.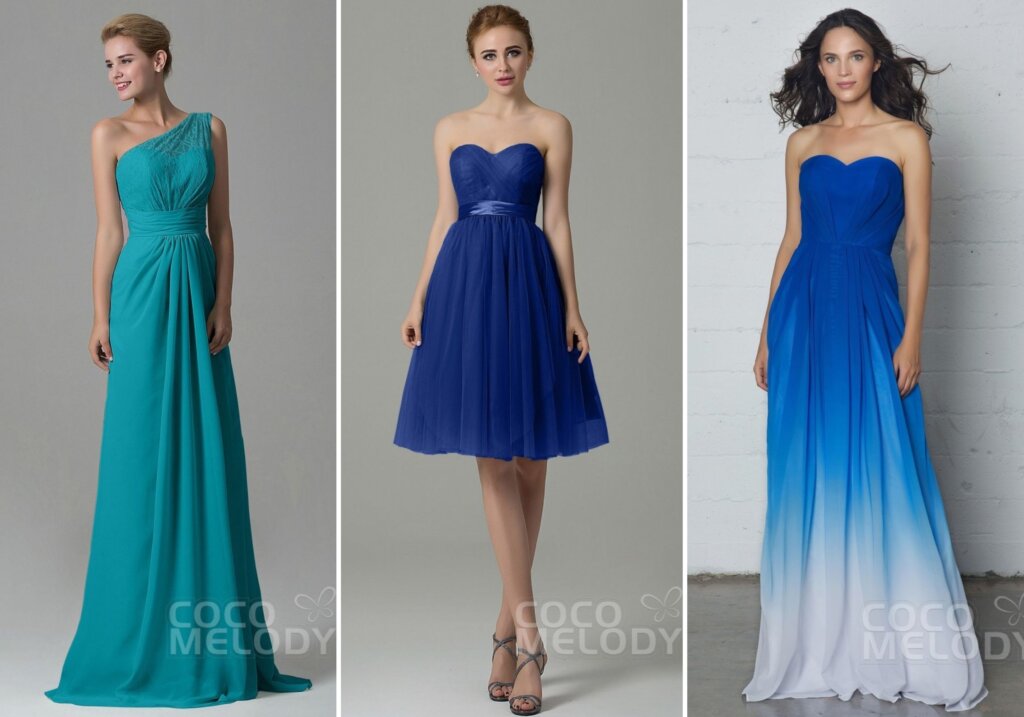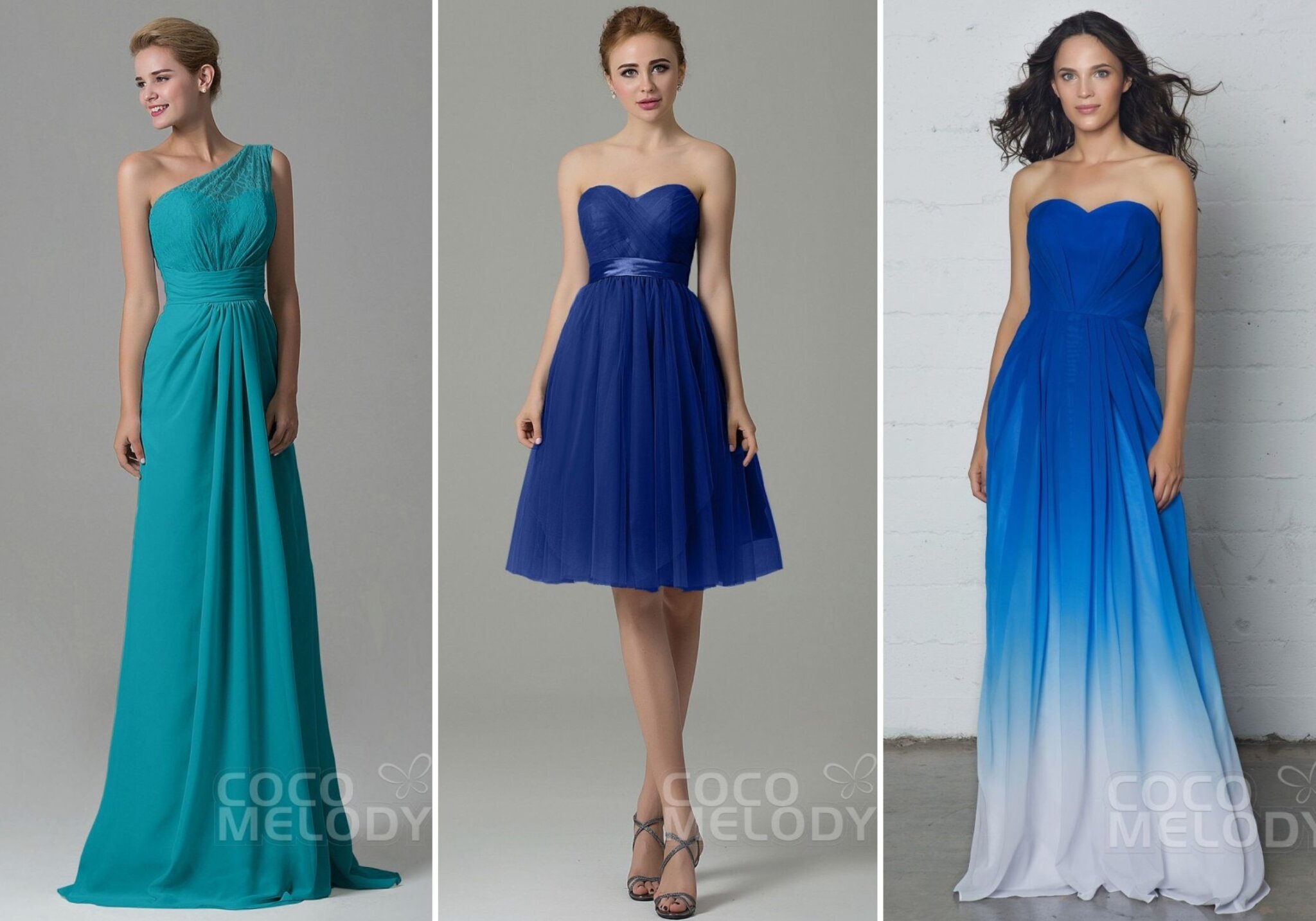 Dresses styles(from left to right):COZK16004, COZM15016, LOZF15045
No Blink When In Pink
Want to create an elegant look but not something that is extravagantly showy? Dusty Rose from the pink family must be your go-to choice. It is one of the most trending fall wedding colors in 2022 for both brides and bridesmaids to leave all guests in awe. Fall wedding color palettes of pink are easy, sophisticated, and can be re-worn for just any occasion.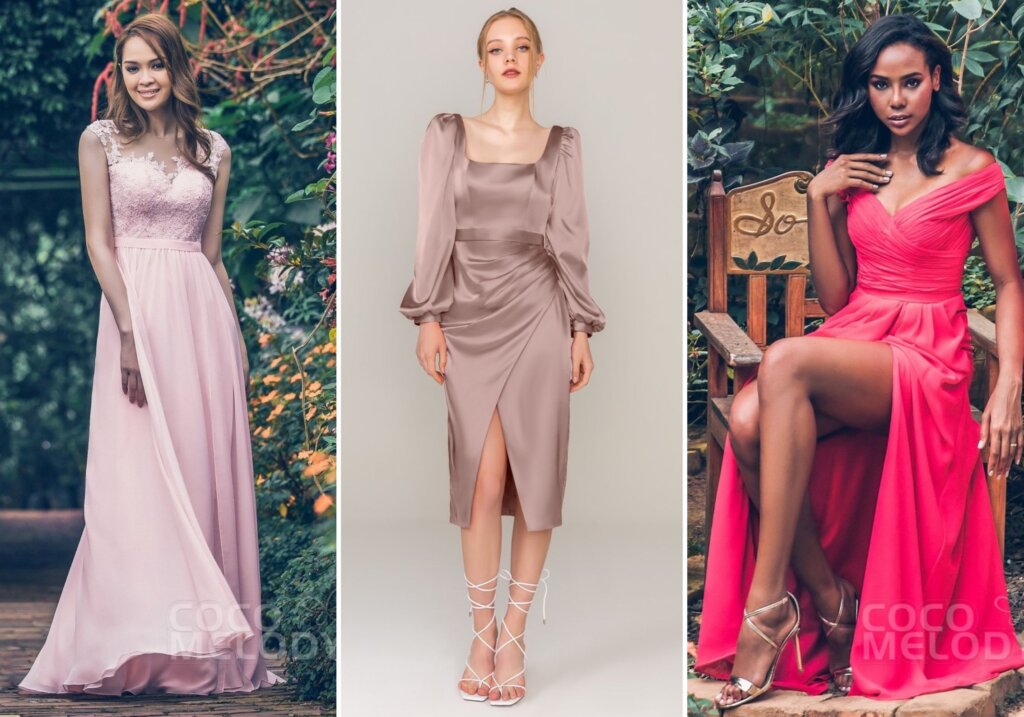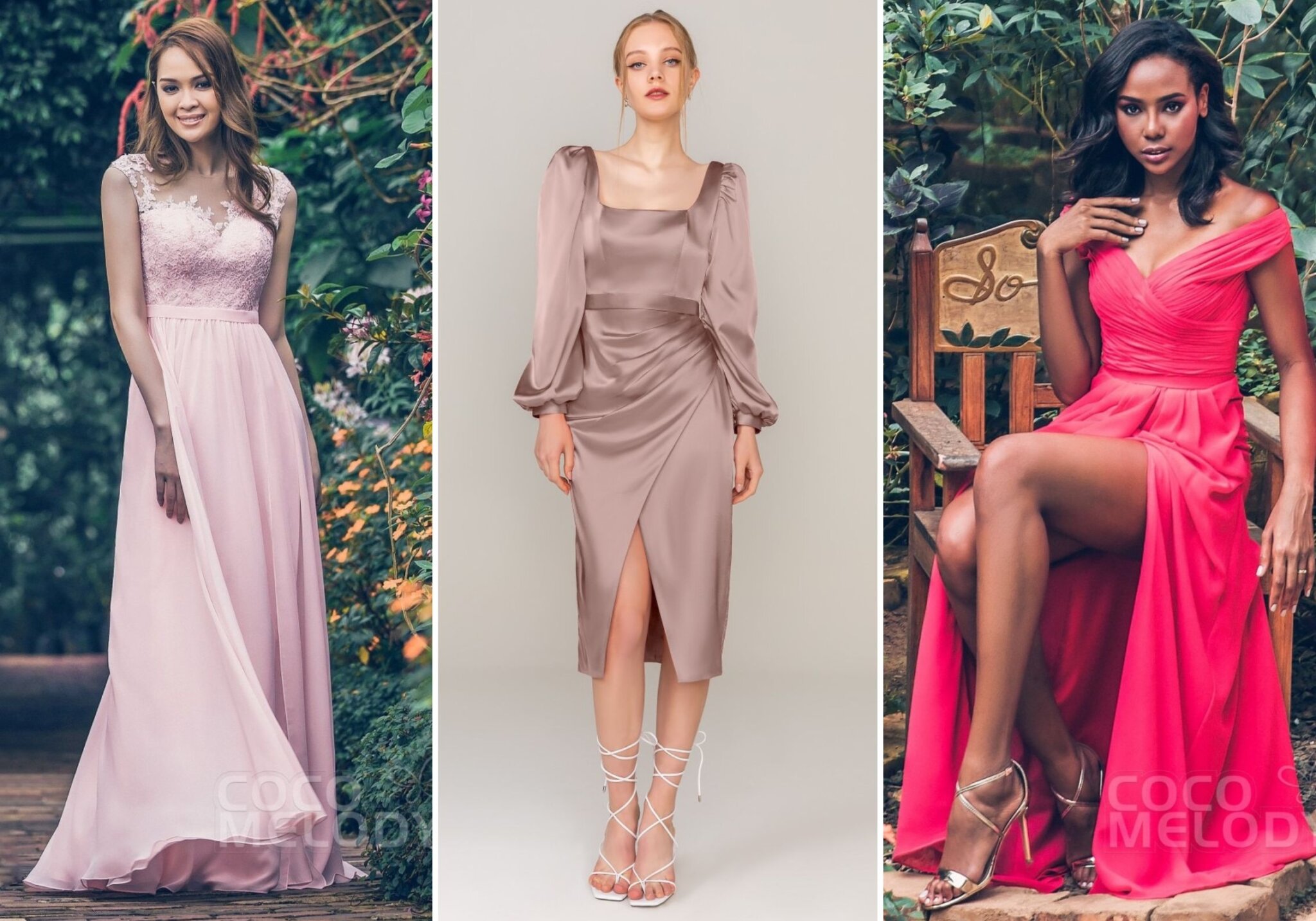 Dresses styles(from left to right): PR3554, CS0318, PR3536
Mix n Match Bridesmaid Dresses
If you are hanging in between all the color options and have no one way to go, give the mismatched trend a try. Mix-n-match colors and you can create an ultimate, fall-inspired look. Besides, there are a lot of ways you can mix and match bridesmaid dresses, three of which are listed below:
Same color, different dress styles
Same dress style, different colors
Mixing styles and colors
Wondering how it really works? Check out this blog to know how to accomplish a unified mismatched look.
Moreover, even though the goal is to mix colors, you want to stay intentional for a cohesive look. It will complement your style and keep you feeling true to yourself. For better assistance, contact our amazing stylists to help you understand your options. You can also check out our mix & match bridesmaid dresses online.
Shop with Cocomelody to Be the Best Dressed
Whether you are planning the bridesmaid look yourself, with the squad, or the bride, Cocomelody has your back. We have bridesmaid dresses in every color and style you can possibly think of.
Don't worry if the above styles do not appeal to your heart. There are many more gorgeous fall wedding color palettes in the Cocomelody archives!
So, what are you waiting for? Let's get shopping and check off this task from the upcoming 2022 fall wedding to-do list. You will FALL in love with the Cocomelody bridesmaid dress collection – each outfit is trendy, classy, and oh-so-stunning. We think you will absolutely love them!