Are you planning for your 2022 wedding amid the ongoing coronavirus restrictions? Celebrate your love with a romantic and more intimate Minimony! Haven't heard of it? Well, minimonies are a savior in today's unprecedented times. The ceremony is also a priority for those looking to host a wedding on a small budget.
What Is A Minimony?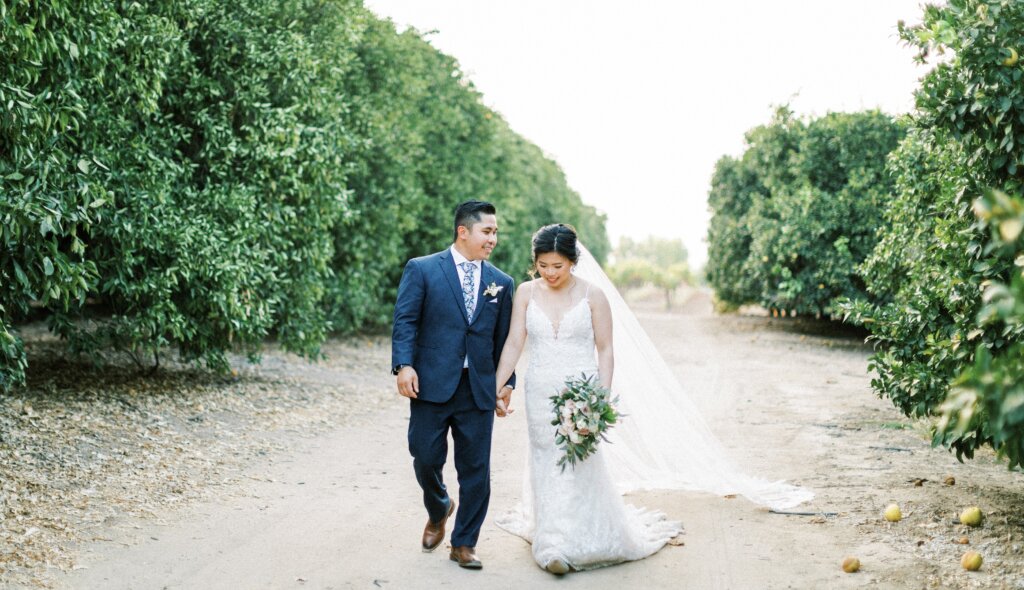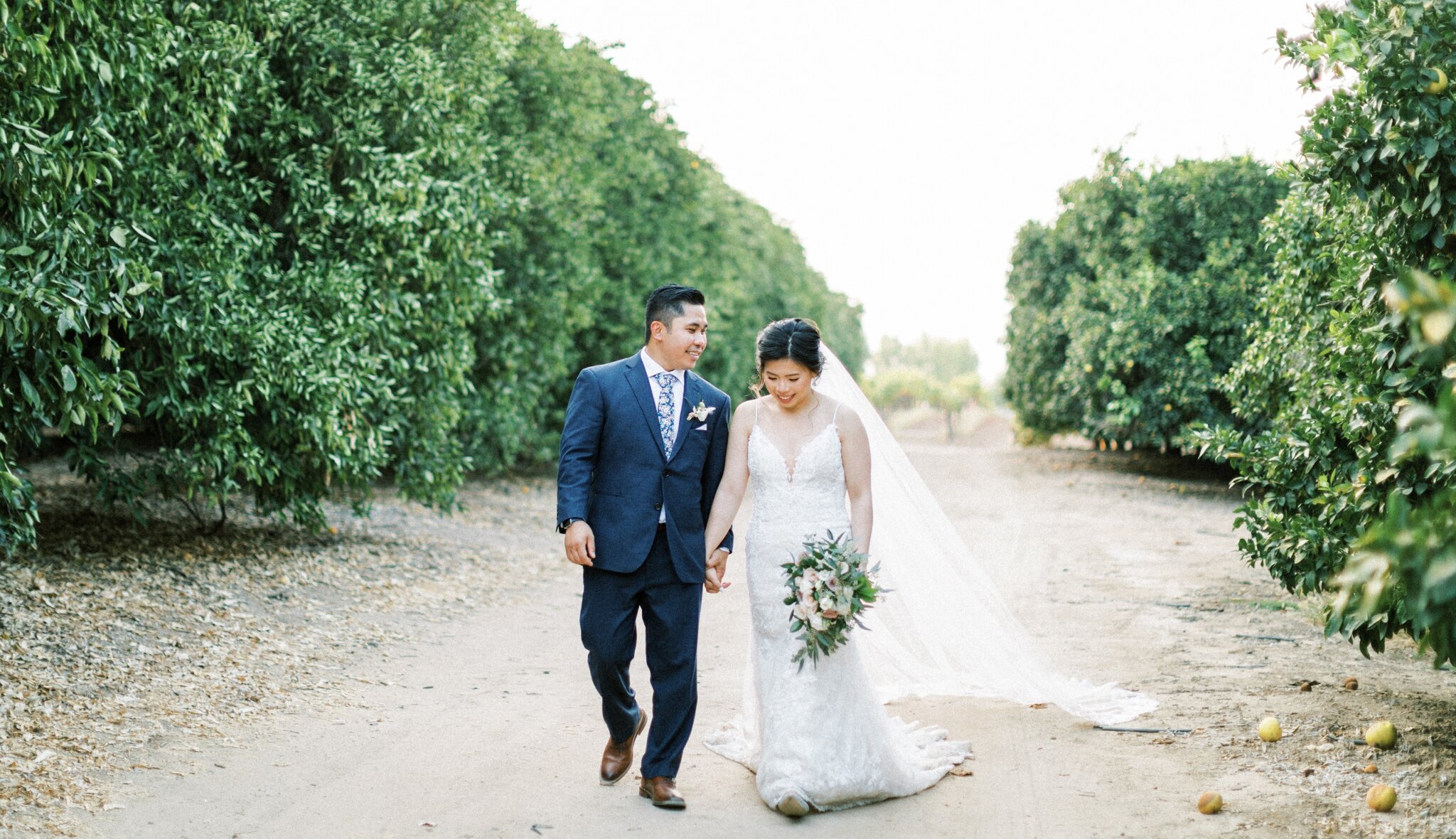 Photo Credit:  Madeleine Collins ; Wedding Dress Style: Ginger #LD5808
Minimony is a mini wedding ceremony consisting of no more than 10-15 guests, allowing everyone to socially distance themselves at the location and enjoy the event. Having a minimony is a big decision for couples and their families. However, it comes with its advantages over lavish ceremonies. You get to take your vows in a much more intimate manner. Minimony ceremonies are taking the world by storm amid the coronavirus pandemic, and it's no less than a traditional wedding.
Why Choose A Minimony?
If you prefer having smaller wedding nuptials, a backyard minimony may be for you. It will be a wedding ceremony for just the intimate family members and friends. Minimonies allow everyone to be involved in the wedding functions and genuinely celebrate love. What makes a minimony even more special are these good reasons:
Alterative to postponing the wedding entirely
An affordable wedding budget
Less overwhelming wedding planning
Creative and unusual wedding style
Sophisticated and modest wedding dresses
Easy to keep track of all wedding details
Feels more sentimental and authentic
Allows creating lasting memories
Tailored décor, food menu, and other arrangements
Can be literally celebrated anywhere, even in the backyard
To-be-weds can host a separate dinner or reception to bring the larger wedding vision to life. By arranging a minimony first, you plan to share your most special day with your immediate family and friends. Besides, you can always savor a sequel wedding specific to your culture and religion later on.
Planning a Minimony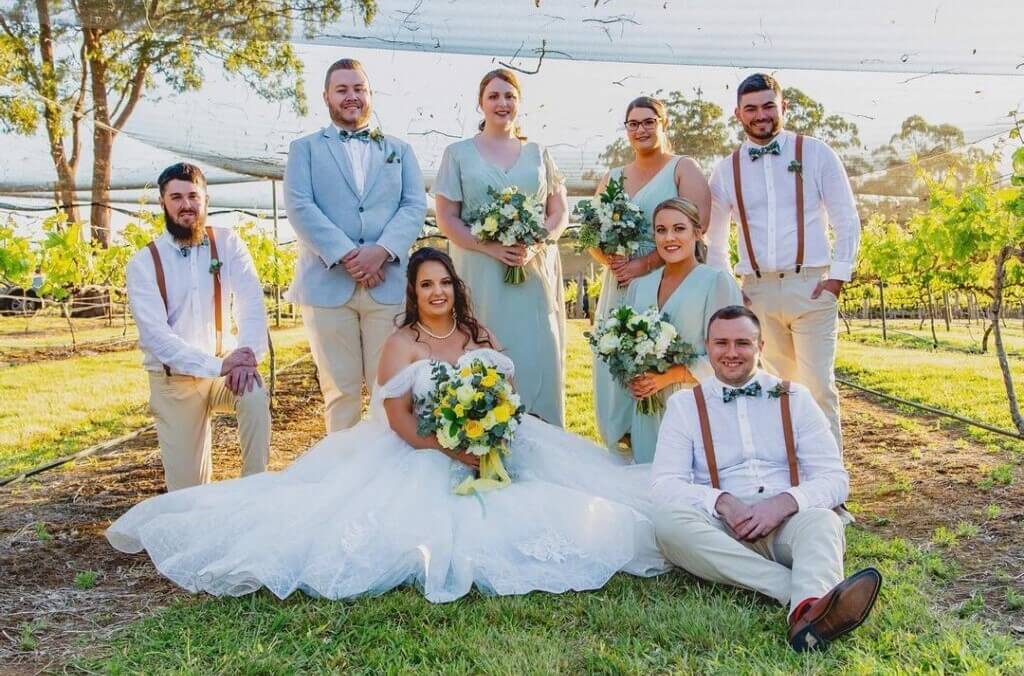 Photo Credit:  @elissaxxjoy ; Wedding Dress Style: Aspen #CW2169
Planning a minimony is less complicated and easy. You can always skip overwhelming details, plus it doesn't account for huge expenses such as accommodations, over-the-top menu, and high-end décor. Sure, some level of organization is required to make the event feel more personalized and well put together. But, with significantly less work to do, you and your partner can enjoy more and stress less on your big day. Remember to stay calm, focus on celebrating your love, and keep things simple. A minimony often involves:
Online invitations
Venue (probably your backyard or rooftop)
An officiant
A small group of guests
Select vendors with a small team
Mini wedding cake
Smaller floral arrangements
Small & personalized food menu
Snapshot of details culled from larger events
Budgeting a Minimony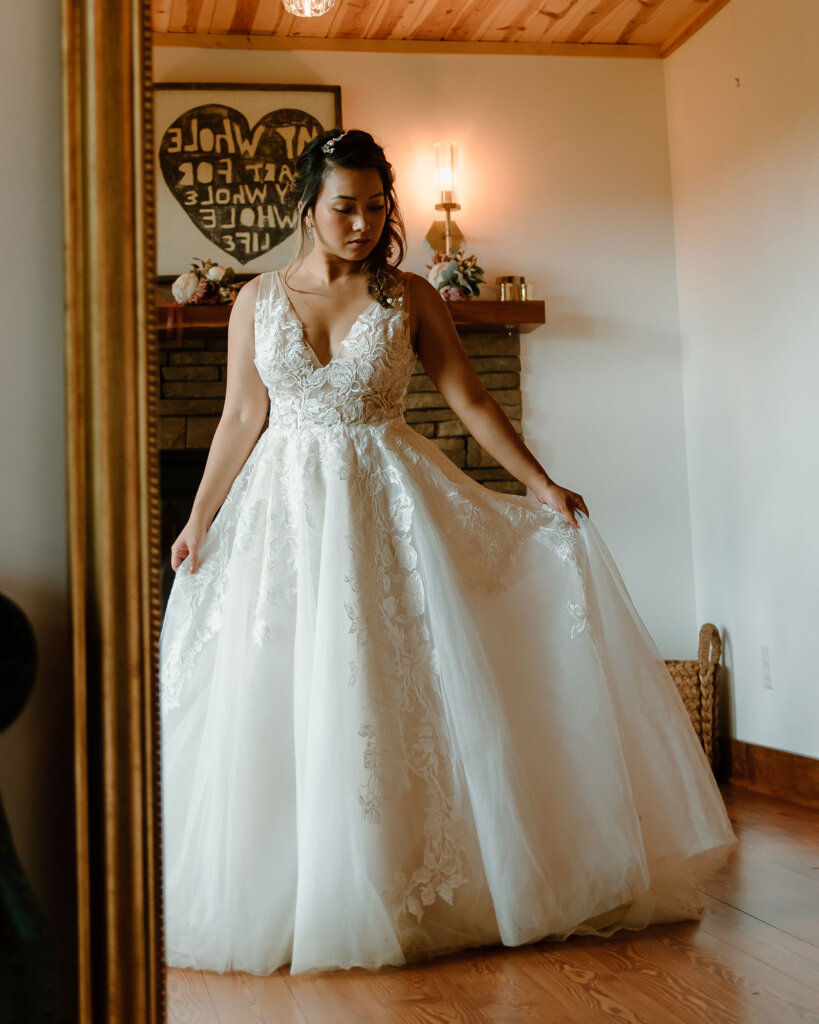 Photo Credit:  Peyton Mariah Photo ; Wedding Dress Style: REMI #CW2290
Thanks to the pandemic that the minimony trend has become quite popular. So, when planning a minimony, you must spend the majority of your budget on smaller details. The bigger the ceremonies, the more you pay. The smaller the scale of the wedding, the more you save. However, some costs to expect are rentals, catering, drinks and alcohol, wedding favors decoration, entertainment, cake, transportation, stationery/ invites, vendors, and of course, wedding dresses as well as wedding accessories.
Minimony Wedding Dress Suggestions
Planning a minimony in your home garden, rooftop, or some other intimate venue? The minimony wedding outfits naturally reminisce an easy-breezy fashion. The overall mood remains casual, which opens the doorway to an array of sophisticated styles.
From sleek formal jumpsuits, slip dresses, maxi, midi, and mini dresses, two-piece, bridal separates, to suit jacket and pants and printed ruffled dresses, the options are virtually endless. These are some fantastic alternatives to traditional full-length ball gowns or extravagant wedding attires.
Check out the Cocomelody wedding dress collection perfect for your minimony. These are all priced under $500 and are excellent for smaller gatherings. Click here to browse your options.
Plan a Chic & Sleek Look for Your Minimony with Cocomelody
With most weddings canceled and numerous celebrations put on hold, the pandemic brides realized just how resilient they were. 2020 seemed to be a never-ending phase. But, enter minimonies, a trend that fitted seamlessly in the current times. These small-sized, low-key, distanced weddings are all the rage till today and beyond.
Regardless of the type of ceremony you plan, the idea is to have fun and create lasting memories. So why not plan a minimony that will keep your budget in check, require less exhaustive planning, and do away with intimidating guestlist politics or bank bustling celebrations. Plan your minimony wedding dresses, bridesmaid dresses, and wedding accessories with Cocomelody right away.