Are you all set to rock your next formal event?
A sophisticated yet all-glam formal prom dress is the answer to a memorable night.
Whether you are attending a wedding party, heading to a black-tie event, or looking forward to a date night or other outdoor/indoor events, a stunning formal dress will have your back. At Cocomelody, our collection will help you put together a gorgeous look that will have heads turning.
CS0335 Clare
Clare is an impressive statement dress by Cocomelody in maxi-length, a square neckline, and embellished with glistening sequins. It features an intricate crisscross lace-up back to turn heads as you walk by and comes with navy hues, a sheath silhouette, and a front-right slit.
CS0336 Elliot
Elliot is a timeless and flattering maxi-length dress with spaghetti straps and a semi-sweetheart neckline, joining the back that ties into a lace-up. It is a slimming style, with a right side slit, empowering your unique beauty and flaunting your curves. The dress features sequins and paillette fabric, comes in different colors, and makes a great go-to formal dress.
CS0337 Faith
Faith can be your go-to dress to look and feel your best at any formal or semi-formal event. It features a midi length with a gorgeous V-neckline that follows into full bishop sleeves, ending in a cute tie. The mid-thigh side slit, open back, and contrasting lace-up look absolutely stunning. It is flowy and comfortable and is perfect for special events, wedding receptions, and anniversaries.
CS0338 Gemma
This piece on the list is the epitome of flamboyant glamour. It is a halter neckline, maxi-length dress with a crisscross high string low back, and double side slits. It features a modest front, a sexy back, and peek-a-boo slits, so everyone will be in for a surprise when you wear Gemma. What's more? The sequins and paillette fabric catch all attention, making you feel like your sexiest self and gets you the best of both worlds.
Dress Clare/Dress Elliot/Dress Faith/Dress Gemma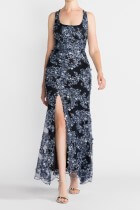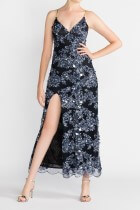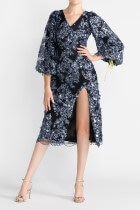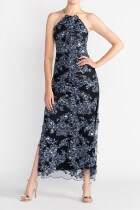 CS0339 Ariana
Ideal for evening dates and night outs, Ariana is our show-stopping dress. Ariana is a super stretchy and comfortable dress ornamented with sparkly sequins and a paillette fabric. It comes in a mini length, lace-up back, a side slit, no straps, and a straight across neckline, flowing into off-shoulder puff sleeves.
CS0340 Hana
Here's another asymmetrical dress with a mini length, one-shoulder puff sleeves, lace-up back, and waist accentuating contrast band for a flattering fit. It is adorned with paillettes and sequins all over the dress, comes with a removal contrasting waistband, and is a statement piece, catching light in all the right places. Hana has an elegant design, jaw-dropping details, and an ultra-mod look.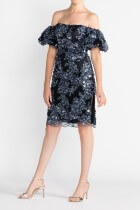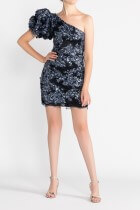 CS0341 Blakely
Have heads turning in Blakely. It is a mini-length, strapless, sweetheart neckline dress, with off-shoulder and removable puff sleeves, detachable contrasting waistband, and a short back slit. You get eight exclusive colors, and it also comes with different colored belts. It's another classic Cocomelody silhouette that allows you to show off a statement shoe as well.
CS0342 Corinne
Corinne is your perfect little black dress ideal for office, cocktail, night out, and wedding parties. It is an off-shoulder dress with puff sleeves and comes with a bit of stretch for easy movement. The midi-length, sheath-column dress has a straight across neckline going right into the sleeves, with a back slit, detachable contrasting waistband, and multiple colors to choose from. It is a must-have to make a striking statement!
CS0343 Ayla
Last but not least is Ayla, an asymmetrical, midi-length, strapless dress with a contrasting lace-up back and peek-a-boo back slit. It features a sweetheart neckline and off-shoulder, separable puff sleeves, and a detachable waist belt. This dress is your typical black dress but on a whole new dimension with a refreshing style.
Dress Blakely/ Dress Corinne/ Dress Ayla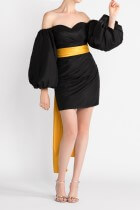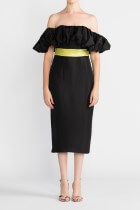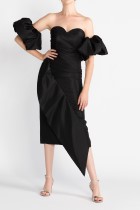 At Cocomelody, you can find everything from fashion advice to the trendiest styles and more. Come, stop by at our store or shop online and experience the Cocomelody difference yourself.