While most brides-to-be side with safe colors like blush pink or turquoise, blue is the shade that is most trending these days. That is not to say that blue is just starting to come into view at weddings, however, as it is a color long been associated with weddings because it stands for faith and loyalty. Blue also happens to be a beautiful shade that flatters just about anyone who wears it. So when you are hunting for the perfect color for your bridesmaid dresses, you will find that blue is an excellent choice.
A group of maid of honor in hues of blue will create a breathtakingly elegant look at your wedding. Blue is an awe-inspiring, regal color so even the purpose of elegance and poise along with looking chic and trendy is satisfied. As brought up earlier, blue is one color that can grace anyone. It not only flatters any skin tone but also acts as a catalyst for beauty when it is worn. This gives an alibi for why the color is a hot trend these days.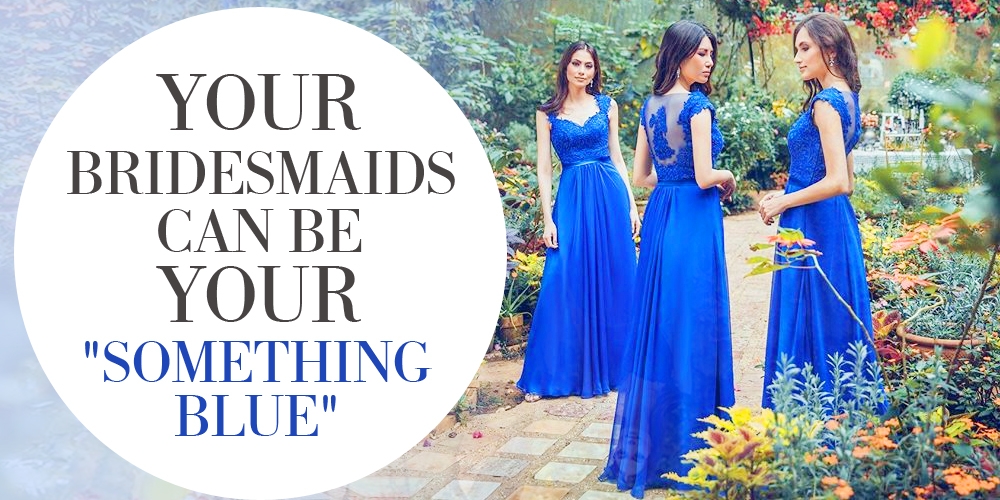 Now giving way to the most important question – what shade of blue bridesmaid dresses should you pick out for your wedding? The following shades might be a befitting answer.
1. Omphalodes/Blue Glow
Two highly in demand shades of blue for bridesmaid dresses are Omphalodes and Blue Glow. These are cheerful and light shades which are perfect for a wedding on a summer afternoon. Your bridesmaids can keep the look fresh and breezy with a convertible dress with pearl jewelry. A convertible bridesmaid dress is quintessential in that it lets your bridesmaids create a look that is unique to them. They can twist, braid or knot the fabric ties for an entirely new neckline – hence the name, convertible. The look can be completed with a lovely pair of strappy sandals (white or silver would look great) and a natural hairstyle. It would truly be a captivating look for your bridesmaids.
2. Swedish blue
If you are settling on something a little more sophisticated, you can consider a bridesmaid dress in Swedish Blue. It contributes to a very chic and fashionable look that your bridesmaids can carry throughout your wedding. Try to find bridesmaid dresses in modern lines, like a charming sheath-column natural floor-length gown created from silk chiffon. This is a gown that screams "wear again bridesmaid dress", so your friends might actually be able to wear it for another party in the future. After all, with the cost of most bridesmaid dresses, it would be great if they were useful for more than one occasion.
3. Angel Falls
Another beautiful shade of blue is Angel Falls, which is a pastel with a touch of lavender in it. This is a sublime romantic version of blue that looks wonderful for spring weddings. You can opt for any long bridesmaid dress in princess blue for a refreshing and regal look.
4. Sodalite Blue
Sodalite Blue is a wonderful and traditional tinge of blue that works great for formal or evening weddings. The only thing to keep in mind with navy blue is that in dim lighting and black and white photographs, it can give the impression of being black. A classic sodalite blue  lace bridesmaid dress would be very nice for an evening winter reception. If you choose sodalite blue dresses for the daytime, they can be brightened up with accents like lavender or white, which will have a refreshing nautical effect.
Whatever the style or type of dress it may be, it is essential to see to it that the dress is tailored well so the maid of honor can move freely to catch the bouquet and get lucky to plan the look of her bridesmaids for her own wedding real soon!