Your wedding dress is probably one of the most extravagant outfits you will ever wear. One of the key features that make it so special is the train. A train is the extended back of a wedding gown that trails behind the bride as she walks. Trains vary greatly in style and length; some can be very short, while others can be a huge statement (Kate Middleton's was nine-feet long!) No matter what style or length you go for, though, trains are always effortlessly elegant. If wedding gowns with trains still fail to fascinate you, these ten gorgeous reasons (wedding dress styles) will convince you otherwise.
1. CWVT15002 from LB Studio Collection
This gorgeous sheath-column wedding dress looks elegant from the front, but it looks even more marvelous from the back! It has a full court train that drapes from the waist and extends a foot or so behind the dress. In addition to the gorgeous court train, it also has crystal beading, pretty lace shoulder straps, low backless design, and stunning appliqué details, all of which add to its "laid-back grandeur!"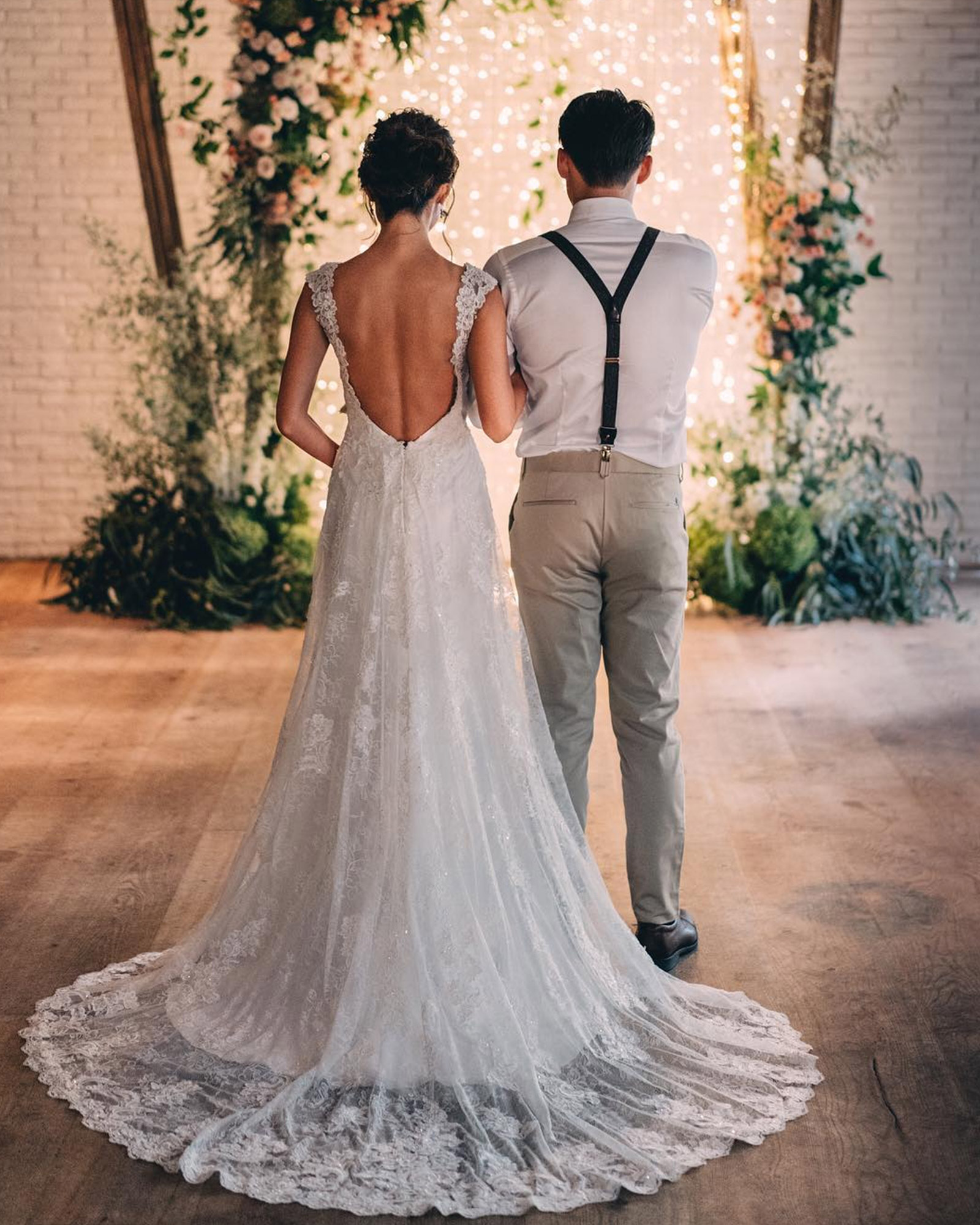 2. LWXT16001 from LB Studio Collection
This dress from LB Studio Collection is perfect for brides who want to look like a princess on their big day. This wedding gown has a classic court train that adds a lot of drama to the otherwise pretty dress. Its A-line bodice and V-neckline makes it a dress that no eye can ignore.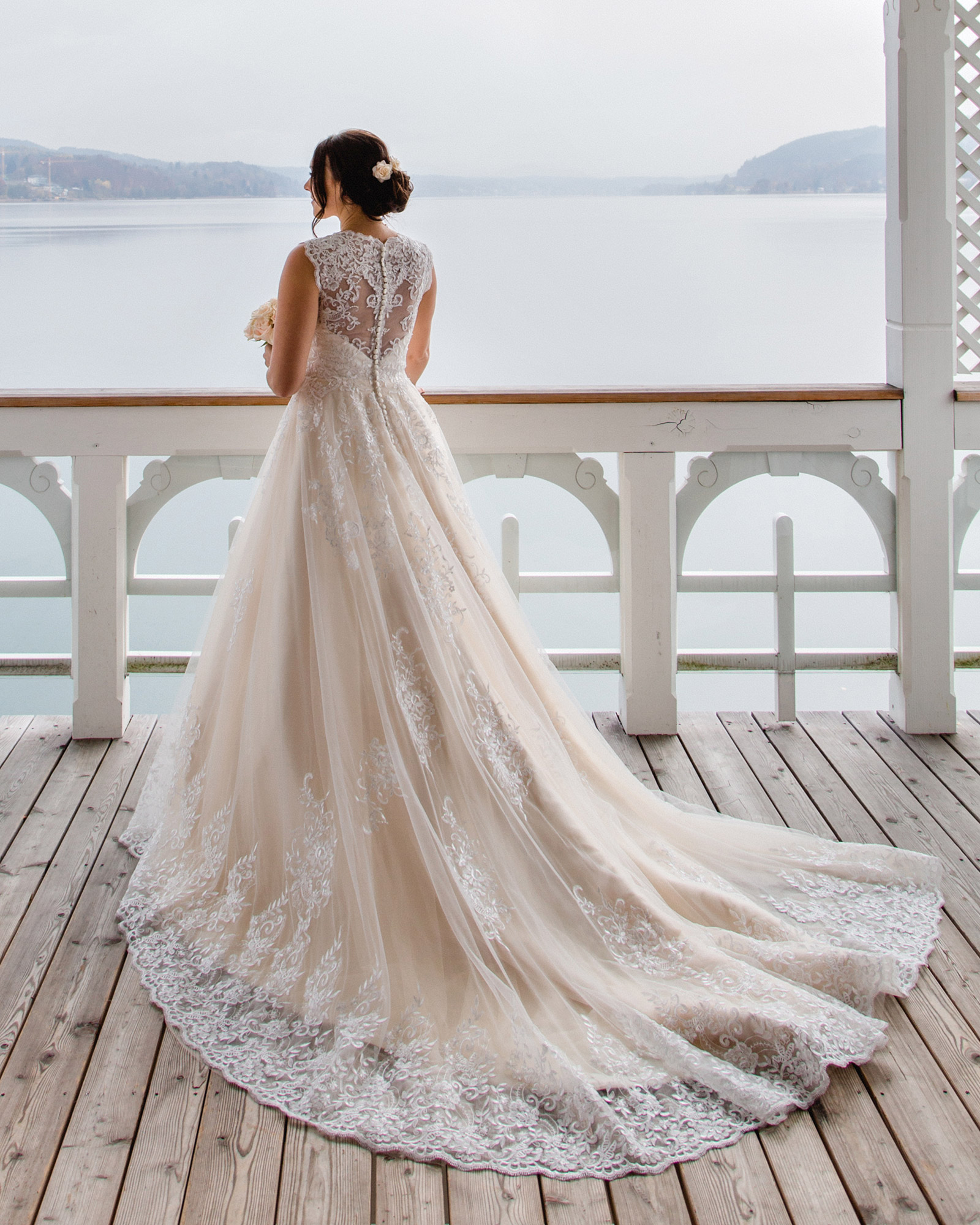 Image Credit: Dream Catcher Photography
3. LD3906 from LB Studio Collection
This is yet another dress from LB Studio Collection that looks more like a piece of art than a piece of clothing. The court train on this dress is sure to make your guests and your partner gasp when they see you walk down the aisle. There is also a lot of glitz and glam on this mermaid wedding dress, so you do not have to worry about anyone or anything stealing your limelight.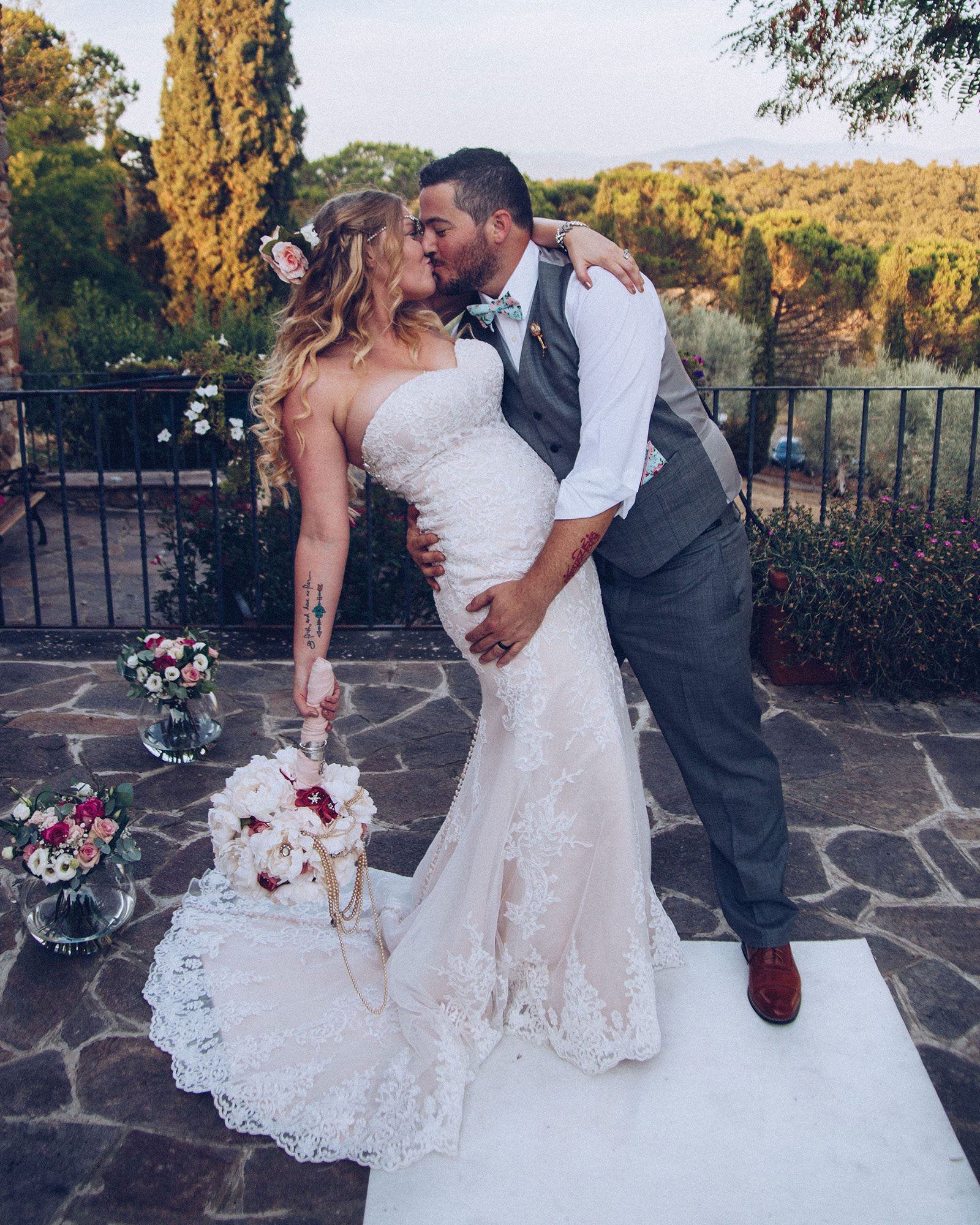 4. LD5580 from LB Studio Collection
This strapless wedding gown is the epitome of elegance. The lovely appliqué details and the classic Trumpet-Mermaid bodice make this gown truly extravagant and regal. It also has a puffy court train that can make your overall look just a bit more exciting.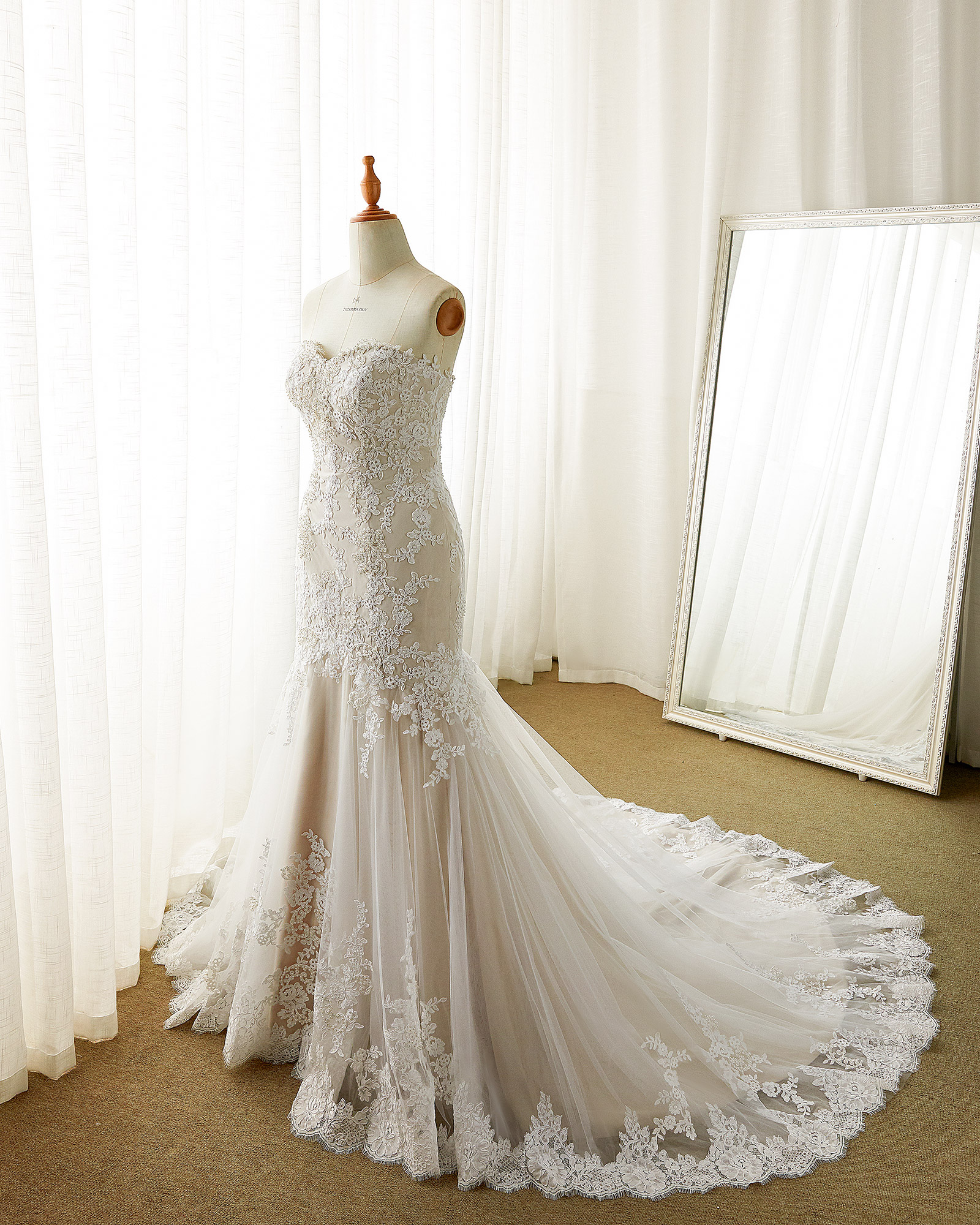 5. LD5698 from LB Studio Collection
If you want to add a touch of sensuality to your sophisticated bridal look, this fun and sexy A-line wedding dress is perfect for you. The court train on this dress will certainly add a "wow" factor to your walk down the aisle. Pretty tulle and lace detailing further add to its panache.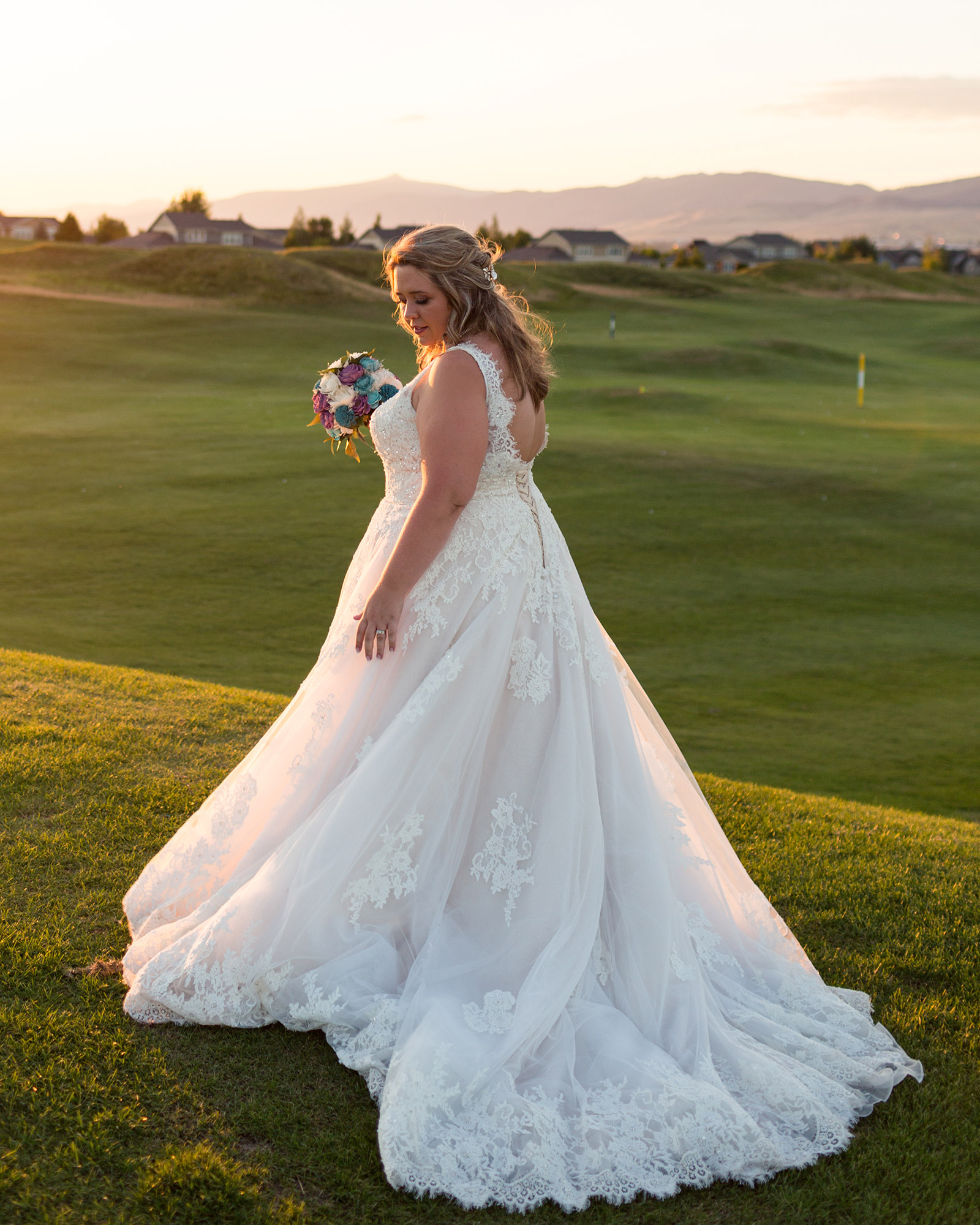 6. LD5190 from LB Studio Collection
A chapel train is where things start to get dramatic in the world of wedding dress trains! A chapel train can extend approximately three feet behind the gown, which makes for a truly magnificent wedding look. This mesmerizing A-line wedding dress from LB Studio Collection features a chapel train, floral appliqué details, and elastic satin fabric – all of which enhance its vintage yet fashionable appeal.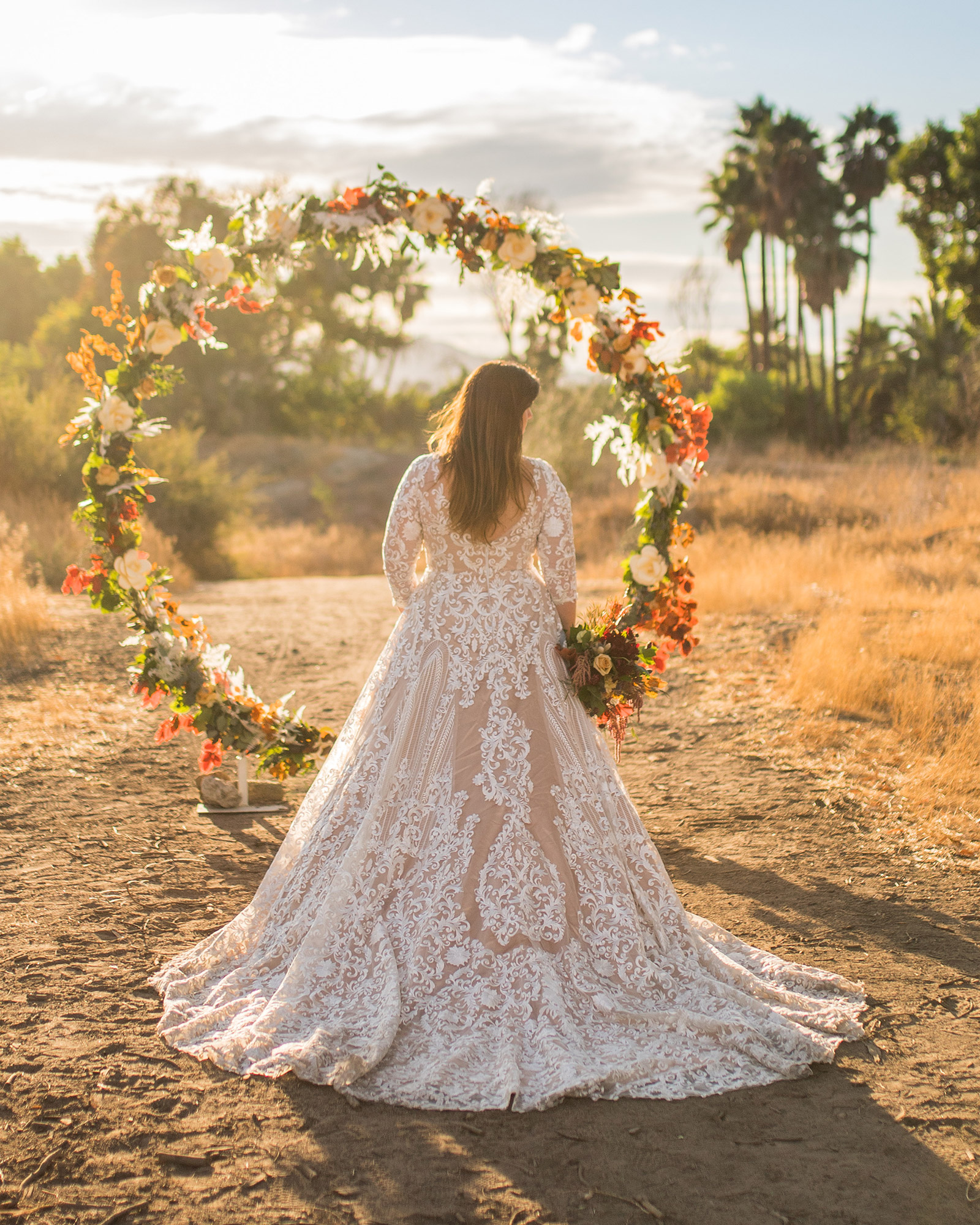 Image Credit: Colleenk Photography
7. LD4349 from LB Studio Collection
Cathedral trains are more formal, and most common for large church weddings as the train extends six feet or more behind the bride. You will almost certainly need a little help from your wedding party to manage this train! That being said, no other wedding dress train screams "elegance" quite like this princess wedding gown with a cathedral train.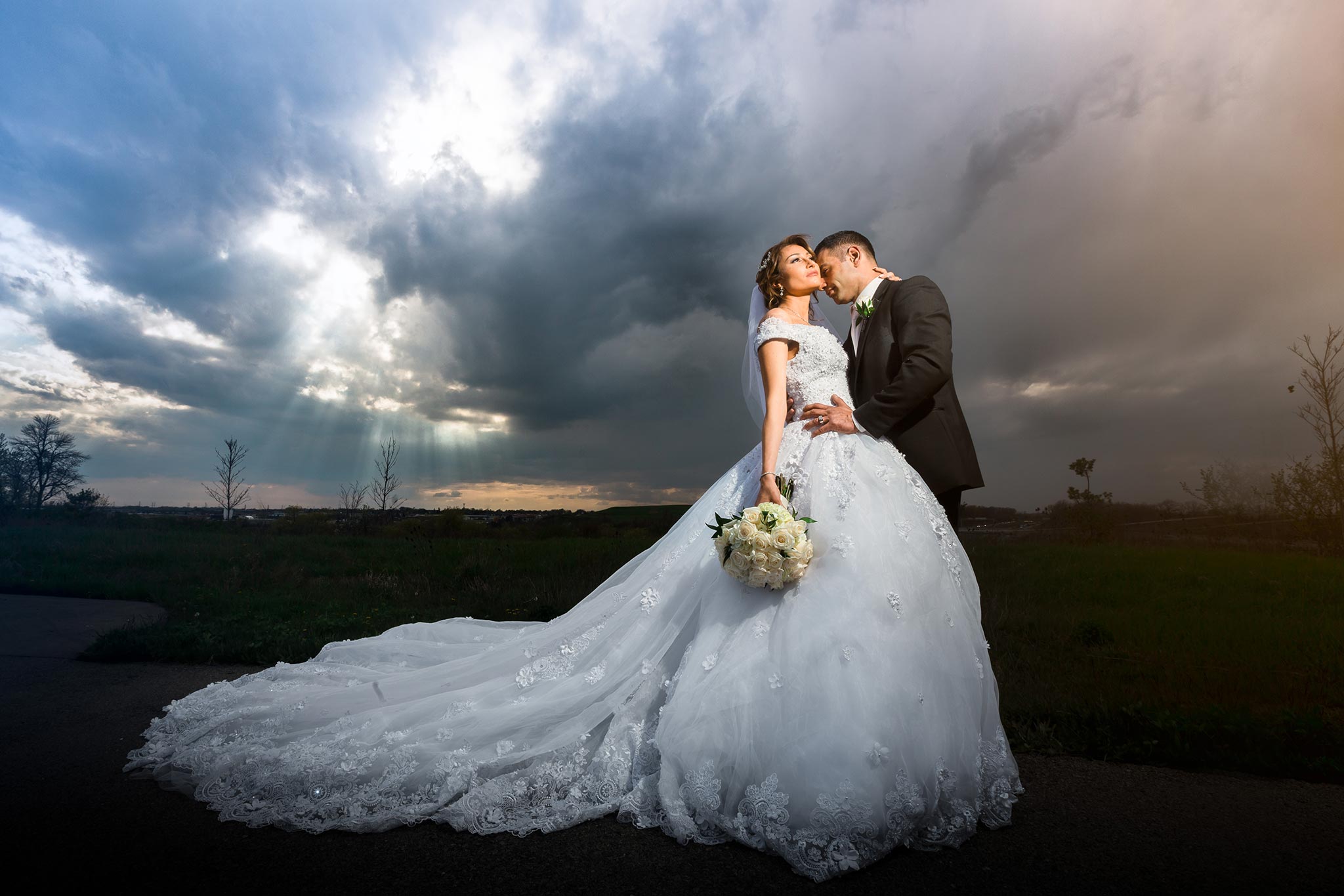 8. LD5813 – Lauren Dress from Classic Collection
This wedding dress is as pretty as it is practical. The v-neckline, illusion straps, open keyhole back, elegant lace fabric and the court train make it look extremely glamorous, and it is also airy enough to be comfortable to stand in for hours.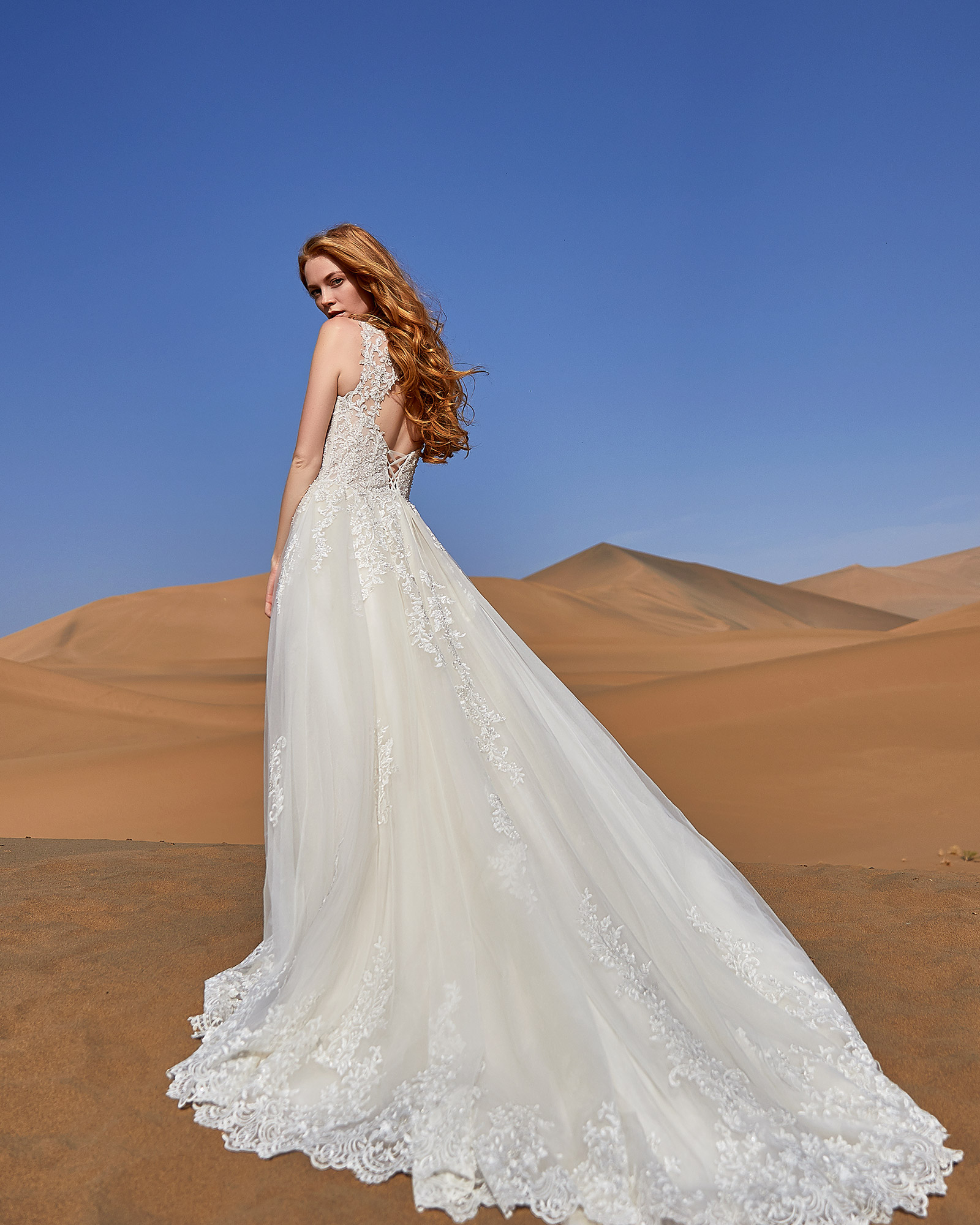 This wedding dress features the trending bateau neckline. More moderate than a v-neck style and more comfortable and casual than the high neck, the bateau neckline makes for a casual, but a very elegant appearance. Pair that with a tasteful court train, and you have a stunner on your hands.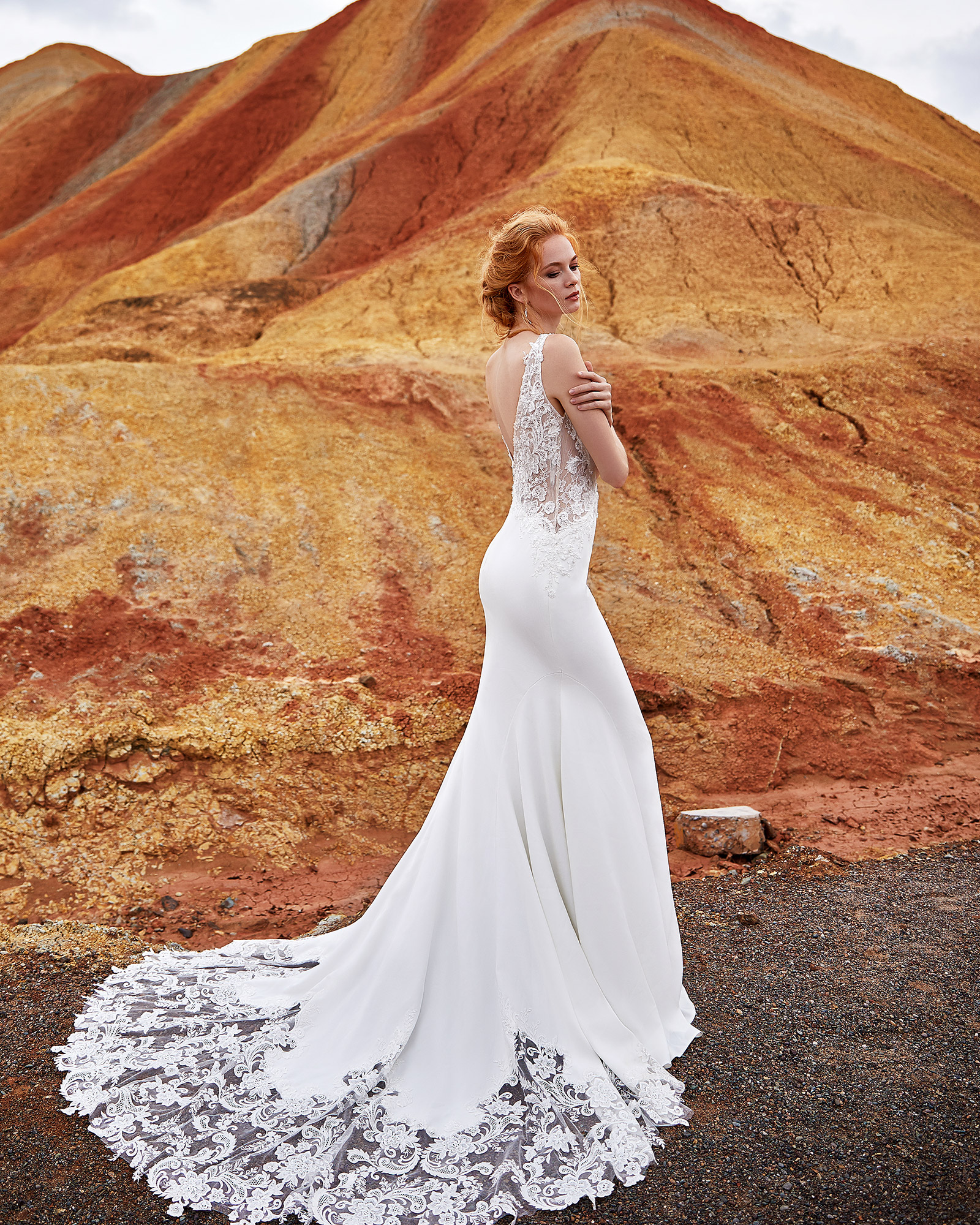 In addition to a breathtaking court train, this figure-flattering A-line wedding dress also features a sexy plunging v-neckline and horsehair trim at the hemline. Comfortable and elegant, this gown is ideal for brides looking for a vibrant wedding dress on their wedding dress online shopping.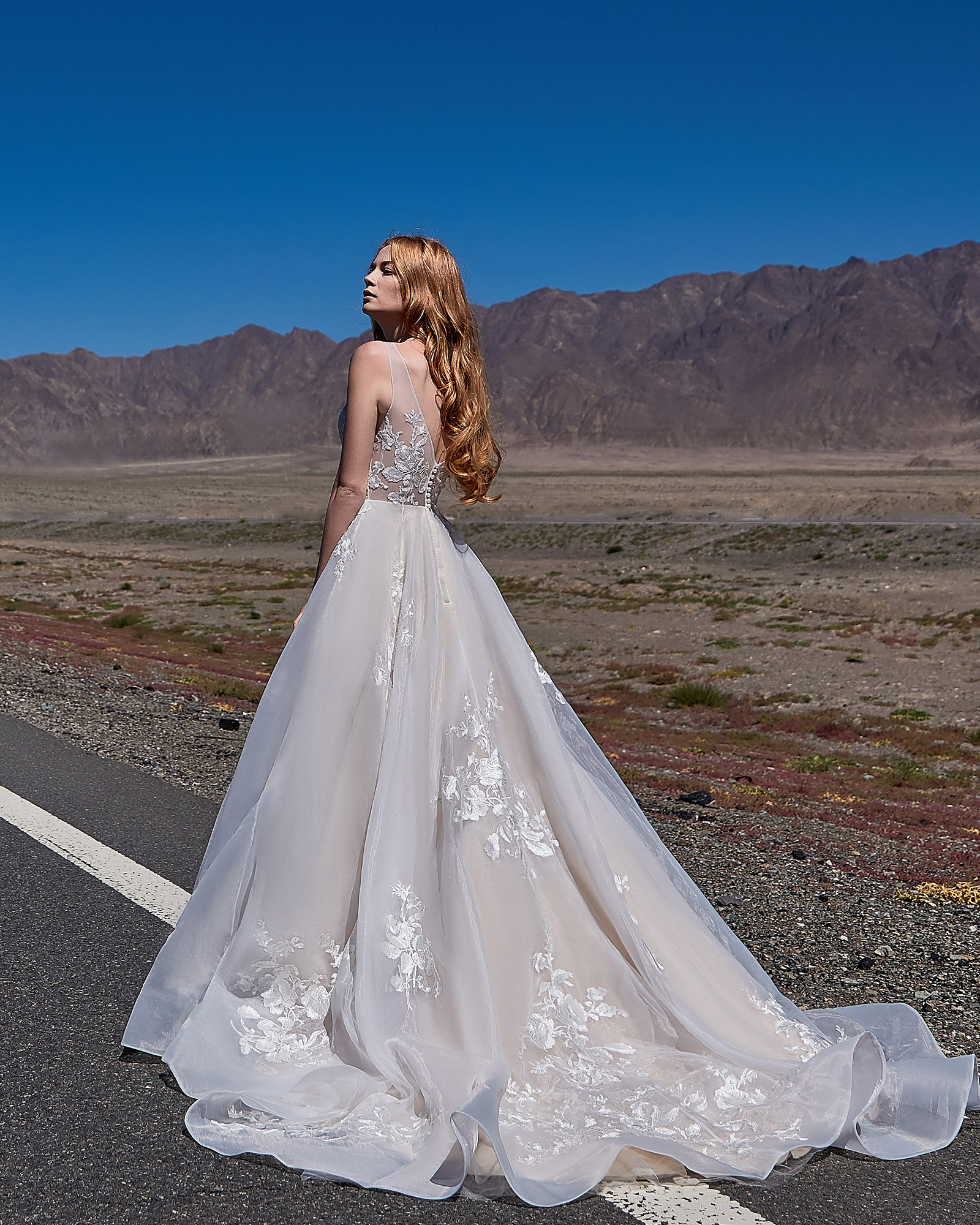 If you are planning a wedding like the late Princess Diana Spencer, then a train is definitely part and parcel of your wedding gown. Not only will it make your shift appear more whimsical and grand, but also make it look like your wedding is straight out of a fairytale.