There's nothing we don't love about this classic, romantic, California wedding! From Brenda's dreamy lace gown to the gorgeous floral touches, everything was perfect! Congratulations to this sweet couple and read on to see more of their breathtaking wedding day!
All photos were taken by Lydia from @_prettyvibevisualz(IG)
Wedding Dress Style: #CWXT14061
Q: Any advice or tips for future Mrs.?
The best wedding planning advice I can offer is don't worry about the small stuff! Nobody else will notice if the beige on your invitations isn't the exact match as your decor. On the day of your wedding you won't even think twice about all of that stuff. And don't let mishaps on the day of your wedding ruin your mood either. Everything that could go wrong at a wedding, DID go wrong at our wedding! And we honestly didn't give it a second thought. We just figured things out as they were thrown at us and enjoyed our day to the fullest. All that mattered that day was that we were married.
Q: What was the inspiration behind your wedding theme?
We picked our colors first (burgundy, grey and beige) and knew we wanted a more romantic vibe. Which to us meant lots of roses and lace.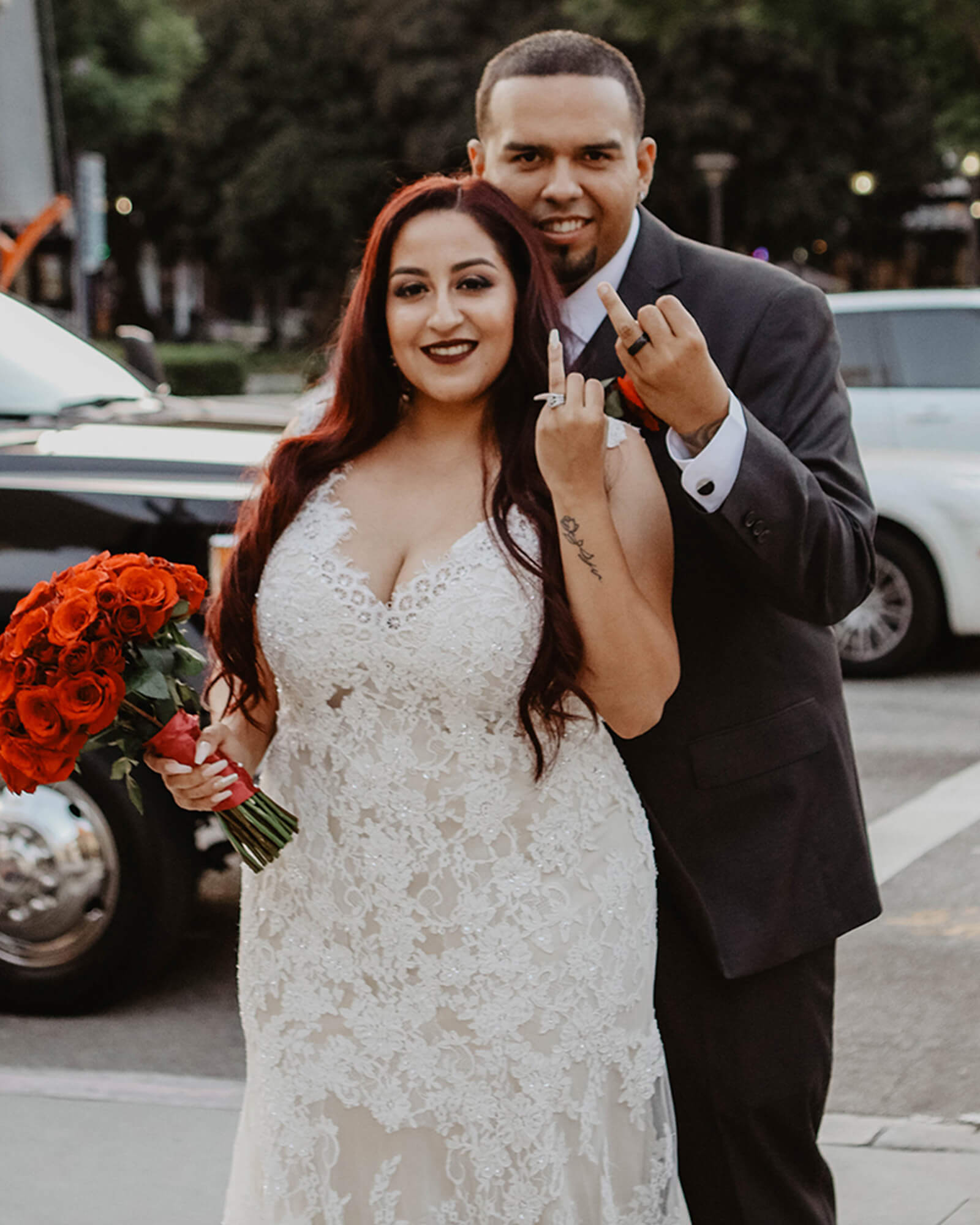 Q: Tell us your love story! Where & How did he propose?
We met late summer in 2015 and were engaged on Christmas Eve 2016. He got down on one knee at the strike of midnight in front of his entire family just as I was leaning over to check on our sleeping daughter. I turned back around and was caught completely off guard. The tears started immediately. I have been married once before, at a very young age, and unfortunately it didn't work out because it wasn't done for the right reasons. This time around, our entire relationship and the commitments we have made to one another have been done in love & with trust. The moment I said yes, I knew I was making the best decision of my life. And I was right. Our time together has been amazing and it continues to get better & better as the days go by.
Q: How would you define the message "Dare to Love"?
To me, "dare to love" means to open my heart up once again and put all of my trust in someone not to break it. It means to love without limits or fears. To show someone the real me and believe they will love me for who I am.
Q: What was the best/most memorable part of the day?
The most memorable part of our day was when we walked away from the crowd at our reception and took a few minutes to be alone. We talked about our dreams for our future together and then glanced back to look over everyone who was there to celebrate our love. That exact moment really took our breath away. It was an amazing feeling to see all of our loved ones gathered together to support our union.
Q: What did you love most about your #CocoMelody dress (es)?
I felt beautiful in my dress. I know that sounds cliché, but I really did. The moment I put my dress on, with the help of my bridesmaids, and looked into the mirror…I began to cry. I am short and have a very curvy body so wedding dress shopping wasn't easy. And having a dress that was cut to fit my body was a dream come true!
Q: What do you think about CocoMelody and the customer service?
I loved CocoMelody! From the moment I booked my appointment, to the moment I put on my dress. It was all a very easy and smooth flowing process. And my dress was ready a whole month early which was a huge plus!