Every bride is supposed to carry or wear "something old, something new, something borrowed and something blue" on her wedding day for good luck. For the most part, the 'old', 'new' and 'borrowed' items are pretty easy to find, but finding 'blue' can be a little bit challenging. By the way, do you know the significance of carrying or wearing "something blue" for your wedding? The color blue represents fidelity, so it is undeniably a meaningful and important tradition.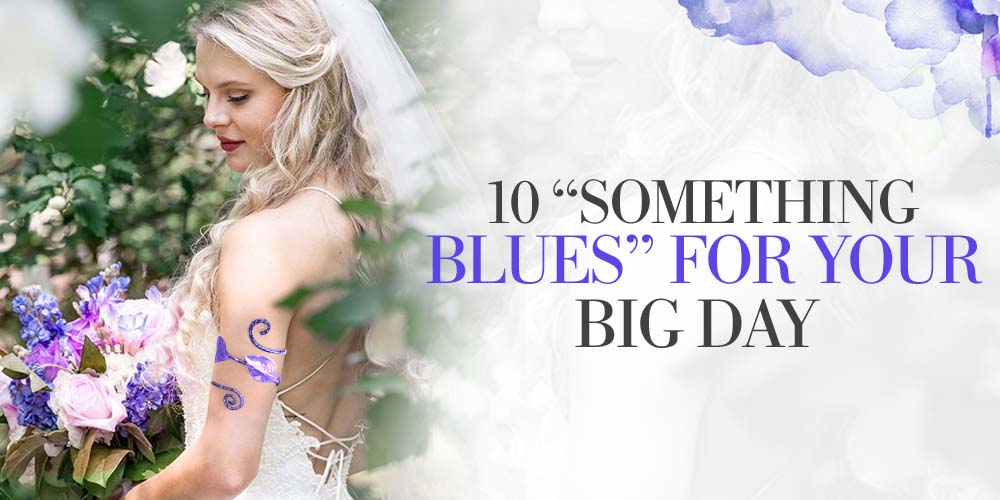 Now, if you are stumped as to just what your "something blue" should be, take a cue from these unique and beautiful ways to incorporate the hue into your big day.
1. One of the easiest (and prettiest) ways to incorporate something blue into your wedding is with bridal jewelry sets created from sparkling Swarovski crystals in blue. You can pick a pair of blue crystal chandelier earrings to complement your wedding dress or you can go with a more understated effect with a white bracelet which has blue crystal accents.
2. Blue convertible bridesmaid dresses are a charming way to add to your "something blue". Each one of your bridesmaids has a meaningful part in your life and having them wear something a part of the tradition makes it even more special.
3. If you really want to make a statement, you can add a layer of pastel blue tulle over the skirt of a white lace wedding dress. The effect will be very ethereal and ballet-inspired, especially with a blue feather headpiece.
4. One of the most fun ways to get a hint of blue in your wedding ceremony is to pair your white wedding gown with a fabulous pair of blue shoes. Blue shoes are not only unique and pretty, but they can also be used on several other occasions. This is the reason why many brides these days desire blue bridal shoes, and also why there is a very interesting selection of blue shoes out there in the market today. Whether you want to go for a stunning pair of royal blue satin pumps or a festive pair of turquoise jeweled sandals, you have a virtually unlimited selection of blue wedding shoes!
5. Do you know you don't necessarily have to wear your blue accent? Your "something blue" can be something that you carry as part of your bridal ensemble. A small handbag made of navy or royal blue silk or with some blue beading would be one excellent idea. Yes, your handbag is not something that you will carry down the aisle, but you do need a place to keep your lipstick and a few mints in, so why not have it in blue?
6. Another something blue that you can carry is your bouquet. Keep in mind that there are a limited number of flowers that are available in blue, so you will need to check with your florist to see if there is an option that will be in bloom around the time of your wedding ceremony. If you cannot find a good choice for a blue flower, an all-white bouquet can be used with the addition of a blue satin ribbon. A very wide satin ribbon in a periwinkle or baby blue would be a beautiful way to tie the stems of your bouquet.
7. You can add blue to your big day by using a gorgeous blue crystal brooch. A wonderful idea is to use the brooch to help bustle the train of your wedding dress; it will make for a very special back detail. You can also use the brooch to pin a custom sash or pinch in the neckline of your mermaid wedding dress to create a very flattering shirred effect.
8. If you dare, you can go all out with the tradition by wearing a blue bridal gown. Wedding dresses are traditionally white, but there is no law limiting your choice of wedding dress color. In fact, blue wedding dresses are very much in trend and look absolutely stunning!
9. Your "something blue" does not have to be visible to be viewed as a lucky charm. You can absolutely go for something very subtle, such as stitching your wedding date inside your wedding gown in blue thread.
10. You can use your bridal garter as your "something blue". It does not need to be completely blue either; you may choose a white or ivory base and use blue decorations in the form of a bow, lace edge or other embellishments.
Your something blue is one of the areas of the wedding where you can be creative and have fun. So, allow your personal style to dictate your choice and get your "good luck" package in place before you head down the aisle.