What better way to celebrate one's friendships then by having them stand by you on your best day ever? Maryaileen & her best gals all wore Cocomelody dresses. Love that elegant #DarkNavy shade and the precious photo they did!
All photos were taken by Daniel Street, Soulmates Photography.
Wedding Dress Style: #LD5054
Bridesmaid Dress Style: #COZK16005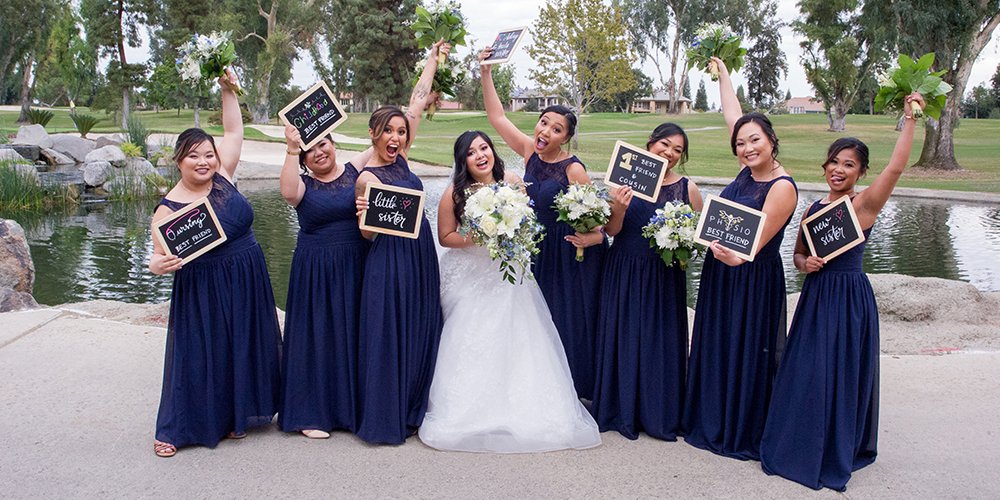 Q: Any advice or tips for future Mrs.?
Plan little things every now and then before it becomes crunch time, then you'll have less to worry about at the end. Also, do not hesitate to ask your bridal party for help – that is why you have them, and they already know that they are your helping hands and support. Don't dwell on the small things that didn't go as planned on your big day! I did the days after my wedding but every person I spoke to had said it was beautiful and didn't notice the little things I was stressing about. And of course, enjoy your day! Everyone told me that the day flies by so fast, I didn't believe it until it was the end of our big day.. Enjoy each moment and don't stress about the small things.
Q: How did you meet? And where did he propose?
Alex and I met as undergraduates at Fresno State in 2008. I just started college and stopped by a club booth to meet new people. I ended meeting Alex through someone I just met that day (and who he had actually just met him the day before). We started dating shortly after. 4 years later, he graduated and was offered a job by San Jose (where he's from) and moved back.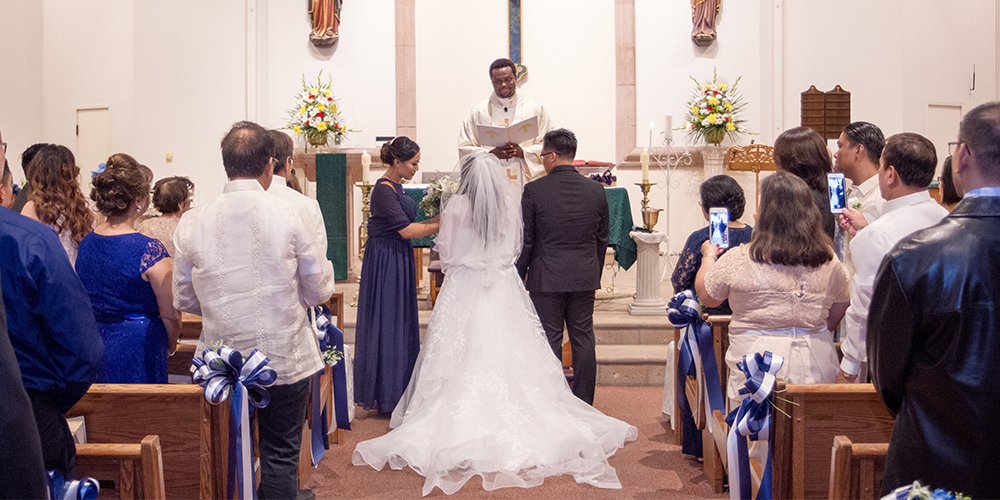 A week before our 7 year anniversary, he and one of our best friends had scoped out a perfect place in San Francisco, my favorite city and also where we had our first trip together.
I came to visit him on that anniversary, he took me to a spot with a perfect view of the Golden Gate Bridge. We walked around while he told me how much he loved the past 7 years together,  how much we've grown, even with the distance. He got down on one knee and asked me to marry him. Soon after I had said "yes", my brother and our best friend came out from behind trees holding cameras, recording the whole proposal.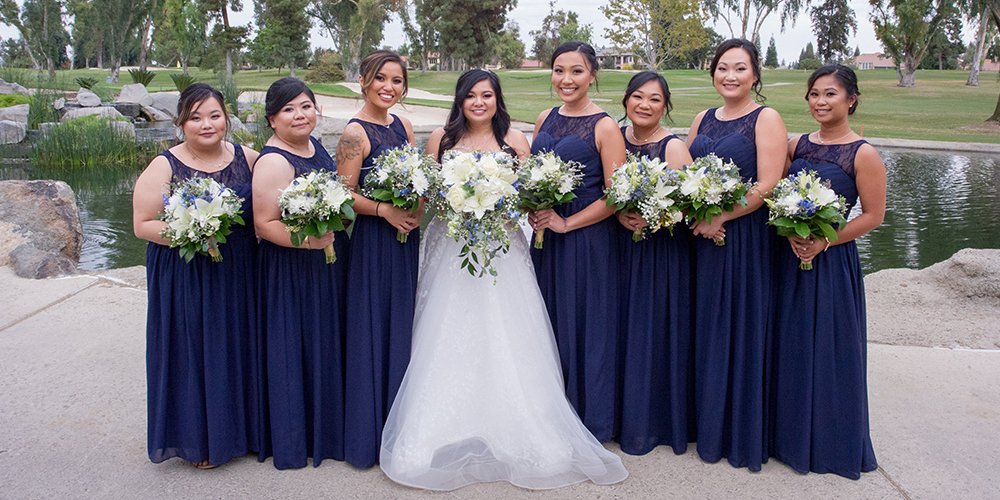 Q: Did you have a particular theme or color scheme? Is there a story behind this color theme and why you chose it?
I had told Alex that as much as he loves the Golden State Warriors (he's been a die hard fan since he was a kid), I (playfully) said that I did not want to wear their colors for our wedding just because of that. I really liked the Navy and white combo and I had him choose another color to accent, which he ended up choosing gold so, ultimately, we had ended up with the closest to the Warriors color combo.
Q: Did you enjoy the wedding planning process? Why or why not?
It was stressful but all-in-all, I did enjoy the process because I saw it as planning for the perfect day. This was the first time our families and friends are coming together to celebrate us and I wanted to make sure that everyone enjoys our day. I'm a romantic and Alex is a goofy guy, so we had traditional and classic aspects incorporated in the wedding but also some fun elements (he ordered customized warrior bobbleheads of us as our cake topper). It was fun putting our different ideas together to plan for a memorable wedding that everyone will enjoy.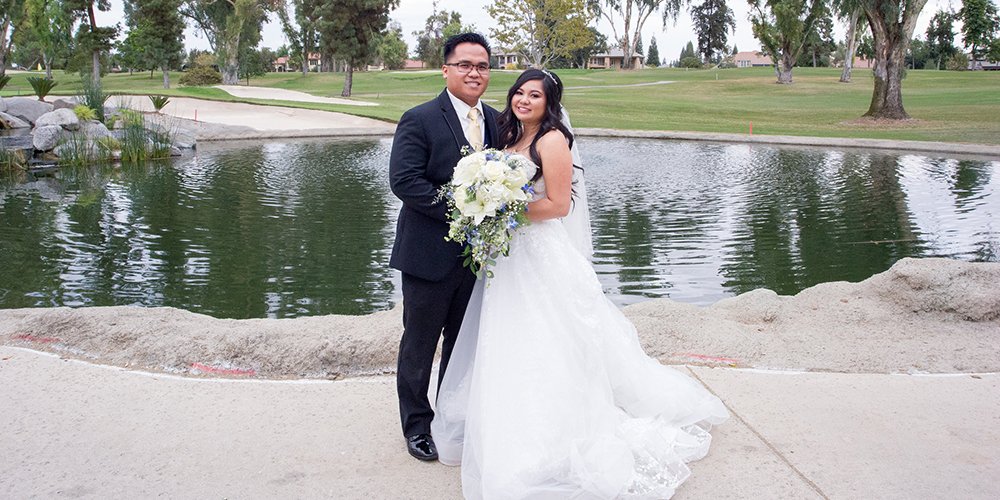 Q: What was the best/most memorable part of the day?
The entire wedding was so much fun, but the best part was soon after Alex and I started the dance floor, my grandma joined us and danced away. I turned around and I see everyone with their phones taking pictures, recording and snap chatting my grandma. She became the life of the party. She had a blast and it made my wedding day even more perfect. After the wedding, she asked which one of her grandchildren were next to get married so she can dance again.
Q: Why did you choose Cocomelody for your bridesmaids?
I choose Cocomelody for my bridesmaids dresses because I had bought my own wedding dress from Cocomelody and I loved it. I wanted to choose customized sizes to ensure my bridesmaids were comfortable. I found the exact style I was looking for on the website and knew I can trust that the material is comfortable and the customer service is great. We were not let down, all the bridesmaids loved their dress.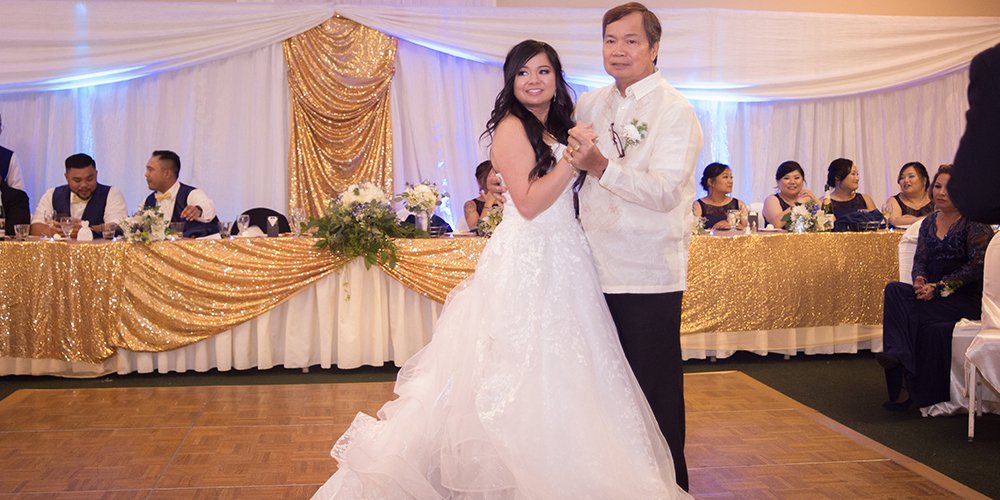 Q: What did you love most about your #Cocomelody dress?
The 3D floral lace details! Everyone complimented on the details of my dress but most of the comments were on how beautiful the 3D floral design was. I was looking for a sweetheart top, ball gown with subtle details but enough to show my personality and style. I fell in love with it once I saw myself in the mirror. I had actually planned one weekend as my wedding dress shopping weekend in LA. Cocomelody was the first appointment that I had scheduled. After my Cocomelody appointment, I did not find another dress from other bridal shops that I adored as much as that one. It was the only dress that I had seen my grandmother's eyes light up when I tried it on and I knew it was the one. I knew we had to go back and buy it before I left LA that weekend.
Q: What do you think about Cocomelody and the customer service?
Amazing! Cocomelody LA was so great. My consultant, Benjamin, made me feel comfortable and was honest with me when I tried on dresses. I told him I'm from Fresno and I was only there for a few days to find "the dress." He knew I loved that dress and accommodated me by taking my measurements that day and putting it in my file in case I decided on the dress while I was in Fresno and wanted to order it. My first fitting was full of laughs with 2 of the workers who had the most fun and bubbly personalities. They made me feel special, which all brides should feel like, I definitely recommend Cocomelody to all future brides.❤