Of course, your big entrance at your wedding reception in your beautiful lace wedding dress will be the most memorable moment of your big day. That needs no contradiction from our end. But we can all be down with the fact that there is nothing more adorable in a wedding party than a little girl clad in a lovely dress tossing flower petals as she innocently walks down the aisle. These teeny-weeny bridal party cuties know how to have all eyes on them, don't they?
All things said, if you want to take a more non-traditional route for your big day, you can totally have the little girl carry something different than actual flower petals or even make fun changes to your "flower girl". So without any further ado, here are five cute and fun alternatives ideas to flower girl rose petal toss that you can avail yourself of for your wedding.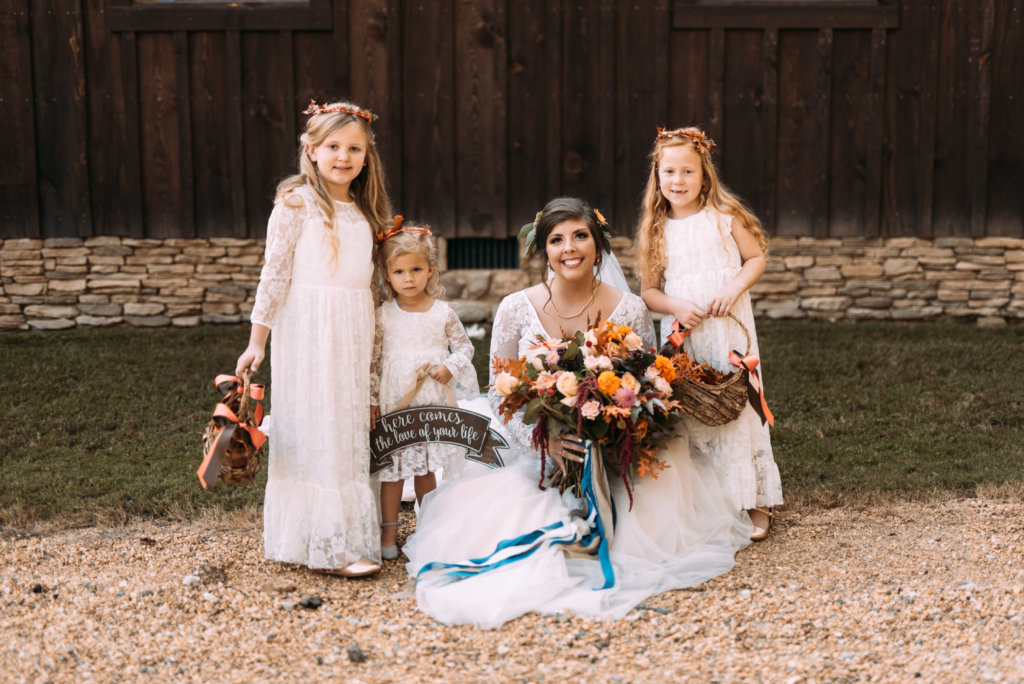 Style: #LD4432, Image Credit: Mary Claire Photo
1. Have the girl(s) ride in a wagon
If the little girls in your wedding ceremony are not out the toddler phase yet and are less likely to properly handle flowers, you can have them ride in a wagon decorated with bright and beautiful blooms or covered in ribbons and bows instead of just letting them walk with flowers in their tiny hands. This is a sweet way to bring them down the aisle. You can also have an older girl pull the wagon for that extra "aww…" factor.
2. Have the flower girl carry a bouquet or a basket
Keep in mind that some wedding venues may not allow flower petals to be tossed (after all, flower petals can stain the carpet). If that is the case with your chosen venue, you can simply have your flower girl carry a bunch of flowers or a tiny basket full of bright and beautiful blooms that she can hand out to your wedding guests.
Bouquets and baskets make a wonderful flower petal alternative because they look just as beautiful in photographs and smell fabulous as well. See to it that the basket is the right size for the flower girl's tiny hands and is easy for her to carry.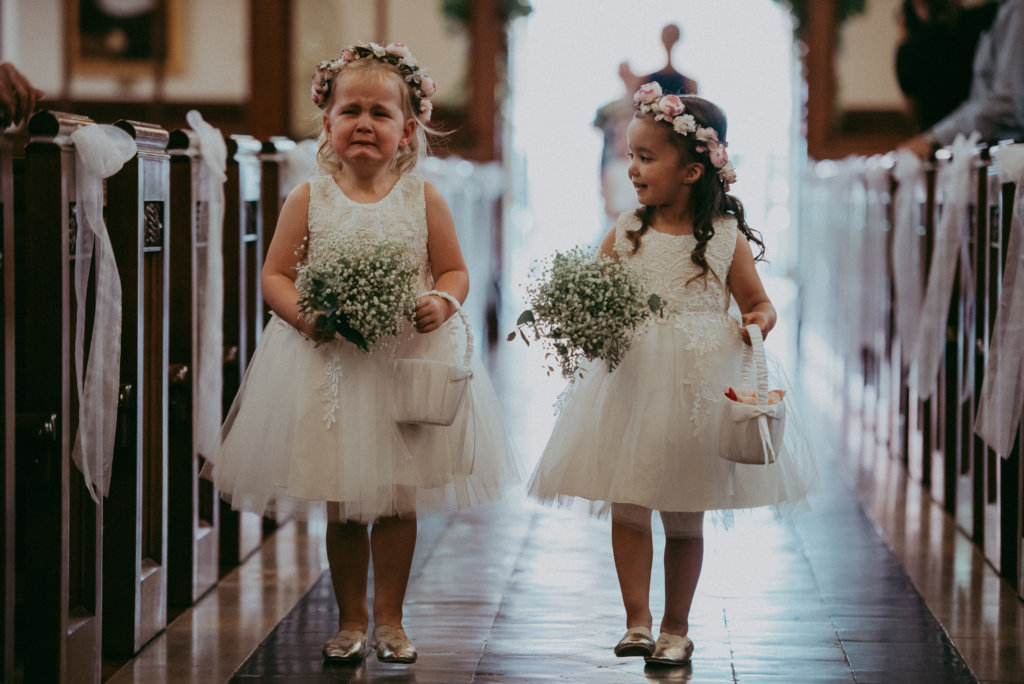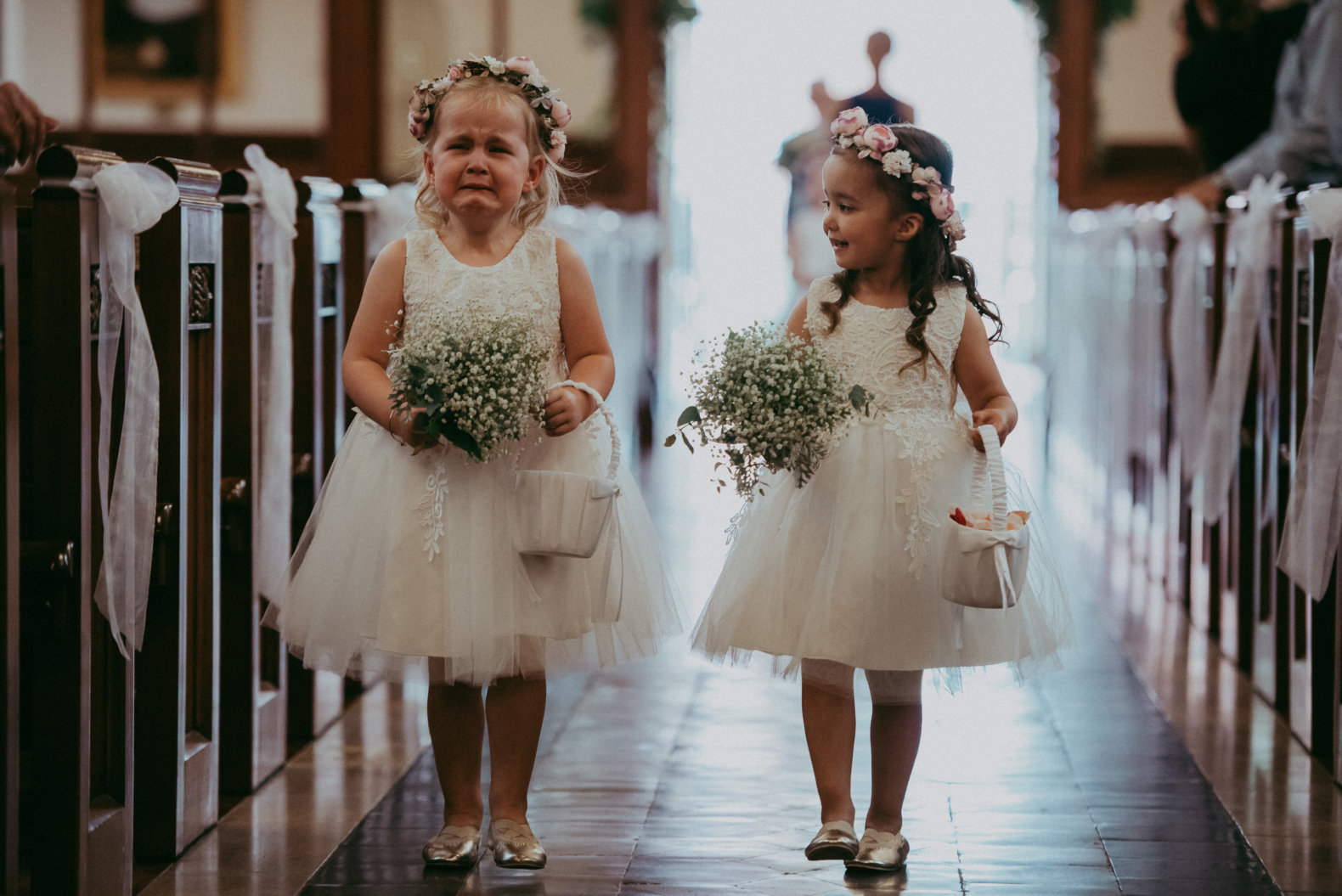 Image Credit: Levien & Lens Photography 
3. Use garlands instead of flowers
If you do not wish to skip flowers when you are walking down the aisle, garlands can be a fun and gorgeous petal alternative for your flower girl(s) to carry. Garlands look undeniably amazing (almost like they came straight out of a fairy tale) and with cute little girls carrying them down the aisle, they will add a glorious yet adorable touch to your entrance, leaving ingrained memories within the minds of your wedding guest.
4. Make your pup the flower girl
Remember we said you can make fun changes to your "flower girl"? This is what we were actually getting at. You can train your goofball to cling to the flower basket and carry it down the aisle. Your dog acting as a stand-in for the flower girl will indeed be a picture-perfect wedding moment.
As you would expect, this is going to take a lot of practice and training, but will you or any of your wedding guests ever be able to take such an adorable sight out of mind?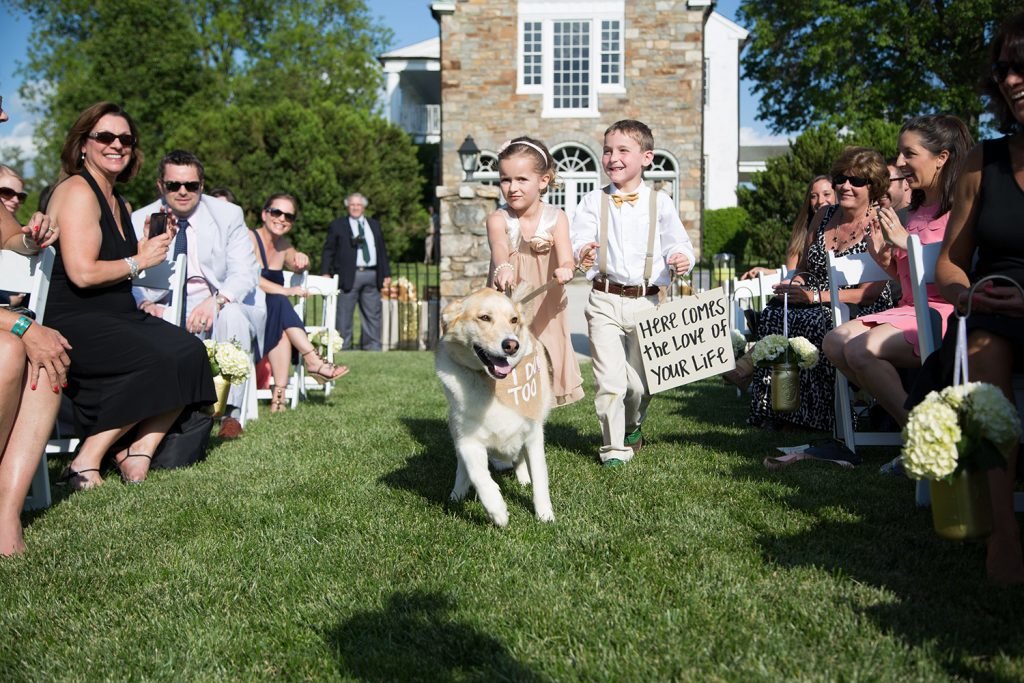 5. Have a boy announcer
If you do not have a girl that is just the right age to fill the role of a flower girl at your wedding ceremony, why not use a little boy as a stand-in ring bearer instead
You can dress him in a mini tux and have him carry flowers and throw petals just like a flower girl would or alternatively, you can have him carry a sign that announces anything that you want, from "The bride looks gorgeous" to "Mr. and Mrs." to "I am just here for free cake!"
Of course, there are many more alternatives you can resort to – you can have the little ones hold a 'magic wand', dance down the aisle, carry the train of your magical mermaid wedding dress, wave ribbons on a stick, arm-in-arm walk with each other, dress as princesses, ballerinas or superheroes (add a cape to their tux), wear some sort of wedding theme-related costumes, etc. The possibilities are virtually endless! In the end, it is your day. So, do what you want and enjoy!
Don't forget to check Cocomelody's Flower Girl Dresses!