Marriage is not only about finding the right person, it's about being the right person 💕 We are ALL about Shanae & Matt's rustic wedding in Acton California! From Shanae's gorgeous lace wedding dress, to the lush blooms, this is a wedding that was unforgettable from start to finish! Congratulations and wish Shanae and Matt everlasting happiness!
All photos were taken by Stephanie Turntine Photography.
Wedding Dress Style: #LD5698
Q: Any advice or tips for future Mrs.?
Make sure you have the best bridesmaids ever, knowing they will take charge and ensure you are calm, cool and composed.
Q: What was the inspiration behind your wedding theme?
We love fall and outdoors, with vibrant colors. I always wanted a backyard style wedding and even though we did everything our selfs it was worth all the work.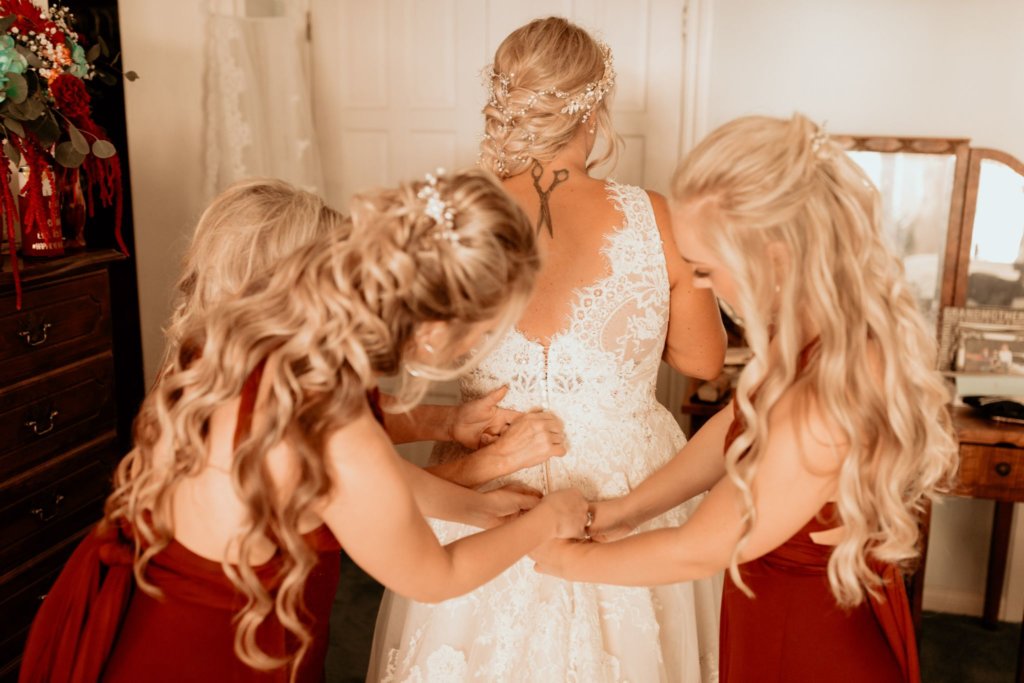 Q: Tell us your love story! Where & How did he propose?
Matt and I met online using a dating site, we took it really slow due to past horrible relationships. The funny thing is we couldn't be more opposite. I'm a country girl thru and thru. He's a computer nerd that loves underground hip hop. We both fell in love agents all the odds. We ended up having so much in common and truly is my best friend. Disney is our escape for the world where we don't have to grow up.
Q: How would you define the message "Dare to Love"?
It's all about taking chances and allowing yourself to open up your mind, body and soul to another human.
Q: What was the best/most memorable part of the day?
Walking down the aisle to him, it was as I imagined it! We all have thought about that moment and when I looked up and was walking to him I could see the tears well up in his eyes. It was one of the best moments of the evening!
Q: Where did you hear/find CocoMelody?
My sister bought her wedding dress and I loved the styles and collections.
Q: What did you love most about your #CocoMelody dress (es)?
It was my style and very affordable. I really love my wedding dress.
Q: What do you think about CocoMelody and the customer service?
I love CocoMelody, somehow when the dress shipped the buttons were missing on the back and your seamstress team took such great care of me.