In the good ol' days, an ideal wedding might have been a classic ballroom affair where guests wore elegant gowns and tuxes, danced to a string quartet and nibbled on slices of a chocolate cake with vanilla buttercream frosting. Well, not anymore!
Today, more and more engaged couples are driving away from the "tried and tested" ideal wedding rules and coming up with innovative ways to make their big day more fun and unique. This is possibly why smoke bombs are a hot wedding trend this year and have been popping up in wedding photographs all around the world. We are definitely obsessed…
Fun and colorful, smoke bombs are a unique way to add drama and excitement to your wedding snapshots as they take off in glittering clouds of colors, putting on an epic show that's absolutely sublime. Not only do they create a breathtaking backdrop that makes your wedding snapshots awesome, but they also offer a fun way to add an unconventional (and unpredicted!) element to your wedding day.
Love the idea of the smoke swirling around you and your better half? Here are five tips to help you pull this bold wedding trend off.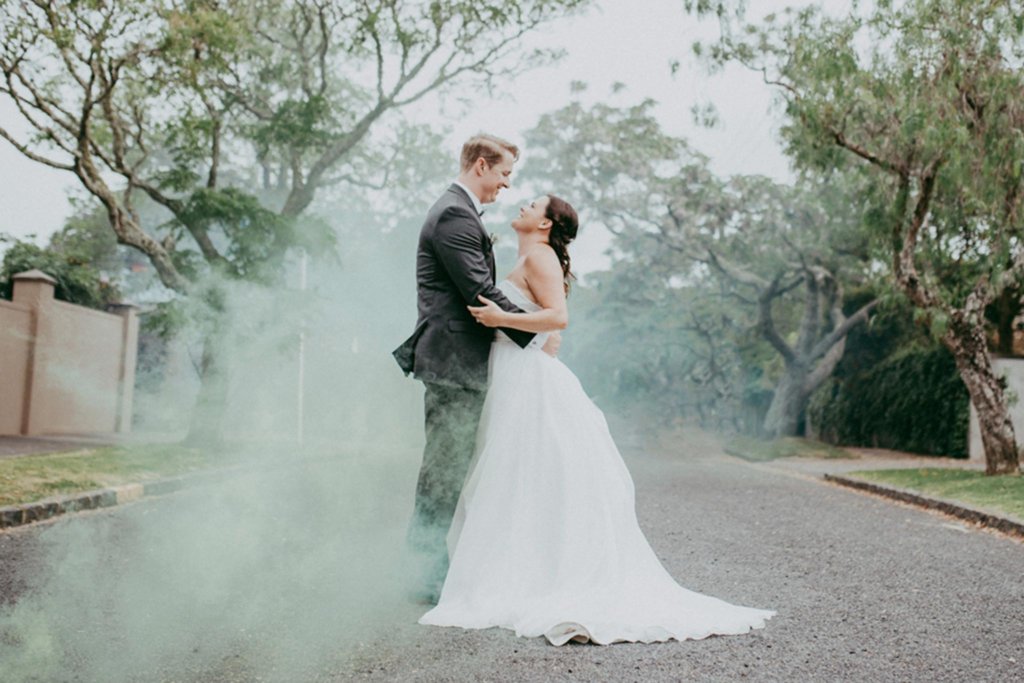 Style: #LWXT14092, Image Credit: Levien & Lens Photography
1. Go big, go bold and go wild with color
To make your big day more YOU, surround yourself with every imaginable color under the sun. Use a striking red smoky effect to make a big statement or go for indigo and royal blue for a wonderful mix. You can opt for colors that complement your wedding theme or your stunning A-line wedding dress and even the ones that contrast it. Even a lack of color can look just as spectacular – a swirling white haze can have a captivating, mystical effect.
2. Consider your location
When using smoke bombs, there are a few things that you'll need to take into consideration – and among the most important is your wedding location/venue. Make sure you have chosen an outdoor venue in order to avoid inhalation of too much smoke as it can irritate eyes and throat. You may also want to check with your venue whether they permit using smoke bombs on the property. Although the bombs don't normally stain the ground, they do leave behind a residue that only goes away over time, which is why some venues may not allow for smoke bombs to be set off on their property.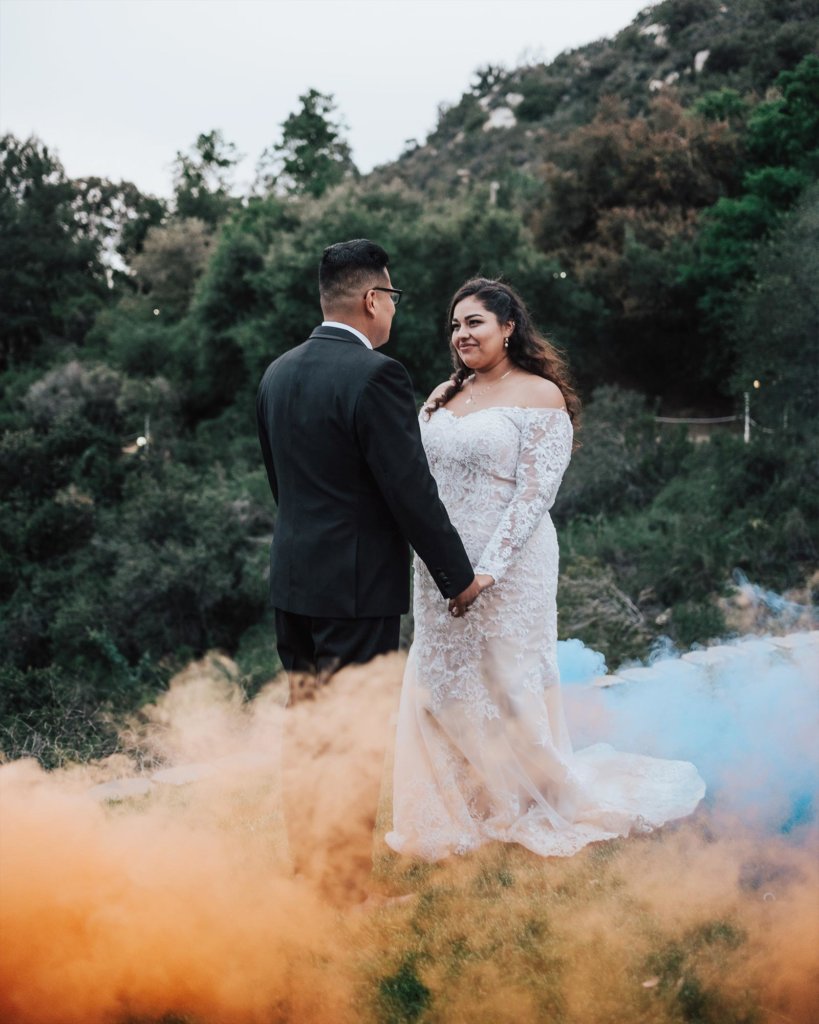 Style: #LD3906, Image Credit: Noemir Photos
3. Consider the weather conditions
If you haven't taken note of the temperature on your big day, do it already! On a humid and dry day, setting off a smoke bomb could be dangerous. Our advice is that you use cool burn, flameless smoke bombs instead. You may also need to consider which way the wind is blowing before setting off the smoke bomb. Sure, you want the burst of colors to be vibrant, but do you want it covering your face in every photograph?
4. Don't get too close
Here's something you need to know: Smoke bombs can (and will) stain. So, be careful if you're rocking a beautiful white ball gown wedding dress. You can have the smoke swirling behind you in a distant backdrop for a breathtaking effect. This way, you can be fairly far away and make sure that the smoke particles don't land on your wonderful white wedding gown and stain it. Nevertheless, if you really want a picture holding a smoke grenade, keep a reasonable distance from them if you care about preserving your wedding dress.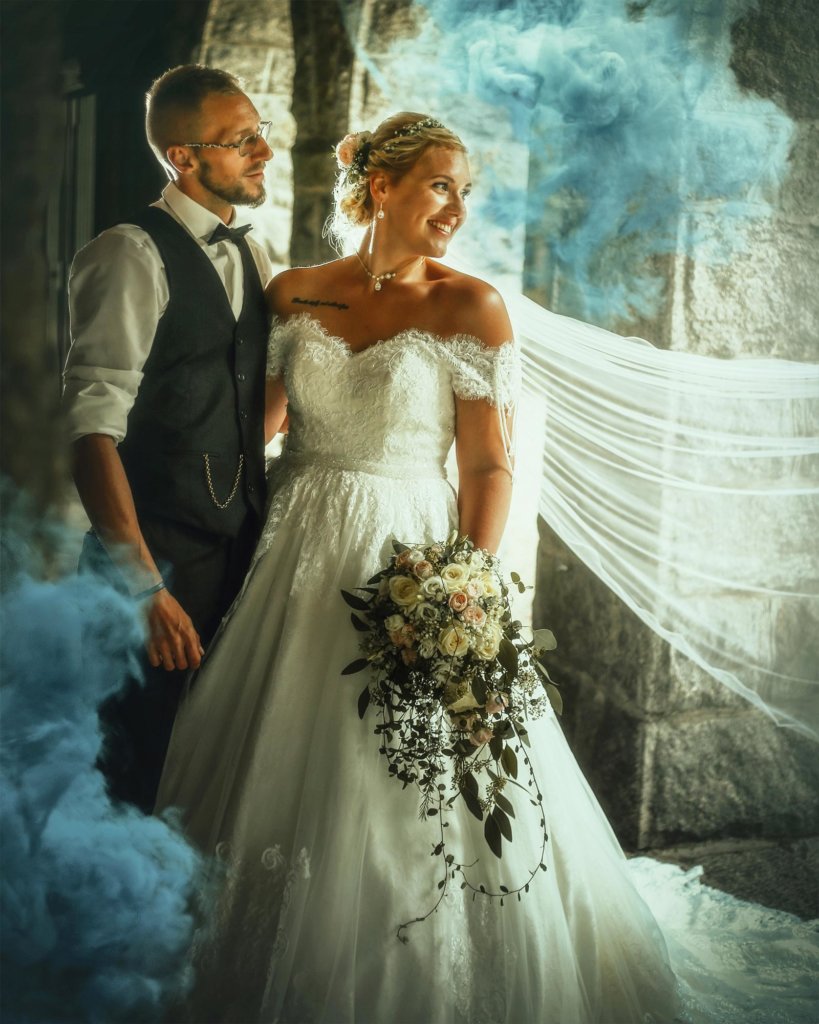 Style: #LD3832
5. Talk to your photographer
Before making up your mind on using smoke bombs for your big day, make sure your photographer is on board with the idea of using them. See, taking pictures with colored smoke bombs requires special skills – especially when it comes to lighting and shutter speed (smoke bombs only last 45-90 seconds!) So, make sure you talk to your photographer ahead of time and let him/her be adequately prepared to shoot with smoke bombs.
With their pretty plumes in all colors of the rainbow, smoke bombs add an ethereal quality to wedding photographs that fireworks just can't compete with. Whether you use them during your couple's portraits or get other guests involved, it's sure to be a great experience and leave you with some memorable snapshots.