Real bride Kara married her husband Denver in a rustic wedding in Sabrina Cedars Abilene, Texas. This beautiful wedding was inspired by Kara's love for a rustic, elegant style. We love all the colors they chose, which complimented each other so well and really popped with all the white backgrounds at the venue. Kara customized her dream lace gown with thinner straps to reflect her personality. We're obsessed with her stunning bridal look! Can't wait for you to check more wedding photos below:
All photos were taken by Megan Roberts Photography.
Wedding Dress Style: Customized Version of#LD5698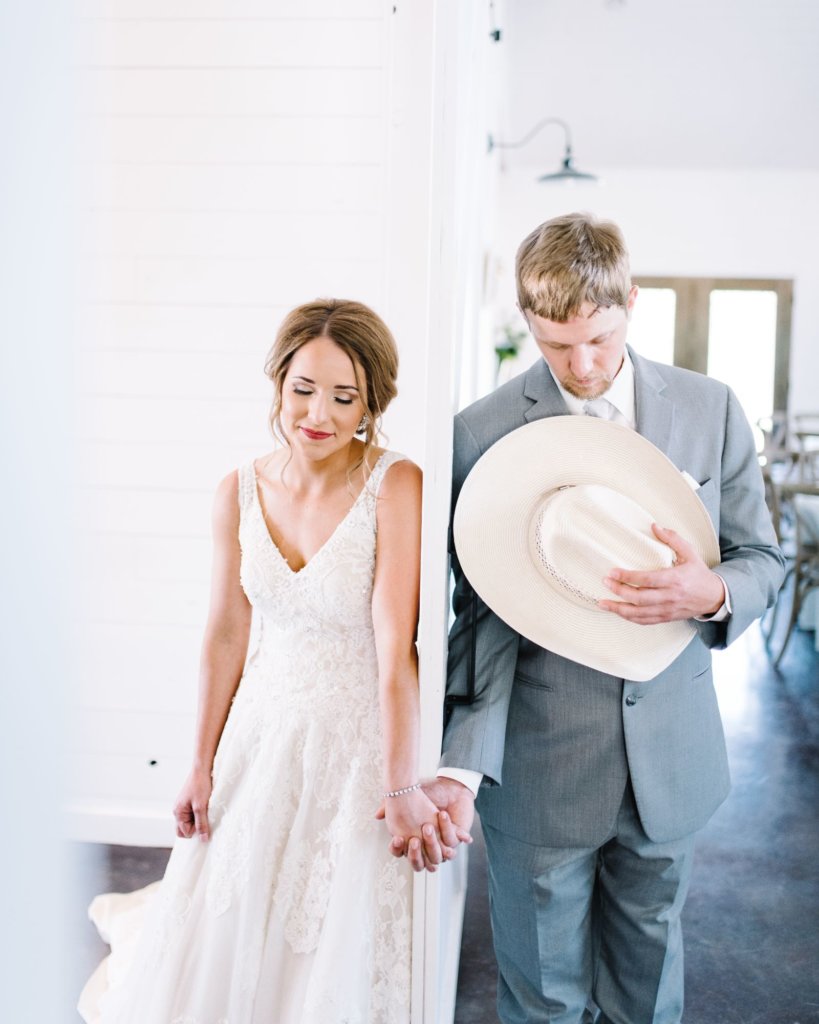 Q: Any advice or tips for future Mrs.?
My advice for future brides is to take in each moment. Wedding planning is so much fun, but also very stressful at times. Be sure not to lose sight of why you're doing this all in the first place. It all goes by so quickly, you'll want to remember every moment. Take plenty of pictures and shake off the minor details that don't go exactly as planned. Include your spouse as much as you can, it's their day too!
Q: What was the inspiration behind your wedding theme?
My wedding theme was inspired by my love for a rustic, elegant style. My color scheme was inspired by a picture of a bouquet I found on Pinterest. The colors complimented each other so well and really popped with all the white backgrounds at our venue.
Q: Tell us your love story! Where & How did he propose?
Our mom's introduced us in 2015 with an awkward first encounter as they stood smiling behind us. Denver later messaged me and asked if I'd like to go out for dinner to officially meet. We talked for a few weeks after, but went our separate ways for about a year due to us both being in school still and living 9 hours apart. We reunited after Denver graduated and started dating shortly after. March 16, 2018 Denver asked me to be his forever! We have now been enjoying the newly wed life for 4 1/2 months!
Q: How would you define the message "Dare to Love"?
This message means to put yourself out there, let yourself be vulnerable, and open yourself up to being loved by someone who accepts you for the flawed human you are! Risk the heartbreak because love is one of the best things this world has to offer.
Q: What was the best/most memorable part of the day?
Seeing my husband's face as I walked down the aisle was the most memorable part of the day. Once I saw him nothing else mattered!
Q: Where did you hear/find CocoMelody?
I was looking at dresses on Pinterest when I came across CocoMelody. I am so glad I took the chance and ordered my dress online!
Q: What did you love most about your #CocoMelody dress (es)?
How do I even choose?! I loved the quality of the wedding dress and the detail of the lace! Someone definitely put a lot of thought into the design of this dress.
Q: What do you think about CocoMelody and the customer service?
The customer service was great! They answered the many questions I had before ordering my dress in a timely manner and were happy to help with whatever I needed. The quality of my dress was amazing especially for the price! My personal experience with CocoMelody was great!