Talk about a stylish duο 👌🏼 Look how gorgeous #cocomelodybride Jewel is in Style Linda ❤️ We are totally swooning over Jewel & Cleveland's rustic romantic nuptial in Charlotte, NC!! The entire day looked like a magical fairytale, we are so lucky to be a part of their big day that we can finally share their new chapter life here!
All photos were taken by Timothy Montais Photography.
Wedding Dress Style: #LD5780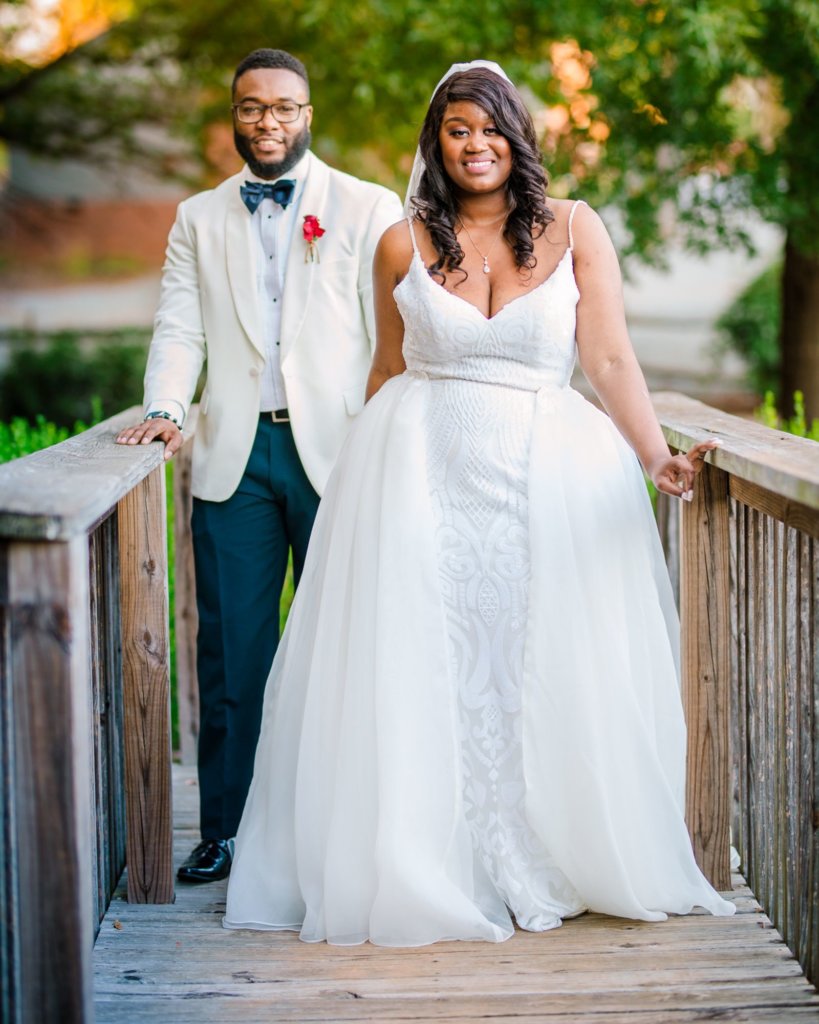 Q: Any advice or tips for future Mrs.?
I would say that it's important to make sure that you have team around you that makes sure you have minimal stress. I can count the number of times on one hand where I had a moment of stress. Also, turn your phone off or let it die the day of your wedding. That way, you won't be bombarded with messages. If anything goes wrong, make sure that it does not get back to the bride.
Q: What was the inspiration behind your wedding theme?
There was no specific inspiration, but the ability to have a simple wedding look so beautiful was a dream come true.
Q: Tell us your love story! Where & How did he propose?
We first noticed each other at work, and there was a system outage for the majority of the day. The entire department was split up into groups and we ended up in the same one after a while. The interesting thing is we noticed each other at different times in that moment. This was about a month before he asked me out. Fast forward to March 12, 2016. He walks up to me and asks me my name, and if he could be honest with me. He told me that he thought I was cute and he wanted to get to know me, and asked for my phone number. It was his directness that got my attention. Through that time, I would definitely say that we've had some amazing adventures and created amazing memories.
November 3, 2018, he takes me out to dinner at an expensive restaurant to show his appreciation for me. On thing that I love about our relationship is that we give each other room to express love in the way that the other feels is appropriate for the moment. He admitted that it had also been a while since we had gone on a nice date, that involved dressing up. After dinner, we go to his apartment taking the long way there. We're talking about how we met, our different memories, etc. Once we get to the apartment, he opens the door and there are lit candles everywhere. He then puts on the first song that we ever shared, and asks me to dance. I really didn't want the song to end, because it felt like time just stood still. After the song ends, he tells me to stay right where I am. Before I could realize what he was doing, he was down on one knee. My knees buckled, and I ended up on the floor with him. With every sentence he said, I cried more and more. It was so bad that I had to say 'Yes' twice, because he didn't hear me the first time. It was just us in his apartment, in our own little world. I dare to say that we stayed on the floor like that for about 30 minutes or so.
Q: How would you define the message "Dare to Love"?
We would define it as loving effectively and intentionally. If the "feeling" has left in an unfavorable moment, then the choice to love should still remain.
Q: What was the best/most memorable part of the day?
We just having fun the whole time, and laughing through any hiccups that may have occurred.
Q: What did you love most about your #CocoMelody dress (es)?
My wedding dress definitely fit my personality in more ways than one, plus it really fit my curves very well.
Q: What do you think about CocoMelody and the customer service?
The purchase was well worth it. If I had to do it over again, I would choose CocoMelody again.