We're sure the excitement in the air is ready to blow up with the first strike of the church bell, celebrating the long-awaited Prince Harry and Meghan Markle royal wedding. All things royal wedding must be eating up every last bit of our mind and leading us straight to the fancy world of royal wedding dresses. From trendsetter Queen Victoria to forever-elegant Kate Middleton, the charm of royal taste in style and fashion sure has its own magic to keep the world in extreme interest and enthusiasm.
Supposing that you're just as eager as us to find out what dress Meghan Markle wears to pace down the aisle and again, not surprisingly, impress the world, perhaps tracing back to those royal wedding dresses that once ignited sensation worldwide will be the best way to look up. Will she stay strong and unique like Wallis Simpson? Maybe trend-setting in floral embroidery and pearl appliques like Queen Elizabeth? Or is she willing to set the tone of an instant classic like Rita Hayworth? While the entire world is holding their breath to witness the big reveal of the royal wedding dress that is sure to enlighten the next era, we're also walking through the marvelous history of the greatest royal wedding dresses.
1. Princess Sofia of Sweden, 2015
Sofia Hellqvist exchanged her wedding ring with Sweden's Prince Carl Philip in a lace bridal dress with wrist-length sleeves. The gown, created in three tones of white by Swedish designer Ida Sjöstedt, featured intricate couture lace that was attended carefully to by José María Ruiz, has earned itself the long-lasting style of Duchess Kate. A hand-embroidered tulle veil is picked as a final touch of Sofia's bridal look.
It is never easy to get a lace couture dress with a long train for your own wedding day just like the royalty, but still, if you're expecting something of class and grace, only with the slightest tinge of sexiness, we'd be more than happy to recommend this amazing custom-made wedding dress.
Combining tulle, lace and organza, this beautiful illusion dress from Cocomelody is sure to capture any girl's heart with the unspeakable charm of grace and allure. As a final touch, the tridimensional textured patterns, apart from those on Princess Sofia's dress, can be the perfect highlight of your bridal look.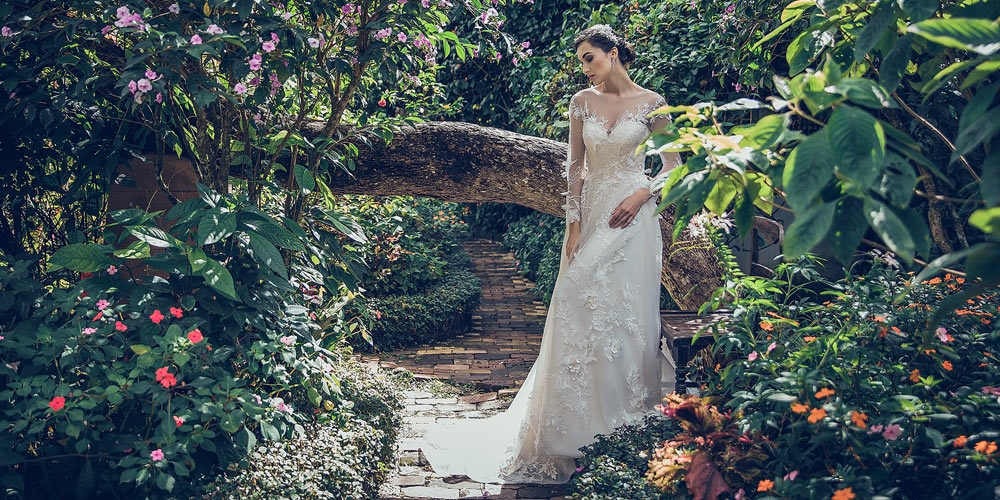 2. 2014 Elisabetta Maria Rosboch von Wolkenstein, 2014
Elisabetta said "I do" to Belgium's Prince Amedeo in an ivory Valentino wedding dress, stealing the eyes of the world with a 5-meter-long tulle veil.
If you're also in love with Elisabetta's dress just as we are, this lovely illusion dress might be your perfect pick. The exquisite lace patterns drifting all the way down to the floor are of pure elegance, ready to make an entrance while you're walking down the aisle.
3. 2012  Stephanie de Lannoy, 2012
An ivory Elie Saab wedding gown is the Belgian's duchess' "dress to impress" when she was about to share the rest of her life with the heir to the throne of Luxembourg, highlighted by the 13-foot-long train and intricate lace patterns.
And here we are with this refined wedding dress of similar kind. The designer's effort is hand-sewn stitch by stitch to the most detailed lace design. Eager to stand out? Follow your heart and say yes to this gown.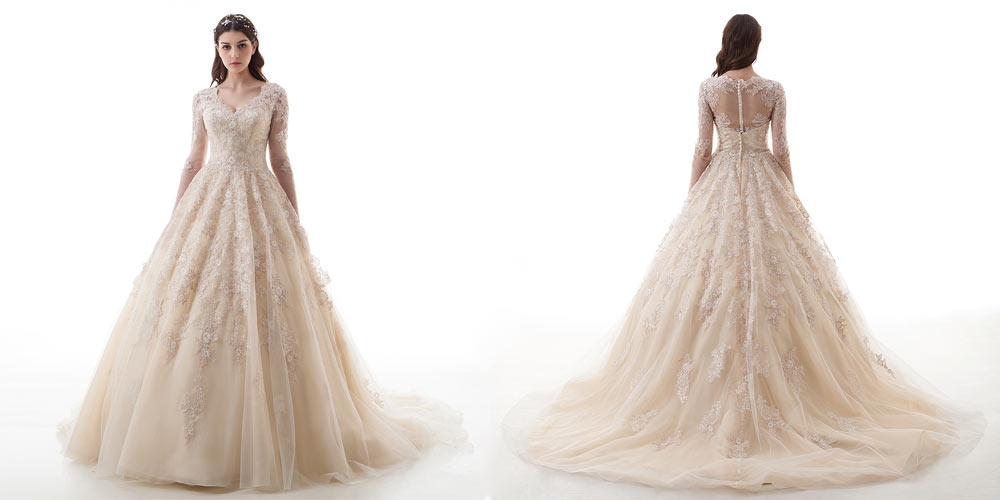 4. Zara Phillips, 2011
Zara Phillips, the granddaughter of Queen Elizabeth, joined Mike Tindall in marriage wearing a classic English A-line wedding dress, a glorious piece created by Stewart Parvin, the Queen's couturier.
If you're searching for something similar to dress at the wedding, this one-and-only satin gown might give you a hint of your big entrance. Simple yet sincere, the dress is indeed a great example of purity and vintage charm. Of course, if you would like to bring something extra to your bridal look, a simple wedding wrap will easily do the magic.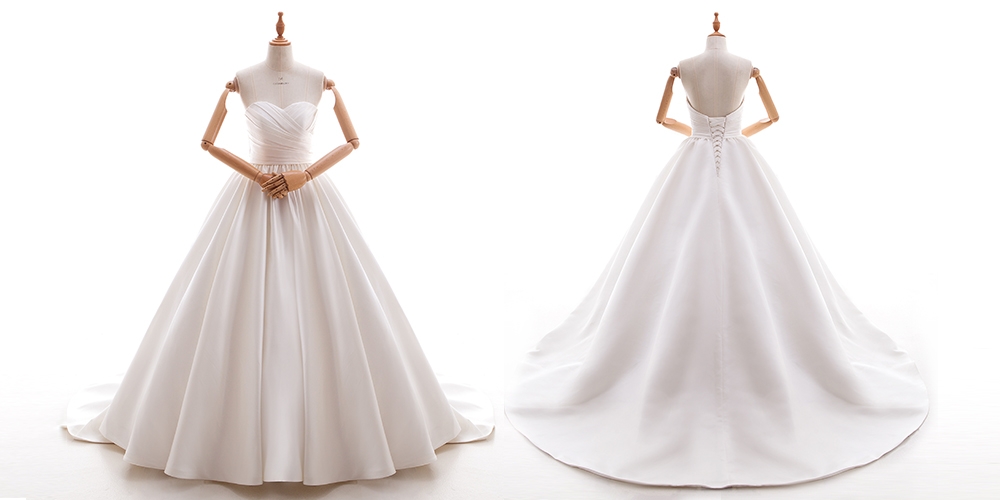 5. Kate Middleton, 2011
Needless to say, Kate Middleton's lace covered Sarah Burton for Alexander McQueen wedding dress is a huge success, sparking thousands of knockoffs right after the wedding. Along with Princess Diana and Grace Kelly, Kate Middleton rocked the wedding fashion with her unchallenged gorgeousness, which put her magnificent wedding dress in the well-admired collection of the most influential gowns around the globe.
With Kate Middleton taking the breath away of aspiring brides all over the world, you must be eager to win your own compliments in a magnificent wedding gown. And here we are with this outstanding dress in hand, binding simplicity with resplendence, a remarkable choice for those who longed for an ever-lasting wedding experience.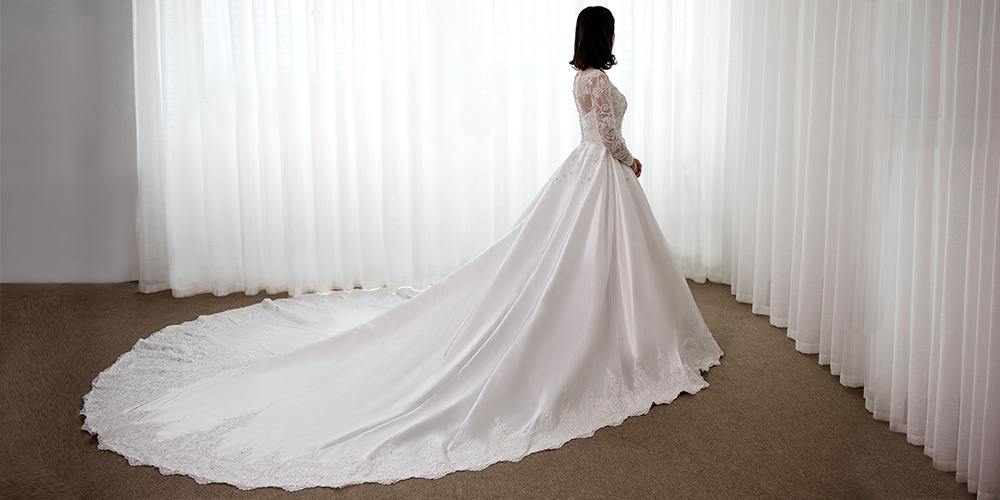 6. Grace Kelly, 1956
Grace Kelly's wedding dress, all-the-time referenced by countless designers and craving brides-to-be, is the best interpretation of wonderland weddings. Helen Rose stirred the world of fashion with her magnificent combination of high neckline, long sleeves, billowing skirt, and of course, the 10-and-a-half-foot-long train. Her quest for perfection was relentless, which could be easily found in the 125-year-old Brussels lace, taffeta, and thousands of hand-sewn pearls used to create this world-famous gown.
The success of Grace Kelly is unique and unrepeatable, but still, you are able to attain your own glory by revealing the inner-grace and beauty that has always been within you with a perfect wedding gown. The dress here in discussion is a classic, irreplaceable and has been the all-the-time-favorite of brides-to-be since Grace's gown was released. The designer pays special attention to the original pattern, swearing to assist in unfolding the charm of the bride with the fascinating waist-hip ratio, which should be amazing news to girls expecting an irresistible show-up on their wedding day.