Have you made up your mind on sprucing up your summer wedding ceremony and reception with romantic wedding flowers, bouquets, and centerpieces? If so, then you should know that no matter how beautiful your floral arrangements are, intense heat will naturally have an impact on them. As luck would have it, though, you can keep your wedding flowers fresh and looking their best throughout your big day with some planning ahead of time.
To help make certain that your floral adornments look every bit as exquisite and flawless as you intended them to (just like your mermaid wedding dress), we have put together the best tips of the trade.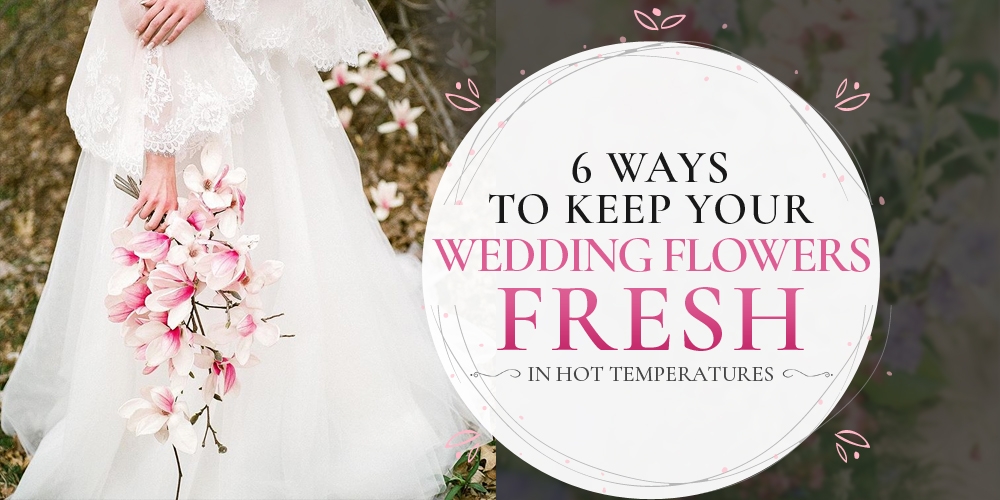 1. Pick long-lasting flowers
It goes without saying, if you want your floral decorations to look flawless for the duration of the wedding, you should only pick blossoms that can withstand being put under stress such as boiling hot conditions. You would fare much better if you decide on natives, tropical flowers, orchids, sunflowers, celosia, daisies, carnations, chrysanthemums and even some rose varieties. It is best to go for flowers that are in season, in your region rather than imported as they will more likely get through a long day at high temperatures.
2. Keep the stems wrapped
Similar to your lace wedding dress, your wedding floral features with exposed stems exude a free and easy, rustic feel; that needs no contradiction from our end. That being said, the consequences of keeping them off the wraps are more than likely to send you into a panic. The stems, for that reason, should always be under wrap. If you think to wrap your floral arrangements will wreak havoc upon the aesthetic of your wedding, you can even use leftover cloth from your bridal gown alterations to ensure an impeccable match to your big day's color palette. This way, the decorations will not only look delightful, but the moisture will also remain in the wrap, keeping your wedding flowers from drying out. 
3. Keep the blooms hydrated
Your wedding flowers can dry up very quickly at hot temperatures, so it would make sense to put your bouquets, floral features and other stemmed displays in their vases as soon as they arrive. For all the other arrangements that cannot sit in a vase, you need to gently spray water the flowers every hour or so. This will keep them hydrated and fresh throughout your wedding day. You can get a friend or bridesmaid to take care of this for you.
4. Keep them out of direct sun
While it may only seem logical to place flowers in the direct sunlight, the warmth will lead them to bloom and subsequently wilt more quickly. You may also want to keep them away from other sources of heat such as heaters, fireplaces, etc.
5. Ditch flowers altogether
If it is going to get a little too sweltering on your big day, perhaps the best course of action is to go for displays not made of flowers at all. We are, of course, talking about succulent plants. These plants are extremely hardy and drought tolerant and can hold out against even the most severely hot weather conditions. Succulent plants are for an alternative look and can add a rustic elegance to your wedding decorations, not to mention they come in a wide range of colors and forms to suit different tastes and preferences.
6. Hire a florist
It is your wedding day, and you have so much on your plate already – and you have to pull off your fabulous A-line wedding dress too! So why not secure the services of an expert who is acquainted with how to attend to various kinds of blooms and make them last longer? Engaging a florist is really going to save your sanity.
Some of the most attractive aspects of your wedding decorations are perhaps the floral arrangements: whether they are decking the wedding venue, enriching your wedding gown or being carried along the aisle by the bride. Therefore, if you are making arrangements for a bunch of flowers, floral features, bouquets, and adornments for your wedding ceremony, you will want to make sure that your arrangements look wonderful throughout your wedding day. The above six tips should help you maintain their aesthetic appeal and prevent them from drooping after they have been delivered by the florist.