Trend alert! If you're planning for your 2020 wedding, take a look at our favorite bridesmaid dress trends for the upcoming year. After all, your beloved bridal party deserves to look as stunning as you!
Ready to show off your bridesmaids? Spot your favorite trends and get shopping!
1. 

Rich Velvet 
You don't expect bridal parties to be decked in velvet and that's what makes velvet bridesmaid dresses all the more unique. This quintessential fabric of the '90s  is an extremely forgiving fabric- it is lightweight, soft and easy to fit in all body types as it is very elastic, making it ideal even for spring and early summer weddings. Velvet has a class of its own and is known for its striking texture, so rich and feminine that it seems to illuminate the entire room.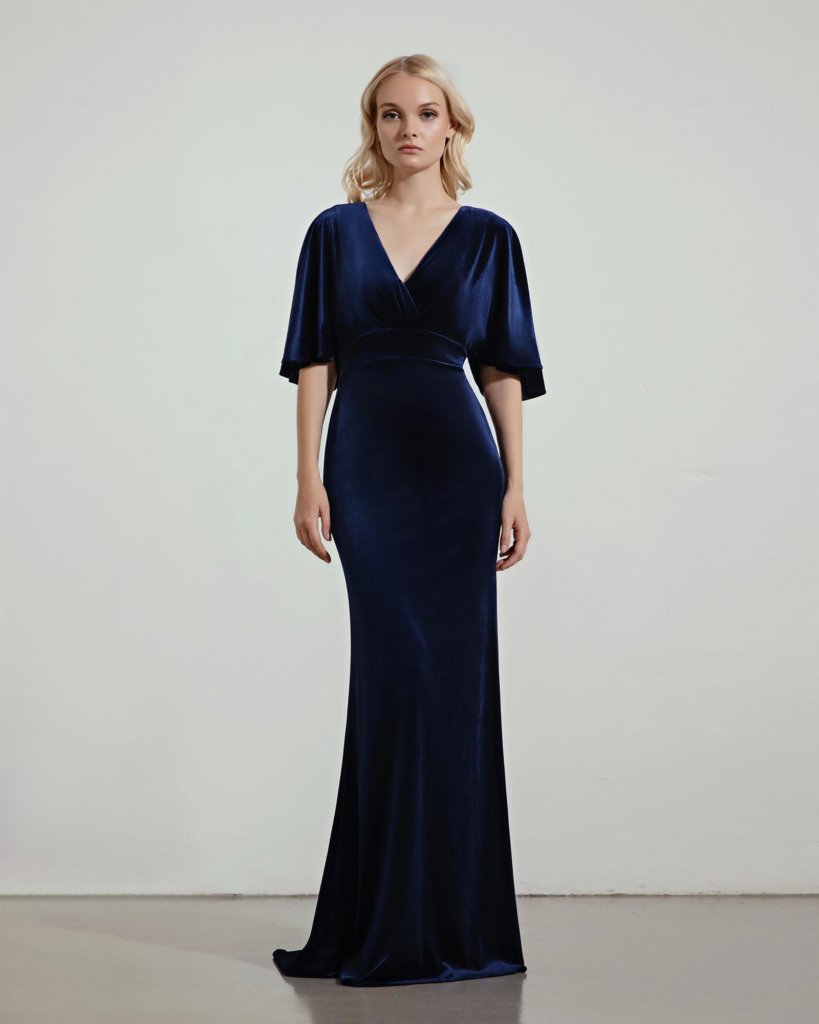 Style: #RB0320
In Image: Our deep navy full-length velvet dress Jenny that comes with flutter sleeves, pleated embellishments, and a natural waistline. The back is enticing with its keyhole design and a delicate tie up belt.  With a pop of color in the shoes, this navy bridesmaid dress will look beyond fabulous! 
2. Unexpected Pastels
Pastels are a no-brainer for spring weddings and they also work extremely well for other seasons depending on how you style them. Skip the blush for something out of the blue like a sage green or lilac or lavender.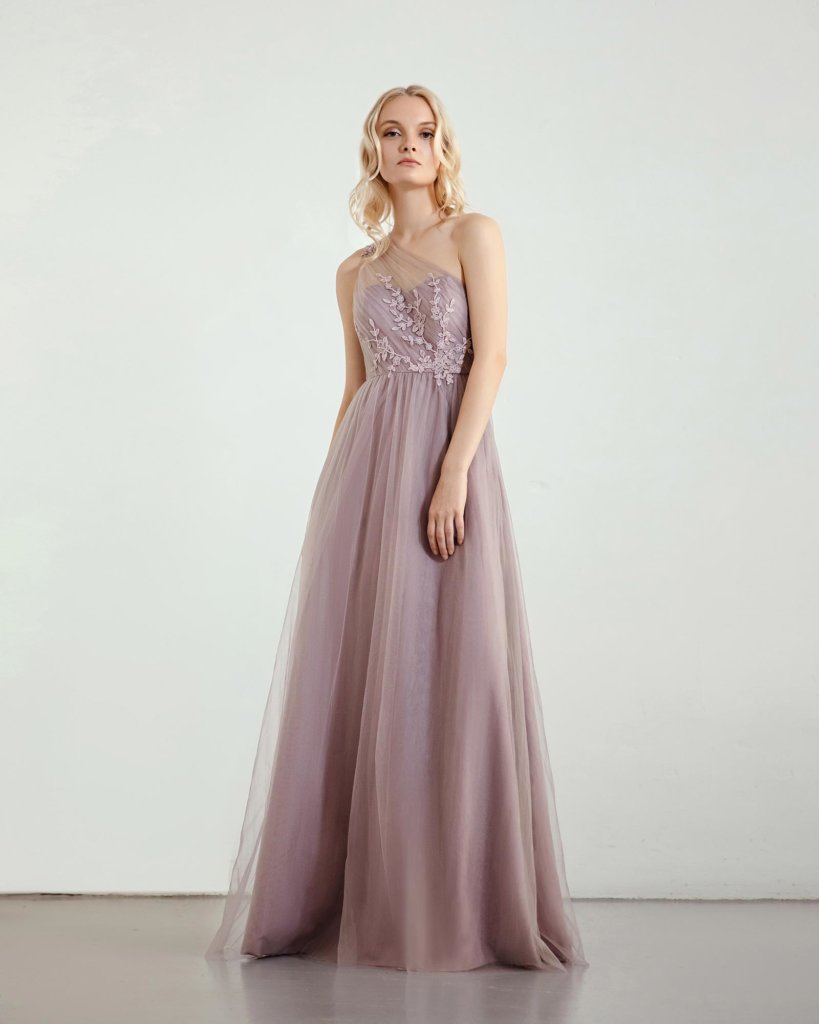 Style: #RB0308
In Image: Our dark mauve bridesmaid dress Emily that comes with an alluring one-shoulder neckline in an A-line silhouette. The tulle and lace fabric combination, soft pleating, sheer lace back and eye-catching applique all feel fresh and romantic. You can either dress all your bridesmaid in a single color or try the mix and match trend by choosing complementary colors from our 24 color options! 
3. One-shoulder Necklines
The latest craze in bridesmaid dresses is all about asymmetrical details like a one-shoulder neckline. This dramatic neckline widens the shoulder area visually and highlights the collarbone making it a very striking style. For a more flattering look, try dresses with ruffles and pleats that will draw the eyes towards the neck and give the illusion of slimmer arms.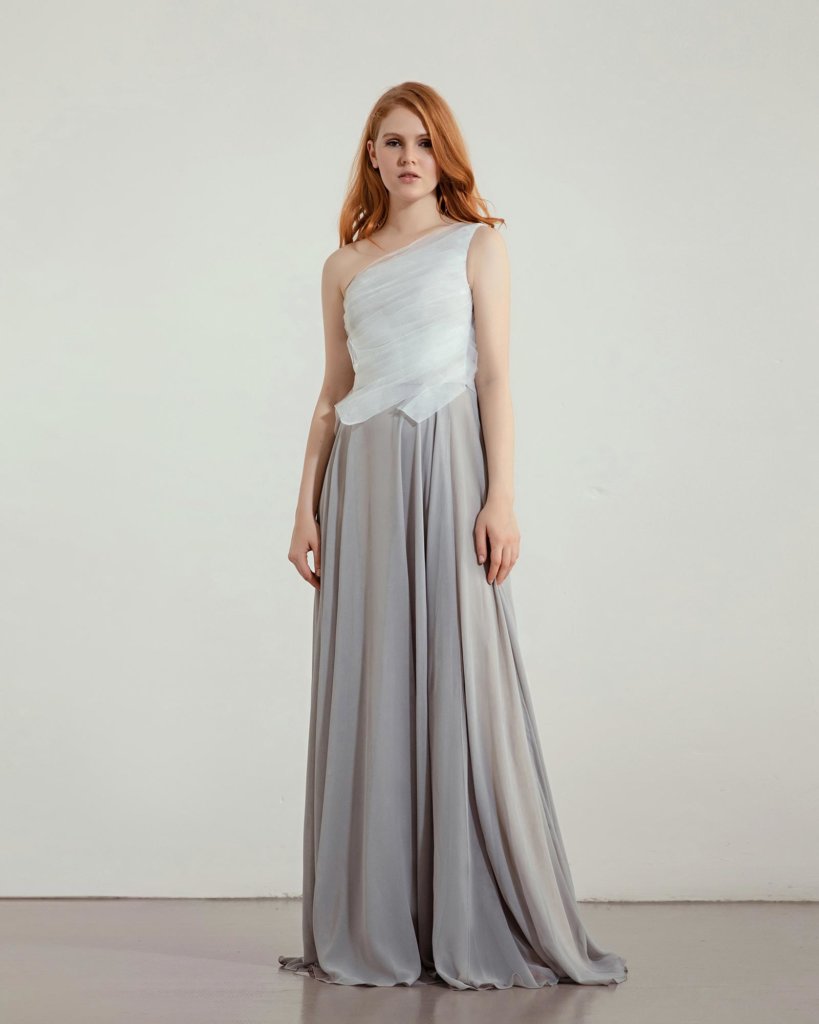 Style: #CB0242
In Image: Take your bridal look to a feminine direction with our one shoulder bridesmaid dress Aria that's dreamy and sublime. With an A-line silhouette that's universally flattering, the lightly pleated organza bodice and the chiffon skirt, your bridal party is guaranteed to look straight out of a dream. 
4. Clean Cuts and Minimalist Designs
The minimalist trend focuses on sleek, clean, standout silhouettes with pristine designs that are simple but impactful. The idea is to keep the look modern and fuss-free without sacrificing the style quotient. While most bridesmaid dresses feature flowy fabrics like chiffon and tulle, structured silhouettes are best represented by silk, satin and even woven or knit fabrics.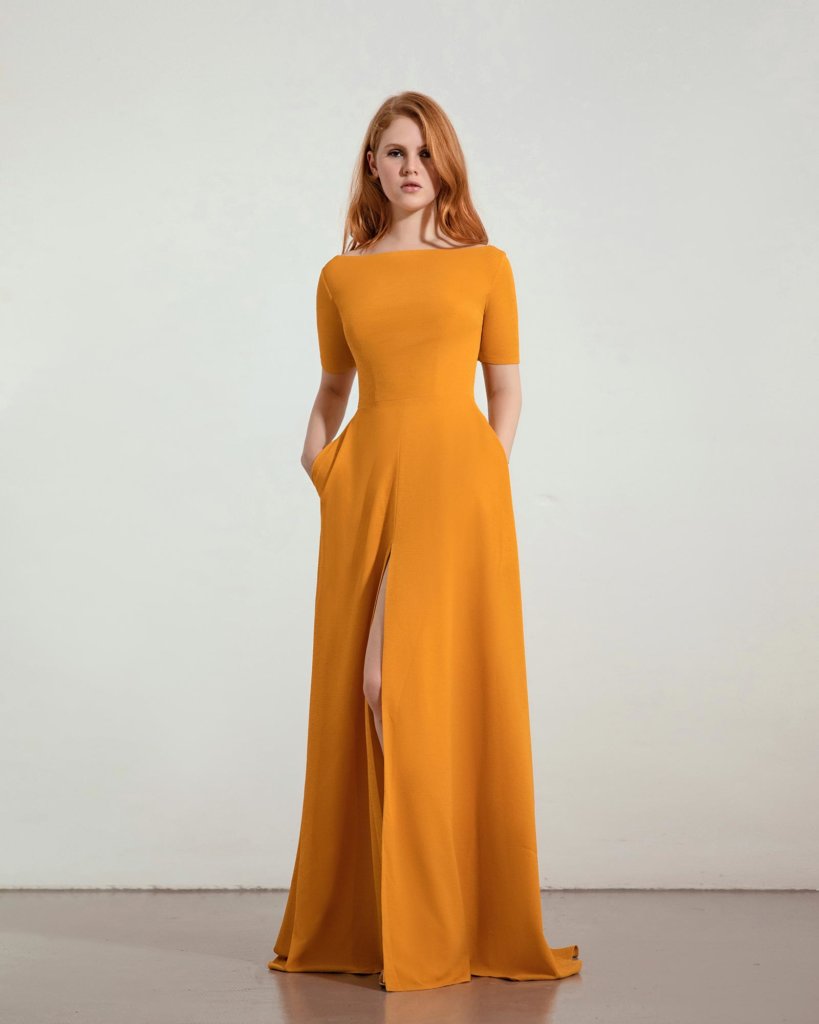 Style: #CB0280
In Image: Our twisted silk bridesmaid dress Aurora in the color, Freesia, a beautiful mustard yellow that will make your girls stand out. The magic of the dress is in its single hue uplifted by structured cuts and ultra chic details. The bateau neckline elongates the neck and works to offset a larger lower body. The thigh-high slit is a stylish twist and keeps the look modern and elevated.  Also, did we mention that this dress is perfectly wearable later on?! 
5. Sequin
Sequins are making a major comeback. And why not? They're festive, colorful and so much fun! They can be worn in so many ways- as a full-length dress, as an accessory, in trimmings or footwear. Sequinned dresses definitely look great when they hang loosely on the body and float with the wind as they reflect the sunlight. But we're crushing on full-length sequin dresses that cling to the curves. There's nothing that can make a statement quite like it!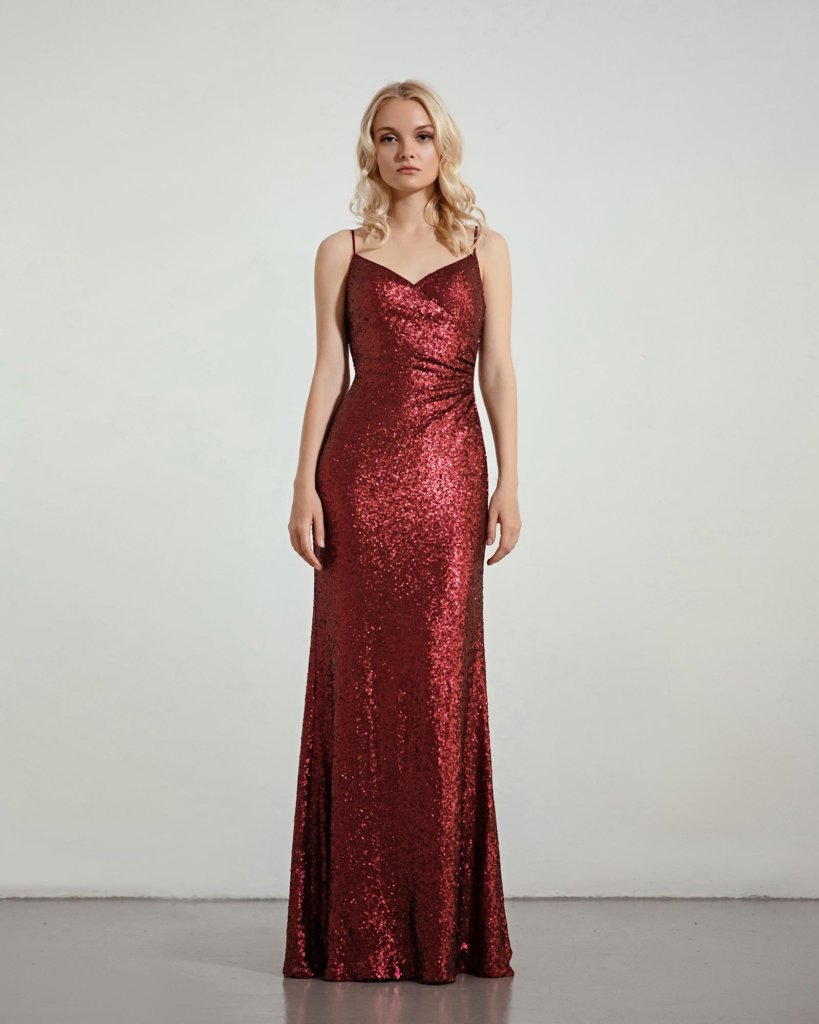 Style: #RB0340
In Image: Dazzle your way in this matte maroon sequin dress Molly in a sheath column silhouette that features spaghetti straps and a low cut back. The subtle shimmer is definitely eye-catching but not overpowering. Think about having a mix and match bridal party with this floor-skimming dazzler?! Your guests won't be able to stop talking about how gorgeous it looks!
6. High Slits
Slits have been on a scoring high and are definitely one of the hot trends for 2020. They for one, make your legs look longer and are also great for adding a stylish twist to a modest dress. Pair them with a killer pair of heels for an easy look that looks super chic and sophisticated.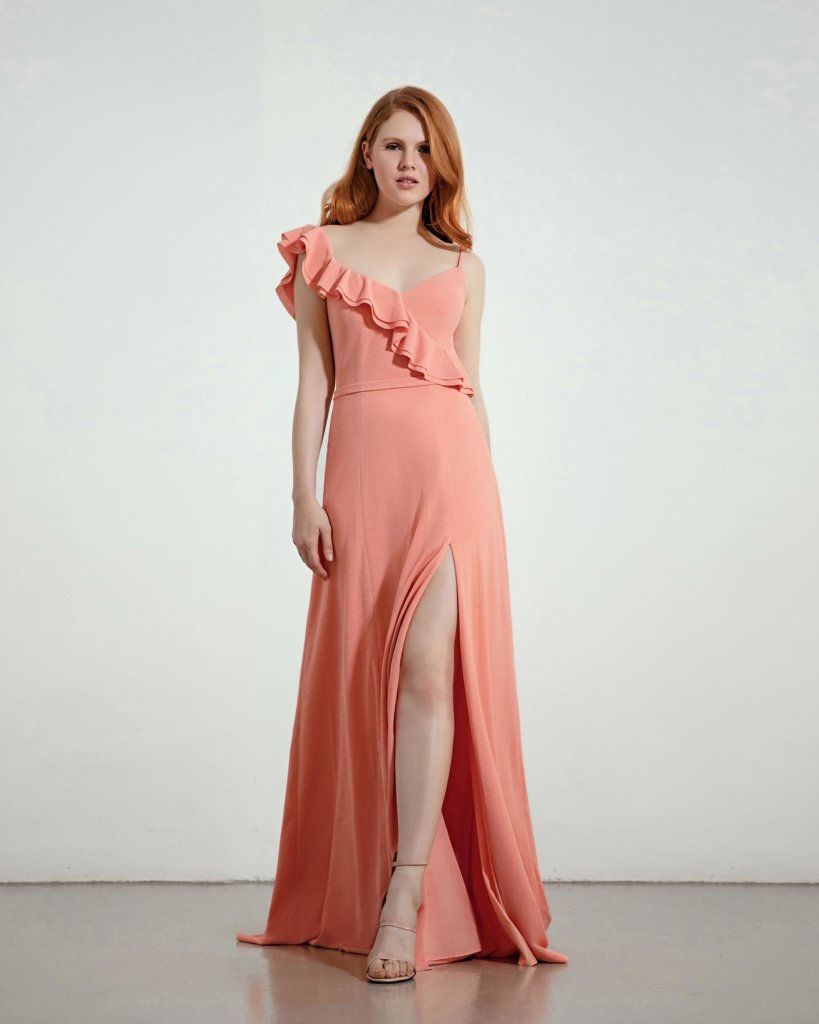 Style: #CB0283
In Image: This peach bridesmaid dress Kenzie comes in an A-line silhouette in a luxurious silk fabric. Detailed with ruffles, sashes and a high split, this fresh number will make all the difference in making your bridal look come alive.
7. Wrap Styles
You can stay comfy as well as on trend with gorgeous wrap dresses that will feel fresh without being overly fanciful. Following the trend of relaxed bridesmaid styles, wrap dresses are in the spotlight owing to their exceptional fit. Wrap dresses are cinched at the waist with a tie placement that is extremely adjustable so they look on all body types.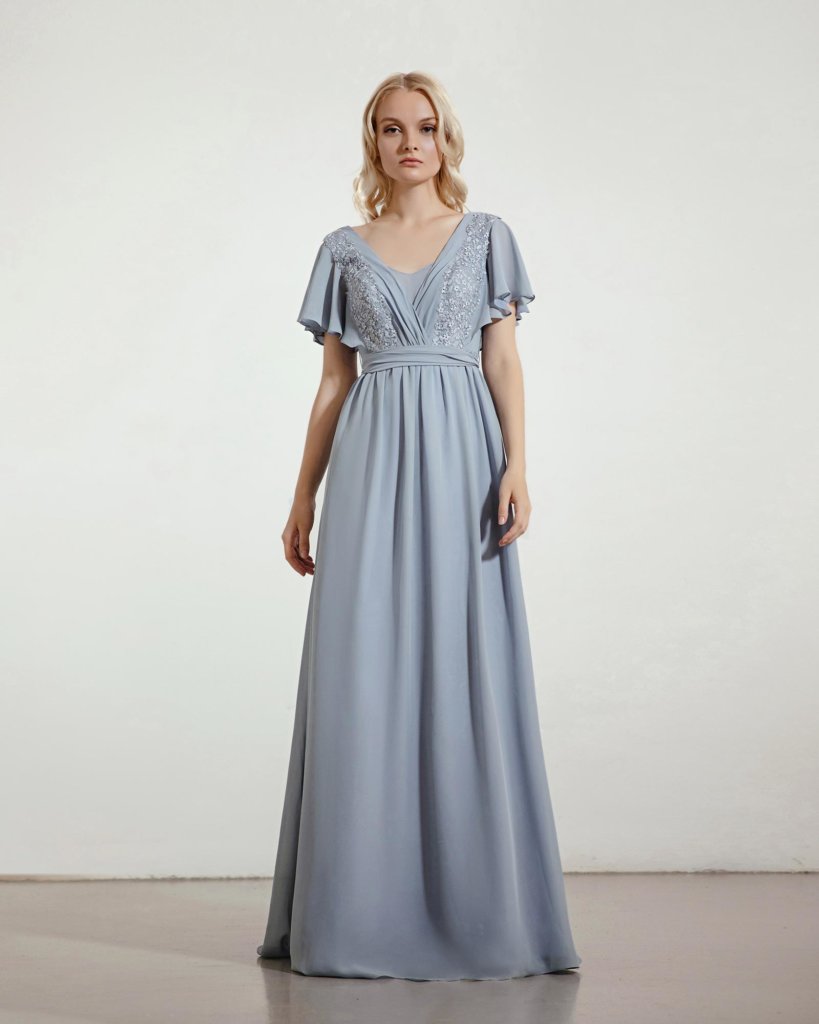 Style: #RB0302
In Image: Our floor-length dusty blue chiffon and lace wrap dress Clara comes in an A-line silhouette with a natural waist and V-neckline. Detailed with pleating sashes, ruffles and appliques it makes for a heavenly combination in a bridesmaid dress. The soothing blue color and immaculate detailing of the dress is well suited to summer weddings and outdoor ceremonies. 
Flatter your bridesmaids with our range of trendy bridesmaid dresses. You can shop our range of New 2020 Collection of bridesmaid dresses online!