A garden wedding theme is quite popular among couples who do not want to settle for the ordinary, and it is not hard to see why. Having a wedding ceremony in a garden can feel very intimate and romantic, not to mention garden weddings are way more affordable than other traditional options. With a casual yet whimsical theme and a masterpiece of natural colors on display, garden weddings are just perfect.
Having your wedding in a garden is certainly a unique and wonderful way to embark on your married life together. So, if you are planning to tie the knot in a garden, here are some dreamy garden wedding ideas to help you make the most of it.
1. The theme and venue
A garden brings to mind more natural, vibrant and earthy tones, with weddings themes like rustic, country, vineyard, vintage and bohemian lending themselves very delightfully to a garden wedding.  When it comes to the venue, the most common idea may be setting up your ceremony right in your very own backyard. This is especially lucrative for couples who wish to have a homely celebration in their own home and are not afraid to work for it. You may also choose to rent other gardens located in more remote areas if you are expecting a lot of guests or are setting your sights on a more specific look.
2. The invitation design
If you are having a garden themed wedding, your invitations should reflect that theme and should not be something that does not fit in with your theme. You can choose to have a picture of a private garden as the backdrop of the invitation. This can be an actual photograph or it can be a painting or drawing. You can also have a bouquet of flowers in the corner of the card or you can have a border of flowers around the card.
On the other hand, if you want to go unfussy, you can always print your wedding invitation on a light colored piece of cardstock such as a light tan or off-white color.
3. The dress
A vintage wedding dress will not only make you look stylish and chic but will also complement your garden wedding theme. You can take the traditional white and add a touch of orange, gold or rose for a look that is seasonal but completely different. For your bridesmaids, lace bridesmaid dresses in rich burgundy, deep chocolate or a bold blackberry purple would look absolutely stunning in a garden setting.
4. The food menu
The fun and laid-back vibe of garden weddings allow you to take a more leisurely approach to your wedding food. Whilst standard catering options can still be on the menu, you can also have several grills set up in your garden and even dedicate one to children's favorites like hamburgers and hot dogs. If you have planned a DIY wedding, you can ask your friends or family to volunteer for cooking or you can hire professional grillers for your reception. This is, of course, much less expensive than having the entire reception catered.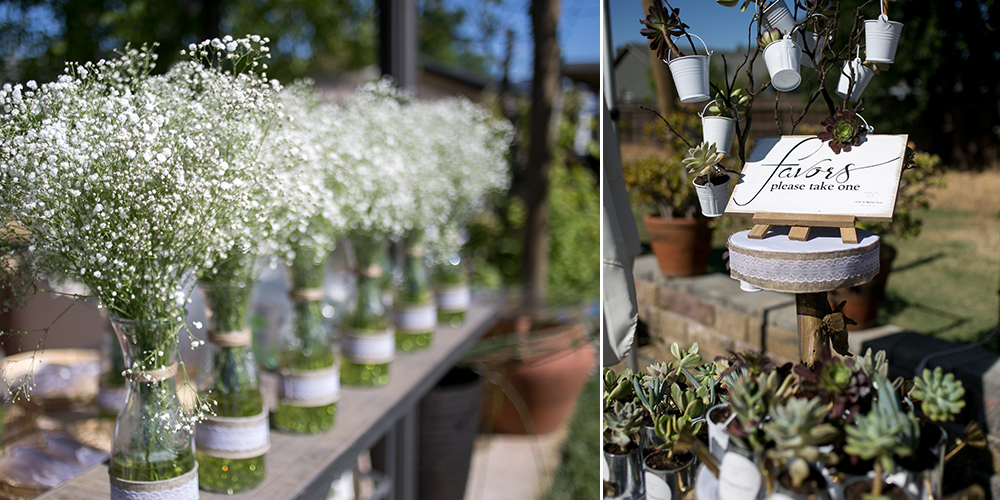 5. More flowers
No garden wedding is ever complete without flowers. Your wedding can embrace an assemblage of flowers in various shapes, sizes, and shades. Flowers like daisies, garden roses, freesias, peonies and hydrangeas can take the aesthetic appeal of your wedding to new heights.   
6. The decoration
Decorating for a garden wedding is a pleasure in itself. Make the most of the foliage in your garden to add charm to your wedding. Bring in even more flowers and bouquets to spruce up the setting. You can also hang wind chimes and some lanterns on the trees in your garden to make the venue look like a fairy-tale land.
7. Entertainment options
When it comes to the wedding entertainment, your options are seemingly endless. You can channel a vintage country fete and have sideshow style games such as a coconut shy or bobbing for apples, or make the use of the cooler afternoons to play lawn games such as croquet, bowls or giant Jenga. You could even have a bonfire at night surrounded by hay bales, throws and plush cushions, all in your wedding color palette, of course.
Garden weddings are more sought-after today than ever before and for a good reason. They are very special and charming. Ultimately, though, remember that it is your day and make sure things go exactly the way you want them to.