Sami & Daniel were married by 2nd December 2017 in Hunua, Auckland New Zealand. It was a beautiful forest wedding with rustic romance in the air. They are a wonderful couple and Sami's bridal squad looked so stunning in #Barberry Red dresses. Check out some of our favorite pics from this amazing wedding below!
All photos were taken by Claudia Williams Photography.
Bridesmaid Dress Style: #COZF1500C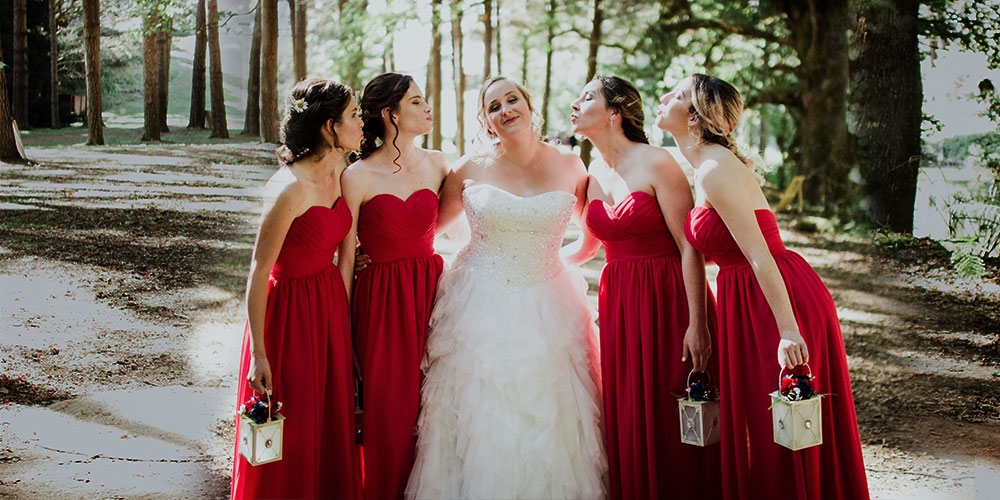 Q: Any advice or tips for future Mrs.?
Plan, plan, plan and then relax, Dan kept telling me "no one but you will notice the little details that may be missing/wrong" just enjoy the day! 
Q: What about your love story? 
Dan and I meet at an Easter camp that was being run at the campsite where we got married. We were 16 at the time and began dating the day after we left camp. We then found out that our parents had been friends about 20 years before when they all went to the same youth group. Being young it didn't last very long and we broke up a few months later. Each year we both returned to the camp and a few years later we ended up getting back together. The next year we took on the role of running the Easter camp with a few of our friends. 5 years later Dan proposed at the waterfalls that we used to walk to with the campers each year. A few months after that we found that we were pregnant with our first child so the majority of the wedding planning was done while heavily pregnant and then with a newborn. We hired the campsite for the whole weekend and had our bridal party and parents/siblings stay on Friday night to help set up and hang out. We got married on the Saturday afternoon in the forest on the campsites property and all the guests were invited to stay in the cabins overnight on the Saturday after the reception. We had a big cooked breakfast on the Sunday morning before everyone helped clean up. It was awesome having a whole weekend away with all the people we love, in a place that is so meaningful to us as a couple.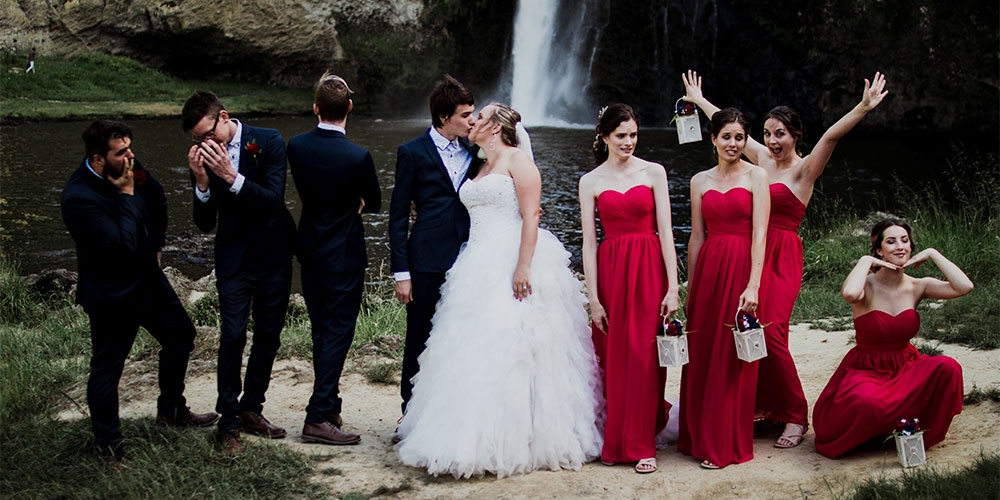 Q: Did you have a particular theme or color scheme? Is there a story behind this color theme and why you chose it? 
Our theme was a rustic forest. The forest was because we were getting married in a forest and rustic seemed to fit both the environment and also us as a couple. I decided to have the Barberry red dresses because I knew that it would look great with the green tones of the forest and also would suit all four of my brunette bridesmaids. 
Q: Did you enjoy the wedding planning process? Why or why not? 
I loved the planning process. Dan and I are used to planning and running different events together and we always manage to use our different talents and ideas to come out with something better than we could have on our own.  It was a lot like organizing camps/ holiday programmes/youth group events that we usually do except that we got to put our own personal touches on everything and didn't have to present our ideas to a team of people. It was also nice having little projects I could do while my son was having his naps during the day.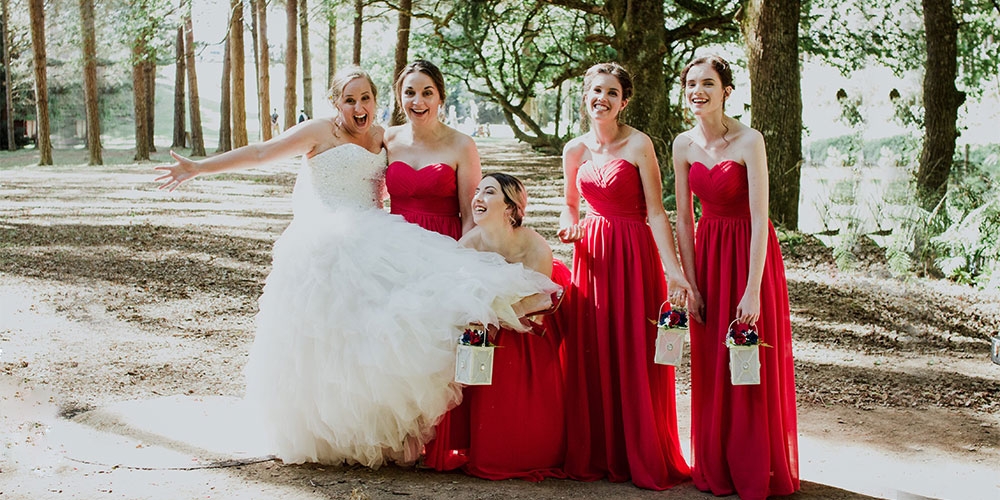 Q: What was the best/most memorable part of the day? 
During our wedding photoshoot, our photographer was getting us to talk to each other while she was taking photos of us two. Running out of things to talk about she suggested we tell each other the best part of the day so far. I told Dan that the best part had been while the girls were getting our hair/ make up done my bridesmaids had set up wine flutes with sparkling grape juice and strawberries (I couldn't drink because I was still breastfeeding), a platter with all sorts of cheese and crackers and chocolates and one of my bridesmaids had brought along a foot spa and gave me a foot massage. It was so nice taking some time out from being a new mum to get pampered and all dressed up. Dan then said that his favorite part had been seeing me walking down the aisle… AWWW. So now I've changed my favorite moment to be having that conversation. 
Q: Why did you choose #Cocomelody for your bridesmaids? 
I had walked around so many shopping malls in Auckland and couldn't find anything that I liked and the logistics of having to get all 4 of my very busy bridesmaids together at the same time seemed like a nightmare. So I decided to see what I could find online and just put links into our Facebook group to get everyone's opinion. I liked the style of the bridesmaid dresses that Cocomelody had, they were exactly what I was picturing in my mind and I loved that I could choose to have any of those styles in such a large range of colours.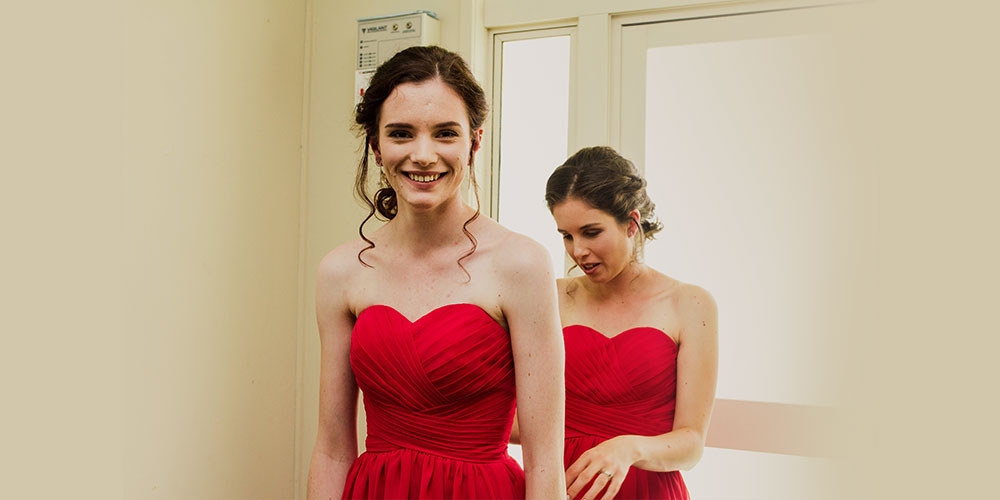 Q: What do you think about Cocomelody and the customer service?
I first decided to order one dress from Cocomelody so that I could check that they were going to look like they did in the pictures online and make sure that they were good quality. I received the dress and it looked amazing so I ordered 3 more. The dresses showed up quickly and the sizes/ color were exactly what we expected. 
Facebook review from Sami: